After being restricted by prices in Western Europe, we were happy to find more affordable options in Prague. The Czech Republic is home to some of the best beers you are going to find anywhere in the world and Prague has such a wide range of restaurants that you'll be able to find something no matter what you are craving.
The Food
Kicking off our week of gluttony, we headed to U Kroka for my birthday celebration.
I enjoyed a nice duck breast with a cranberry reduction and mashed potatoes with bacon and caramelized onions. Mark had pork loin stuffed with bacon and a side of bread dumplings. We finished it off with a nice cheesecake and of course some beer. We had actually planned to get a refreshing white wine because it was hot. We had asked to see the wine list and after waiting for a long time they came back to the table with nothing. This was when we realized it was best to just order beer which arrived promptly. Wine problem aside, this was one of our top dinners on the trip.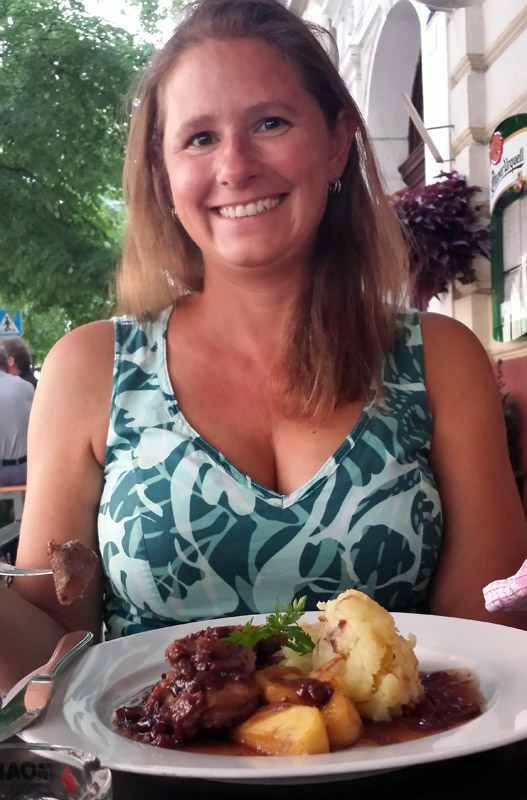 We had been craving Thai food and ended up at Yam Yam. There is one right off Metro Line C at Vyšehrad station, but we found a new location in walking distance from our apartment. The spring rolls were great. The Pad Thai was good and not too sour. It fulfilled our Thai craving, but was not outstanding,
Brown Bag Burger was very close to our apartment and a relatively new place. I was super excited to get a bacon & BBQ burger because I saw bottles of Sweet Baby Rays. You have to understand that we hadn't actually seen American BBQ sauce in months let alone one that I purchase frequently at home. Mark had a blue cheese burger and he was equally happy about that. There is an expat website that features an annual list of the best burgers in Prague as compiled by a blogger who goes by the name Brewsta. I did read what he had to say about the options in Prague. This was on his list.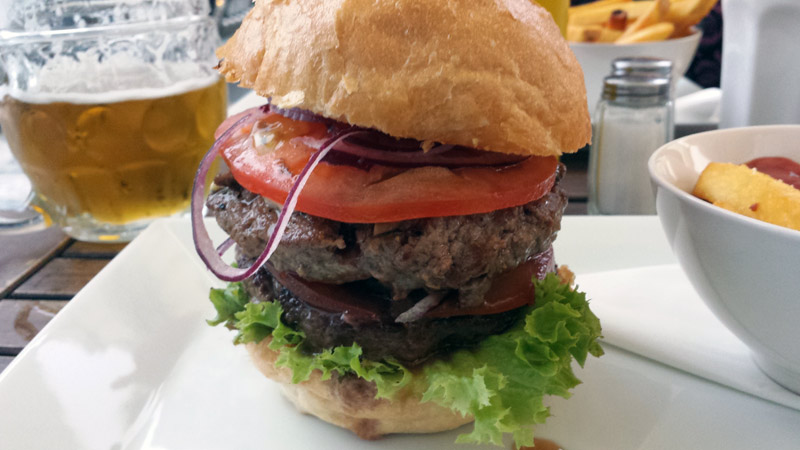 The Tavern is known for its brunch every weekend, so we went for pulled pork and biscuits on Saturday. However I wish we would have went earlier to try the burger as well. They looked delicious, but we had already decided on Brown Bag for burgers that week. The Tavern was also on Brewsta's list.
Prague has a huge Vietnamese market that I mentioned in my last Prague post. Unfortunately it is far out from the city and since we couldn't make it back there we went to Pho Vietnam Tuan & Lan. The concept was a walk up counter for spring rolls and snack food. They made the pho to order and while it wasn't the same as the Sapa market it was extremely tasty without the hassle to get across town.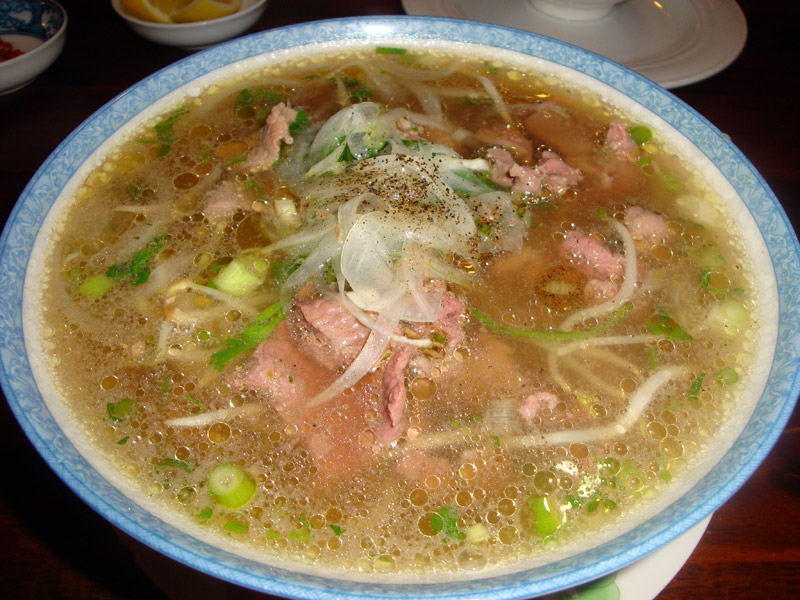 We went three weeks in Germany without pizza so when we realized that there was a pretty good pizzeria down the street from our apartment we had to stop. Pizzeria Grosetto offers well cooked and well topped pies that were very welcome after our pizza drought.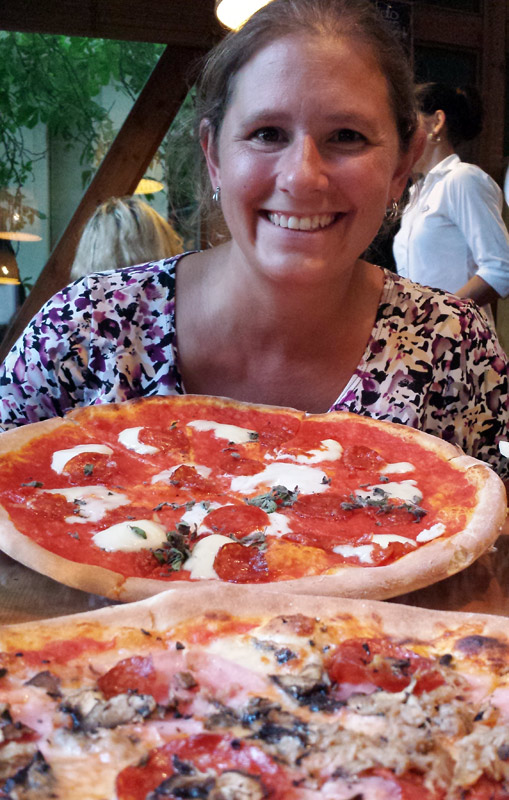 The Beer
Half-liter beers in Prague averaged around US$2.50. This opened up many options for beer tasting. I went on a search to find which beer gardens and pubs were unique and affordable.
A few things you should know about drinking beer in the Czech Republic. First, a lot of beers have a degree number. The degree is not the amount of alcohol. It is the amount of malt used in the brewing process. It just so happens that as the number goes up so does the alcohol. For example a 10° beer has about 4% alcohol and a 12° 5%. Second, many bars offer tank beer. This is straight from the tank and unpasteurized, so you will not find it outside of the Czech Republic because it doesn't have a long shelf life. Finally, Pilsner Urquell is probably the most recognized beer from Czech in the world. Gambrinus, Staropramen and Budvar are the most drank by Czechs. The Budweiser Budvar Brewery is in a long standing argument with Anheuser-Busch over the rights to the name "Budweiser" but have rights to the name in this part of the world.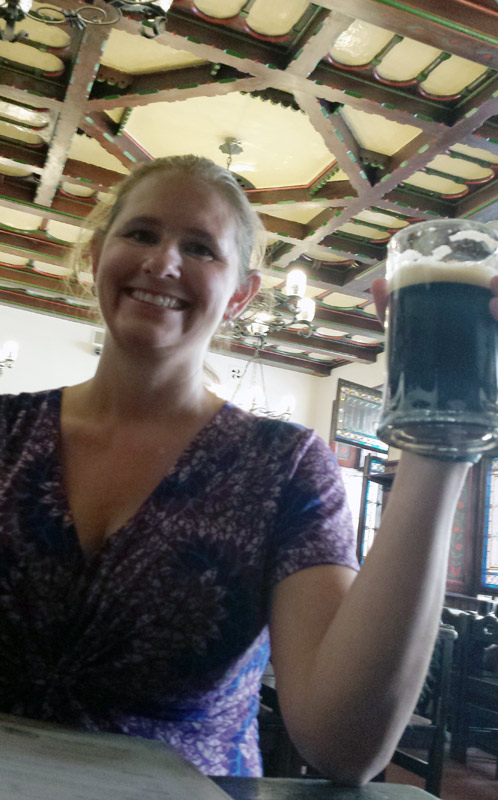 U Fleků is a microbrew known for their beer and their pork knuckle. We opted for a sample of meats and cheeses with beer on the patio. This place is a huge beer hall and restaurant that both locals and tourists frequent.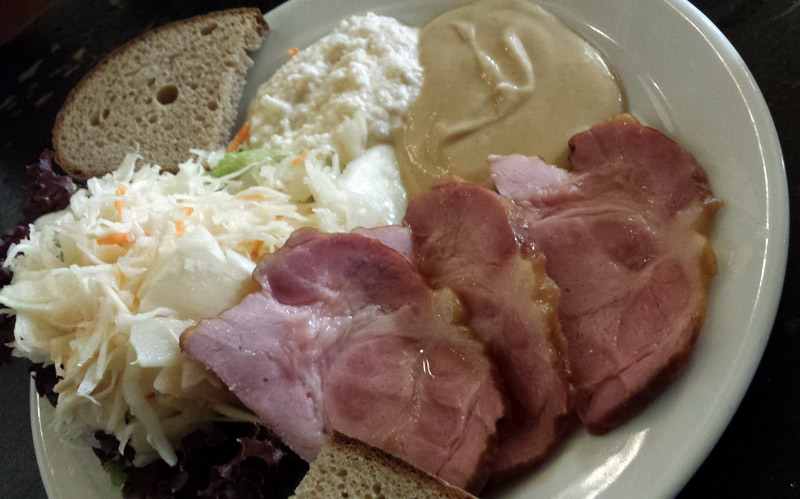 We went to Budvarka in Prague 6 specifically to find the dark Budvar from the tank. We ended up having some great snacks too. I enjoyed the fried cheese and French fries while Mark opted for a slab of pork with bread dumplings. This was a great way to spend a late afternoon. Most places don't serve the dark beer, so you need to go to a Budvar establishment for it. If you like dark beer, it's worth seeking out.
U Medvídků is a popular venue that has Budvar from the tank. Tank beer was usually cheaper and the beer was very fresh because it wasn't preserved. They offer traditional food and have great meat and cheese platters.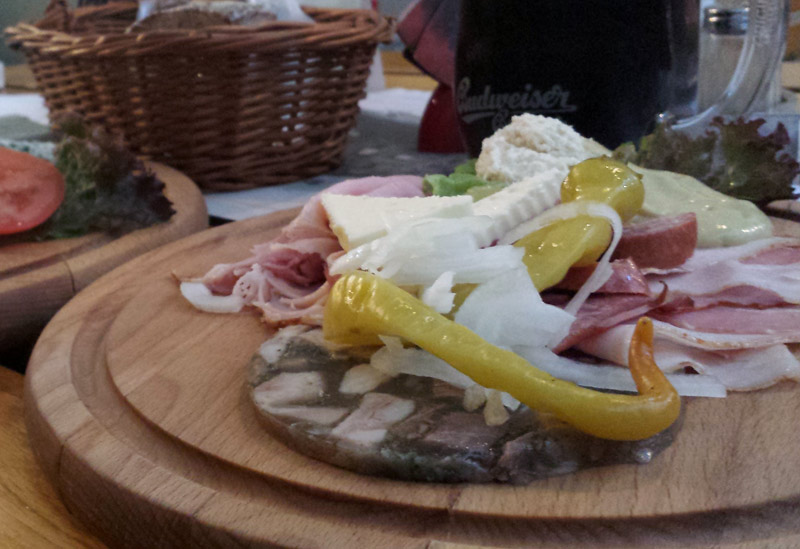 Pivovarský Klub and Pivovarský Dům are owed by the same people. We went to both and they are both unique and worth a visit. Klub has over 200 bottled beers and 6 to 8 on tap. It is great for an afternoon stop to try a variety of local beers as well as ones from around the world. Dům is a restaurant and brewery that have several different varieties on tap that they brew including several flavors such as banana, sour cherry, and nettle. We had the half and halves of lager and dark, but they do have a sampler platter for those who are adventurous. We only drank here, but they are known for great food too.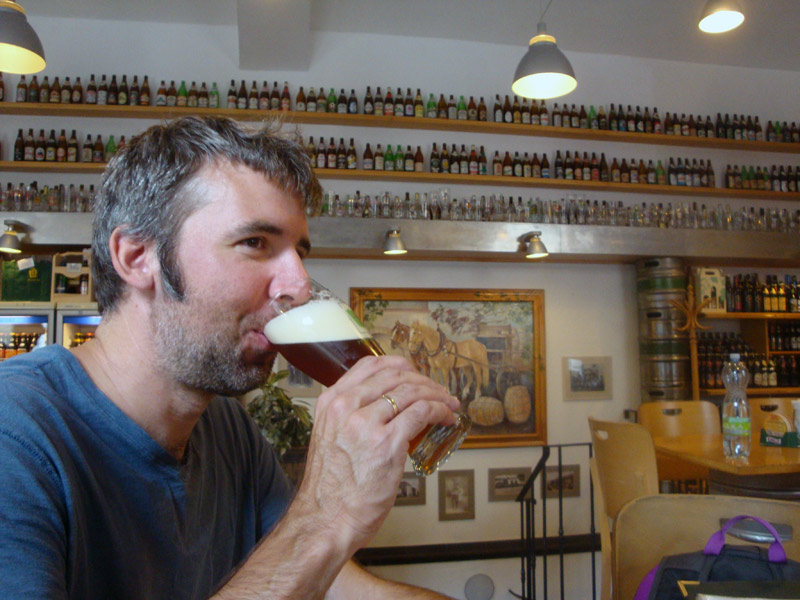 Prague has a number of beer gardens that offer some great outdoor beer drinking. Letná Park has great views of the city and a nice beer garden for relaxing. Our favorite was the Letní Zahrádka Pražan beer garden in Stromvka Park. The Únětice unfiltered 12° they had on tap was one of the best beers we had in Prague. If you are headed to Prague and are looking for a beer garden, check out PragueBeerGarden.com.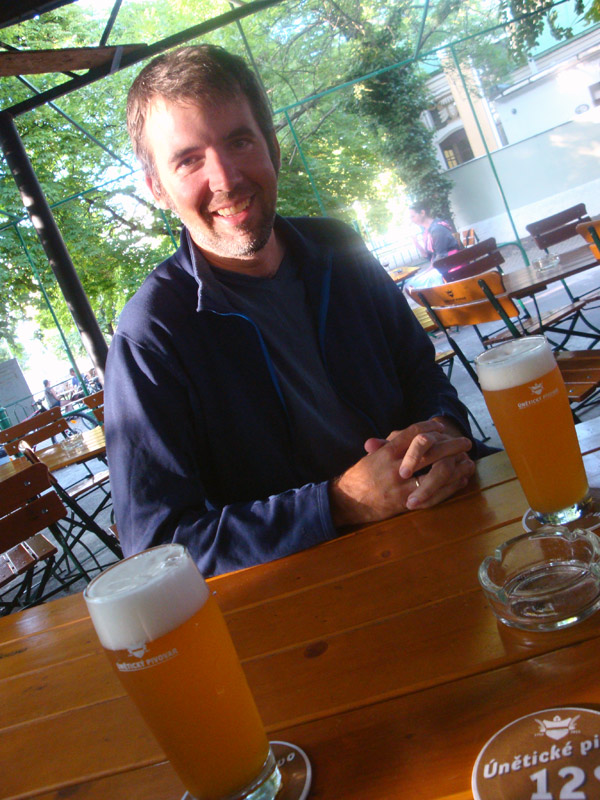 If you want a pause from beer we found the wine cave to be a good choice. Vinárna U Sudu is a wine bar cellar. We stayed outside in the courtyard and I enjoyed white wine from the tap while Mark had beer. If it isn't summer they have a cave below to keep you warm while you imbibe.
We were able to see and do many things in Prague which made it that much more entertaining, but there are still so many more things we could have done. This city definitely stands out as a place to return someday especially for all the delicious food and drink at such reasonable prices in a big city.