I hadn't planned on going to Austin. I had already booked a trip to the Malaysian Grand Prix. One of the primary reasons for going to Malaysia is that it was cheaper to go there for Formula 1 than to the race in Austin. But when my friend David contacted me asking if I'd go if there were a free ticket involved, well, who am I to refuse? So Julie and I headed to Austin for five days to check out the city and meet up with our friends David and Lucy for the race. Remember, kids, if you don't have a job that gives you access to free sport and concert tickets, it doesn't hurt to be friends with someone who does.
Food
What can I say about Austin food other than bring your fat pants. Lots of Barbecue, lots of Mexican, and food trucks everywhere. I hope you like hamburgers because they're everywhere, too. And if you are looking for something different there is Thai, Burmese, Colombian, Argentinian, and Vietnamese just to name a few that I saw. Our diet outside the track revolved around Mexican, hamburgers, and BBQ. The two things that I had to have on the trip were tacos and brisket.
We hit Garcia's in South Austin for breakfast tacos and barbacoa and eggs. Breakfast at Cisco's in East Austin featured migas (eggs fried with tortilla chip bits) served up with beans, salsa, and homemade biscuits. I got my taco fix at Pueblo Viejo on East Sixth.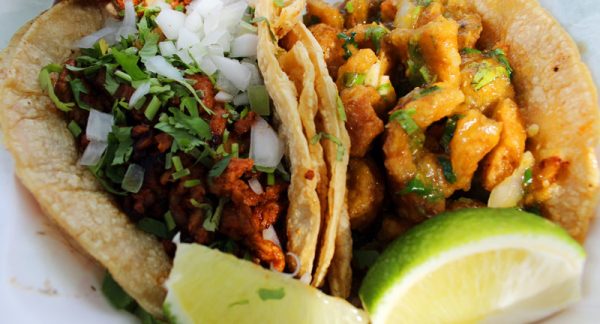 We grabbed Burgers at Shady Grove and El Camino. The Amarillo burger at El Camino topped with roasted serrano chiles and served on a jalapeno bun lived up to the hype. Perfectly grilled with red in the middle and char on the outside, the hot peppers didn't overpower the great burger flavor. At least that's what I seem to recall.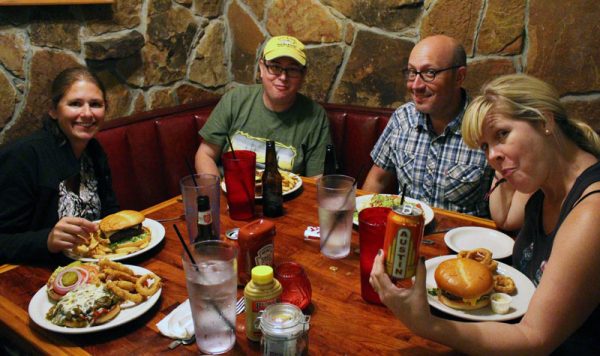 We had no intention of waiting in line for Franklin BBQ, but a matter of timing, distance, and circumstance made it the best BBQ option for us. We arrived about 90 minutes before they opened and the line was already down the street. And that was on a Tuesday. You're going to wait at least three hours no matter when you go. But the earlier you arrive, the less likely they are to run out of meat. Next time we'll plan ahead and show up with beverages.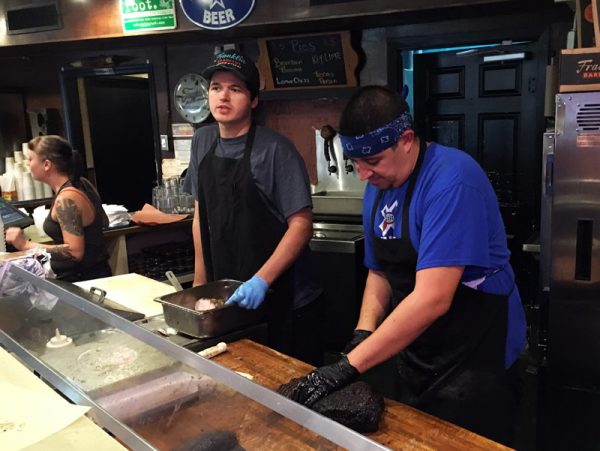 We ordered a pound of brisket, a pound of pork ribs, a quarter pound of turkey, and one sausage link. They threw in some pulled pork for us to try since that's the only one we skipped. Sides? Why waste the space. I didn't wait three hours for potato salad.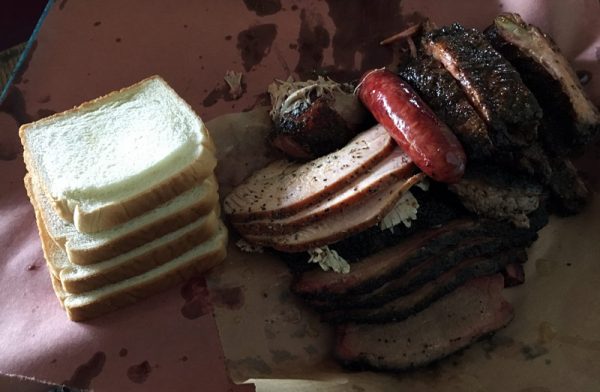 So, was it worth the wait? You're damn right it was. Best brisket I've ever had. Unbelievably juicy it pulled apart with no effort, and the fatty bits were like butter. The ribs were fall off the bone tender but had too much rub on them for my personal taste. I'm not a hot link guy, but I always get one just in case I haven't had the right one yet. I still haven't found the right one. The standout, besides the brisket, of course, was the turkey. Not over smoked, juicy, and great turkey flavor.
Beverages
Well, we drank a lot of Lone Star.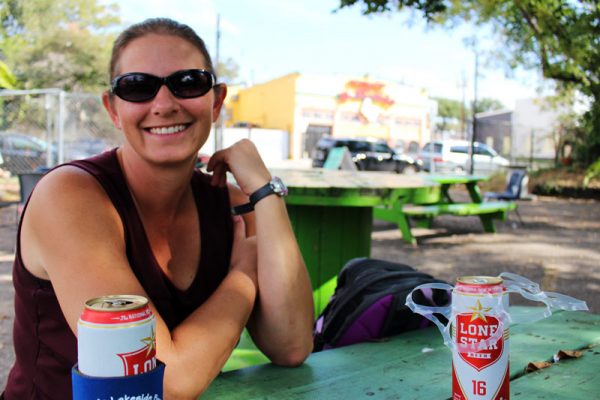 Austin has a solid microbrew scene, and we tried to take the best advantage of that as we could. Julie and I decided to make a day of it on Monday after the race. We headed east of the interstate and grabbed a late breakfast at Pueblo Viejo. After our tacos, we walked east on 6th Street until it ended. Located in a large mixed-use commercial building right where 6th ends is Hops & Grain Brewing. We enjoyed a couple of pints of their Mosaic before working our way back into town. Unfortunately, the other breweries on 6th were closed on Mondays. Fortunately, many of the great bars on 6th were open.
We hit The Grackle, Sputnik, Rio Rita, and Shangri-La. When you go day drinking on a Monday, you can chat with the bartenders as they aren't particularly busy outside of prep work. From what they told us, most F1 fans don't venture east of I-35. They don't see a bump in numbers over the race weekend, and a couple said we were the first race fans that they'd encountered.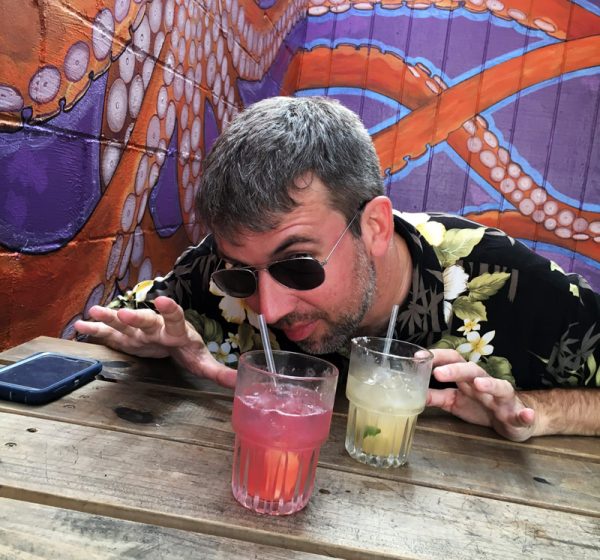 We were introduced to the owner of a popular tea shop through other friends who were in town for the race. Jeff helped us explore more of East Austin with an evening out at Gourmands and the Hard Luck Lounge.
If you are looking to detox a bit, hit Jeff's Zhi Tea on Bolm Road. They mix their own tea blends and have a nice shop/cafe. Grab a cup and head outside to the yard and enjoy your tea under two of the largest pecan trees in Austin. Falling objects are edible.
The Track
Oh yeah, we were actually there for a race weren't we? The Circuit of the Americas (COTA) is still a work in progress as far as infrastructure in and around the track goes. The parts that are done are cool. The number of trained employees and volunteers they have is impressive. It is a very well run event put on by people who seem to know what they are doing.
Most stands and general admission areas offer a good view of a significant section of track and additional views of more distant segments of the track. While many of the paths are paved, there are still many dusty gravel roads running between stands. There is large, easy to read signage so getting to where you're going is easy even if there are only a couple places to cross over the track. They have a free shuttle that runs around the outside of the circuit. If you aren't averse to walking, you can tour the circuit on foot. But it is a big venue and can take a while to get from one point to another.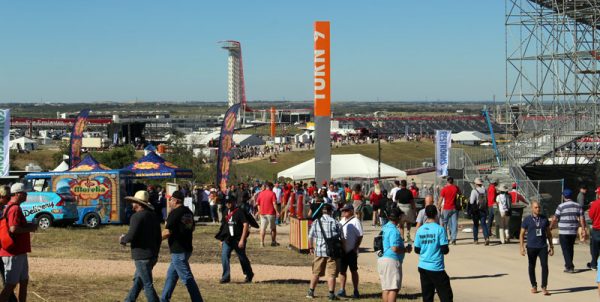 The racing wasn't bad. Our seats faced the Turn 12 complex which is one of the best overtaking areas on the track. We at least got to see the culmination of the tussle between Alonso & Massa. The support races were good for what they were. The Porsche Cup had the best racing of the weekend, and the historic 70's F1 cars looked and sounded like beasts.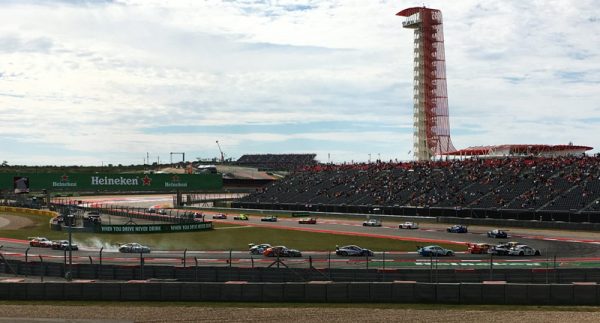 They had music acts everywhere. Aside from the big Taylor Swift show, they had stages all around the track and even had bands playing along the path between the shuttle drop off and the main entrance.
Our seats were for the COTA Club hospitality area with an open bar, catered meals, and a great view of the track. I typically camp when I go to races, so it was nice having the hookup.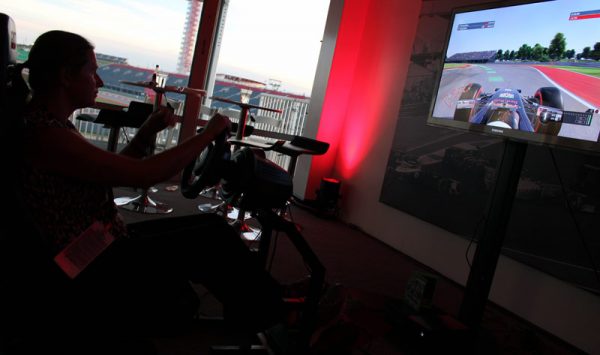 The variety of track food available at COTA is probably the greatest I've ever seen at any event, sporting or otherwise. The beer prices are in line with most events. A tall boy of yellow beer was $8.The food prices seemed a bit higher though with a giant smoked turkey leg costing $18. Since COTA won't allow you to bring in any food or beverage, having hospitality for the weekend easily saved us a couple of hundred dollars.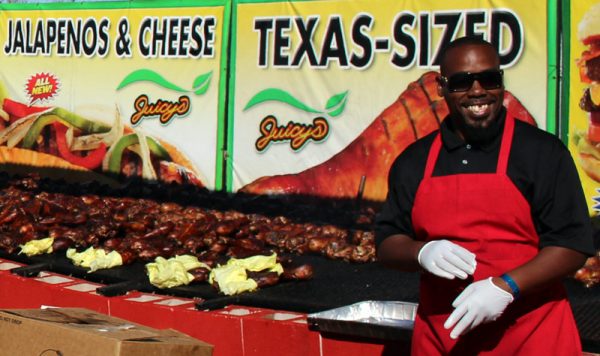 Transportation
The best deal in Austin is the #100 bus that runs between the airport and downtown. $1.75 gets you from one to the other in about 30 minutes.
As for getting to the track, COTA offers a shuttle service that runs from the convention center downtown to a stop about a half mile from the main gate of the track. $15 a day round trip makes it a pretty convenient and affordable way to get to and from the track. They have so many shuttles in service that at no point did we have to wait in a line.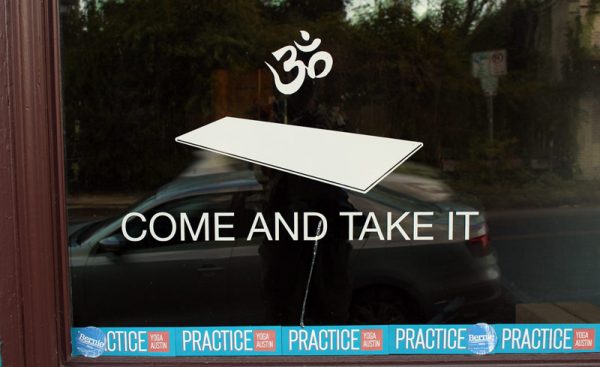 If you have a party of four, taking a ride share is more economical. Austin ran Uber and Lyft out of town, but there are still ride share services available. Jeff recommended Fasten. We used it several times during our stay and had a good experience with it. I find their app easier to use than Uber. It only cost us $25 to get to the front gate of the track from our rental in Travis Heights near downtown. We were still able to return on the shuttle because when the race is over, they just funnel everyone out. The shuttles are already in line and the tickets purchased. They just want people to leave.
You can also get around on foot. Austin is very walkable, and we averaged around 10 miles a day between walking around town and the track. We needed it anyway to work off all the food we were eating.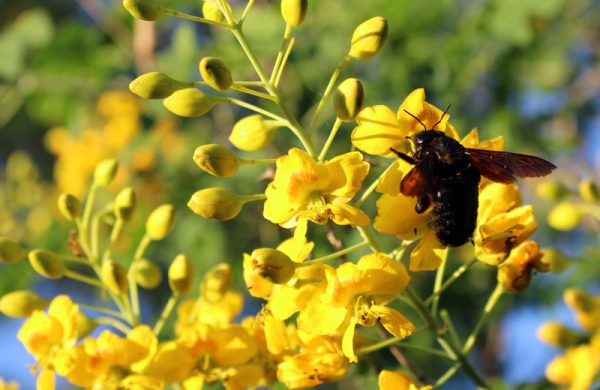 Lodging
Hotel rooms are not cheap for F1 weekend in Austin. David found a nice Airbnb house in Travis Heights just off South Congress for $250 a night. It had two bedrooms and plenty of space in a nice neighborhood. When Dave & Lucy headed home, Julie and I moved downtown to the Intercontinental. Julie had points to use, so we didn't pay the usual going rate.  Airbnb seems the best way to go if you have a group. Booking early is always better. If you're cool being away from downtown, there are more affordable hotels the further out you get. With Fasten, getting in and out of the city in the evenings is effortless.
The Verdict
I loved the city, and I enjoyed the track. I plan to come back, but it would probably be for the WEC race weekend. COTA seems like a perfect track for endurance racing where you can spend your day wandering and taking in different parts of the track. For shorter races like F1, there's just too much ground to cover so it makes more sense to stay put. Plus there are smaller crowds and cheaper tickets for WEC, so you get to enjoy the experience for a lot less.