When we were in Istanbul, there was a little kebab place around the corner from our hotel. Not the big standup shawarma type, but actual shish kebabs cooked over charcoal. For slightly more than $4, you could get an Adana kebab platter. Adana kebabs are made from ground lamb seasoned with a mixture of spices. The platter came with grilled hot peppers, grilled tomatoes, seasoned onions, rice, salad, and warm pita type bread. It was the best deal on delicious food in Istanbul, which is a city full of endless affordable, delicious food choices.
Read about that kebab place and other great places to eat in Istanbul.
The Recipes
Here are the recipes I used to recreate this great spread, though for a little bit more than $4 per person:
Adana Kebabs by Serious Eats
Turkish Salad by Food.com
Pita by The Spruce
Cucumber Yogurt Sauce by Allrecipes.com
We had Cacik, a cucumber yogurt sauce, several times while in Istanbul though never with kebabs. Cacik is basically the same as Greek tzatziki, which I especially like with lamb. So many dishes from the Middle East and Mediterranean vary little more than in name as you go from one country to the next. I've been using this tzatziki recipe for some time, so I didn't hunt down one that is specifically Cacik. In my kitchen, Turks and Greeks can peacefully coexist.
The kebab recipe calls for ground lamb and a couple of ingredients that you'll only find at an international grocery or online: Sumac and Urfa chili flakes
(also called isot biber). I generally don't like buying one-off ingredients, so if you want to substitute things, you can sub crushed red peppers for the Urfa and lemon zest for the sumac. You can also use beef instead of lamb. Sumac is easier to find than Urfa, at least at my international grocery.
As far as grilling, these can easily be grilled on your standard grill using wooden skewers that have been soaked in water for at least 15 minutes. At the Turkish kebab stands, there are no grill grates. They have large metal skewers that span the area over the coals making them easy to turn for even cooking.  I got an idea from Alton Brown on an episode of Good Eats on how I could build a proper kebab grill with materials I already had on hand. Namely, the charcoal table that I use for cast iron cooking
, and some bricks.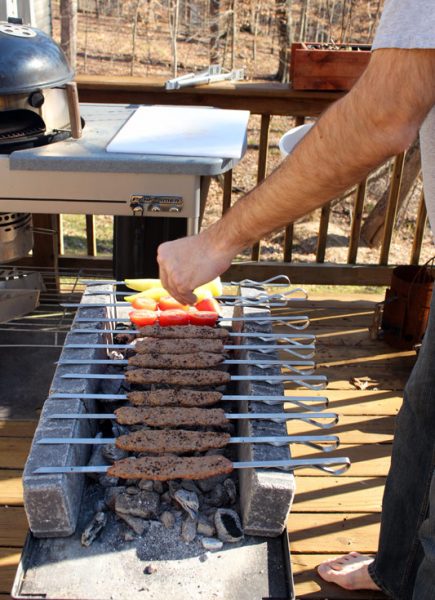 I invested in a dozen wide metal skewers
, and I'm glad I did. The wide blade keeps food from spinning around unlike round skewers. If the weight is evenly distributed on the skewers, you can rotate to four different sides for even cooking. I've never used them on a regular grill, but I'm sure they would work just fine on one. And if I ever decide to take up fencing, I'm all set.

The Turkish salad is perfect for any meal. Fresh and healthy, it is a great salad alternative if you're burnt out on lettuce or greens. Or you have more tomatoes from your summer garden than you know how to use. Green peppers do not like me, so I usually use red, orange, or yellow bell peppers instead. I try for yellow or orange so that they stand out from the tomatoes. I also peel and seed the cucumbers.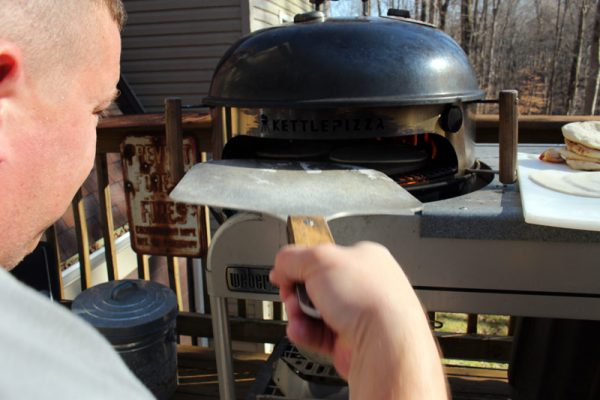 For the pita, well, you can always just grab some from the store. I've personally never made it before. Fortunately, our friend James is pretty good at that whole baking dough thing. He has the Kettle Pizza attachment for his Weber grill and uses hardwood to get the temperature up. You can do them in your oven, but if it doesn't go up to at least 500 degrees Fred (260 Clyde), you won't get the puffy, pocket bread results. Per James, if you make them in your oven, crank it up as close as you can get to 500, and put a pizza stone on the lowest possible rack. If you don't have a pizza stone, be sure to preheat whatever baking sheet you do use. The cooking surface has to be hot.

Notes
For the kebabs:
Make the lamb mixture the night before or at least several hours before making the kebabs, and put it in the refrigerator. It will improve the flavor and make it easier to put on the skewers.
Substitute Beef for lamb, crushed red peppers for Urfa, and lemon zest for the sumac
Urfa biber (isot biber)
is a slightly spicy, slightly smokey, slightly fruity dried chili pepper.
It is very easy to overcook lamb, so rotate often and don't leave them on too long.
I slice Roma tomatoes into two or three large chunks and put them on a couple of the skewers and grill them as well. Also, some hot peppers don't hurt. In Turkey, I believe they use a lot of Aci Sivri peppers. Since I can't find those, I try to find spicy Hungarian Wax or banana peppers.
I might try adding some paprika the next time I make the kebabs.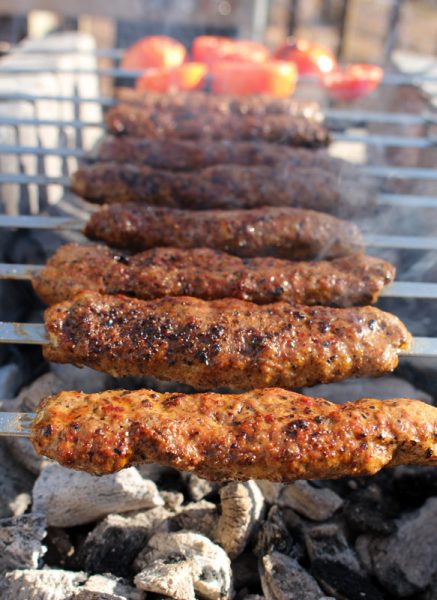 For the salad:
1 ½ cups of tomatoes is about five Romas.
1 cup of diced bell pepper is about one large pepper.
The recipe calls for adding two tablespoons of water, but there's usually plenty of liquid from the tomatoes. Use your judgment.
For the cucumber yogurt sauce:
I usually use two full cucumbers, but I peel them and cut out the soft area with the seeds before grating them. If cucumbers don't agree with you, chances are it's the skin that's the culprit. I remove the seed area just because I want as little water in the sauce as possible. I usually grate one cucumber and dice the other for texture. I also squeeze the grated cucumber to remove as much water as possible.
Don't over garlic. Typically I double the amount of garlic in recipes, but not in tzatziki. It's not getting cooked. Unless you are worried about vampires, stick to the recipe.
Don't skimp on the dill. It's easy to skip over certain herbs in recipes because if you don't have it in your garden, you don't want to spend $2 at the store for two tablespoons worth of whatever. If you're inclined to do this, don't. Dill makes it.
Be sure to make the day before as well. Tzatziki gets better with age. Again, another reason to not over garlic.
For the pita:
Crank your oven up as close as you can get to 500 F (260 C), and put a pizza stone on the lowest possible rack.
The dough should only take an hour to rise and double in size.
Preheat your baking surface.