Before leaving on our trip I was in a bit of a bind because the only phone we owned was my four year old iPhone 3gs and that wasn't equipped to work internationally. My original idea was to swap SIM cards with each new country because at that time no US carrier had anything close to an affordable international plan. I wanted a smart phone because I wanted access to email, maps, translation, apps, etc. but I wasn't really in the position to shell out several hundred dollars for a new phone. I looked on the used phone market but wasn't thrilled with what I was seeing. For once all of my foot dragging paid off because while watching TV last October I saw a commercial for T-Mobile's Simple Choice Plan which included a nice international package. It sounded too good to be true but after some research it looked to be a very viable option. Here are the basics:
No Contract
Domestic: Unlimited Talk, Text & Data
International: Unlimited Text & Data in over 100 countries
Call the US for free over Wi-Fi anywhere in the world
The base price for the plan is $50 a month (closer to $60 once all of the taxes are tacked on.) T-Mobile no longer does 2 year contracts. The cost of the new phone is spread out over two years and appears as a separate line item on your bill. If you cancel service, which you are free to do at any time, the remaining balance on the phone is due. If you already have a compatible phone you can just use it.
Now that we have over a year of continuous use on four different continents I believe I can give an adequate review.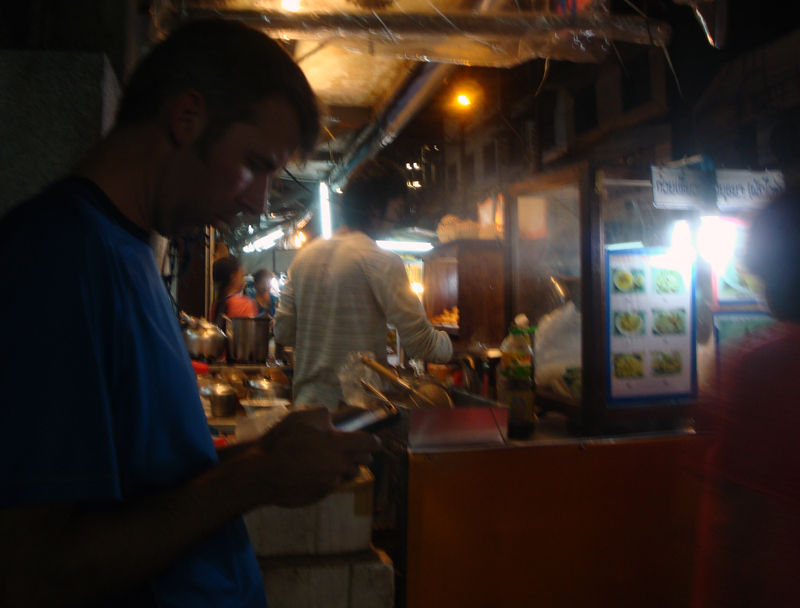 Coverage
T-Mobile partners with various telecom companies around the world to provide service so your coverage is only as good as their partner. Fortunately they have some good partners. It may not have always been 3G but the only areas with zero coverage were some very rural areas of Costa Rice and the more remote desert and mountain areas in Argentina, Chile and Peru. All urban areas have been covered and most towns of any substantial size. The map locator can use GPS in addition to cell coverage and Wi-Fi to pinpoint your location so you can always at least know your general location without coverage or in Airplane Mode. There were many times where I've seen locals using their phones without problems while mine didn't have coverage. I'm not sure if they had different carriers or different phones.
Phone Calls
If you are on Wi-Fi, phone calls to the United States are free. This is nice since most places we stay have Wi-Fi. The only drawback is you need a full Wi-Fi signal (four bars). When it gets down to three bars it starts to get a little choppy. Two bars or less and the call will probably drop. If you call on the partner network instead of over Wi-Fi the charge is 20 cents a minute. That counts for local calls as well as calls to the United States. Always double check that you are on Wi-Fi before making a call. It is a good way to accidentally rack up additional charges. There has been more than one occasion where we thought we were on our local Wi-Fi and the connection dropped and then bounced to the local network. There is a setting on the phone that turns off the ability to bounce to the network so if you lose Wi-Fi the call will just disconnect.
Texting
Texts are free and unlimited. Since they aren't that data heavy you can communicate pretty well no matter how weak your signal is. The only problem really encountered is when I try to send an image in the text. Even on full bar 3G it will often fail. Not that big of deal but can be annoying at times.
Data
Much of the world, specifically Europe, has moved to 4G. However, with T-Mobile you are limited to 3G when traveling internationally. If you go the SIM card route you will have access to the local 4G network if it is available and the improved data speed is noticeable. Again, this wasn't a deal breaker for us as we aren't doing a lot of heavy data work while roaming around in public. I can access email, Facebook, WordPress, Google Maps, etc. with no major problems. As you lose bars on 3G coverage more data heavy apps like Google Maps can suffer and when you drop to E even simple web pages can take a bit of time to load. Turning off background data, especially on Google Maps, can help with data speeds.
Customer Service
T-Mobile's T-Force group has been very helpful. When I've had problems or questions they have been quick to respond and quick to resolve issues.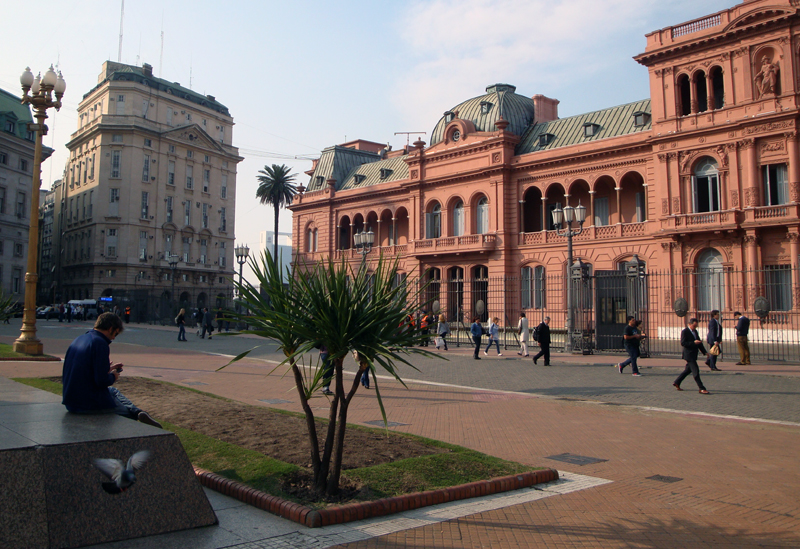 Problems and Pitfalls
Wi-Fi Calling: Make sure you are on full Wi-Fi access. If not you could easily lose the call or worse, connect to the network and get charged. Settings can be adjusted on your phone to prevent this so it is easily resolved. This is great if you only have a phone. If you are also traveling with a laptop or other device, then it is a bit redundant because you can make phone calls using Google Voice, Skype or a similar service.
Data Roaming: You have to turn data roaming on to access T-Mobile's partner networks. This also allows you to access non-partner networks. There is no way for the phone to differentiate between the two. While this shouldn't be a problem in country, if you are near a border you have to be very careful. My phone grabbed a tower in Paraguay when we were in Argentina and rolled up $50 in data charges in ten minutes. T-Mobile removed the charge from my bill as a one time, "Don't do that again" courtesy.
Google Maps: While it is extremely useful it also passes more data than any other app I use. I've turned off background data in hopes of speeding it up but I've had many times where it will partially load a map and then just stop. I'm not sure if this is a data issue, a phone issue or an app issue but it can be incredibly frustrating when you need info immediately. You can download maps from Google for offline use to help get around this problem.
Coverage: Sometimes it can be hard getting coverage in places you wouldn't expect it to be a problem. For example, when we were in Lima, Peru everyone we saw was using data on their phones, the map showed that all of Lima was covered but we could rarely access the network. However, this is rare occurrence.
Data Tethering: You can't tether data. It would never be fast enough to really use your laptop much but there have been times when accessing the web via my laptop would have been easier than using the phone. Unfortunately the Wi-Fi hotspot function only works inside the United States.
So, is it worth it?
I look at it from a cost versus quality versus convenience perspective. Is it easy enough and good enough to justify the cost? On this issue I can give a very definitive, concrete "maybe."
It is far cheaper to swap SIM cards from country to country but it is nice to be able to keep both of our numbers and have them ring to one device. We don't have to worry about rationing data and it just works when we get to a new country.
For now I'm happy with it. The best part about not being on contract is that if at some point in the future we decide to switch to SIM cards we can just cancel the plan, move the phone number to Google Voice and pay off the remaining balance on the phone.
Note: Google Voice is a service that allows you to keep your preferred phone number independent of individual mobile carriers. You can control which calls ring to which devices. The service is free but does have a onetime charge of $10 if you want to transfer your current mobile number to them.
If you are considering long term travel abroad look at your data needs and usage. If I was traveling solo I would not have the T-Mobile plan but it does make some sense for couples. It depends on how often you are switching countries. If you are traveling slow and spending a lot of time in one place SIM cards are very economical. If you are hopping from country to country in relatively short periods of time and are buying multiple SIM cards a month, then it might make sense for you.
Good for: Couples, especially if you both want to keep your current phone numbers. Also for solo travelers who need immediate contact with clients and/or family.
Not for: Solo budget travelers who just want a phone & data. Anyone with massive data needs.
Recommendations
If I was traveling solo on a budget for the long-term, I would not have T-Mobile. I would buy a used smart phone, park my phone number at Google Voice and swap SIM cards from country to country.
For a short term trip (less than six months) as a couple, I would probably stick with T-Mobile out of convenience.
If we were to take another long term trip I would cancel our service, park both of our numbers on Google Voice and swap SIM cards from country to country.
Pros:
You can keep your phone number
Easy to text friends/family
Free calling to the US over Wi-Fi
Don't have to worry about swapping SIM cards
Don't have to worry about data or text limits
US Phone number so you can forward Google Voice to the phone (great if you have two numbers you'd like to keep.)
Cons:
More expensive than SIM cards (unless you're a data hog.)
Easy to accrue additional charges (easily mitigated by adjusting phone settings)
If you go to a non-covered country and use a SIM card, you're still making monthly payments for service you aren't using.
Data networks can be slow. (Google Maps can be brutal)
Can't tether for a Wi-Fi hotspot.