Our planned two weeks in Chile slowly ballooned to a month. Its range of climates and geographic regions coupled with its affordable long distance bus services make it a great country to explore.
Transportation
Chile is a great country to travel in. Long distance buses run the length of most of the country and are affordable and comfortable. It is also quite possibly the most pedestrian friendly place I've ever visited. Maybe it was because we had just come from Peru where crossing the street could be a game of chance but the manner in which drivers yielded to pedestrians in a city the size of Santiago was astonishing to me. If you didn't just step into the crosswalk and stood at the curb waiting for a break in traffic drivers would stop and look at you like, "Would you just cross the damn street already, I have somewhere to be." At intersections where there weren't designated cross walk signs and traffic signals, pedestrians just go. This was nice when driving because there wasn't that gray area like in the US where you're trying to decide if the person is going to step out into traffic or not. If I saw a person set foot off the curb, I stopped.
Long Distance Buses are the best way to get around Chile. Chile is a long country. Getting from where you are to where you want to be can easily be anywhere from 8-20+ hours away. The great news for budget travelers is that the buses are very affordable and if you take an overnight bus you save a night's accommodation cost. For the taller travelers they also have different classes of seats and the upcharge for the upgrade isn't that significant: Less than 20% over the cost of a standard seat. The seats are large and have plenty of legroom and will completely ruin air travel for you. We used TurBus for our first trip from Arica to San Pedro de Atacama. They were clean and reliable and I saw no reason to try a different company the rest of the time we were in Chile. The only downside is unless you are Chilean you currently can't book tickets online through their website. I would just use the website to see which seats were available and then would go to the bus station and book them.
Taxis are everywhere but we only took one our entire month in Chile so I can't really comment.
The Santiago Metro is a great system. It is clean and easy to navigate. If you are only in Santiago for a few days you'll be fine buying individual travel tickets but if you are there for more than that you may want to consider investing a few Pesos in a BIP card. It is a plastic rechargeable travel car good for the metro as well as city busses. The best part is that since you don't need a ticket to get out of the Metro more than one person can use the card. We would just fill it up and pass it back and forth when entering. After leaving Santiago we gave the card to some travelers on their way there so they didn't have to buy one.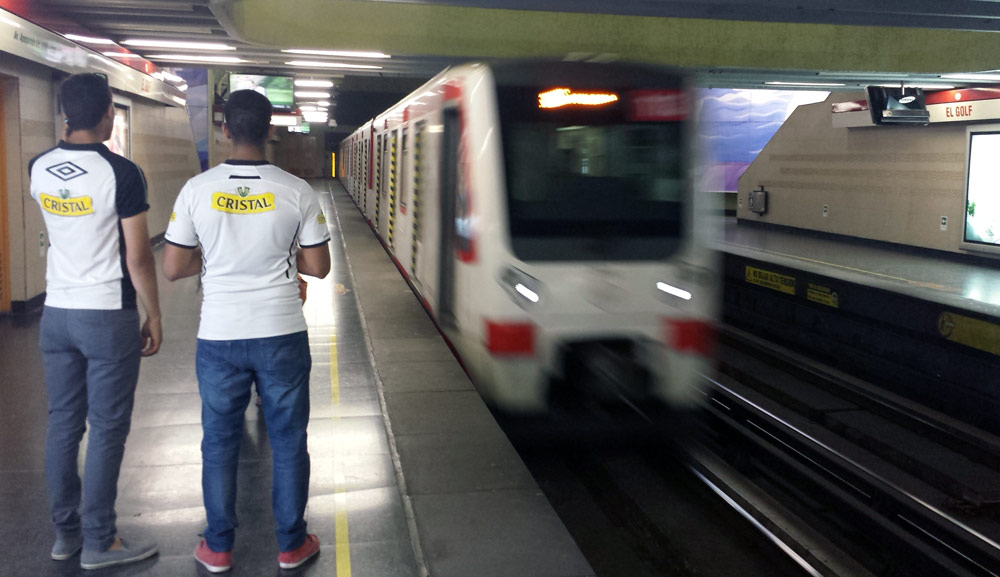 Rental Cars are fairly priced. You can get a nice compact car for about US$45 per day. It was fun driving in Chile, especially since we were on a lot of roads with very little if any traffic. While the cost for the car isn't bad, paying to put the gas back in the car is what will get you.
Accommodations
We had some great accommodations during our time in Chile. The Arica Unite Backpackers Hostel was a laid back place run by two really cool people. Jennie & Nico were so nice…Nico literally gave me the shirt off his back. Seriously, hostels end up with a lot of left over clothes so when we checked out after four days they asked us if we needed anything. I ended up with a long sleeve t-shirt. On some evenings they make dessert in the hostel for a few extra Pesos. The molten chocolate cake we had there was one of the best desserts we've had on the entire trip.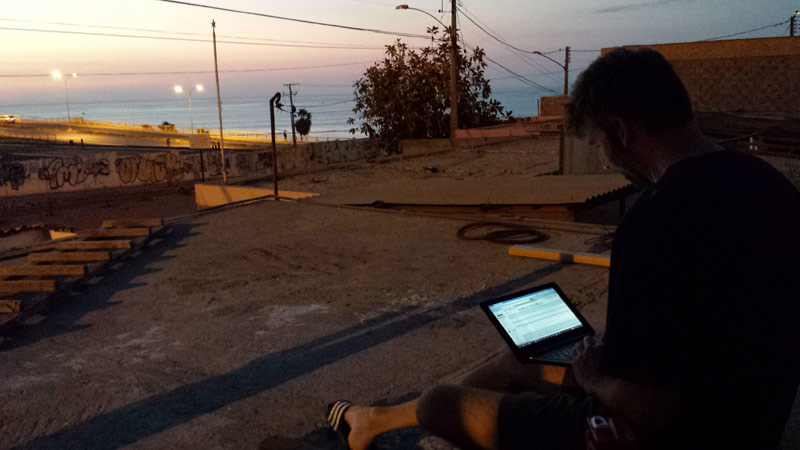 Casa de los Musicos in San Pedro is easily the most entertaining hostel we've stayed in. Father Miguel and son Michel are, well, I have a whole story about them for another time, but they are both very friendly and very enthusiastic people. The hostel is their house and it doesn't have all of the comforts you are probably looking for but their friendliness coupled with the evening performances make it worth the stay.
We had two distinctly different apartments in Santiago. Our first one was in an old apartment building with hardwood floors and an eighth floor balcony that looked out over a pedestrian street just west of the Central Market. Over the next row of buildings we could see all of the platforms for a large bus stop. The apartment didn't have a TV but it didn't need one because what took place outside the window was far more entertaining than anything on TV.
Our second apartment was on the 22nd floor of a modern apartment building. It had all new kitchen equipment and a balcony with a great view of Santiago. We will be staying there again if we make a return trip. It was a couple blocks from La Vega market and was just a great place to cook, relax and watch the sun set.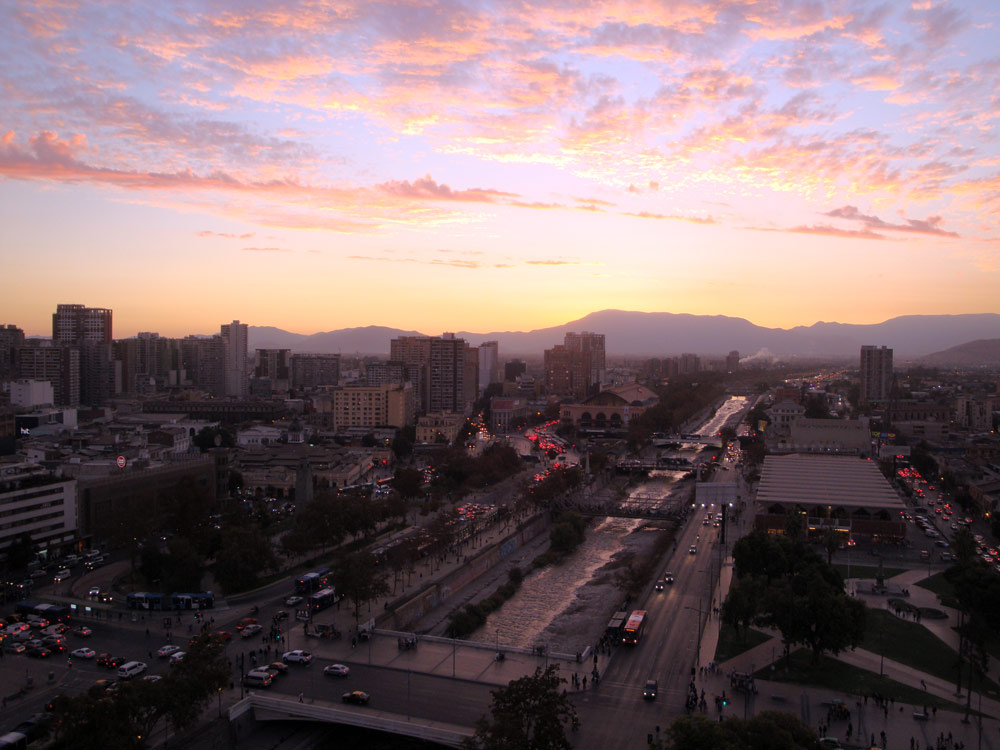 In Chiloé we stayed at the Palafito Hostel in Castro. It was a little expensive but it was a very comfortable, cozy place and they had one of the best hostel breakfasts we've encountered. Fried eggs to order, fresh fruit, yogurt, cereal, fresh made bread and local honey. You can't really beat that.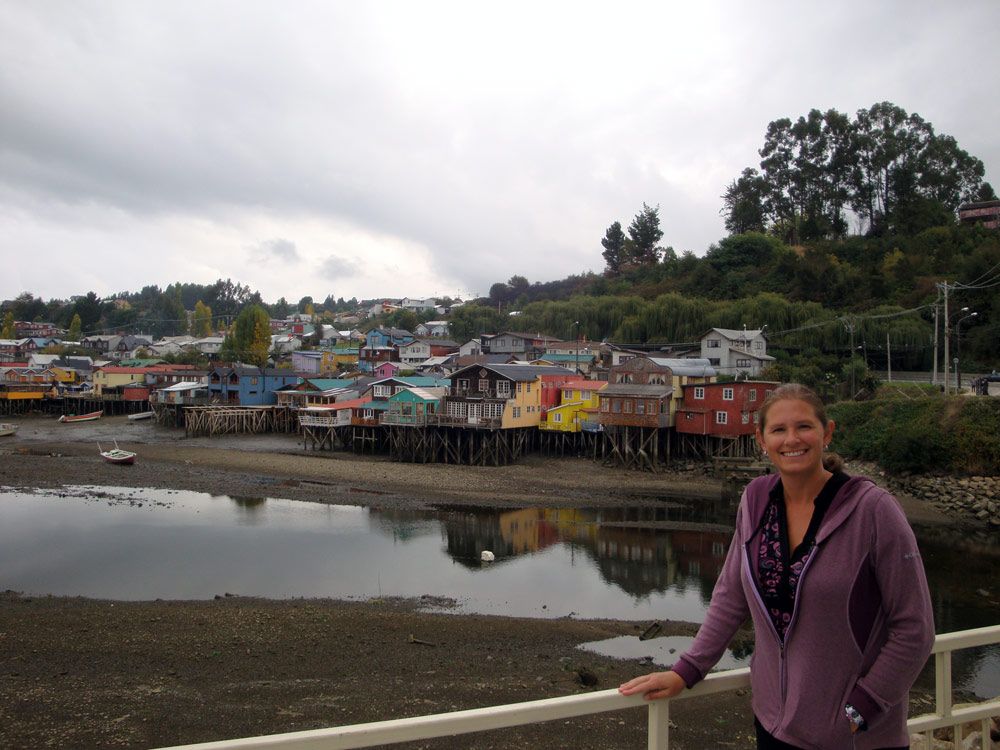 Food
Going out to eat in Chile can be expensive especially in Santiago or highly visited areas like Castro. The best way to save money is to scope out restaurants offering a "menu de la dia" for lunch. You can get a starter, entre, drink and dessert for between US$ 5-10. This will also allow you to eat at nicer restaurants at lunch for much less money than if you were to just go there for dinner or order of the menu at lunch.
Some places included a 10% gratuity on the bill some places didn't. If they didn't, we'd leave 10%. I got tired of trying to decide at which places you're supposed to tip and which ones you don't so if anyone brought me anything: 10%.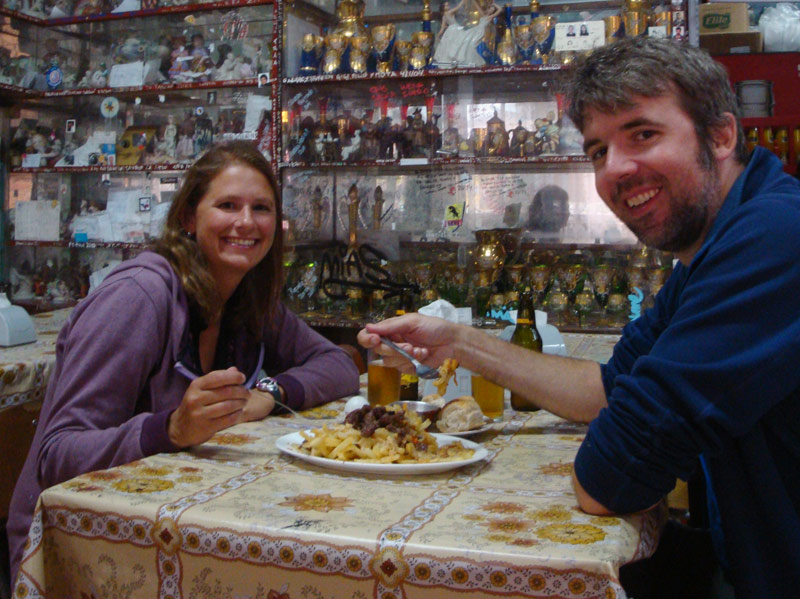 There are small restaurants at all of the markets and they are a great place to get a big meal for not a lot of money. Be warned, you will be swarmed by people with menus regardless of what town you are in. It isn't just the highly trafficked markets like Mercado Central in Santiago. People are trying to make money and they want you to eat at their place. They know you are from out of town so they know you don't have a favorite. Still, I am a bit allergic to hard sells and try to avoid them if at all possible because I start to feel a bit too much like this:
The best way to save money in Chile is to cook at home. It is a great place to cook because the produce available at the markets is fantastic. Grocery stores are convenient for stocking up on some essentials, but get your produce and meat at the markets.
You can read more about food in Chile in Julie's post.
Beverages
Pisco is a grape brandy that is very popular in Chile. The Elqui Valley is one of the centers of production and happens to be in the same area as some of the best stargazing in the world. We headed east from La Serena to enjoy both. We missed our turn for one of the more famous Pisco distillers and ended up at the Aba pisco distillery. The guide didn't speak English but that didn't stop us from taking the tour. We were even able to ask a couple of semi-intelligent questions. Since we are backpacking we couldn't stock up on the good stuff but we still purchased a couple of to-go bottles. Pisco can be taken straight but is often mixed with soda. It mixes well with ginger ale and also Coke with a slice of lemon.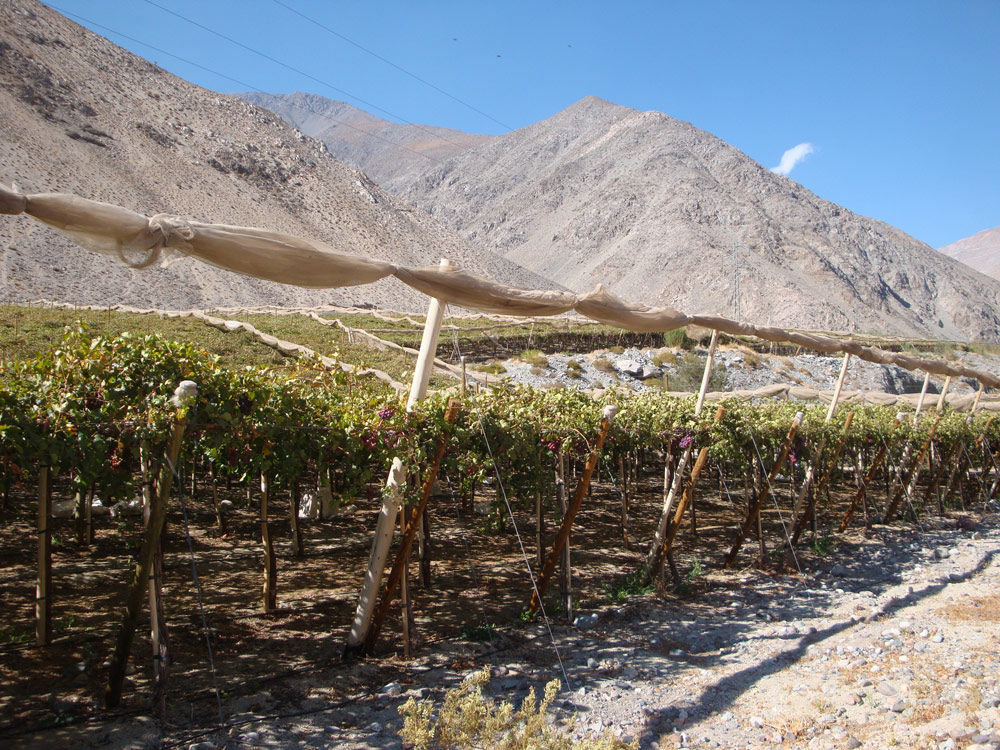 Terramotos are large cocktails made with young, unfiltered wine and pineapple ice cream. They will knock you on your ass and you can read about them in our Santiago post.
Chile is well known for its wine and there are a lot of wineries in the area surround Santiago. Unfortunately for those traveling on a budget many of them can be either difficult and/or expensive to visit. If you have the money to spend going on a tour that stops at multiple wineries is the way to go. If that isn't an option we recommend Undurraga. It is a beautiful location, it is affordable and it is easily reachable from Santiago via public transit.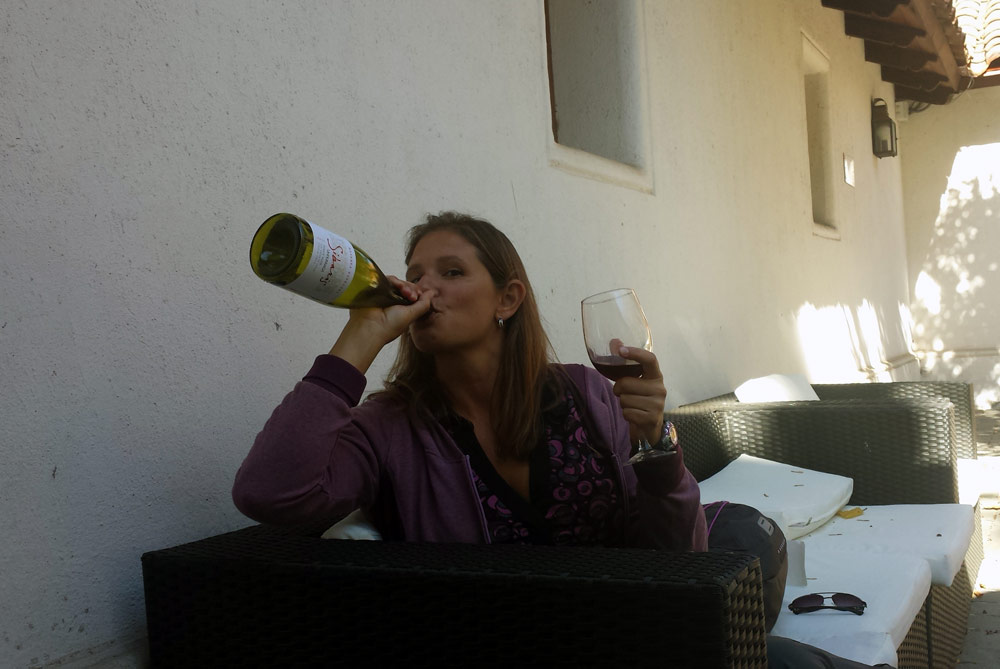 Americans love to complain about the lack of ice in their drinks as well as the average temperature of "cold" beverages when they are traveling abroad. While I understand this to a point it is something I have somewhat learned to get over. I can deal with less than ice cold beer but room temperature Coke? Forget about it. While you still may not get much ice the beverage coolers in Chile seem to be set at just above freezing. I kept getting ice cold Cokes so I kept ordering them.
Locations
Arica
Arica is an affordable, relaxed beach town in the desert. It has great big beaches with plenty of sun and cold water courtesy of the Humboldt Current. The desert/ocean breeze seemed to be constant. We had a fantastic hostel with an atmosphere you'd expect in a surf town.
If we went back we would: Do the exact same thing. Spend the days on the beach and the nights on the roof of the hostel enjoying the breeze and drinking wine or pisco.
San Pedro's surrounding landscape is otherworldly. We did not spend enough time here. We had a blast at our hostel. Although it is a popular tourist destination there is good, affordable food to be found. The little bodegas around town have meat and produce if you want to cook.
If we went back we would: Stay at Casa de los Musicos again for sure. We would definitely rent a car. While the tours were affordable there are just so many places to go. That and you just can't put a price on being able to drive through nearly empty desert highways. I also want to hike through a section of desert. I don't know why, it just seems like something that we should do.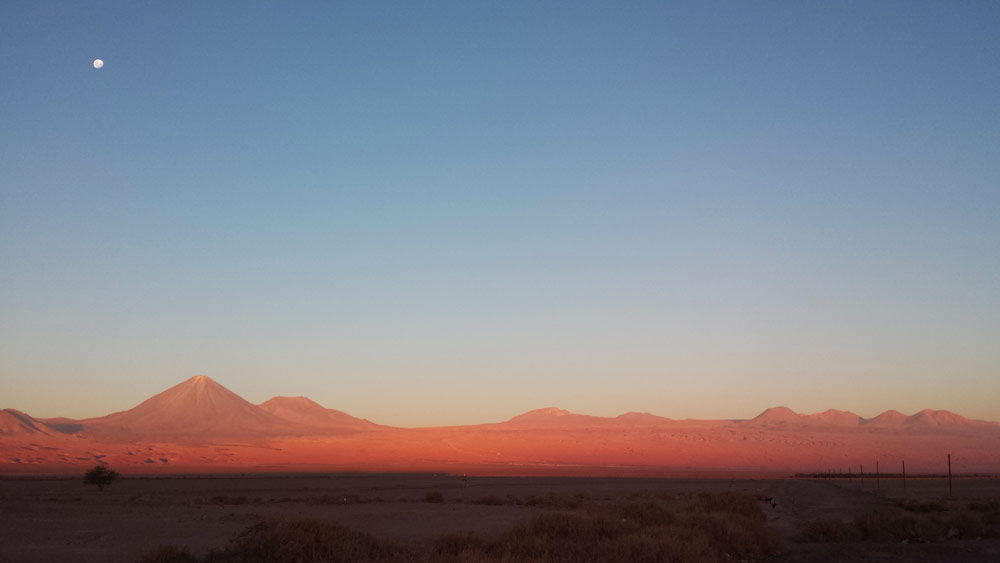 La Serena/Vicuña/Elqui Valley
We were in La Serena at the beginning of the off season so we didn't really get to enjoy the beach. We rented a car one day and headed up into the highlands to drink pisco and look at the universe from one of the best stargazing vantage points in the world. It was great to drive especially on an empty mountain highway even if it was in a little Hyundai four banger. We had booked an astronomy tour with Observatorio del Pangue. They cost a bit more than some of the other public observatories but they limit the size of their tour groups to just ten people and kids under 14 aren't allowed. That means you spend a lot less time listening to people talking about stars and a lot more time actually looking at them. Unfortunately for us, it clouded up right before sunset so our tour was canceled and our money refunded. We couldn't stick around because we had only booked the car for one day and had a bus to catch the next day to Santiago.
If we were to go back: We would spend a few days in or near Vicuña. There are some good restaurants there, there are plenty more pisco distilleries to visit and we're not missing out on telescope time the next time we visit.
We enjoyed Santiago enough to spend a second week there. Plenty of parks and museums. La Vega market is great and we visited it several times to buy groceries to cook in our apartment. As far as big cities go it is clean and safe.
If we went back we would: Rent the same high rise apartment we had for our second week and do pretty much the same as we did this trip. Parks, museums & cooking.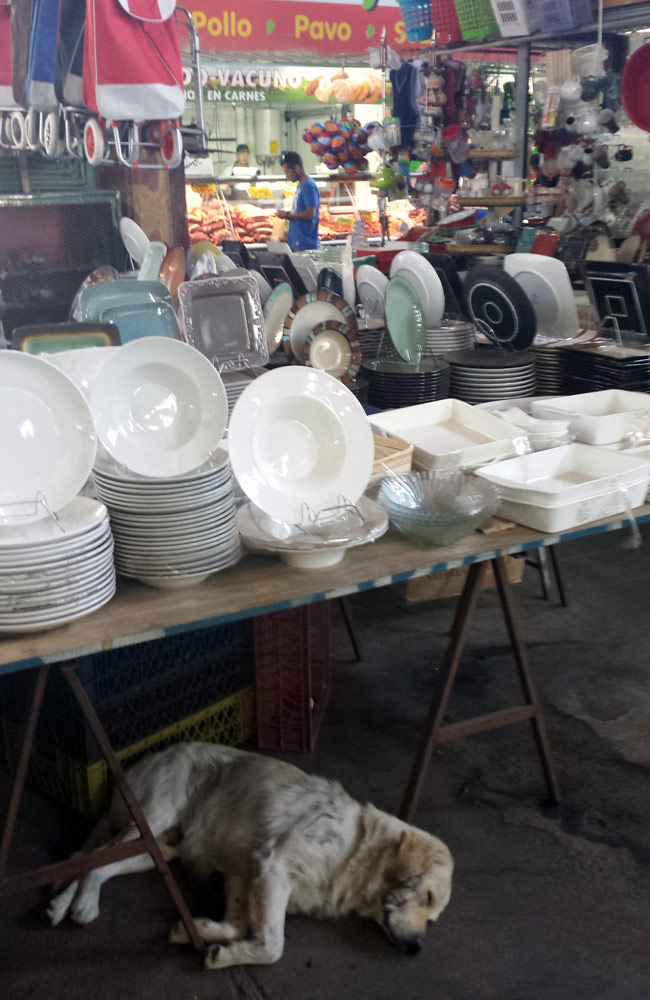 Chiloé was hauntingly beautiful as the lack of people due to it being the offseason gave it an almost deserted vibe at times. The Palafito Hostel was a little on the pricey side but it was comfortable, cozy and in a great location to explore the island.
If we went back we would: Head further south into Patagonia. We wouldn't mind going to Chiloé closer to the peak season because there are so many restaurants that close up shop when the season ends. It would be nice to have more options as there are a lot of seaside seafood shacks that have to turn out some good food.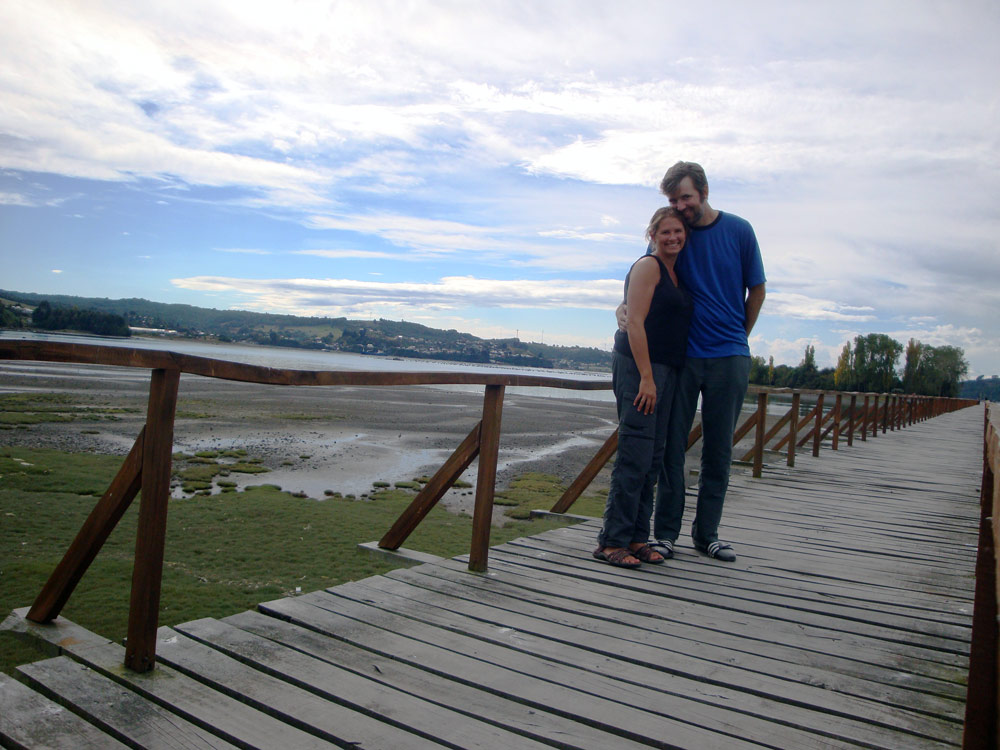 Favorite Meal
To be completely honest, most of our favorite meals from our time in Chile were the ones we made ourselves in our Santiago apartments. The one true stand out was Rucalaf Putemun in Chiloé. The quality to price ratio outclassed everything else we had while dining out in Chile. If we return to Chiloé we will probably eat there every day.
Best Pizza
We got a few undercooked pizzas in Chile but we eventually found a place in Santiago we liked enough to visit a second time. Tiramisu puts out some pretty good pies. Good crust, plenty of cheese and quality toppings.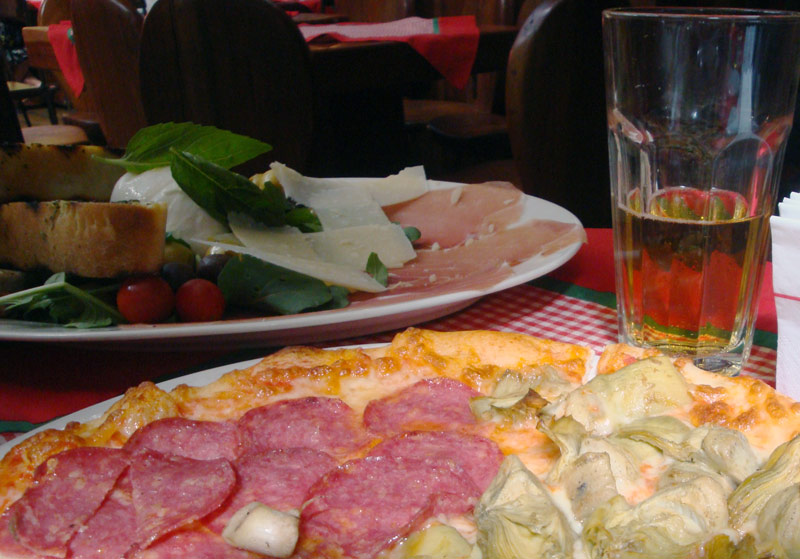 Money
The unit of money in Chile is the Peso. The approximate conversion rate is 500 Pesos equals US$1. They have paper bills for 1,000; 2,000; 5,000; 10,000 and 20,000 Pesos and coins for 500, 100, 50, 10, 5 and 1. The bills are different sizes and get larger with denomination and are each a different bold color. They are almost impossible to mix up. They have both new and old 100 Peso coins in circulation which can be confusing and potentially problematic if you are trying to do laundry in pay washers and dryers as many machines won't accept the old 100 Peso coins.
If you get big bills from an ATM (10,000 & 20,000) make change early and often. Even though there doesn't seem to be a shortage of coins breaking big bills can be tough at times.
Budget
We were worried about Chile because we read that it could be expensive. Fortunately dining out was really the only expensive part. The long distance buses were very affordable and since many were overnight they doubled as accommodations so we actually did quite well in Chile.
When planning for the trip we saved for a daily budget of $125. However, our goal is to keep it under $100 per day. In Chile, our budget came out to $106.71 per day. If we hadn't gone to Chiloé we would have come in under $100 a day, but those last four days blew the average.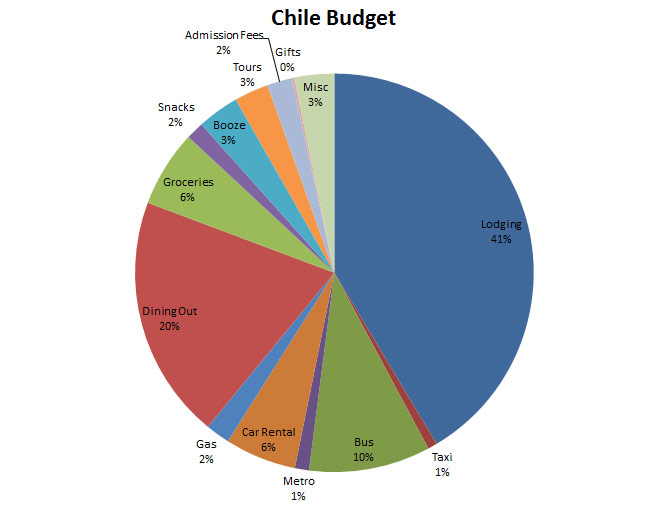 A few notes on my accounting. First, all expenses for a day are attributed to wherever we stay that night. For example, Costa Rica charged us $29US each to leave the country via the airport. However, since we spent that night in Lima, Peru that went down as a travel day expense for Peru. It isn't perfect but I'm not splitting days. Also the Booze category is for anytime we stopped for a drink and only a drink. If we had wine with dinner or bought it as part of a grocery run, I did not break it out. I am most interested in the total money spent per day and per country. The categories are just rough indicators of where our money is going to help us make adjustments where needed. International airfare is not included in the daily budget, but any flights within a country will be.
Things We Didn't Like
Papas Fritas. I don't know if it was a string of bad luck or just the Chilean taste for fried potatoes but finding crispy french fries in Chile seemed to be damn near impossible. So much so that we stopped ordering them because we knew we would just be disappointed. I'm not sure if every place we went has their oil temperature too low or if it is just because they dropped so many at a time that the oil temp dipped.
Stupid Stats
The box wine we had been drinking in Costa Rica & Peru was from Chile. It was cheap in those first two countries but it was really cheap in Chile. Finding a litre of it for under US$3 was never an issue. Many times it was significantly cheaper.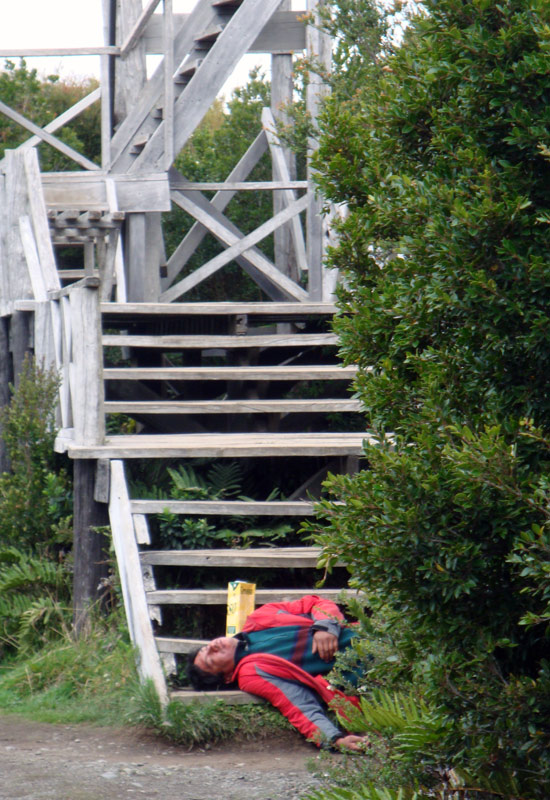 Map
Just a quick point of reference to the various stops during our time in Chile.