If you are a citizen of one of the many countries that are eligible for a visa exemption you can travel to Thailand without first applying for a visa and receive a 30 day visa on arrival at the airport. If you are planning a trip to Thailand and are planning on staying for more than 30 consecutive days your best bet is to apply for a 60 day tourist visa before you leave your home country. If you are a procrastinator (like me) or don't know where you will be in 30 days (also like me), then you may find yourself wanting to extend the 30 day tourist visa you receive when you arrive.
You can leave Thailand and come back and get re-stamped which is fine if you have another country you would like to travel to for a bit. Some things to consider:
Thailand is supposedly cracking down on folks who like to do border runs by leaving and re-entering the country in the same day.
If you do manage to do a border run, you only get 15 more days not 30.
To get 30 more days you have to fly into the country.
Fortunately, in August of 2014 Thailand increased its on arrival visa extension from 7 days to 30 days without upping the price of 1,900 Baht ($US 58). So, unless you feel like flying to Cambodia and back in the same day it is much easier to just pay a visit to the Immigration Division in Bangkok and get your 30 days extended to 60 days.
Note: This article is specifically about the immigration office in Bangkok. There are other offices throughout Thailand. Please see the end of the article for a link.
Getting There
If you are traveling solo it is probably best to hop on the BTS and take it to Mo Chit or the MRT and take it to Chatuchak Park. From there you'll have to grab a taxi. Tell them, or show them, that you want to go to:
Immigration Division – The Government Complex
If you just say "Immigration" they'll probably know. Depending on traffic, it will take about 20-30 minutes in the taxi. Fare is around 140 Baht ($US 4.25).
If you are a couple or are traveling with friends, it might make more sense to just grab a taxi from where ever you are depending on where you are staying in Bangkok. By the time you buy multiple BTS/MRT tickets it could turn out to be cheaper to take a taxi the whole way. Since it is a ways out there the taxi driver might try to charge you a flat fee so make sure that they'll go on meter.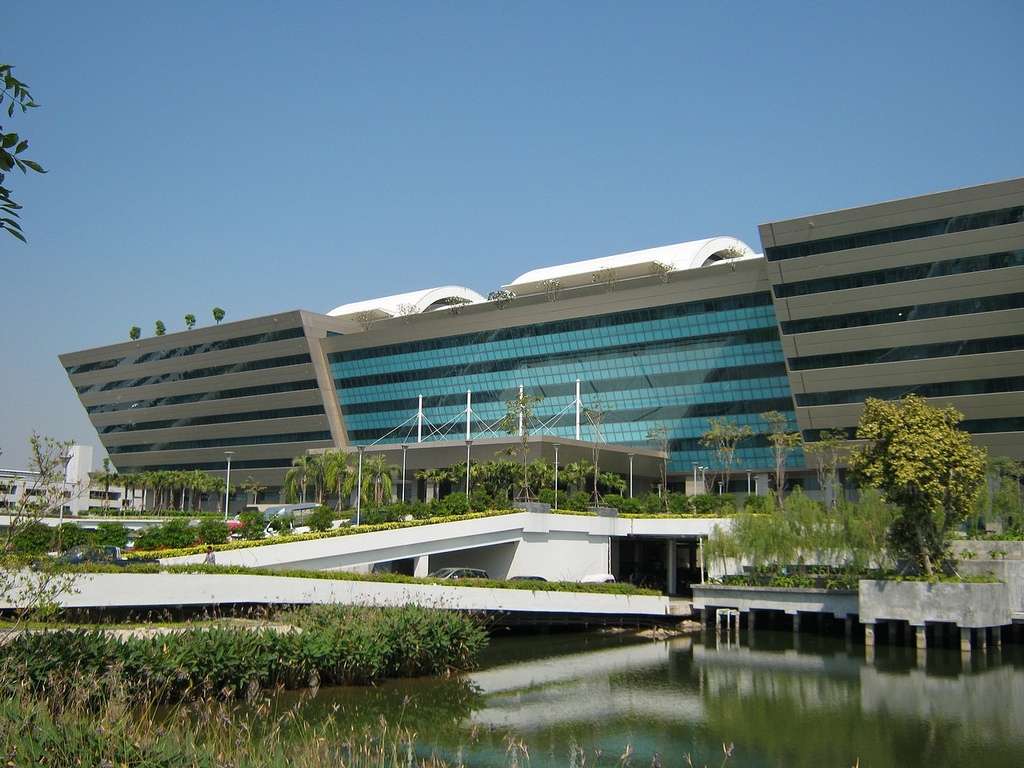 What You'll Need
Your Passport
Your Departure Card
1,900 Baht
One passport photo
Copies of your passport photo/declaration page, the page with your entrance stamp, and your departure card.
You Can Get Photos, Copies and Money at the Government Complex
No need to run around looking for photo & copy places before heading to immigration, just grab your passport and departure card and go. Once you enter the Government Complex building, bypass the immigration office and take the escalator to the basement. Follow the very prominent signs to one of the photo/copy places and get your passport photos taken (4 for 100 Baht). While those are being printed, give your passport & departure card to the girl behind the copy counter. Don't worry about what specific pages you need copied, she already knows and will take care of it. With those in hand, head back upstairs to the immigration office. If you forgot to grab money before going, no problem. There are ATMs there as well.
The Immigration Office
Enter the first small office that says Immigration Division I and go to the desk. Tell them what form you need. In this case the visa on arrival extension. There are counters with pens and paste for you to complete the form and attach your new photo. Don't freak out about the "Reason for Extension" field. Just because it has room for a paragraph doesn't mean you need to write one. I was apparently being too verbose by writing a complete sentence as the guys filling out their forms next to us used one word answers and had no problem getting their extensions.
Once you have completed your form you will walk through a door to the next counter where an official will look over your form and passport to make sure you have filled out everything properly. They will then issue you a queue number ticket. The queues are labeled by letter so just find your queue, grab a seat and wait for your number to be called.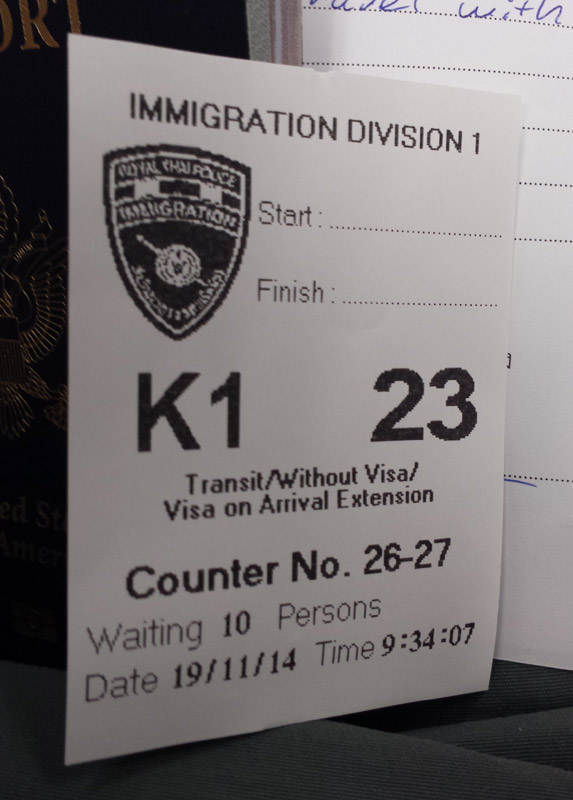 When your number is called you will go to an immigration officer's desk and give them your form, passport and money. They may ask a clarifying question or two but other than that they'll take your picture with their little web cam thingy and send you back out to wait. 30-40 minutes later someone will come out to return your passport and you're all set. Head outside and grab a taxi as there is a line waiting there and get on with your day. They open at 8:30. We didn't get there until 9 and were on our way back by 11. They do close for lunch between noon and 1pm so take that into account.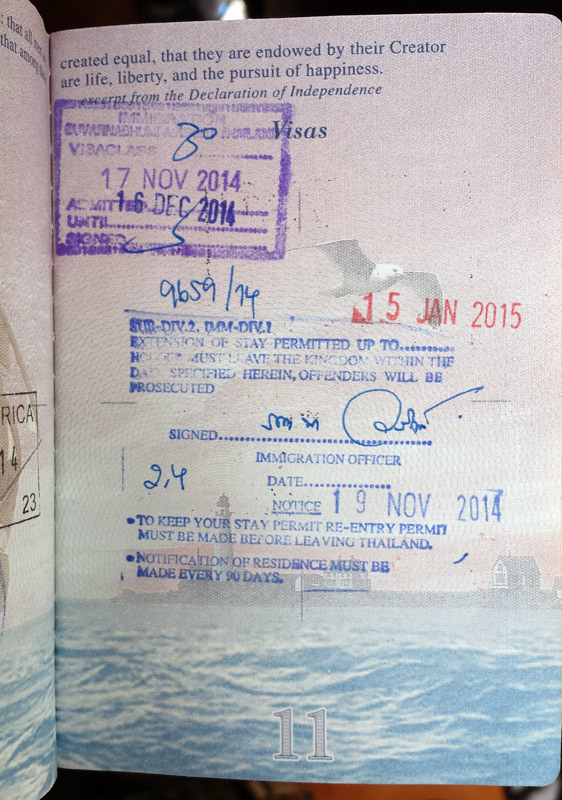 The process for other extensions seems to be pretty similar so if you need to extend your 60 day tourist visa by an additional 30 days just head to the Government Complex.
One caveat: You actually have to get into the country first. If you are leaving the United State for Thailand, don't have a tourist visa and only have a one way ticket the airline company could ask you for proof that you have a flight out of Thailand. If you can't produce proof of an exit/return flight (and only a flight, no other travel arrangements are valid) they may not let you on the plane. If you have the 60 day tourist visa you don't need proof of a return flight. If you need proof of a return flight, your best bet is to buy a fully refundable airline ticket that you can cancel once you are in country. We didn't have this issue as we flew to Bangkok from Istanbul and Turkish Airlines didn't ask for return flight proof.
Other Immigration Offices in Thailand: There are satellite offices in Thailand. I have no specific details on any of them other than Bangkok. Here is a map that shows their locations.
photo credit: Philip Roeland via photopin cc