Bamberg has nine breweries within its city limits. Eight of them sell their beer on premises and one is a massive brewery that has a tasting room in town. Unfortunately, I wasn't aware of the tasting room for the larger brewery at the time so we skipped that one. But from what I've read it is more of a restaurant than a beer hall so it wasn't a big loss.
Bamberg is a fantastic city and it really deserves more than one day. I was fortunate enough to spend a couple weeks there in 1995. I wanted to stay longer during our visit but couldn't find anything in our budget and timeframe. We were in Nürnberg for the week which made a day trip to Bamberg easy as it is reachable via the Nürnberg S-Bahn network. My original plan wasn't to do a pub crawl but after looking up info on the breweries and seeing that they were all within walking distance it just seemed like something that was achievable and would be fun to write about. Next time we'll plan further ahead so we can spend a few days there.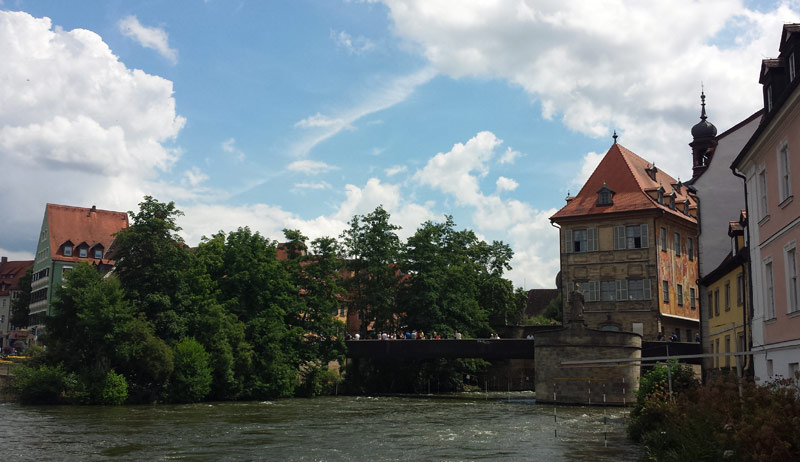 If you like beer you really need to go to Germany at some point and if you're going to make the trip you might as well go to Bamberg. You could spend a month there and not even make it through half the area's beer in that time.
As for judging the beer, attempting to really rank beer in any meaningful way during a pub crawl is a bit futile. Besides, I'm not that much of a connoisseur. I like beer. I'll try anything and I have my preferences. But if you want specific tasting notes, check out this Bamberg brewery list. That web page started this whole idea and was a great guide for deciding what to order when visiting each venue.
There's a bit of guilt that can creep in when you decide to do a pub crawl on a Tuesday. People have to go to work. The bars might be dead. We're going to look like a couple of drunks. But all of that washes away when you walk into your first brewery at 10:30 in the morning and realize that you're the ones late to the party. When we walked into Fässla all the tables inside were full. The outside patio had men gathered around tables drinking, obviously not on their first beers of the day, chatting away. Students, tourists, and some punk rock kids were all enjoying beer and lively conversation. And here we thought we were getting a head start.
Brauerei Fässla was our first stop. It is closest to the train station and I drank there 19 years ago. It was nice to begin somewhere mildly familiar. We started the day off light with a lager and a pils. It is a nice traditional place with a good atmosphere.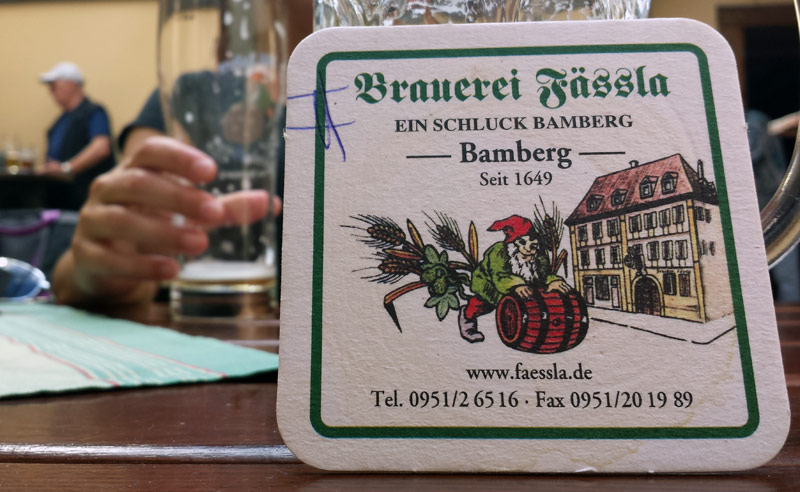 Brauerei Spezial is right across the street from Fässla. I don't recall drinking there 19 years ago but that doesn't mean I didn't. They have a variety of beers most of which are super smoky, essentially bacon in a glass. I had the rauchbeir märzen and Julie had the rauchbier lager. The märzen was one of my top three beers of the day. Even though the beer was dark and smoky, it was light enough in body that you could easily have more than one if you were so inclined. Based on the plates of the folks sitting around us, their food looked great and I would like to eat there next time.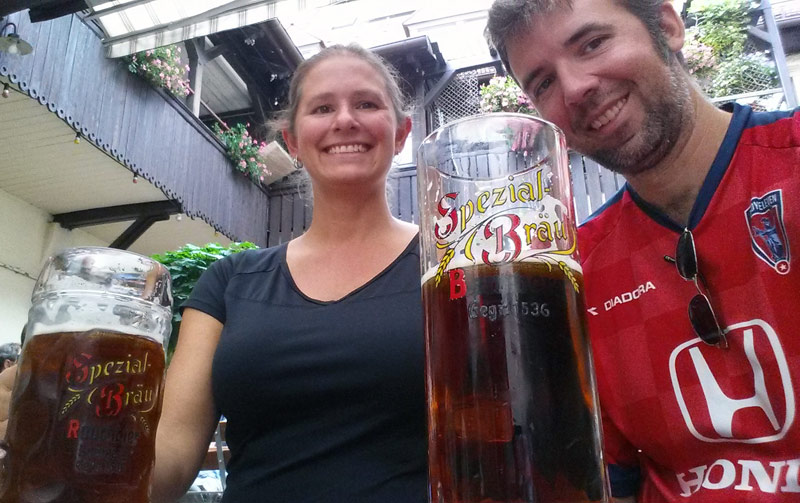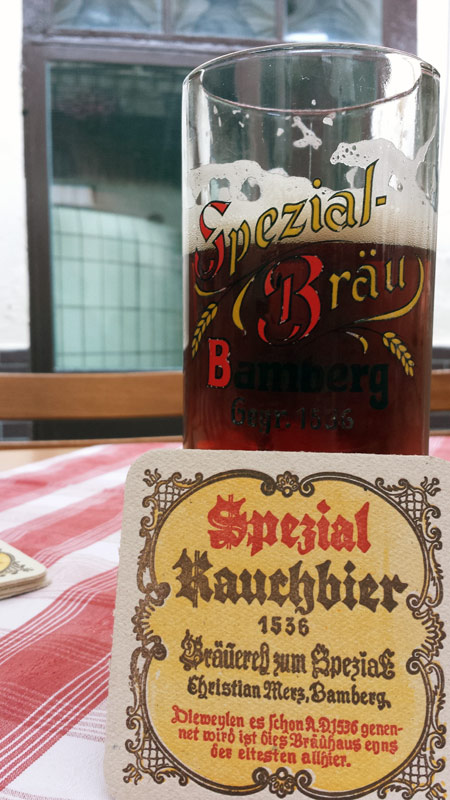 Schlenkerla is Bamberg's best known brewery and is famous for their smoked rauchbeir. You can tell it is a big tourist destination based on how nice the bathrooms are. Regardless, the beer is great and the food is, too. I had the rauchbier weizen because a smoked wheat beer was new to me and Julie had the rauchbeir märzen. We weren't just there for the beer, we were also there for the Bamberg Onion. That's a hollowed out onion stuffed with ground pork and spices, topped with bacon and baked in the oven after which it is topped with brown gravy made from the rauchbeir. I ordered the brisket with horseradish and a caraway seed roll. It made me want a beef on weck which led to me uttering the rarely heard phrase, "Man, I wish I was in Buffalo."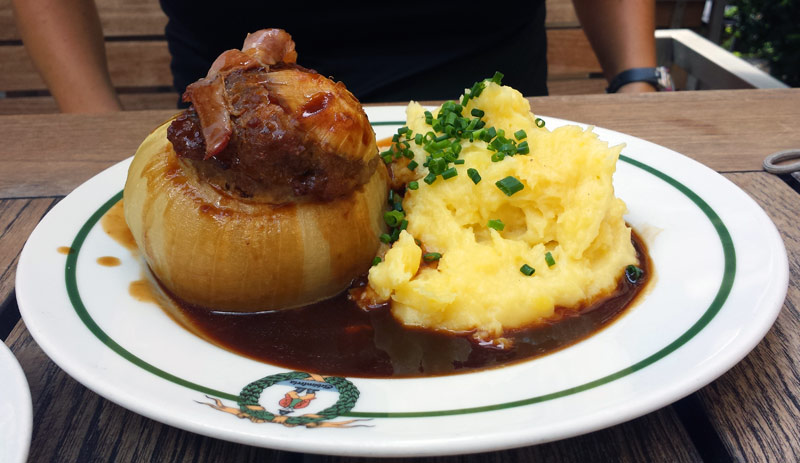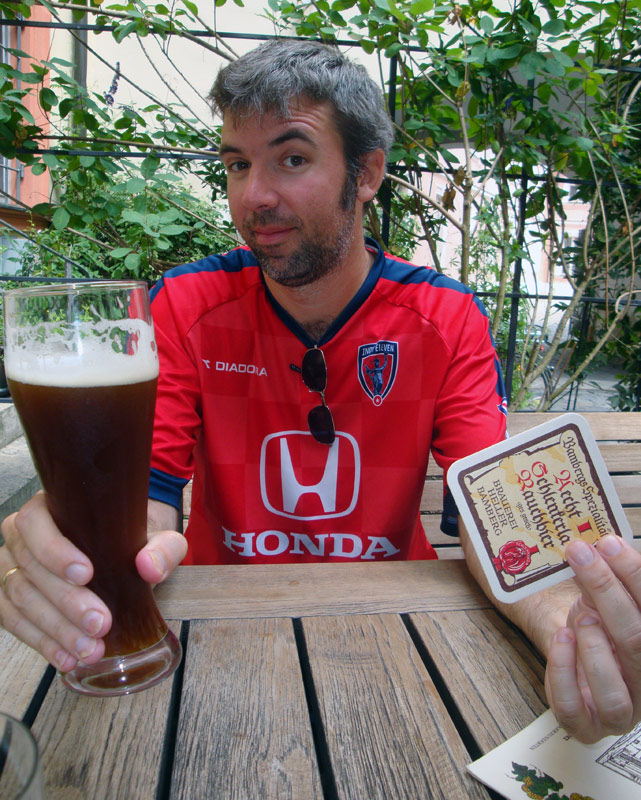 Gasthausbrauerei Ambräusianum is located right next door to Schlenkerla which is good for business as they can capitalize on the overflow of customers. This is Bamberg's youngest brewery having started in 2004. We both had the dunkel which was good but not outstanding. It was also one of the most expensive beers of the day.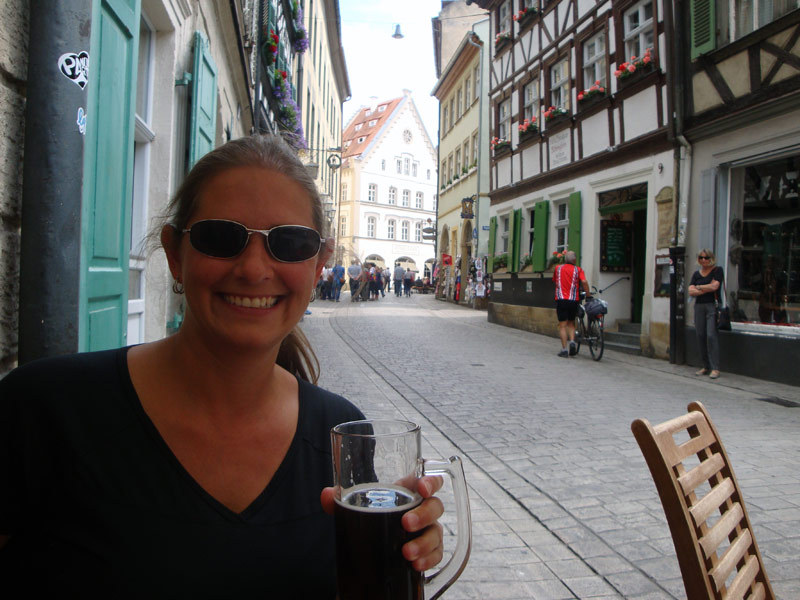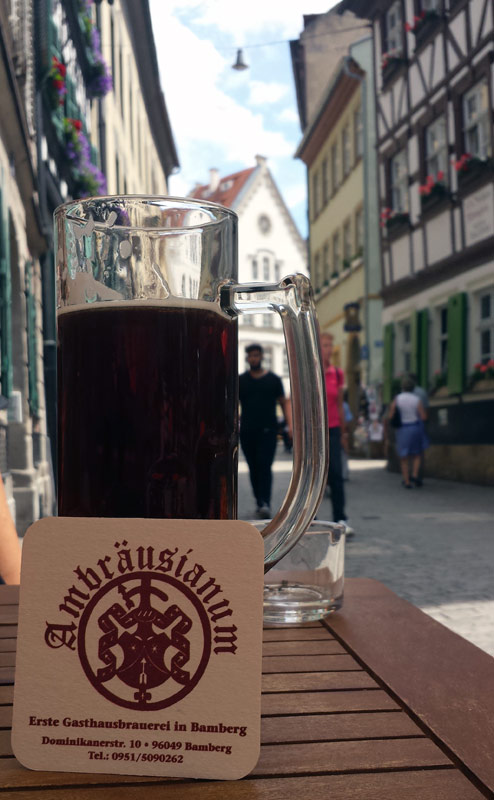 Brauerei Greifenklau is up the hill from the cathedral. They have a very nice beirgarten that looks out over the hills of Bamberg. It has a lot of shade and is a good place to relax. We both had their lager.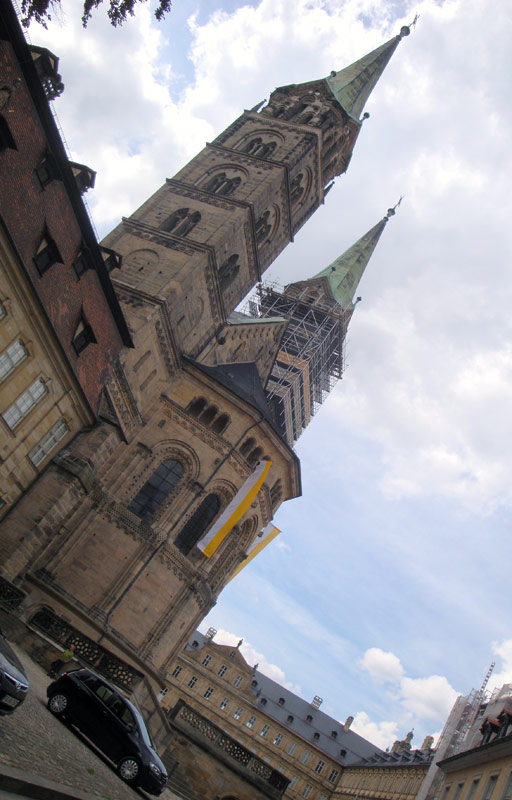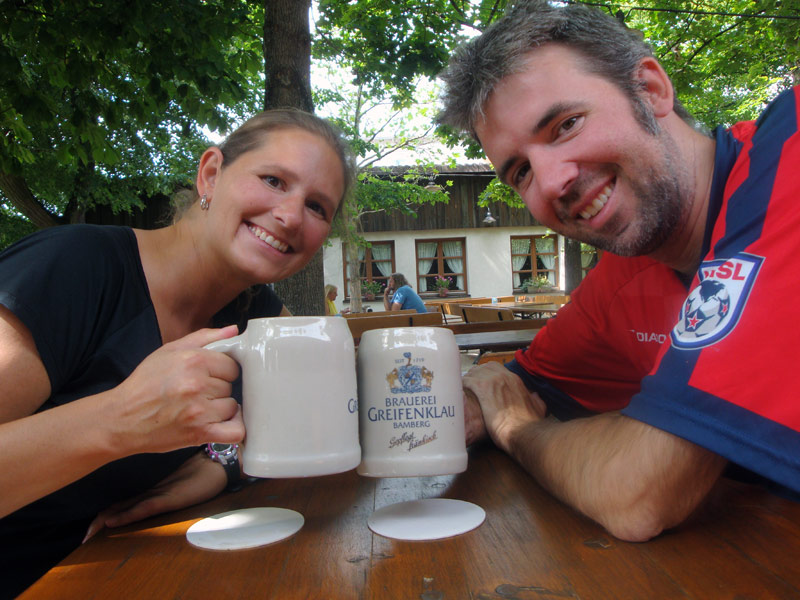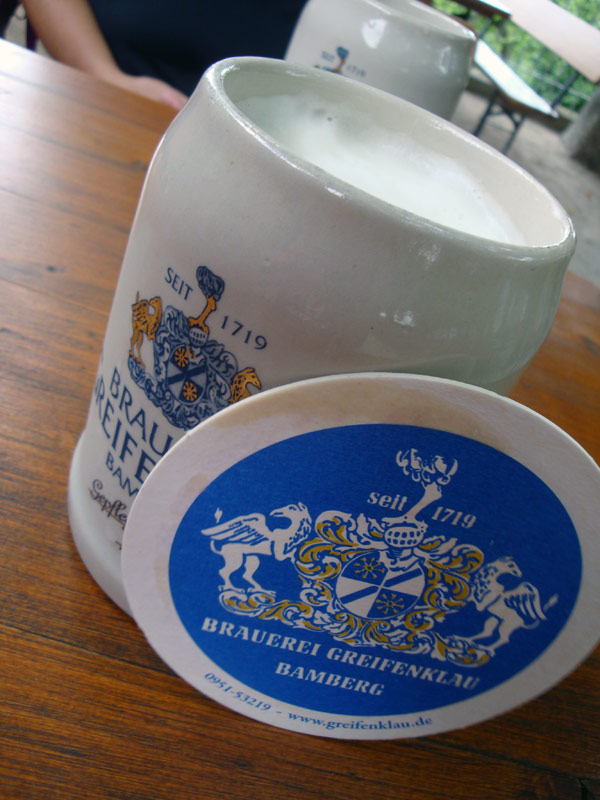 The Wilde Rose Gasthaus used to brew their own beer and I was mistakenly under the impression that this biergarten owned by the same folks was selling said beer. Unfortunately, that wasn't the case. Fortunately, the unfiltered lager they sell which is made by a brewery in the area was quite good. It is a huge biergarten and a pretty nice place. It doesn't have a view of the city though if that type of thing matters to you.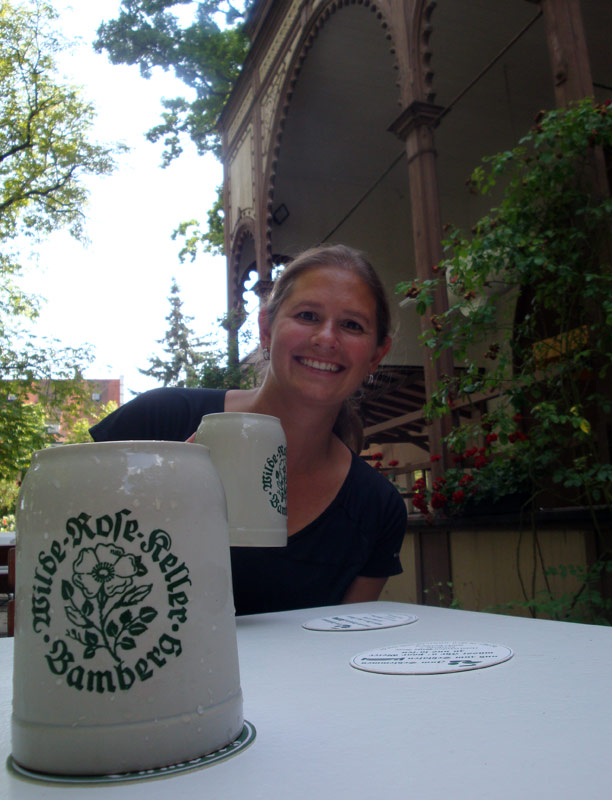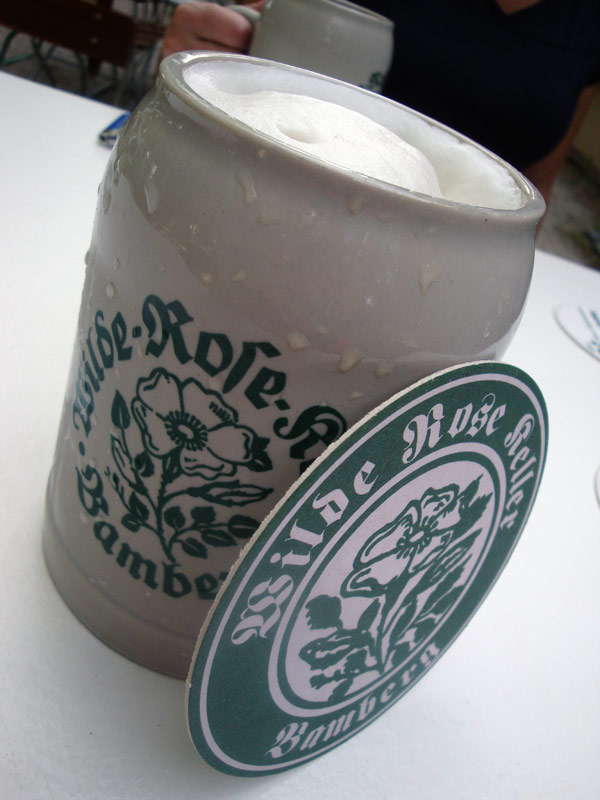 Klosterbräu was back down the hill and has a patio that overlooks the river. I had the schwärzla which is a black lager and was one of my top three beers of the day. Julie had the braunbier which is an amber lager. We were hungry again so decided to eat dinner. Julie had the roasted pork knuckle while I had the schweinsbraten (pork shoulder) both of which came with potato dumplings.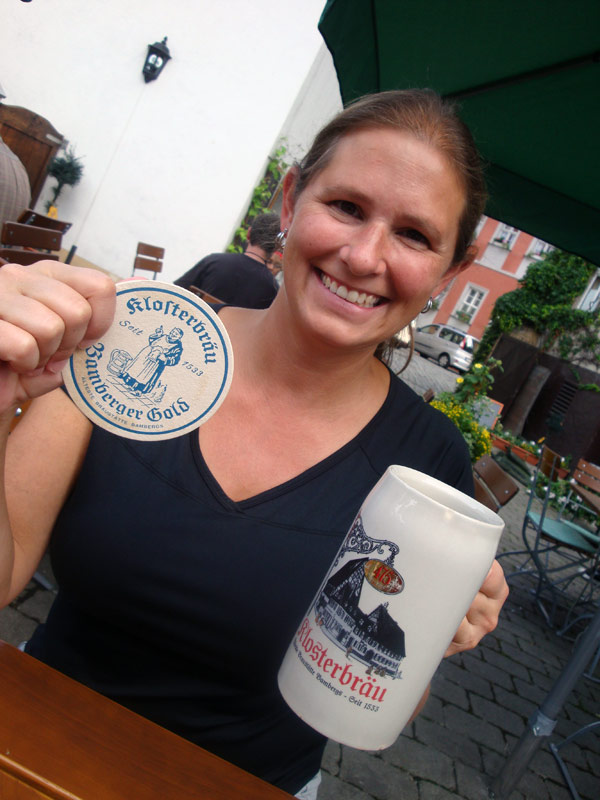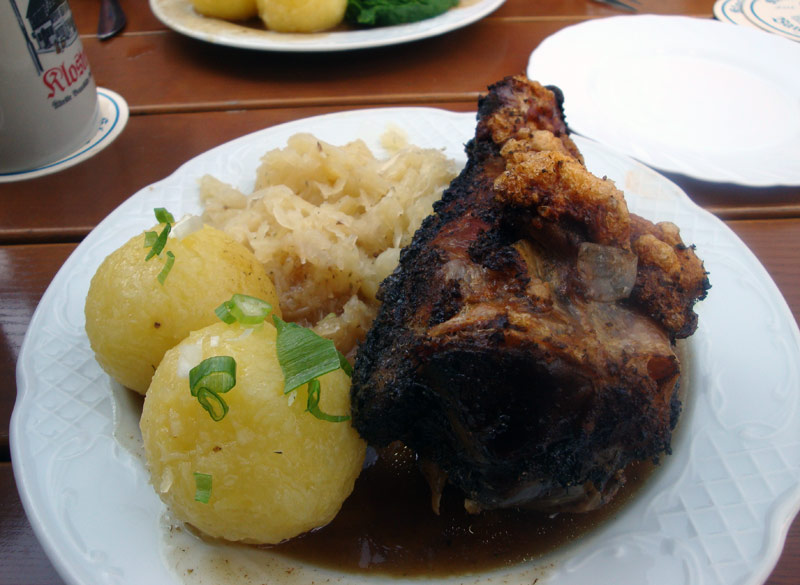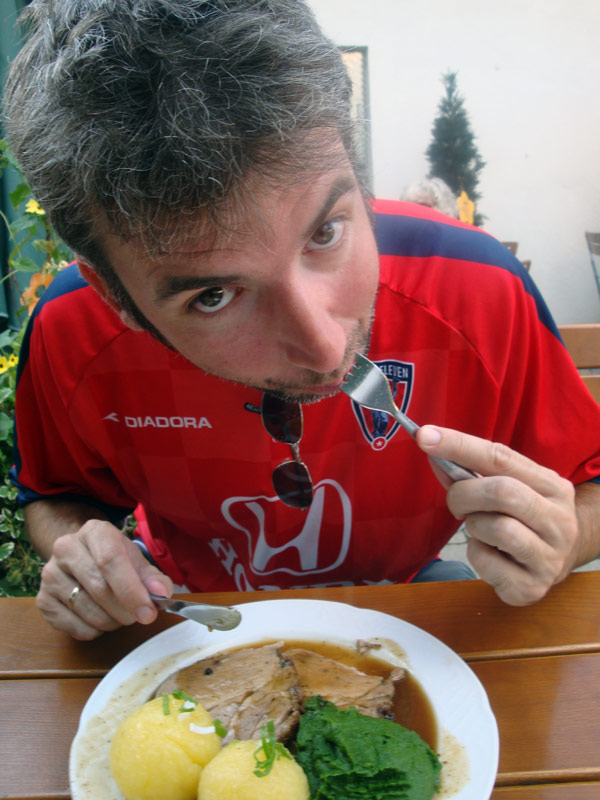 Brauerei Keesman
Brauerei Keesman was next on our list. For some reason I ordered the wheat beer. Julie got their Sternal lager which I liked so much I almost ordered my own. It has pleasantly hoppy and not too strong on the malt. It was also one of my top three beers of the day.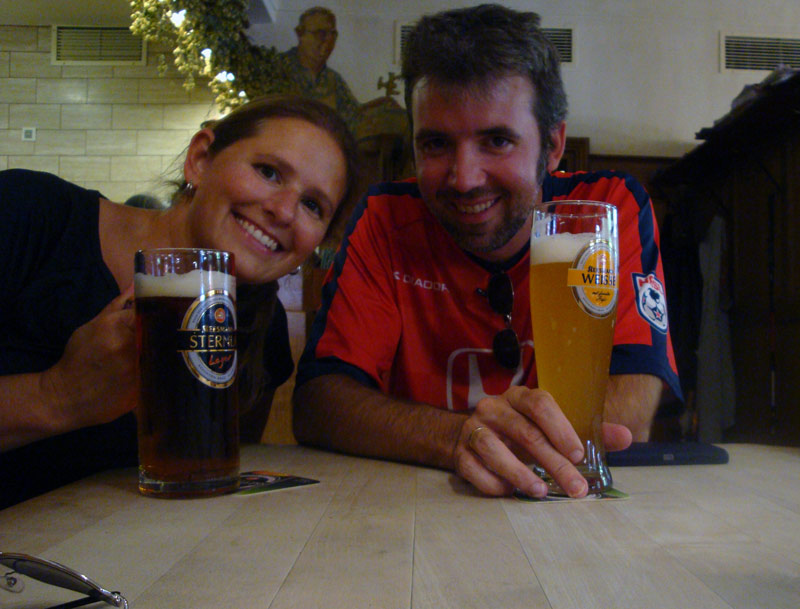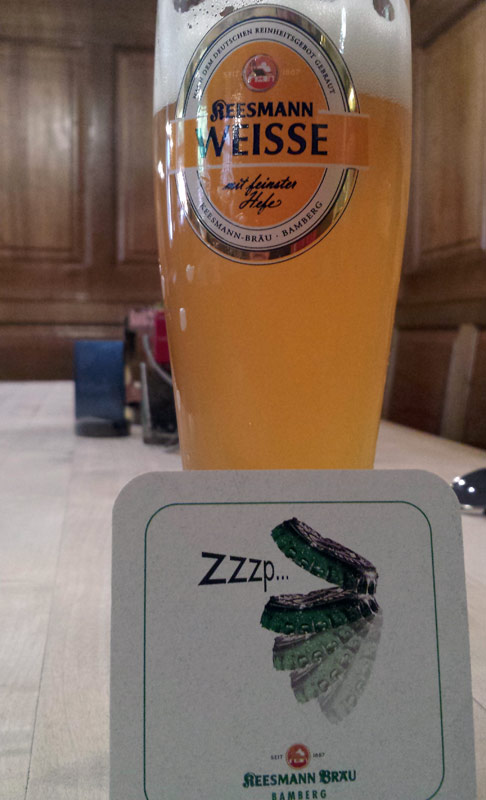 Mahrs Bräu
Mahrs Bräu was our last stop. Since we were feeling pretty good at that point we decided to keep it light and opted for a pils and a hell (pale lager). Since it was later in the day and people were heading out to dinner their beirgarten area was full. The evening was in full swing and we would have liked to spend more time there. From an atmosphere standpoint it was my favorite stop of the day.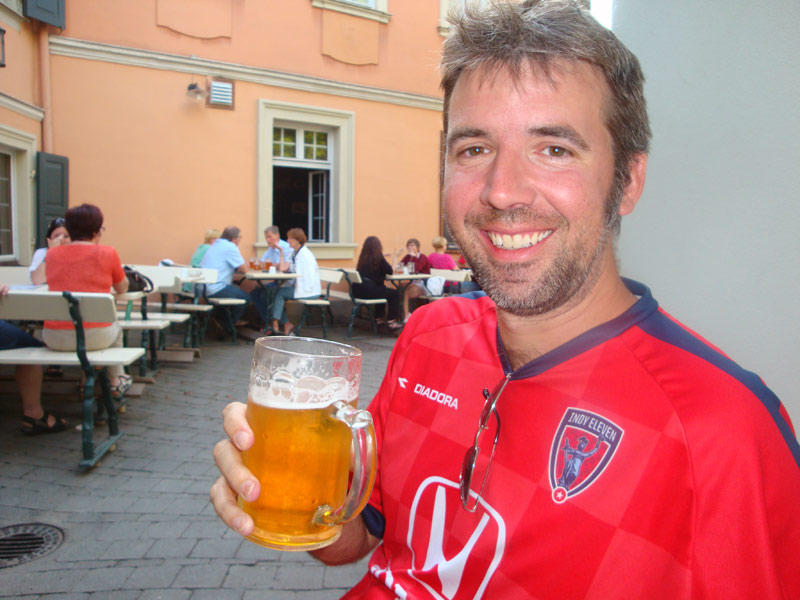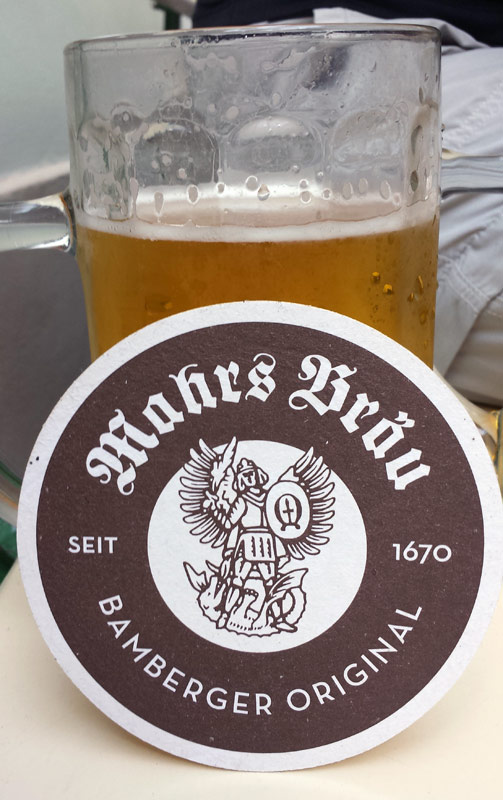 The shame of doing a pub crawl is that you can really only afford to have one beer in each place and each place is inviting enough that you'd really just like to hang out and spend the afternoon there. Like I said if you're headed to the area you should really carve out a couple of days for Bamberg.