I'll be perfectly honest, Costa Rica wasn't my idea. I was ready to start off in South America but Julie wanted to make a pit stop. It would count as our "vacation". A warm up to the entire trip. I knew better than to argue and it's not like I didn't want to go. I had heard a lot of great things about Costa Rica. Turns out we had a great time and would love to go back as there is so much more left to explore.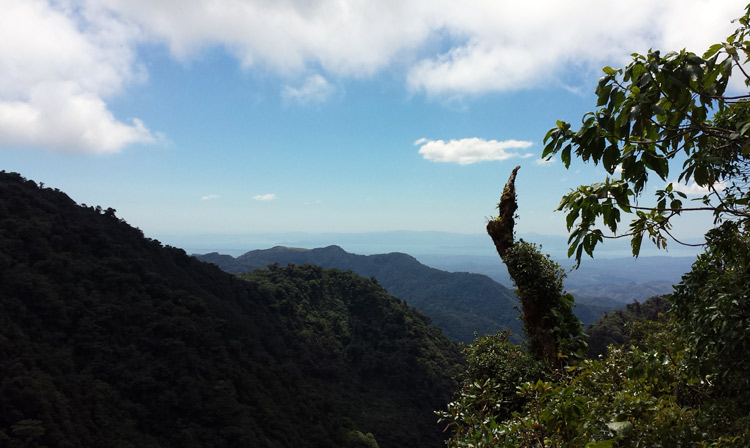 This is the first of what we hope will be many overall guides to countries we visit during our travels. It is not meant to be definitive by any means, but just what we learned from our time there.
Money
The unit of money in Costa Rica is the Colón, Colones plural. Simple math is 1,000 Colones equals $2US. Julie had a couple moments that threatened to turn into an Abbott & Costello routine, but for the most part we had no problems. They have paper bills for 1,000; 2,000; 5,000; 10,000 & 20,000 and coins for 500, 100, 50, 25, 10 and 5. One nice thing is the size of both coins and bills increases with value. Very convenient for sorting out bus fare. Speaking of bus fare, watching bus drivers sort change while downshifting down a hill was great…sorry I didn't get a video.
If you travel and only have credit cards that charge you an international transaction fee you deserve what you get. Go get a Capital One Venture card or something similar with no annual fee and no international transaction fees. Anyway, if someone offers to run your card for either dollars or Colones, always take the Colones. Your bank will give you a better exchange rate than their bank will.
Get Colones at an ATM and use them to pay when you need cash. Don't use US dollars unless you have to because the exchange rate is "almost" x2. Anytime they double and charge US, you are losing money. Deal in local currency.
Transportation
Getting around Costa Rica can be interesting. I never drove but from what I could gather Stop signs were there more as suggestions than commands. Look both ways before crossing the street and then look both ways again. Keep your head on a swivel even if there is a crosswalk and a stop sign. The use of the car horn was an art form and rarely used to mean "Get the hell out of my way". It was used to communicate "Hey, do you need a ride?"; "Coming up behind you"; "You have room to merge"; "I'm approaching this stop sign at speed, speak now or forever hold your peace" and more.
Buses are the best way to get around Costa Rica on a budget. Cheap, easy and plentiful. Local buses were usually in the 250-400 Colones range. Not at an official bus stop? No worries. Put out your arm like you're calling for an intentional walk and as long as he isn't driving an already packed bus or behind schedule the driver will usually stop to pick you up. For long distance buses get to the station early or the day before and get your seats as they can be reserved in advance. Most of our intercity buses had assigned seats. The best part about intercity buses is that the driver would stop at sodas along the way because hey, bus drivers need to eat to. "Diez minutos!" he'd yell and then shuffle off the bus for lunch. People on the bus would get off to stretch and grab a snack of ice cream or fresh fruit. Our most expensive bus trip was the direct bus from Quepos back to San Jose. The three hour bus ride was $9US per person. Collectivos, buses that make many local stops along the way, are cheaper but will have people standing in the aisle for most of the trip. If you don't want someone's ass in your face for an hour, try to sit toward the front of the bus if possible. Bus etiquette seemed to be that those standing moved toward the back of the bus as most buses had rear exits. New passengers boarded at the front, exiting passengers left out the back.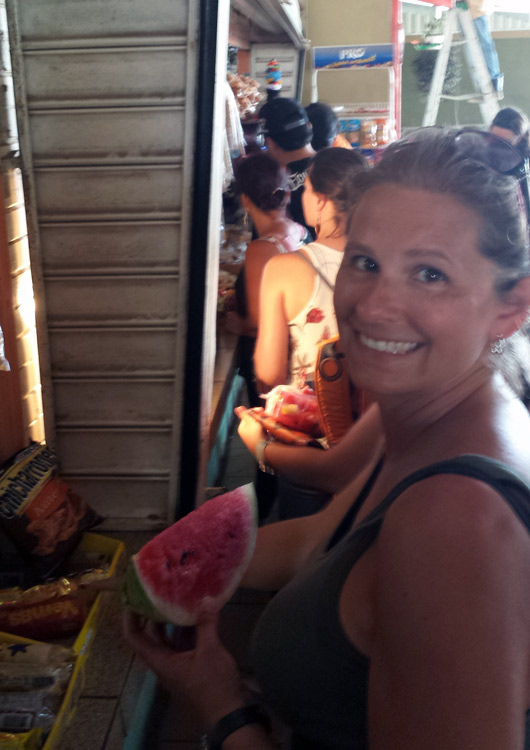 Taxis are not horribly expensive. Most of the cabs in San Jose have meters. However, once you get out of San Jose and into the tourist areas the meters go away and it is up to you to name your own price. Ask how much and agree to a price before you get in a cab. "Cuanto questa ir a _________?" (How much does it cost to go to _________?) Oh, and learn your numbers in Spanish if you want to haggle. We found in Quepos that it was always 4,000 Colones. I wasn't in the mood to haggle yet (That kicked in once we arrived in Peru.) That was fine as long as it wasn't more. Tipping taxis in Costa Rica is expected, at least in San Jose. I got a shitty look when I inadvertently stiffed our ride from the airport on our first day.
Accommodations
Not a lot to talk about here. For the most part hostels are hostels and condos are condos. The only real standout from our time in Costa Rica was Villas Jacquelina in Quepos. $35US a night for a private room with a shared bathroom. $45US a night for a private room with a private bath. The beds were comfortable. They had a pool.  They had a great kitchen with above average cookware and a great deck area for eating and hanging out. Since it was outside of town and away from Manuel Antonio it was pretty quiet.  The staff was super friendly and helpful. It is a great place for couples traveling on a budget.
Food
If you're traveling on a budget Sodas are your best bet for a filling meal at a very reasonable price. The further you get away from tourist areas, the cheaper they get. On average we were able to get a meal of your choice of protein, rice, beans, salad, noodles or mashed potatoes and fried plantains for $5US. The mashed potatoes are great especially if you like a little bit of potato with your butter.  Sodas also have any additional taxes or gratuity included in the price so what you see printed on the menu is what you have to pay. Period. Done. If you aren't sure where to start looking, a town's central market is always a great place to start. If they don't have a central market, check near the bus station/stop area.
You can find some reasonable sit-down restaurants but beware; their prices don't always include the 10% gratuity or the 13% restaurant tax. Check the menu or ask before you sit down if you are wary. When you are on a budget, getting hit with an unexpected 23% can be an unwelcome surprise.
Servers in Costa Rica leave you alone. Think grade school: if you need to talk to your server just raise your hand and make eye contact. It isn't rude. When you are done eating they will not bring you your bill until you ask for it.
Grocery Stores
You will find super-mini's all over Costa Rica. They are small neighborhood bodegas where you can grab all of the essentials and often times have a full produce section and a meat counter. Prices can vary depending on where you are. Some don't have the prices on the shelves so be careful in heavy tourist traffic areas. You could end up with a bigger bill than you were expecting.
There are also plenty of big box grocery stores in Costa Rica many of which are owned by Wal-Mart. They offer a wider selection and competitive prices. SuperCompra & Mas X Menos seemed to be the nicer ones of the group as far as selection, quality of produce and overall condition of the stores. Pali, Maxi Pali and Mega Super were all a bit more mediocre.
If you are looking for fresh produce, skip the stores and go to the markets or the guys selling stuff out of their truck on the street. There is great produce everywhere for cheap and the best places for it are outside of the bigger stores.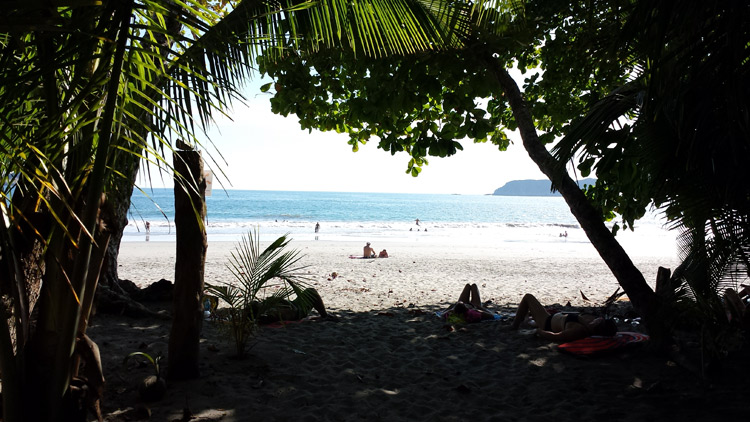 Locations
We only spent one day here really and most people view it as a necessary stop on their way to other parts of Costa Rica. If you are there for 24 hours it is worth checking out the central part of the city and the central market.
If we went back we would: Make a return trip to the central market or possibly stay in Alajuela which is smaller, quieter, safer and closer to the airport.
Beautiful but hard to get around, heavy tourist area, can't imagine being there during the peak season.
If we went back we would: Rent a car and go whitewater rafting.
Not as touristy as La Fortuna, easier to get around on public transportation, quiet and good hiking.
If we went back we would: Do the hanging bridges tour. Take a night hike.
As touristy as you want it to be. Yes, the town itself shows signs of being a tourist beach town, but it still has a market, it still has sodas, it still has a bunch of people going about their normal day despite being the gateway to Manuel Antonio. If you have the money to blow, you can live it up here. If you are on a budget, you can still exist here quite nicely and away from the tourist scene.  Sure, it isn't a quite out of the way beach town with zero "tourists" but if you  are looking for a nice balance of accessible comforts and affordability, you can do quite well here.
If we went back we would: With money to burn we would rent a house on the beach with our friends. On a budget we would stay at Villas Jacquelina for a couple weeks.
Language
Knowing Spanish helps. It helps to negotiate taxi prices, but in most of the well visited areas you don't need it. Enough people seem to know enough English that you can get by. This is a blessing and a curse. Yes, it makes it easier to get by with English, but you don't end up getting much better at Spanish. This became painfully obvious when we arrived in Lima, Peru where using English as a crutch isn't a luxury often afforded.
Favorite Meals
Aside from the meals we made ourselves (That Alio Oglio with fresh Mahi was pretty great), my favorite was probably my casado at Keccha in Manuel Antonio. Everything was cooked to order (no fried plantains that had been sitting around all day) and was great. You can't go wrong with over-buttered mashed potatoes. Julie's favorite was her shrimp and rice (arroz con camorones) at Restaurante Maravilla in Santa Elena. Our honorable mention was El Gato Pescador, a fish and chips place in Manuel Antonio that had all things fried: Fish & chips, fish tacos, fried shrimp & onion rings. All fresh, all made to order and all reasonably priced considering the location.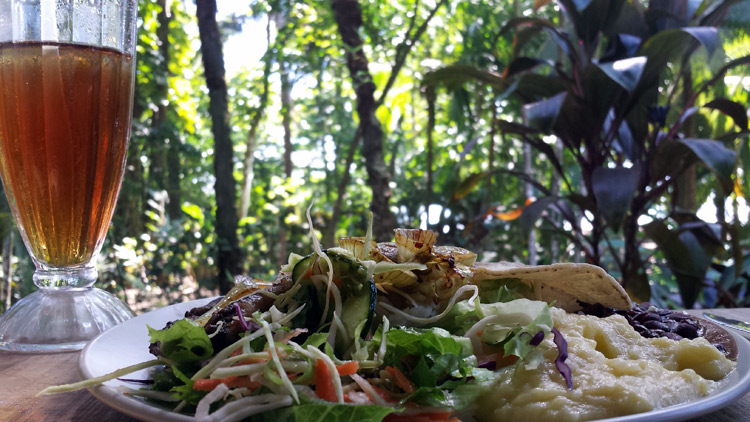 Best Pizza
There was no debate on this one. El Wagon in Manuel Antonio won easily. Not only was the pizza, which was cooked in a large wood oven and had just the right amount of char on the crust, great. But the setting and service were also wonderful. It was also the only nice sit-down type place we visited in Manual Antonio that didn't surprise us with the 13% tax which was welcome.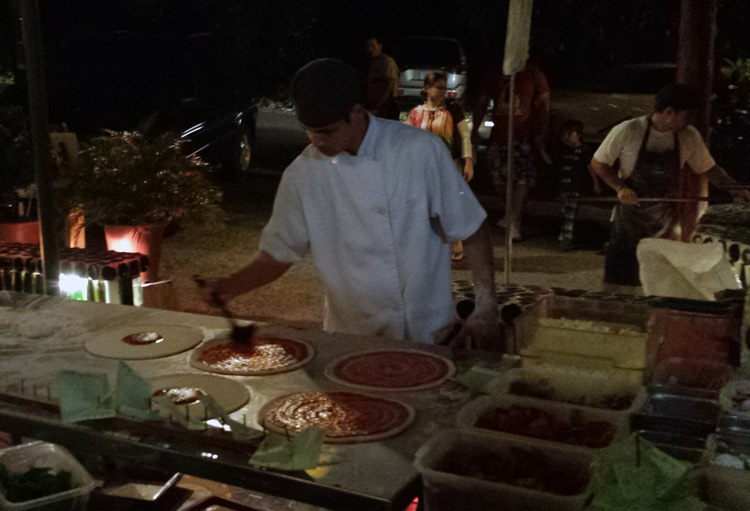 Budget
We knew going in that we were going to go over budget in Costa Rica. For one, we were going to some of the more expensive areas in the country. Also, Julie wanted one "vacation" week so she used some of her bonus money from her job to get a condo in Manuel Antonio. I calculated our budget in two ways: The actual budget with the cost of the condo included, and an adjusted budget as if we had stayed at Villas Jacquelina the whole time in Quepos.
When planning for the trip we saved for a daily budget of $125. However, our goal is to keep it under $100 per day. In Costa Rica, our actual budget came out to $127.75 per day which seems high but considering that includes the condo and some sit-down restaurants I think we did pretty well. If we had spent our entire stay in Quepos at Villas Jacquelina we would have come in at $98.79 per day.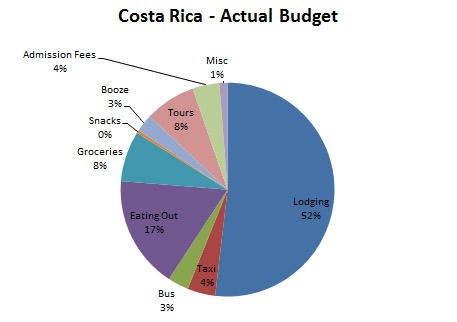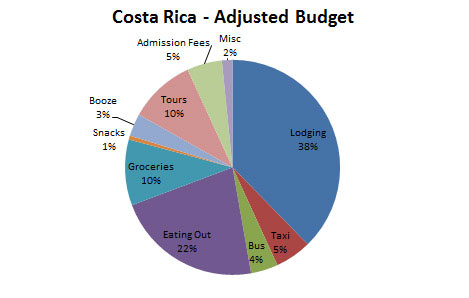 There is a lot of room for improvement. We really need to focus on accommodations with kitchens as that is the easiest way to save money. However, for a first effort of trying to stay within a defined budget I believe we did okay especially when you consider how expensive the areas we visited in Costa Rica can be. If we were to venture into less traveled areas these numbers would come down drastically.
A few notes on my accounting. First, all expenses for a day are attributed to wherever we stay that night. For example, Costa Rica charged us $29US each to leave the country via the airport. However, since we spent that night in Lima, Peru that went down as a travel day expense for Peru. It isn't perfect but I'm not splitting days. Also the Booze category is for anytime we stopped for a drink and only a drink. If we had wine with dinner or bought it as part of a grocery run, I did not break it out. I am most interested in the total money spent per day and per country. The categories are just rough indicators of where our money is going to help us make adjustments where needed. International airfare is not included in the daily budget, but any flights within a country will be.
Things We Didn't Like
You mean aside from the mosquitoes? Our biggest beef was with the mystery 13% restaurant tax. We ordered carryout once and were hit with the full 23% for both the tax and gratuity. Moral of the story: ask before you order.
Stupid Stats
Number of times I hit my head: 2 – Wanged it pretty good on a metal support beam climbing the observation tower in Santa Elena. F-Bombs echo above the cloud forest apparently.
Best average cost for a box (litre) of wine: Between 2,500 and 2,800 Colones ($4.93 – $5.52US). We used that as a benchmark for judging grocery stores. Anything over 3,000 and we knew they were overcharging.
Map
Just a quick point of reference to the various stops during our time in Costa Rica.