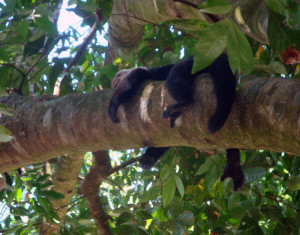 While "traveling" is indeed great, it is being there that is the fun part. Travel days themselves, save for the ones that feature breathtaking scenery, are pretty awful even if you do get exit row seats. They generally take up a lot of time so you don't get much work done. They wear you out so even if you have some free time that day you don't really want to do much of anything. And they disorient you. You finally get comfortable with a place and then you're off to a new one.
When planning trips we've always tried to follow the "more time in fewer places" ideal and I thought I had done a pretty good job of sticking to that when designing our route through South America. However, after three weeks in Costa Rica and the jarring transition of going from a small beach town to the sprawling metropolis of Lima we decided maybe we were going too fast and focusing too much of our South America time on major cities.
Unfortunately this means Uruguay might get axed from the itinerary. We were really looking forward to that and I had picked out a fantastic, albeit a bit out of our price range, apartment in Montevideo. But we'd rather take our time wandering through Peru, Chile and Argentina. We may still end up in Uruguay, but I'm not booking anything in advance.
We have a week in Santiago, Chile booked, but I just moved that back a week to allow a few more days in Peru and Northern Chile. I've contacted our other current reservations and shuffled the dates around. Folks on Airbnb.com don't seem to mind if you change dates as long as you don't cancel. That allows for a much more flexible schedule. The only other thing I am going to book is our last week in Buenos Aires before we fly out since that is a confirmed date. Other than that, we're going to try and take things as they come. We don't want to have a place to be and we want to take our time.
Next week we wrap up our Costa Rican travels with lots of travel tips and pictures of monkeys and spiders.