Truth be told I'm about as Italian as pickled herring. Supposedly my distant German ancestors were originally from Italy, but any way you slice it I'm at an absolute minimum 500 years removed from Italy and I didn't grow up with any Italian relatives, traditions or recipes. Almost everything I know I've picked up from books, TV, actual Italian friends and the internet.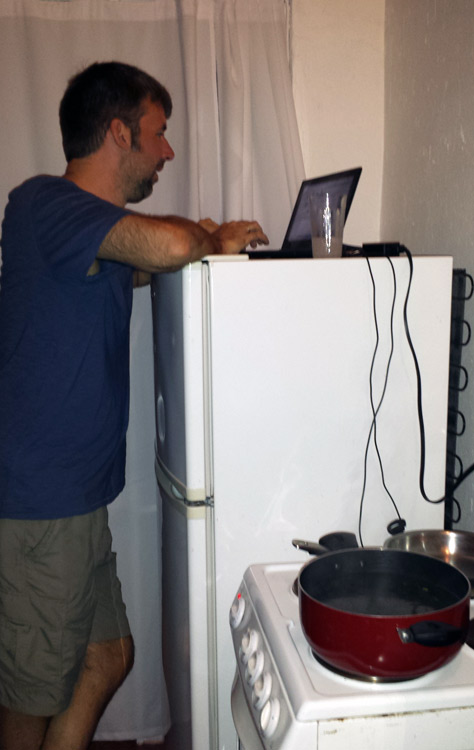 Traveling to Italy in 2009 was an epiphany because in two short weeks I learned that the key to Italian cooking, for me at least, is the fewer ingredients the better. Keep it simple. Perhaps another day I'll bore you with my laughable attempts at Italian cooking in college but today we'll focus on making a very simple, very easy and very cheap dish. Any actual Italians are welcome to tell me everything I'm doing wrong or how your grandmother would have done it. That's fine. I didn't have a recipe and just threw this together with packets of condiments we snaked from a pizza place.
While celebrating Pizza Sunday after that alleged "Super Bowl", Julie and I hit a local pizza joint in Quepos, Costa Rica. With our order they gave us a pile of red chili flakes and Parmesan cheese packets. I told Julie to put what we didn't use in her purse and that I'd make Aglio e Olio later in the week.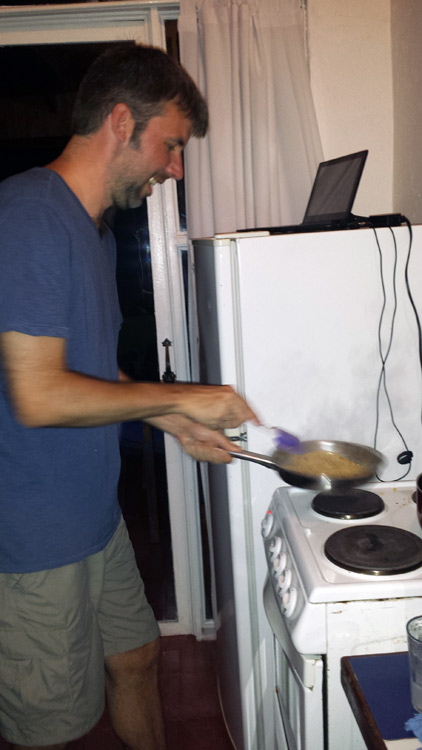 Aglio e Olio is Italian for Garlic & Oil. The name doesn't really give an indication as to how spicy the dish can be as the other primary ingredient is crushed red chili flakes. This recipe is for two people and very inexact because I don't measure stuff so….yeah, if you are looking for an exact recipe you may want talk to Lidia.
Ingredients:
Red chili flakes (1 teaspoon or so – depending on your tolerance for heat)
Garlic (3 cloves or so roughly diced)
Olive Oil (About one tablespoon or so)
Butter (one tablespoon – most recipes don't use butter but we're trying to conserve our olive oil)
Half package of pasta (250g – We used linguine because that's what we had on hand)
Parmesan Cheese (No measurement required…you know how much you want)
Bring a pot of well salted water to a boil and throw in your pasta. Heat a skillet to medium heat (my rule of thumb: 3 if your dials go to 6, 5 if they go to 10) and add the olive oil and butter. On this attempt I added the chili flakes first for about a minute and then added the garlic. Stir with a wooden spoon or silicon spatula to keep the garlic from sticking or burning. If the garlic starts to brown, turn it down/remove from the heat for a second. After a couple minutes take a small coffee cup/ladle/measuring cup (whatever you have access to) and ladle about a half cup of pasta water into the skillet and let it simmer. Take another ladle of pasta water and set aside just in case you need it. Cook the pasta al dente (more tough than soft). Drain the pasta but do not rinse it. Immediately add it to the skillet and toss with the sauce. If it looks like there isn't enough sauce for the pasta and it is dry and sticky, add a little bit more of the reserve pasta water and maybe some olive oil. Once everything is well combined, remove from the heat and toss in about three quarters of the parmesan. Once that is mixed in put it on the plate and top with the rest of the parmesan.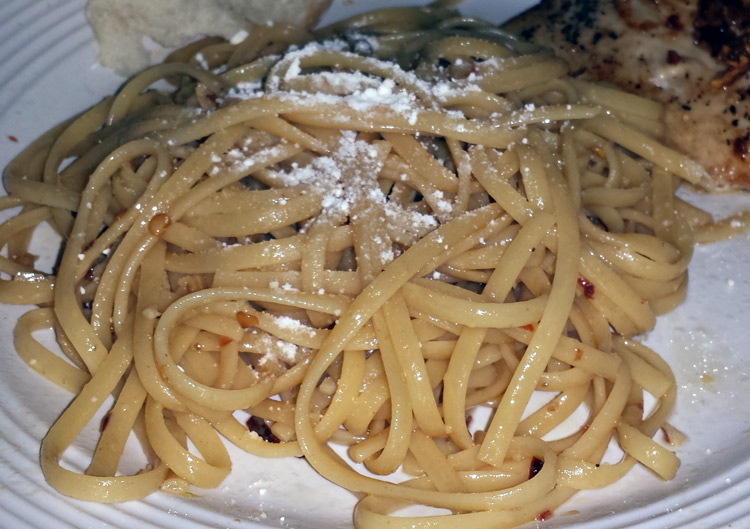 To go with the pasta we did some culture mixing. We skillet seared some Mahi from the market (less than $4US per pound) in butter, oil and garlic. We did that before making the pasta so we got some of the fish bits in the pasta sauce which was a nice touch. Julie made a salad with leaf lettuce, a 60 cent avocado (not purchased on the black market), and a free tomato. Seriously, there was a man in town selling produce off the back of a truck and he had 4-5 pound bags filled with tomatoes that he was selling for $2US, but we didn't need that many and I didn't want to waste them. I started rifling through the tomatoes closer to the cab of the pickup and he looked at me like I was crazy. Some were a bit past their prime but I found a couple of gems. He just told me to take them. I tried to give him money but he wouldn't take it. I have no idea what that was about. They were gorgeous, red and ripe. All totaled our dinner including the box of wine totaled in at approximately $12US.