It always takes a while to get used to cooking in someone else's kitchen. Not that my stuff is particularly nice but I'm just familiar with it. I know which pans I like for which duties, I know how hot 3 is on a stove burner, I know where everything is, etc. Anytime I travel and end up in a house/condo/apartment using someone else's stuff I tend to wish I had brought some things from home. "WTF? Did you use this skillet for target practice?" I understand. It is a rental. It's where pots and pans past their prime go to live out their days. Anything too nice would probably walk off.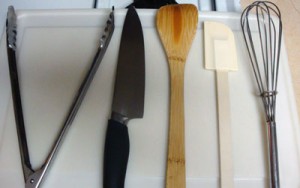 Since I am going to be spending a lot of time in other people's kitchens I started thinking about what I wanted to take with me.  What I could take with me. What's light, easy to pack and could serve many uses? What do I use a lot at home but never find in a rented kitchen? As much as I love my cast iron, weight is the first qualifier so that will be staying home.  Any cookware is pretty much out of the equation all together because of weight or size. That pretty much leaves kitchen utensils.
So, what to take?  Chef's knife? Would be nice, but I can deal with crappy knives. That and I don't need a border guard asking me why I have an 8" knife with me.  A nice set of tongs? Nah, all you need are two forks.  I've stayed in more than once place that had pans that probably used to be decent but are scratched all to hell because the only utensils they have in the house are metal.  Occasionally you'll find a good wooden spoon.  But trying to make an omelet with a wooden spoon or a metal spatula is…maybe there are people who can do it. I unfortunately do not possess that skill.
That's why I've decided on a solid silicon spatula. I've never found a good, flexible spatula in a rental kitchen for some reason. It can be used as a mixing spoon, I can use it in a pan without scraping it up any further, it's heat resistant so I should be able to get plenty of mileage out of it and for once I might be able to make a passable omelet in someone else's kitchen. That's as far as my logic takes me. What one item would you take?