If you travel a lot but don't like carrying wads of cash but also hate coughing up $3 or more every time you use an out of network ATM you should check out Charles Schwab's brokerage checking account. No minimum balance is required and at the end of the month they reimburse you for all of the ATM fees you incurred using those of other banks. Sign up is super easy and you can shuttle money between your current checking & saving accounts as necessary.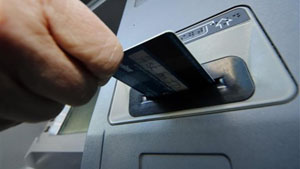 This isn't some secret I just stumbled upon. Most top US travel bloggers mention this particular account by name and who am I to argue. I'm sure most travelers don't use the brokerage part of the account. I'm also sure Schwab is more than aware of this. I don't know if they may crack down on usage in the future or if they are smart enough to see a value in having very dedicated, vocal customers who willingly talk them up for free. I'm sure they have agreements with the various services so it is either costing them nothing or very little in the long run, but they are a bank so we'll see. Until that day you might as well travel with free access to your money.
After getting my card I gave it a test drive when I was at Road Atlanta for the last ALMS race. Most service charges on ATM's at sporting events are high. It was $4 a transaction at Road Atlanta and I used the card twice just to be thorough. When I received my next statement the ATM fees were back in my account. It's also nice because it acts as a buffer between my savings and my primary checking account. I only transfer in a bit at a time so if something happens to the card it isn't catastrophic. It is worth checking out if you travel a lot; go to a lot of concerts or sporting events; or spend a significant time in casinos and are a bad gambler.
UPDATE January 2015: After a year of using this account I have nothing but good things to say about it. It has allowed us to limit the amount of cash we have to carry while always having access. If you travel, you should have this account.