I get a lot of odd looks when I tell people I went to Malaysia for a Formula 1 race. Why travel to the other side of the globe when there is an F1 race in Austin?
I've always liked the Sepang circuit. It is one of my favorites currently on the calendar. Fast and challenging, it usually produces competitive racing. It also usually rains at some point in the weekend, so you get to see them run in the wet. Julie and I were able to visit for a MotoGP test day when we were there on our trip, and that visit just confirmed for me that it is a great place to watch people go fast.
But the real reason we went is that it is actually cheaper to go to the Malaysian Grand Prix than it is the US Grand Prix in Austin. Malaysia is the cheapest ticket of any F1 race. Add to that the affordability of Malaysia and a great deal on airfare from Chicago to Kuala Lumpur, and we had an opportunity we couldn't pass up. My friend James and I booked our trips back in March, and in the end a group of six headed across the Pacific for a long weekend of racing.
Related Post:
Comparing the costs and experience of the Formula 1 Malaysian Grand Prix
and the United States Grand Prix
Getting There
This all got started because I received an airfare alert for tickets to Kuala Lumpur back in March. (If you like to travel you should set up an account at farecompare.com. It is currently my favorite service for affordable airfare alerts.) It was only $800 to fly half way around the world. We booked six months out. You also get a discount on race tickets if you buy early so planning ahead can save you a lot of money that can be spent on more important things like beer and Chinese food.
We flew on ANA (All Nippon Airways) which was a pleasant experience as far as long distance flights go. They consistently rank at the top of customer satisfaction when it comes to airline food. A good thing when you're on such long flights. Since our layovers were in Tokyo, we were able to enjoy the food options in Narita Airport. Namely ramen and sushi.
The jet lag for a 12 hour time difference wasn't as bad as I expected. We arrived at night so going to bed and getting up the next morning wasn't too difficult. The problem was running out of gas early. If you can manage to make it through your first full day and go to bed at a reasonable time, you're in pretty good shape. I did not and it took a couple days to adjust.
Lodging
We stayed in KL because there are plenty of excellent but affordable hotels surrounded by plenty of things to do. KL is a huge city. The influx from the race is barely a blip. Hotel prices don't inflate to outrageous amounts when the F1 circus comes to town.
We stayed at the same hotel where Julie and I stayed when we were traveling through Malaysia. The Maison Boutique is located in Pudu, a district full of restaurants and print shops adjacent to the popular Bukit Bintang area. It can look a bit sketchy at first glance, but it is just a typical city neighborhood a few blocks removed from the noise and tourists. $45 a night gets you a very nice room, a full breakfast, and one of the most helpful hotel staffs I've ever encountered.
We met an English couple who were staying at a resort near the race track. So, if you need a pool and would rather be outside the city, that's always an option.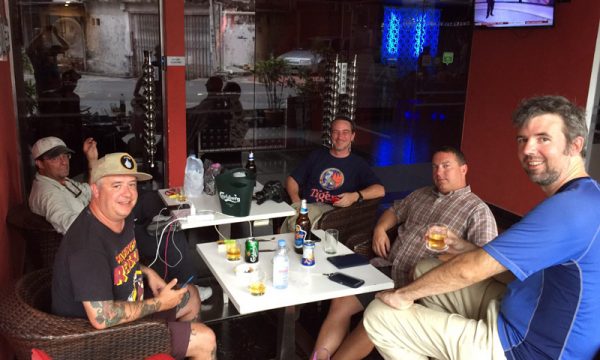 Food
KL is a melting pot of cultures, and those cultures are well represented in the food available. There are almost as many people of Chinese descent in KL as there are Malays, and it shows in the amount of Chinese restaurants around the city. We tended to end up at Chinese places because, well, they always serve beer. It's possible to get a couple of tasty dishes for dinner and the equivalent of four 12 ounce beers and not spend more than $15.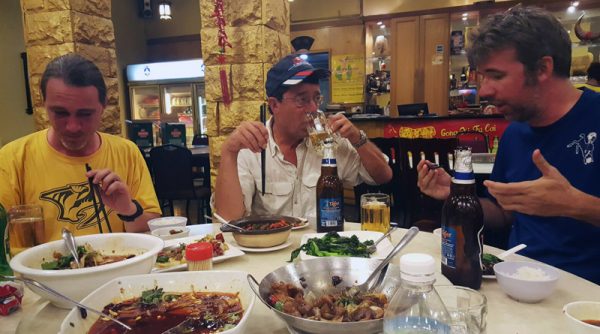 Chinatown and the nearby Central Market are great places to grab a meal or a snack. The beverage and dessert vendor in the middle of the food court on the second floor of the Central Market offers two solid can't miss items: Ice floss (whisper thin shaved ice matched with bold flavors) and iced white coffee (rich coffee with condensed milk).
Jalon Alor, a famous street for visitors, is lined with restaurants and food vendors. It was a few blocks from our hotel and was our destination for a few meals. A street near our hotel is lined with several nice sit-down Chinese restaurants. The night after the race, we were exhausted and more or less picked one at random. Turned out to be the best meal of the trip. As it was late on a Sunday, there were only a couple of families in there eating, one of whom were the owners. Hilarity ensued when we attempted to discover the name of a particular ingredient The folks from the restaurant knew limited English. Fortunately, a third table was recruited as translators, and we shared some good laughs. It was a Szechuan pepper if you're interested.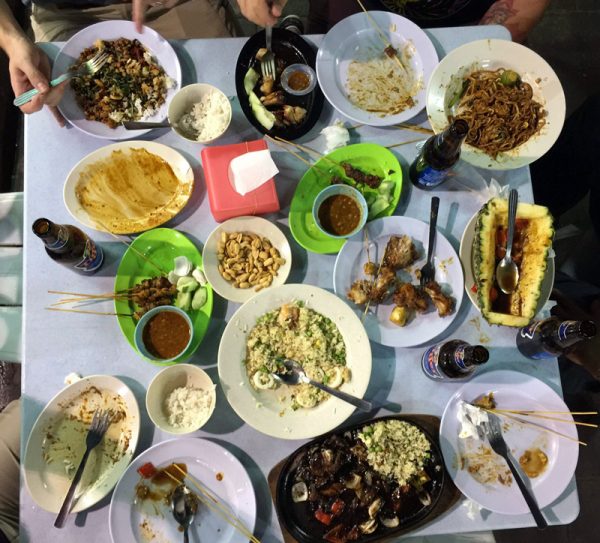 Transportation
Since we decided to stay in the city, we needed transport to and from the track every day. There was a shuttle service that utilized the KLIA train and buses to get from the city to the track. Fortunately, having six people gives you purchasing power, and it was cheaper for us to hire a driver. Our driver, Tan, picked us up every morning at our hotel, drove us the 45 minutes to the track, dropped us off at the main gate, and was there to pick us up after the day's events. For three days, this service cost us around $35 per person. We probably could have negotiated a cheaper fare with a taxi or Uber driver, but the staff at the hotel handled all of the arrangements for us. And if it costs me an extra $10 so they can maintain their relationships and do the work for me, so be it. It was still dirt cheap and obscenely convenient.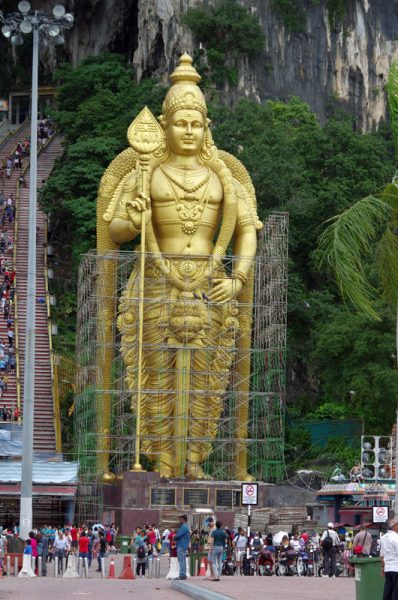 As for getting around in KL, we utilized the monorail and commuter trains here and there. Uber is very popular. Every guest under the age of 35 who arrived or left the hotel via a vehicle seemed to do so in an Uber. We used it once when we went to the Batu Caves. A 25-minute drive through the city in an UberXL only set us back $5-6.
You can also walk, but pick the shady side of the street as the sun on top of the humidity can beat you down. You will have to dart across a busy street at some point. If you're timid about playing Frogger in traffic, call an Uber.
At the Track
The Sepang International Circuit is one of the best racing venues I've visited. Usually, at road courses, your view is restricted to just a couple of turns. The design of Sepang allows you to see large sections of the track at once. $125 gets you a three day grandstand ticket on the back stretch. You can't even get a general admission ticket to the USGP for that. From our seats, we could see about a third of the track. All of the seats are shaded so you don't have to worry about getting scorched in the Malaysian sun. It is still hot, but most times there was a breeze which made it bearable if not pleasant. We never needed them to protect us from the rain though. Three days and not a drop. Normally, I don't want it to rain when I'm at a race, but we were disappointed that we went an entire weekend without precipitation.
The employees and vendors are friendly and helpful. There is a broad range of food options from Western food like burgers and pizza to more traditional Malay food. The satay vendor was directly behind our stand so we would smell it when he'd fire up the charcoal and drop some on the grill. Even the prices at the track were affordable. Most food options were under $6, and a 12oz can of Heineken (sponsor and only beer available) was $4. Bottled water? 75 cents.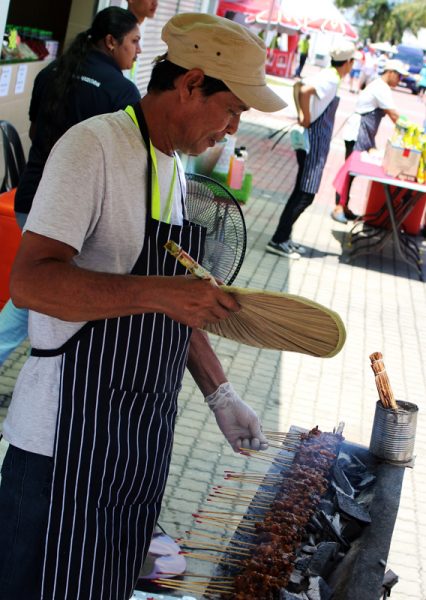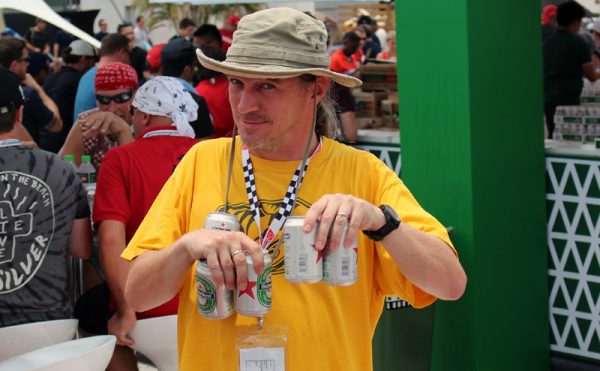 Tourist stuff
We added a day on either side of the race weekend for a couple of reasons. Tuesdays are better travel days. There are fewer people at the airport which means fewer people going through immigration and more importantly, fewer people on the plane. We had four flights total, and I was always able to have an empty seat next to me. Also, I'm not flying halfway around the world just to spend three days at the track, especially when you're in a place with so much great food. Our self-proclaimed "cultural enrichment days" gave us an opportunity to visit the national mosque, tour the Museum of Islamic Arts, climb a bunch of steps to visit the Hindu temple at the Batu Caves, wander through Chinatown, and do some shopping at the Central Market. We also ate and drank a lot.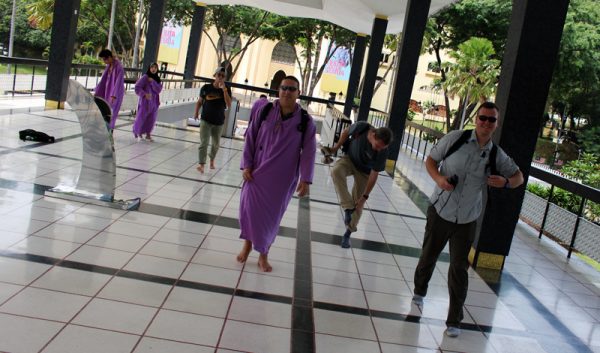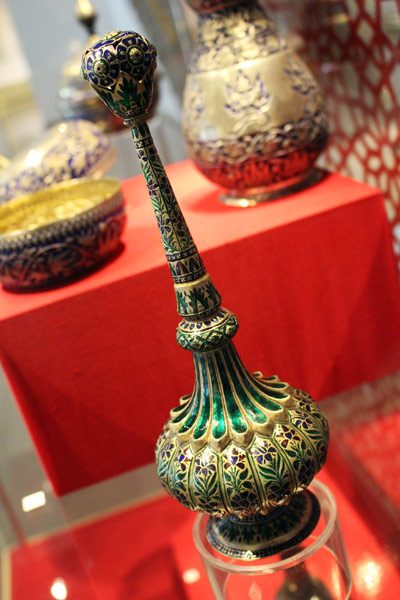 What We'd Do Differently
We moved to a hotel near the airport on our last night because we had an early flight. Next time, unless our trip to the airport would fall during morning rush hour, we are going to stay in the city. It wasn't worth the move, and while we did get some good food at a little hole in the wall that night, it would have been more fun to stay in the city.
I was one grandstand off on where we got tickets. Not that it mattered because we could easily move around since the stands on the backstretch are sparsely filled. But I need to move one more section down the straight for better sight lines and a good view of one of the big screen monitors.
I would like to venture a bit further for food and try some smaller street vendors. I was so exhausted after spending the whole day outside that exploring in the evening just wasn't going to happen.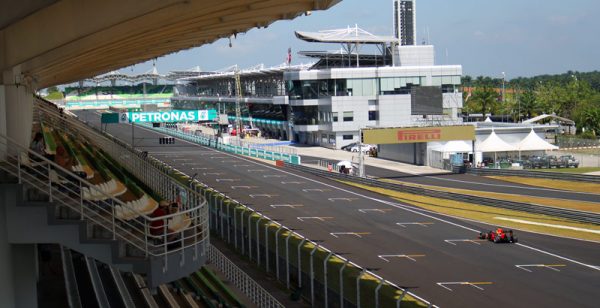 The Verdict
So, was it worth it? Going through two 24 hour travel days for five days? Considering that we regularly drive 10+ hours to Road Atlanta for four days at the Petit Le Mans race, is it really that much more of a leap? Any long travel day from 10-24 hours, takes the whole day and can wipe you out. The jet lag wasn't that bad, and we had a great time.
Honestly, I don't understand why more people don't go to this race. It is affordable and a great facility. I don't know if it is the heat, the distance, or some irrational fear. The crowd should be twice as large. I think attendance has suffered in the past due to weaker support series on the weekend schedule. This year they had GP2 and GP3 which meant three days full of quality on-track action. Considering the price tag and how truly easy it was to put the trip together, If future races have equally compelling lineups, I can see us doing this again at some point in the near future.