What is the food like in Peru? Everyone always wants to know what interesting things we have eaten on our journey, so I decided to share some of our entertaining eating experiences in Peru.
Anticuchos are very popular in Peru. This term can be used for any type of meat on a stick or a kebab. In almost every city we visited in Peru, we found Peruvian women on street corners with small grills selling them. The smells are intoxicating and it reminds you of summer. The kebabs on the street usually consist of chicken, pork, or hot dog and have a roasted potato on the tip of the skewer. Ají, a homemade Peruvian hot sauce from the area peppers, can be added upon request.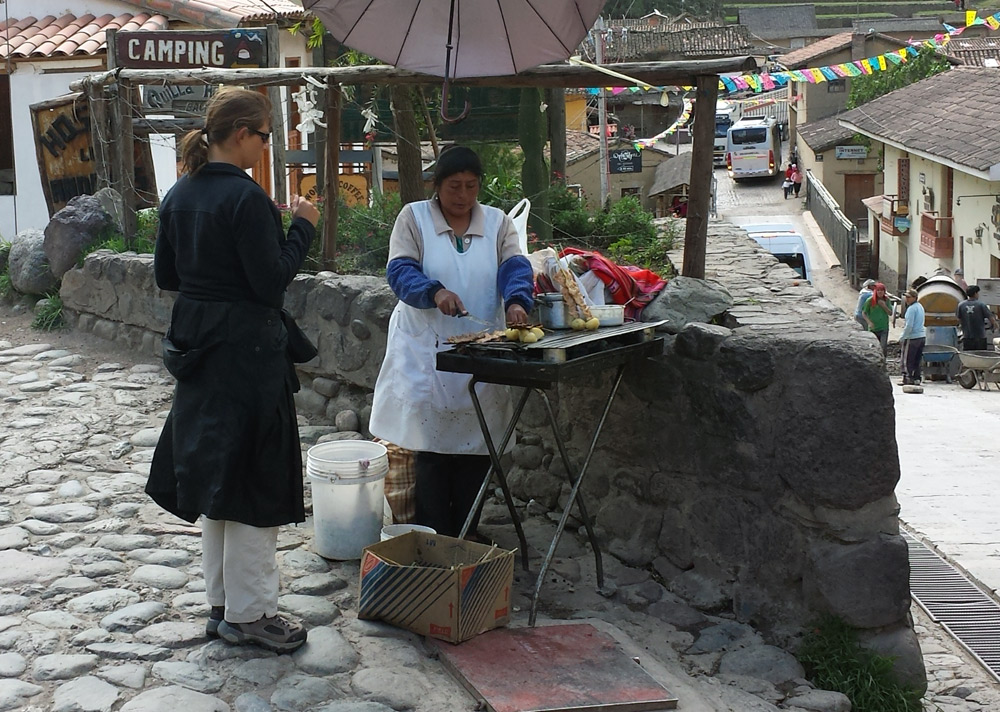 In Lima, we went in search of a place that specialized in anticuchos de corazón. These specific anticuchos are made of marinated beef hearts. The owner of Grimanesa Vargas Anticuchos once had a stand on the street, but it was so popular she was forced to get an establishment.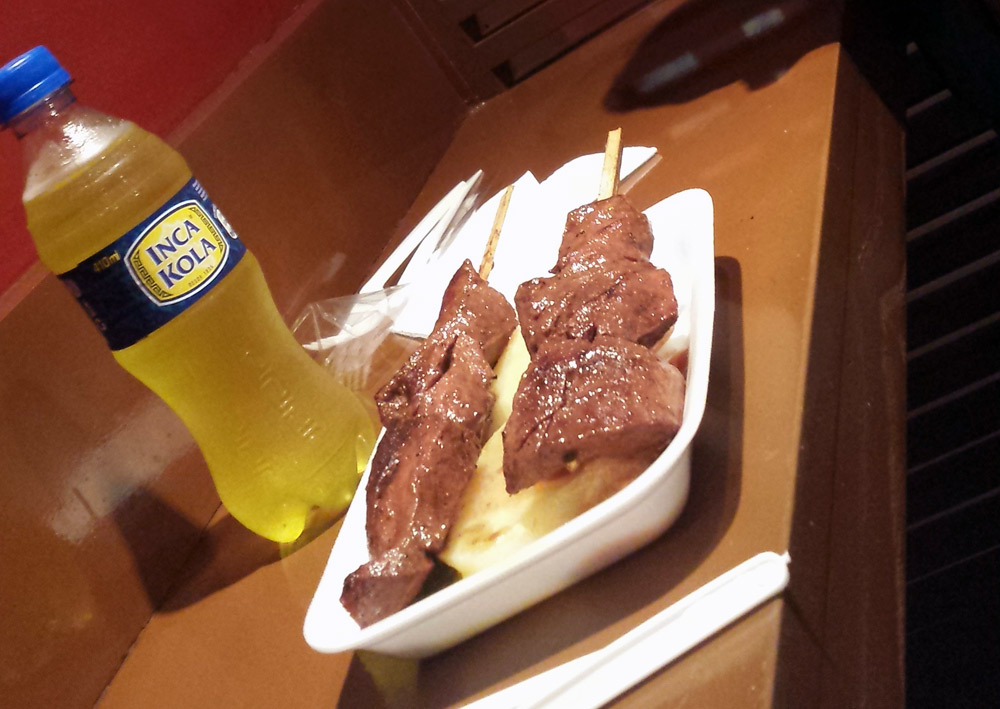 The meat itself was cooked to medium with a warm, pink center. The skewers glazed with garlic sauce taste like a good tender steak. Like most things in Peru, it comes with a potato and ají. We had the beef heart in two other restaurants, but you don't always see them on the streets.
Many of the towns in the Cusco region are known for certain specialty food items. We stayed at a bed and breakfast called GringoWasi in the small town of Huarocondo. We woke up every morning to the sounds of cows, pigs and roosters. We found that eating and hiking were the main things for us to do in the area.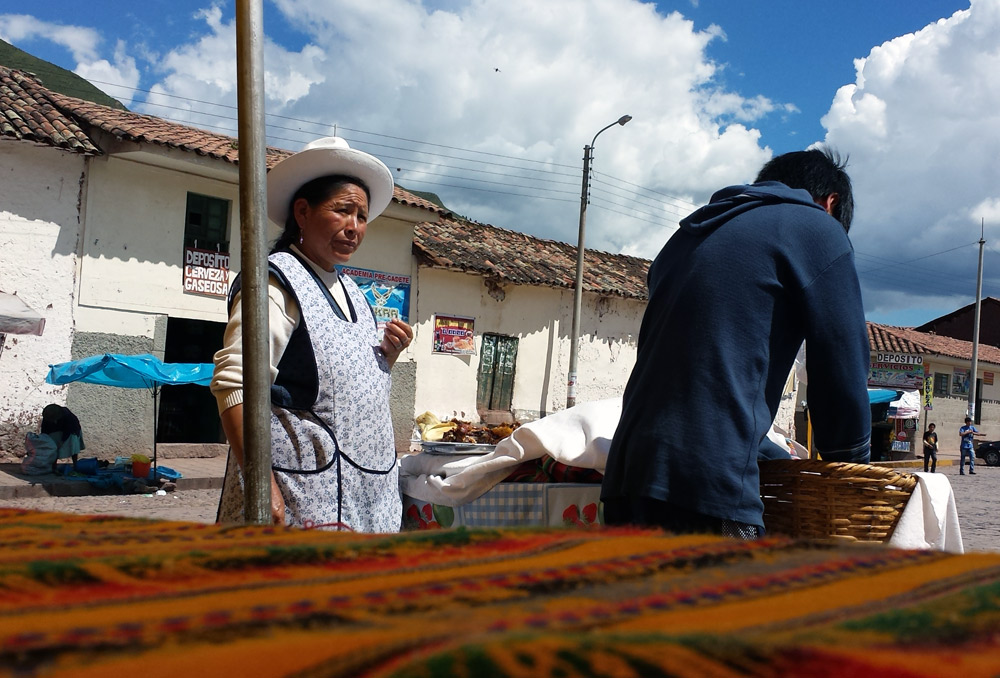 During the day, ladies would sell their lechon or pollo de gallina on the town square. Pollo de gallina is a roasted hen soup with vegetables. The soup wasn't bad except it had some weird things added to it. It had potato and yuccu, which is a root vegetable known to the area. These are pretty traditional soup items here. However, there was some mystery veggie in that soup that we didn't recognize. It looked similar to the potato, but the taste was really off and neither of us cared for it. We only cared to find out what it was, so we don't order it again.
Huarocondo is known for lechon, a roasted suckling pig. They host an annual festival but it is available year round. There are several ladies stationed around the town square selling from big baskets of pork to people sitting at community tables. We shared a large portion of roasted pig and split a liter of beer for S/.20 (US$7). The lechon comes with tamales that have no meat. They are just salty masa with peanuts or sweet with a stick of cinnamon. You can have bread if you prefer if you want to make a sandwich. A side of cut up onions, spices and mint mixed with vinegar are on the table to top the pork.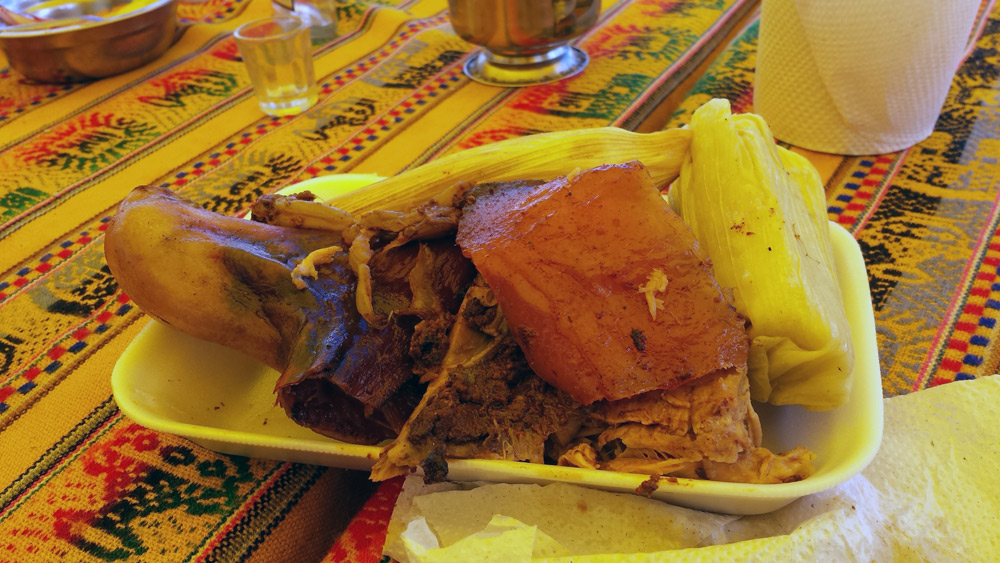 One lesson I learned was to be sure to eat the lechon before you hear your neighbor butchering the small pigs early in the morning. The squeals were a sound I don't think I will ever forget. Mark was lucky enough to be in the shower.
The day we took our private tour of the Sacred Valley we stopped for lunch in Tipon which is known for Cuy or Guinea Pig. Guinea Pig is very popular with the Peruvians. Our guide and bed and breakfast owner, Lyle, took us to a Cuyeria that he stops at with any of his guests interested in trying it. I had said the night before that I didn't know if I wanted to try it. He assured me that it was no big deal and it tasted like rabbit. That pretty much sealed the deal for me. I didn't want to eat rabbit either. Mark was up for the challenge. I settled on chicken, and a bite of Mark's just to say I had tried it. You can't say you don't like something if you don't try it.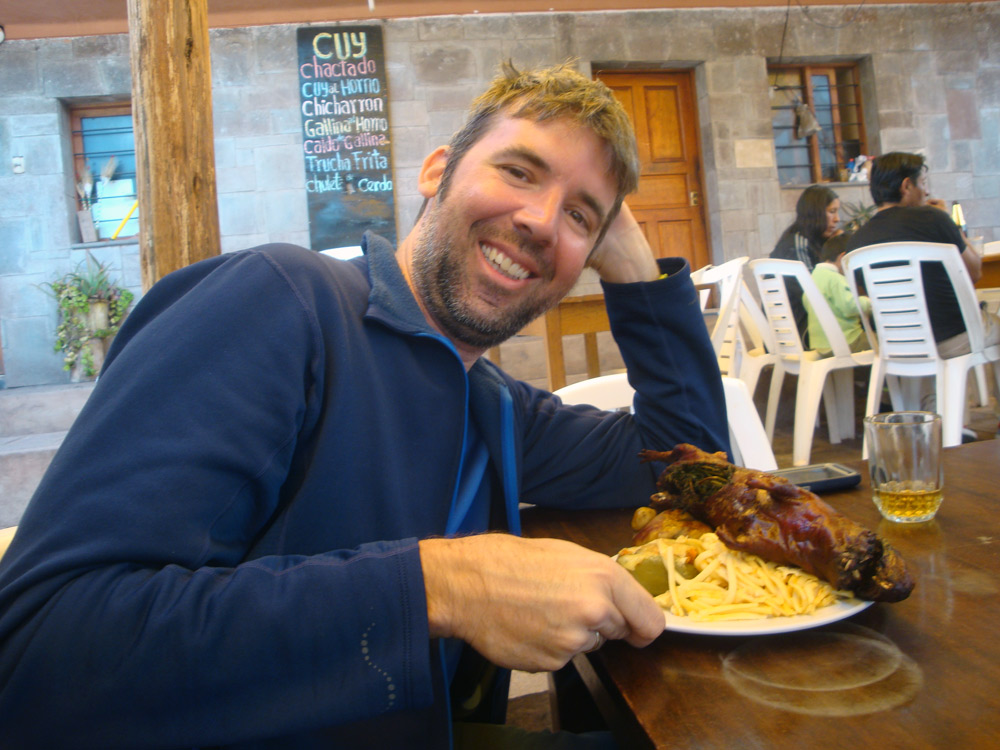 "It's smiling at me" was the Christmas Story joke when the Cuy was placed on the table.  The guinea pig was roasted whole. I could see the teeth. I looked at this rodent on Mark's plate and thought, "I am so glad I got the chicken."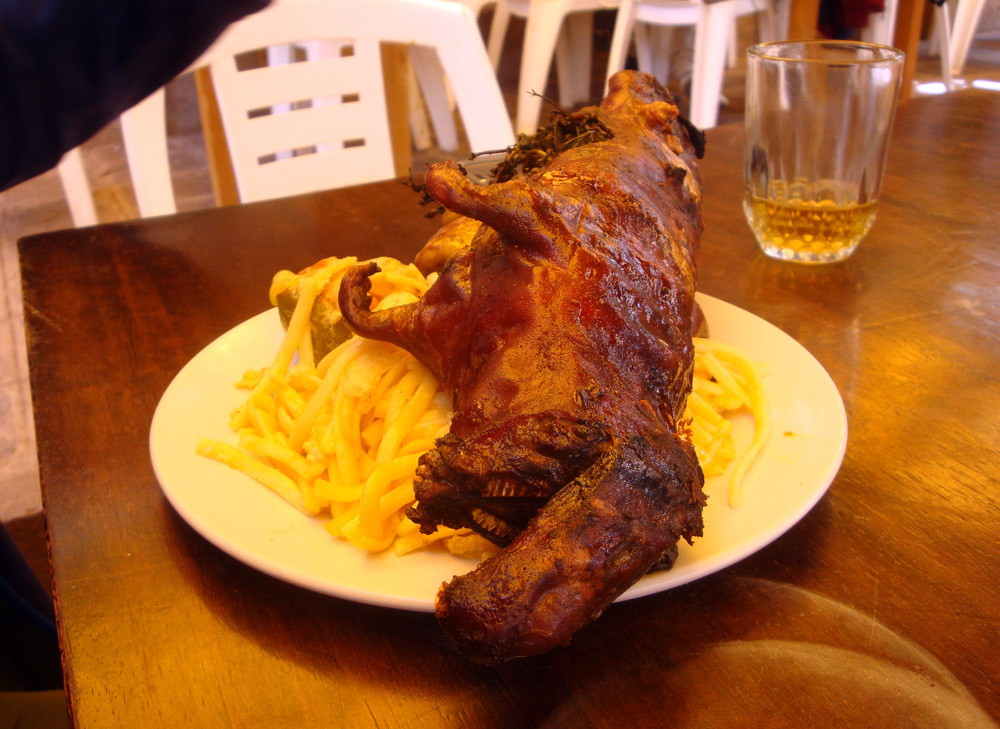 It was prepared with tons of herbs and baked in a brick oven. It cost around S/.33 (US$ 11) and came with roasted potatoes, spaghetti and stuffed peppers. The portions at most traditional places are really large. Lunch tends to be the main meal of the day for the locals.
The Guinea Pig wasn't bad. It had a gamey taste to it. I don't think I could handle a whole one. Mark seemed to enjoy it. There were a lot of little bones, so it is time consuming and difficult to eat. Every table in the place was filled with locals enjoying their Cuy lunch.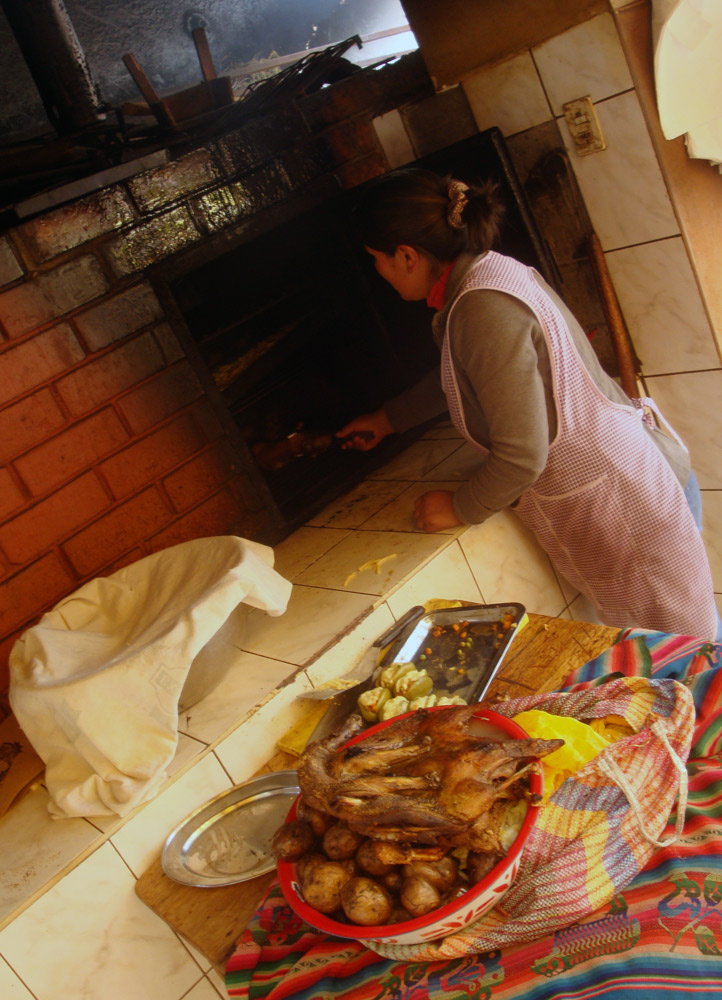 In Puno, we were able to have another special kebab treat. We went to El Tulipen where we both ordered the mixto kebabs. We had 3 skewers with Alpaca, Chicken and Beef. This was the first time we tried Alpaca. It is a very lean meat and seems similar to buffalo.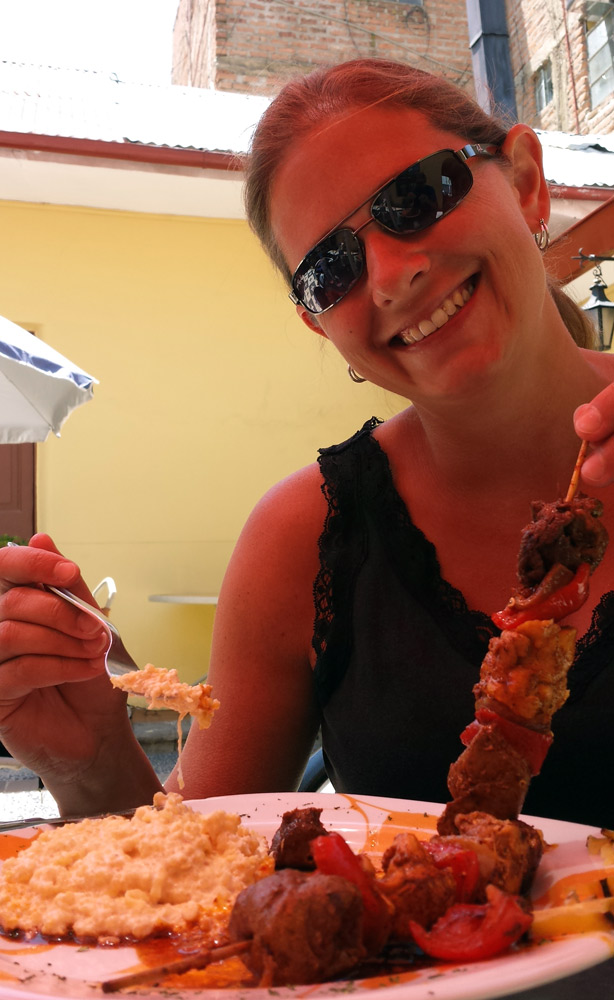 We had the opportunity to try it again in Arequipa. We had considered trying to cook it ourselves, but that didn't work out. We had eaten cheap street food or at home a lot, so we decided to treat ourselves to a nice restaurant.  In this area, they cook Alpaca in every way one would with pork or beef. After looking at several menus we opted for Zinagro which had plenty of Alpaca options.
I had Alpaca ribs with an herb butter sauce. It was like brown gravy with herbs and it was really delicious. The chops were a challenge to eat with a knife and fork. I just wanted to pick them up, but it was a classy place. They were a lot like pork country style ribs. They were cooked nice and tender, but didn't really fall off the bone. It was more like eating a nicely done pork chop. Mark had Alpaca stroganoff with big button mushrooms and a creamy sauce.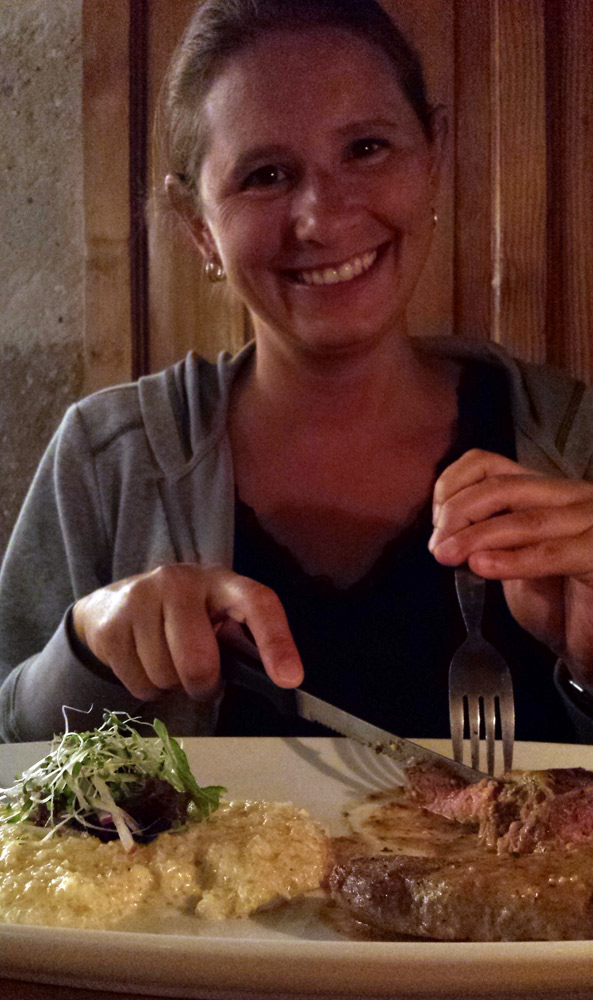 One of the things that made the dish that night was the quinoa. Yes, I am talking about one of the latest super grains in the United States. I was able to order quinoa risotto as a side dish to both the Alpaca dishes in Puno and Arequipa.  Quinoa risotto has been one of my favorite dishes of the whole trip so far. It is little grains that have an al dente texture with a nice creamy cheese sauce. It reminds me a little of super creamy cheese grits. The grains are a little bigger, but it is buttery, creamy and delicious.
Apparently quinoa grows all over the inlands of Peru. It comes in a variety of colors. Peruvians use it to make a ton of things including beer. Unfortunately, a lot of locals can no longer afford it because worldwide demand has driven up the price. You still see it for sale in the local markets, but the price can be high. Locals and traditional restaurants tend to use it in soup. The soup is a combination of smaller amounts of quinoa with vegetables in some type of broth.
Fortunately, we have been lucky with most of our eating so far. Sure, we ate some kidneys in Cusco and maybe some random pork bits that we weren't sure what they were from a stir-fry lady in Huarocondo. We have eaten salad and fruits when we shouldn't. Americans who live in South America tell us most touristy places are fine for fruits and salads because they tend to wash stuff in filtered water. We are both sure our bodies have learned to fight off some new bacteria and that's important since very few things are actually refrigerated.
We are finally getting better at navigating menus and we are branching out beyond chicken and rice. The only problem is the jargon changes for food in every place we go. In each new place we try to learn as many new food terms as we can, have faith that we know what we are doing, and hope we didn't actually just order the intestines for our next meal.