Our departure from Cuzco did not go as originally planned. From our understanding organized, controlled protests broke out due to government officials getting an increase in salary while the government employee minimum wage remained the same. Most of the city was closed down including all public transportation. We watched as anyone caught attempting to drive through the city was either chased or had rocks thrown at them.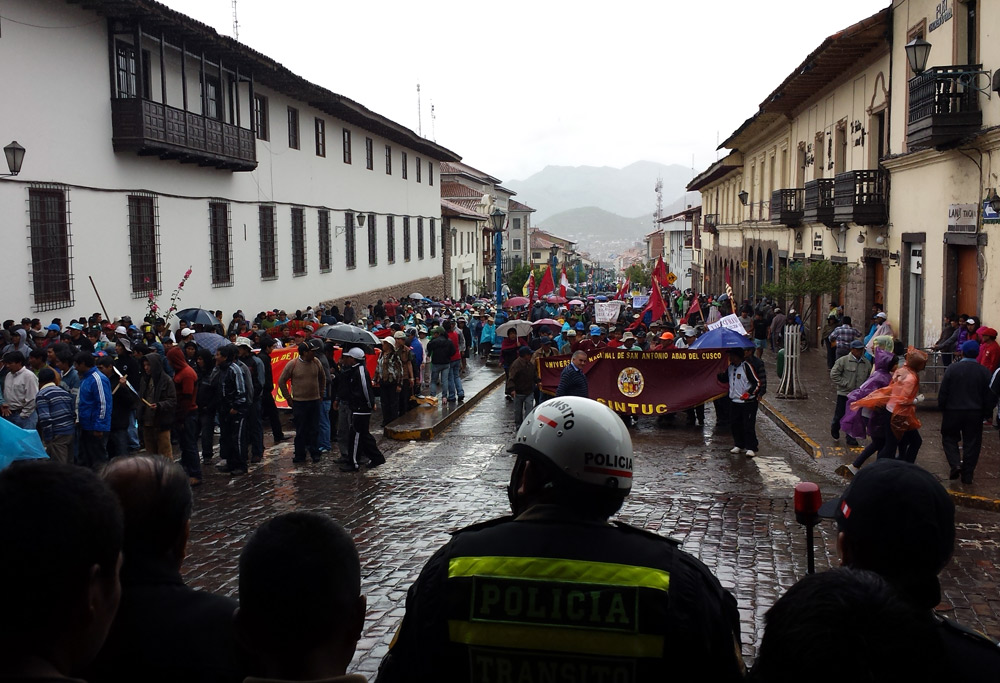 A day after our original planned departure date, we headed to Puno. Puno is the main stop in Peru to visit Lake Titicaca. The name itself means grey cat and one of the area theories is it is because the lake shape looks like a puma hunting a rabbit. Lake Maracaibo in Venezuela is considered the largest lake in South America because of its surface area, but Lake Titicaca actually has more water volume. It lies 12,507ft up in the mountains bordered by Peru and Bolivia. However, you cannot cross the lake to get to the other side. If you want to see the Bolivian Islands, then you need to go to Copacabana which was another 3.5-4 hour bus ride plus a border crossing. The view from the Peru side of the lake worked for us.
We set up a tour with our hotel, for S/.45 (US$16). The tour included a trip to the floating islands and the Island of Taquile. Our tour would include also lunch on the island of Taquile. It is not uncommon for tour companies to charge people different rates. We later heard someone else on our tour say they paid S/.70 (US$24) for one person through a tour agent. Always check prices with your hotel/hostel.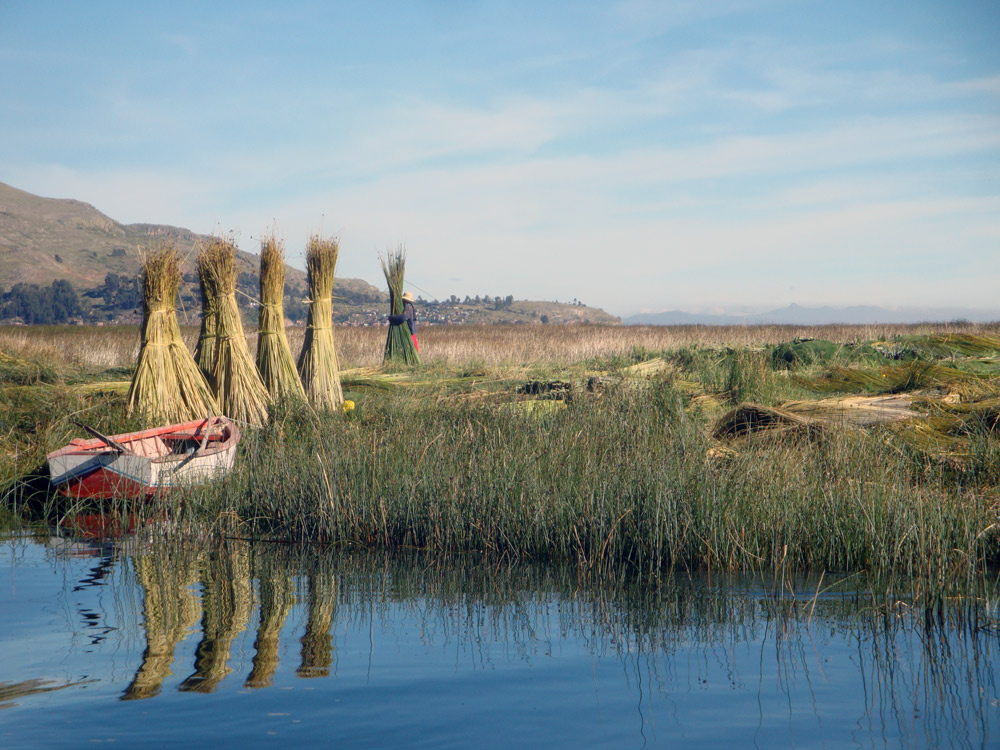 Uros, a chain of several floating islands hand made by reeds was the first stop on the tour. There are several islands on this lake that are made out of reeds or tortora that are bound to the bottom of the lake. The island we stopped on had multiple huts and everyone on the island was related. There were about 35 people living on this island. In order to make the island someone had to go out to the shallow part of the reeds and start a base tied or anchored to the bottom of the lake. Once it was anchored in several locations they just kept attaching the reeds until they created an island. The reeds were used to build houses, boats, chairs and anything else they might need.
There are only a few islands that accept visitors. The inhabitants show you how they live, sell their hand-made crafts, and sing songs for tips. For a little extra money, the chief of the island will row a large group of tourists around the island in one of their hand made boats. The boat and his strength were impressive.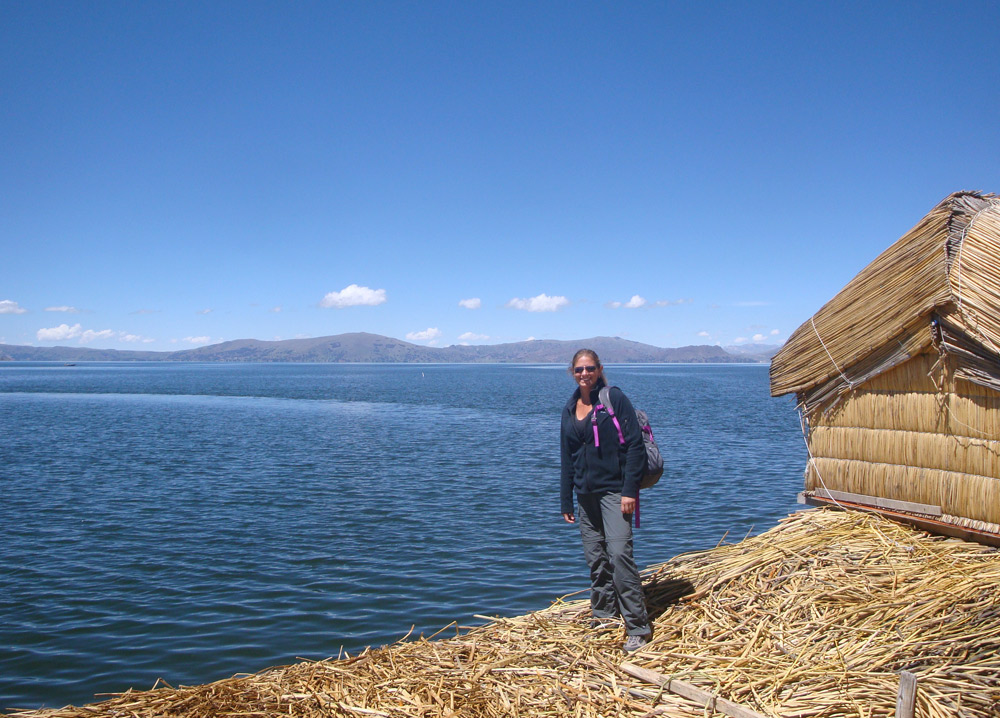 While the floating islands were pretty cool, I was done when our 45 min was up. I felt like once you had seen one you had seen them all. We had about an hour boat ride to enjoy the lake until we reached Taquile. The boat had a platform up top where people could hang out and take pictures, so that is what we did.
Taquile is a hilly island in the middle of Lake Titicaca. Its textiles are known as some of the best hand crafted items in Peru and around other parts of the world. Everyone there wears traditional hand-made Peruvian clothes.  The island has a small village of about 2,200 people. There are no hotels, grocery stores or cars. If an outsider wants to spend the night on the island, then they stay with a host family.
The downside to being on a tour is we didn't get to explore the island on our own. We climbed up to the main village. We took time to enjoy the views of the Bolivian mountains and explored the little village near the top. One of the locals took us even higher as we hiked about 30 minutes to get to her home at the top of the island. We sat outside of her house and looked out at the beautiful green and blue water while she and her family cooked us lunch.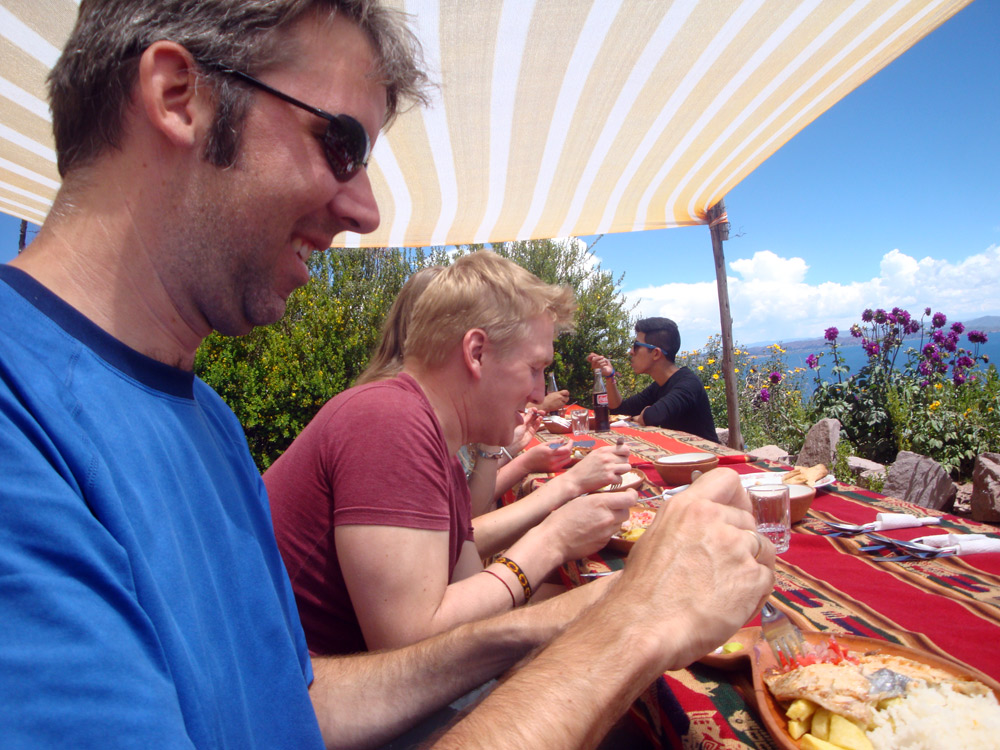 We had a deliciously light quinoa soup containing chicken broth and veggies.  The main course was fried trout, one of the island's main resources. It was served with rice and french fries. South Americans love their starches. It is very common to get both rice and french fries. This was great news for me since I am usually indecisive and I love french fries. After a while it gets old, especially since the fries are never really crispy. Once we were full of food, it was time to hike back down the mountain for our 2 hour boat ride back to Puno.  The two hours allowed time for more pictures and an afternoon siesta.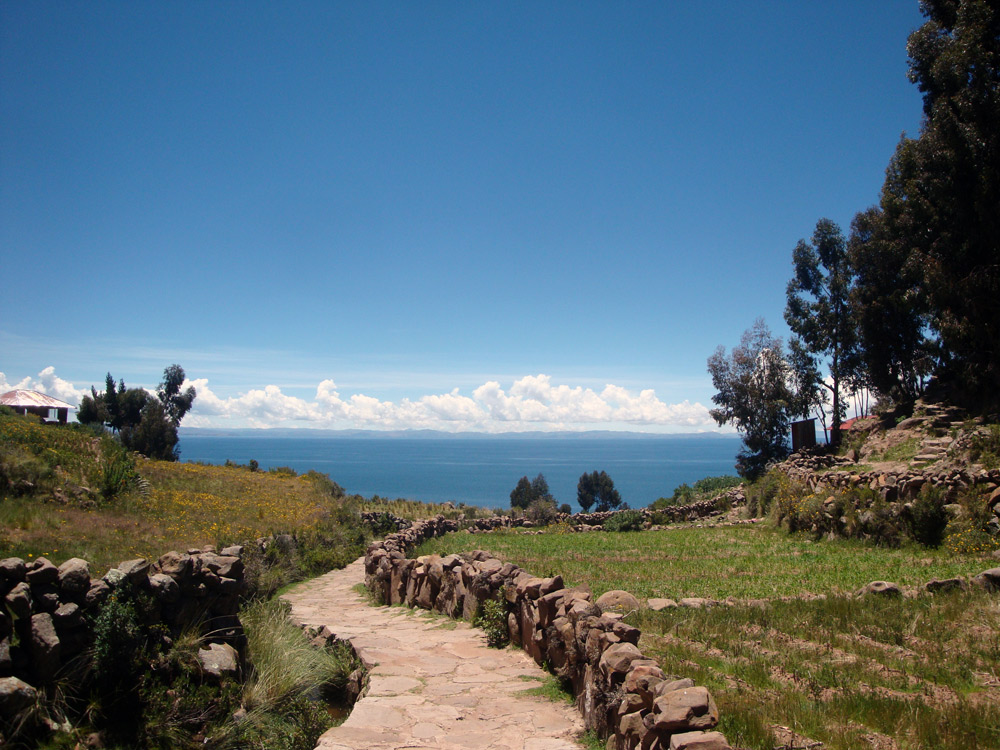 The city of Puno itself is interesting. People from outside Peru go there to see the lake, but don't seem to stick around too long. Peruvians seem to actually go there on holidays to hang out near the lake.
A large part of Puno by the lake is a huge street market. We wandered around the market and I practiced my negotiation skills by purchasing a $4 pair of "Ray-Ban" sunglasses. A hinge screw fell out about 2 weeks later.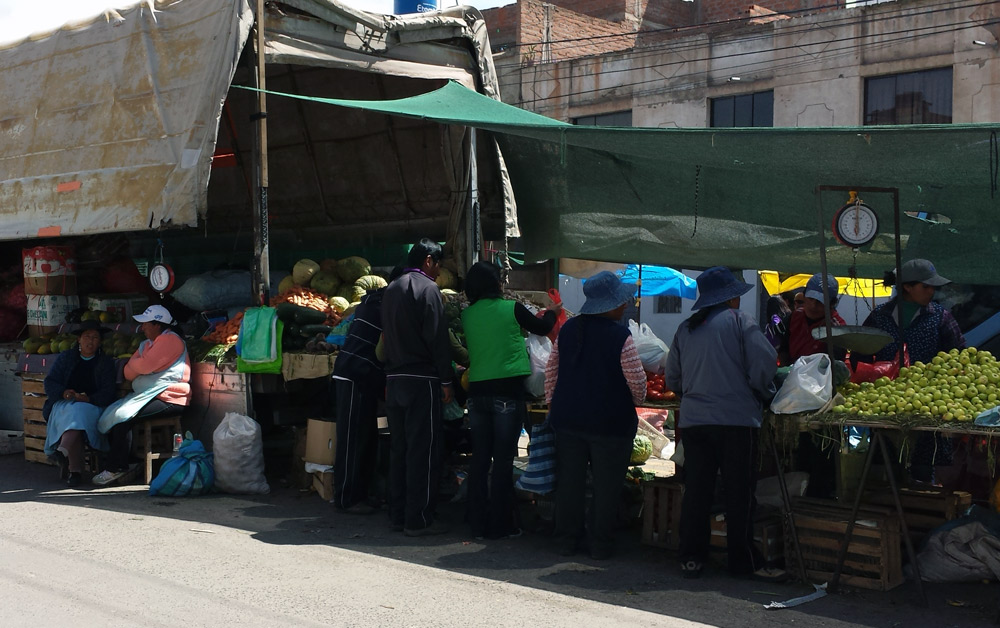 One of the best things about Puno having so many vendors was all the street food. We enjoyed some more meat on skewers and had some saltenas (empanadas). Most of the saltenas in Puno are filled with potato. These were not my favorite and I was sick of potatoes at this point.
The last thing we tried was something like a hamburger, yet I am still not positive it was actually meat. It was topped with hot sauce and potato sticks. It was good, a little strange and really inexpensive.  We topped off our night with helado (ice cream) because that is just what Peruvians do.