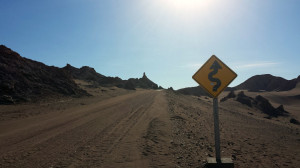 It was only a matter of time until we met a fellow blogger on our trip. While on our tour of Tequile and Lake Titicaca we met Nathaniel from Berkeley, California. He and his girlfriend Alex were on a very ambitious and very cool adventure.
Both of Alex's parents are cops in Oakland and one (or maybe both) of them are motorcycle cops. Alex had never gotten her motorcycle license so in early 2013 Alex and Nathaniel decided to get their licenses together. While taking their classes they saw a video where a rider had put stickers on their bike of all the countries they had visited. Nathaniel said that it had never occurred to them that you could ride from country to country. After some discussion they decided on a plan. They decided to leave the Bay Area and head south: All the way south to the southernmost tip of South America. Hence the name of their blog: Where the Autopista Ends.
They saved up their money and quit their jobs and set out from California in October of 2013 and are getting closer to their goal. Unfortunately, we didn't get to meet Alex as she was feeling a bit under the weather in Puno. She's a damn good photographer and their blog is worth checking out for the photos alone. I also know that my friends who are fans of motorcycles, racing and/or Top Gear will get a kick out of this adventure as it is something you'd expect to see on TV.
They have some great photos of the Cusco protests we've mentioned. They were there close to the same time we were.
They also drove the Bolivian Death Road. If you were freaked out by the heights in our pictures of Machu Picchu, wait until you watch their video from Bolivia.