I'd been to Czech Republic twice now but had never visited her ex-spouse Slovakia. Julie hadn't been there either. We were headed to Budapest. We could have just spent an afternoon in Slovakia's capital Bratislava and checked it off our list but that seemed like the cheap way out. After consecutive weeks in Nürnberg, Prague, Brno and Vienna I needed some country time. We ended up in the town of Ružomberok. How did I choose Ružomberok? It was home to the cheapest apartment in Slovakia that fit our needs and was available at the time. As a bonus it was in the Tatra Mountains which are home to hot springs and lots of great hiking.
Trains
The trains in Slovakia aren't particularly fast but they are comfortable enough and affordable. Our trip from Bratislava to Ružomberok cost us US $25 each and took about five hours. There is a lot of great scenery as you get further into the country with mountains, lakes and rivers.
Bratislava has arguably the ugliest façade of any train station I've ever visited. They added on a massive foyer to the original station in the 1980's that looks more like an airport terminal than a train station.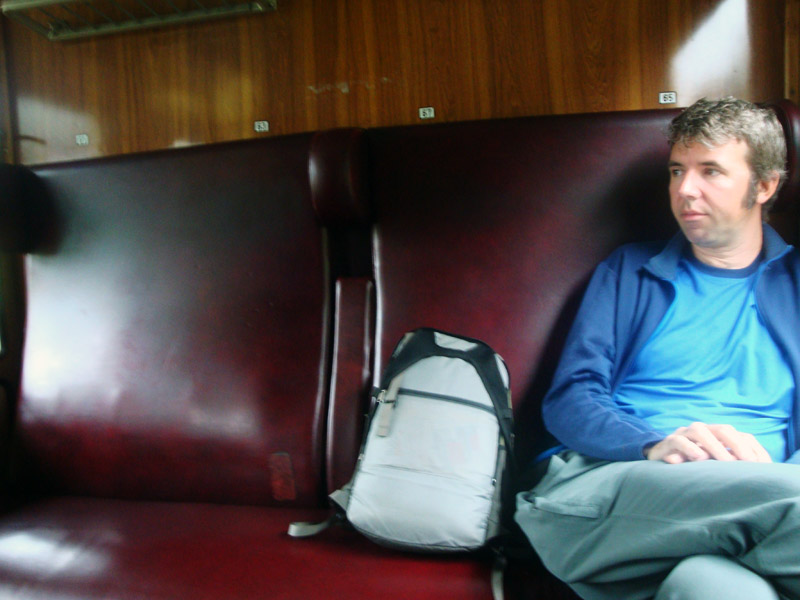 Many of the rural train stations don't have elevated platforms. The train just stops and you climb down and walk across a few sets of train tracks to the station. Not a big deal, just mind your surroundings. Freight trains roll through on occasion.
Accommodations
Our apartment was a 15 minute walk from the center of town. It had a washer, wireless internet, a nice little kitchen, a balcony that looked out over the west side of town and the mountains beyond. It also hadn't been redecorated since the 1960's. It was definitely of a time and place. I could see my Slovakian grandmother from a parallel universe making Sunday dinner.
Things to Do
Turns out Ružomberok is a pretty good base for exploring the area. There's quite a bit to do in the hills surrounding the city. Since it is so small you can simply walk into the hills from town. Its location on the main train line makes trips to neighboring towns a snap and the regional buses that leave from the train station cover everything else.
Hiking
Paths for hiking and biking can be found in the hills and mountains surrounding Ružomberok. Most trails are pretty well marked but picking up a proper map from the tourist office in central Ružomberok is a good idea. The Malinô Brdo ski resort is a great place to start. It is close to town and has a gondola lift that operates year round. You can get a ride to the main ski area and hike back. Walk through Vlkolínci, a historic Slovak village and UNESCO site located near the ski area.
There are also mountain bike trails as Malinô Brdo is home to one of Slovakia's top bike parks.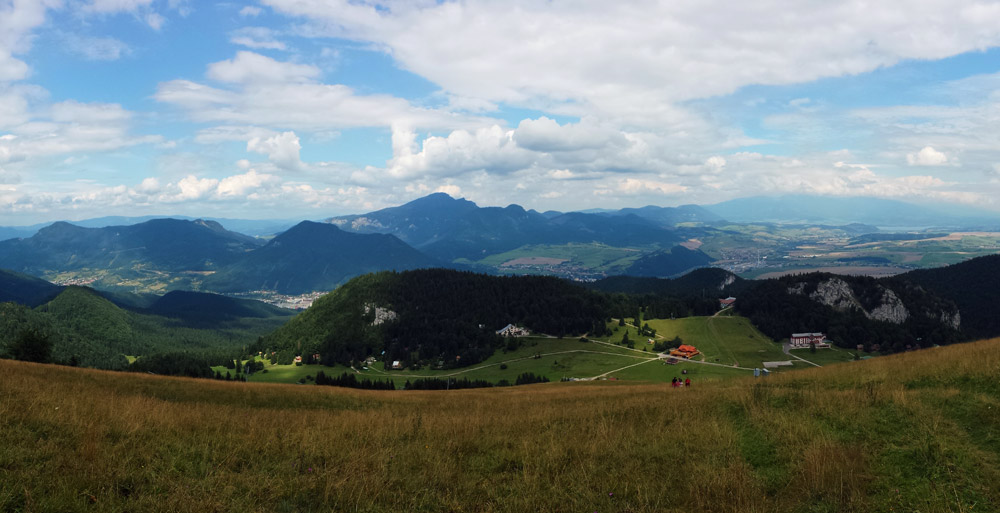 Thermal Baths
It can be rainy and cold in the Tatras even in the summer. Fortunately the water is always warm. We took a day trip to the town of Lúčky to spend a rather dreary afternoon in the warm medicinal waters at the Kúpele Lúčky spa. It cost us US $15 each to spend three hours there. A little pricey but worth it to enjoy the surroundings from a nice, hot pool.
Soccer
I like to go to sporting events when I travel. Depending on where you are it can be a cheap evening out full of multiple levels of entertainment. The soccer season had just kicked off and MFK Ružomberok had a home match the week we were there. I tried deciphering the ticket information on their website prior to our arrival and from the best I could tell we would be fine just showing up. We walked to the stadium on the east side of town and were able to buy a ticket at the gate. The stadium was at less than half capacity. Slovakia is a hockey country. It was still a good time though. A dozen fans from the visiting team had an entire section to themselves in the stands opposite the main grandstand. However they were loud enough that their singing and chanting could be heard through most of the game. Our tickets were only US $5 each. Beers were only US $1.50.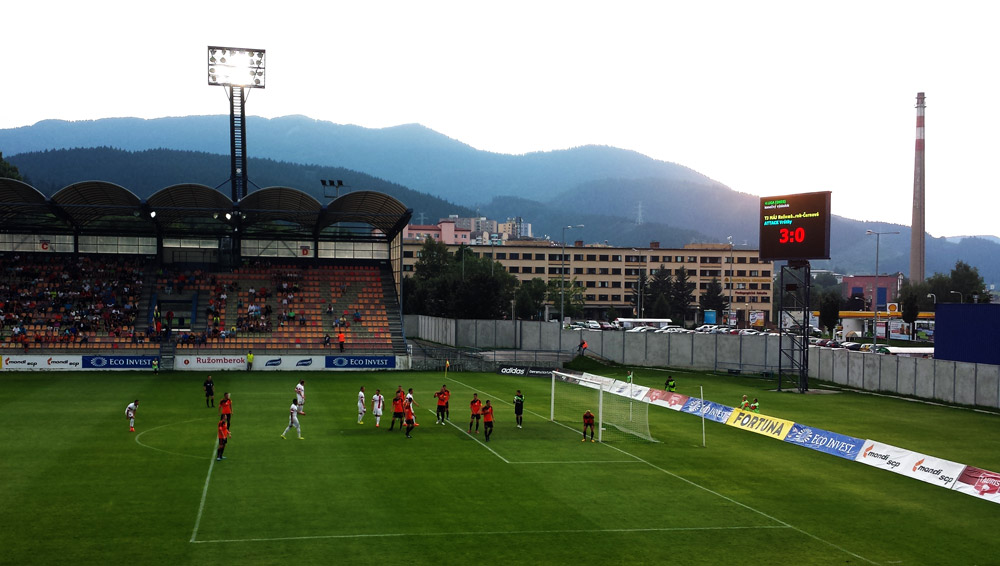 Food
We cooked a lot in Slovakia so we only managed a couple of Slovak meals. Lots of noodles, dumplings, cheese and pork. On our second trip to the Malinô Brdo ski area we saw the restaurant at the base of the mountain prepping soup. From the gondola ride to the top we saw a shirtless guy who looked like Gert Frobe stirring a massive pot on a large propane burner on the deck behind the restaurant. He was stirring in massive trays of beef with an oar. I told Julie, "I don't know what he's making but it has to be good."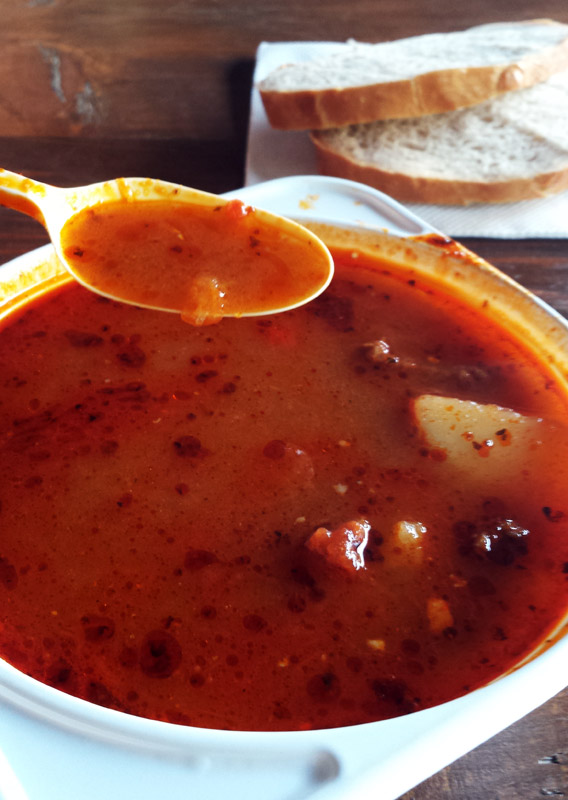 When we were done hiking for the day and had made it back to the bottom of the mountain we stopped in for beers and a snack. I got a bowl of the soup which had plenty of beef and potatoes and was quite spicy thanks to all of the chili oil in it. The girl working the food counter told me that it was a traditional soup from the area and told me the name of it. I didn't quite catch what she said. I just took a picture of the menu so I could look it up later. I typed it into Google so I could confirm the name and maybe find a recipe. Turns out the listing on the menu was Slovak for "Soup of the Day".
Best Pizza
There's a best pizza in Ružomberok? Yes there is. Pizzeria da Andrea u Taliana is located on the second floor of a building along one of Ružomberok pedestrian areas near the center of town. Not only do they offer a huge variety of pizzas, most of them are in the US $5-8 range. They had really good pizza. Wood oven style but with some heft. We didn't eat there until near the end of our stay. If we had eaten there earlier we might have worked in a return trip.
Language
Slovak is a Western Slavic language and very similar to Czech. Many people speak English in some capacity so Google Translate was only required a couple of times. Pointing, smiling and looking clueless took care of the rest.
Budget
Slovakia was the first country on our trip where we came in under $100 a day. Finding a cheap apartment and then staying there for a week really made the budget. Cooking at home a lot didn't hurt either.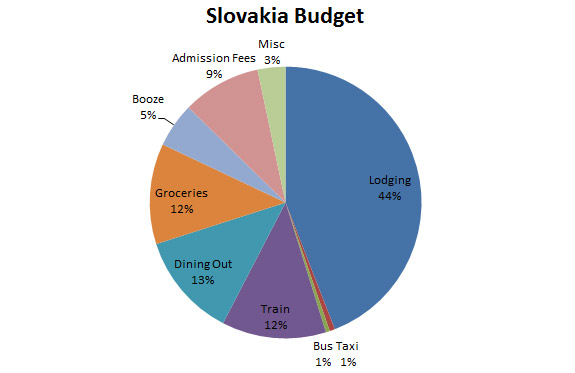 When planning for the trip we saved for a daily budget of $125. However, our goal was to keep it under $100 per day. In Slovakia, our budget came out to $90 per day.
If We Went Back We Would…
Like to do more hiking and exploring in the Tatras. There are lots of parks, mountains and trails. Having a rental car would be much more convenient. The trains and buses are pretty good for getting around but their scheduled times aren't particularly frequent. I would also like to go to Košice, the second largest city in Slovakia. It looks beautiful and I've read many good things about it.