When I returned from our trip, I had grand plans of hunting down recipes for all the great things I ate, trying them out, perfecting them, and writing my own. Since returning home, I've tried a lot of recipes, but written a total of zero. Then it dawned on me, why do I have to write my own recipes? I'm doing this for fun. I'm not writing a damn book. I'm doing this to keep my thoughts in order. Why not just point people to the best recipes I've found, throw in my two cents, and be done with it. So, here we go.
Chinese noodle soup with roast pork
One of the best things about Southeast Asia is that you're never too far away from a nice bowl of noodles. Whether you're at a night market or a hawker stand, a delicious and inexpensive snack is almost always available. For my favorite, the basics were always the same: Noodles or dumplings, broth, and sliced pork. Sometimes the type of noodle would vary depending on where we were, but some variation could always be found.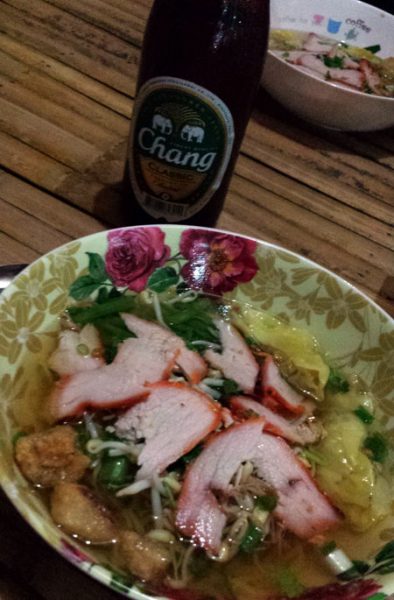 Although simple, it's not something you see on the menu of your average American Chinese takeout joint. And even my favorite Pho place, which also does Chinese dishes, doesn't have something comparable on the menu. You'd think it would be easy to track down a recipe for something so simple, but between cookbooks from the library and some searching on the internet, I could never find what I wanted. Every recipe I found was way too involved. I decided to search again recently and came across one recipe for making a basic Chinese broth for this exact purpose and another for the BBQ pork that was sliced into it. And as luck would have it, they both came from the same source:
Chinese Noodle Soup by Recipe TIn Eats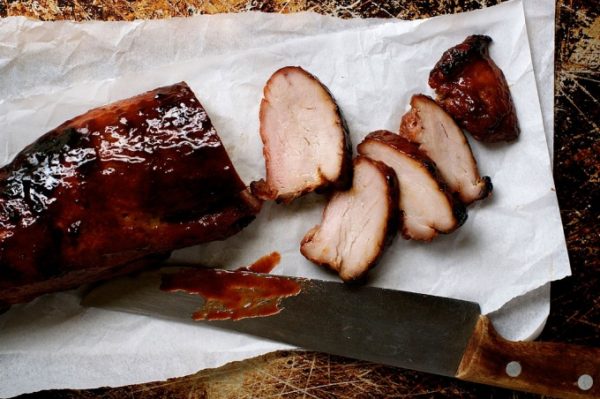 Now, I'm not 100% sure that this is the same style of pork that was used in the soups I had, but it doesn't matter because the marinade/glaze is so delicious I didn't care. And after using it in the soup, I really didn't care. It was delicious.
If you make any amount of Asian food at home, you'll probably already have most of the ingredients or at least acceptable substitutes. If you don't, everything you need is at most international grocery stores, and depending on where you live, at your everyday grocery store as well.
I'm just happy that I can make something very close to what I want. Now I just need the right bowls and some more chopsticks.
If you aren't in the mood for soup, just make the pork. Grill it, throw it in the oven; it doesn't matter. That marinade/sauce is tops. My friends and family will be sick of it by the end of the summer as it is going to get a lot of use this year.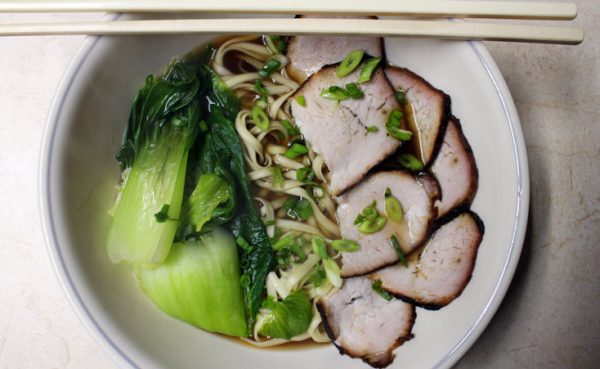 Notes
For the broth:
Homemade chicken stock will always taste the best, but using Swanson's low sodium chicken broth from the grocery is good enough and much easier.
I cut up a green onion or two, in addition to the ginger and garlic, and throw it in when I'm making the broth.
Baby bok choy is my vegetable of choice for inclusion in the soup. Be sure not to cook it too long in the broth as it can become bitter.
I don't add the pork/protein to the broth pot. I put it in the bowl with the noodles and let the broth do its thing from there.
For the barbecue:
Pork loin works just as well as pork tenderloin or pork belly.
I cook on natural charcoal and start with indirect heat to get some smoke on it.
Pork loins are big hunks of meat. Be sure to let it rest at least 15 minutes after coming off the grill before slicing it.