The last time I went to Cincinnati for something other than Kings Island amusement park was a Social Distortion concert at Bogart's in 1996. The last time I went to a Reds game Dave Parker was still playing for them. In other words, I've grossly shortchanged one of Indianapolis' nearest neighbors. Julie wanted to ride roller coasters before the summer was over and our friend David had tickets for a Reds game. We decided to do both and made it an overnight trip to the Queen City.
I hadn't been to Kings Island in several years so there were plenty of "new to me" roller coasters to check out. Our timing was excellent because it was the last week of the season that saw the park staying open until 10pm. This is important because riding The Beast at night is essential for any coaster lover.
I've found that as I get older the less inclined I am to ride anything that goes upside down. I tend to favor the super tall, super-fast metal coasters and their wonderful moments of free fall. The Banshee, Kings Island's newest coaster, does not look like something I would enjoy. A suspended coaster with seven inversions, I wasn't really looking forward to it. But I'll ride any coaster once provided I can actually fit on it.
Most suspended, loopy coasters tend to be too jerky in my opinion. Like the designers didn't feel that the speed, drops and loops were enough so they tried to include as many sideways surprises as possible as if that would make the ride scarier somehow. They usually leave me with a sore neck and a headache from my head slamming against the headrest and harness. Banshee foregoes that shtick by just being fun. It is smooth, fast and most of the sideways movement fits into the flow of the coaster. You feel more like a swooping seabird and less like a hyperactive, drunken housefly.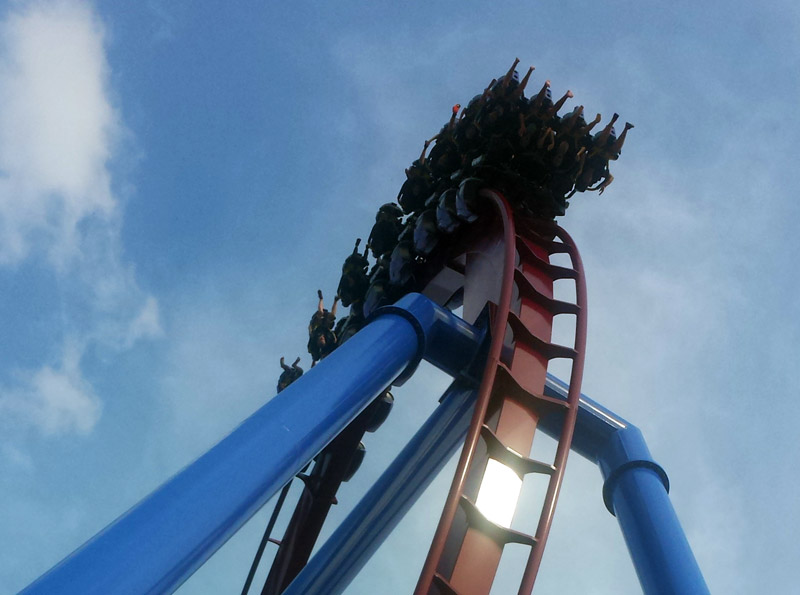 Our first ride was from the last row so we got the extra speed down the hill and through the loops. My vision tunneled from the g's at least twice and I felt queasy after it was over. Julie was surprised when I told her she would have no problem getting me to ride it again because the fun of it all outweighed everything else. I wish I could handle riding it more than a few times in a day because the line was usually pretty short. It is a tremendous piece of engineering and is now solidly at the top of my list of favorite looping roller coasters.
As much as I enjoyed the Banshee and love The Beast, the star of the show at Kings Island as far as I'm concerned is the Diamondback. High speeds, steep drops, smooth tracks and comfortable seats. Since I don't have to focus on not hurting myself it is much easier to enjoy and take in.
Kings Island has an app for your smartphone that you should download if you are going. It has a lot of nice features including a great map of the park. Its best feature is that it will tell you the approximate wait time for all of the major rides making it easier to decide what to ride next.
We spent the night at the Garfield Suites Hotel in downtown Cincinnati. It is a bit worn down and you'll understand why it has 3 out of 5 stars on most websites. But the staff was helpful and it is affordable considering its location in the middle of downtown. It is easy walking to the stadiums and around the central business district. They have onsite parking so we left our car for the day and walked to the game.
We didn't really get to hang out downtown as much as we would have liked. We stayed at Kings Island until it closed at 10pm. The next morning it was raining before the Reds game so exploring on foot wasn't really an option. We ended up in the children's reading room at the Cincinnati Main Library with our friends David & Lucy and their daughter Kathryn.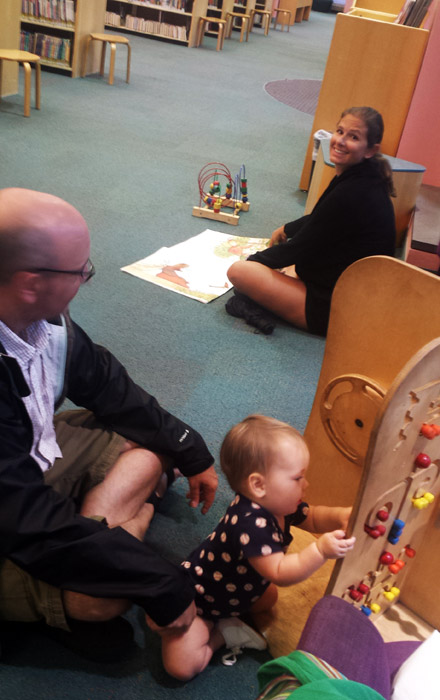 I didn't know that the "Great American" in Great American Ballpark was the name of an insurance company. I always assumed that the Reds just had that much confidence in the awesomeness of their stadium. But in this day and age of sports naming rights I should have known better.
The ballpark was built at the end of the nostalgia design revival that dominated new venues in the 1990's. While the inside of the park has the feel of an old stadium the facade looks much more modern. The main concourse is a wide space without columns or kiosks to obstruct traffic flow. All of the staff we encountered were friendly and helpful. Even in the upper levels you feel close to the action.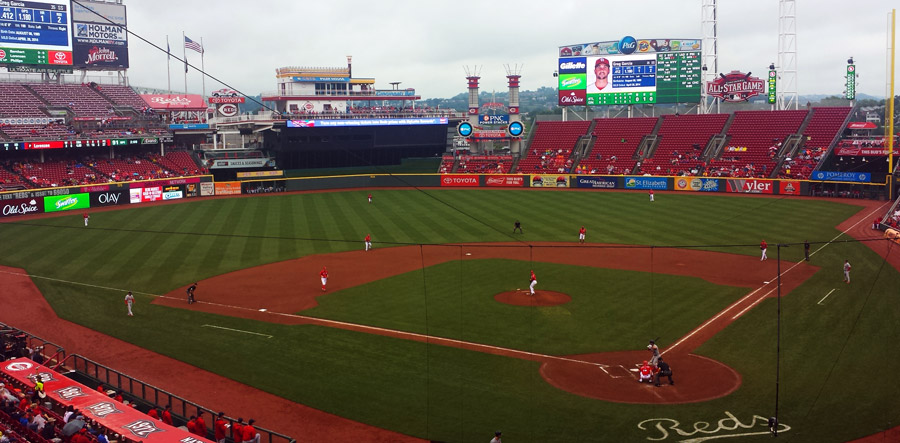 One interesting feature we discovered while exploring the stadium was the nursing station for mothers. It has private, well-appointed rooms with a dedicated full-time staff person. The waiting area has rocking chairs and the game on a massive television. We talked to the woman running it. She said the response has been overwhelming and showed us the waiting list from the previous night. The paper on the clipboard was full from top to bottom. This idea will catch on.
We cut out an inning early because the rain delay had pushed the end of the game into the beginnings of evening rush hour. With all of the interstate construction in central Cincinnati we decided to get out before the gridlock spread to the surface roads. Just to put a cap on the end of our Cincinnati excursion, we hit Skyline Chili for dinner on our way home. People seem to have strong feelings for and against Cincinnati style chili. I wasn't always a fan but it has grown on me. Next time I need to explore other restaurants that serve it up.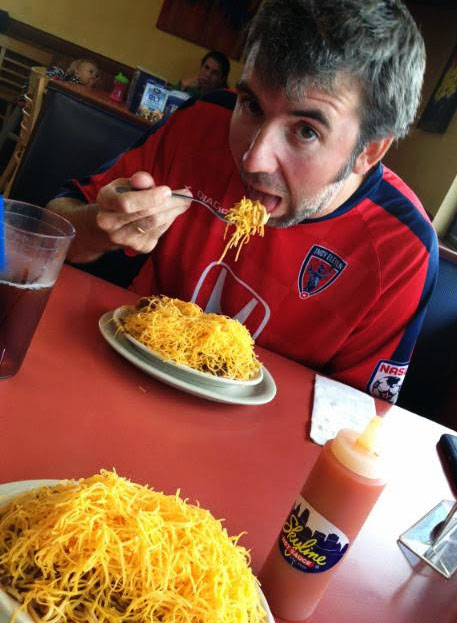 Downtown Cincinnati was a pleasant surprise. It had been so long I really had no idea what to expect. I'm not waiting twenty years to go back. It is such a short trip and on an relatively congestion free interstate. We will make a point to get back there next year if not sooner. If you have any recommendations for places we need to hit the next time we're there, please leave them in the comments.