It was nice to spend more than a week in a country again. When I pitched the idea of taking this trip to Julie her only stipulation was that we go to Croatia. And thanks to not being allowed back into the Schengen Area we were able to spend over a month there.
Croatia's peak tourist months are July and August. The towns and beaches along the coast are filled with visitors from around Europe. We arrived the last week of August and were able to witness the transition from the end of the peak season through the shoulder season into October. September is a great time to visit Croatia: The crowds thin out, it is still warm and sunny, most of the restaurants are still open and transportation is plentiful.
Locations
Zagreb
We only spent one night in Croatia's capital before heading to the coast. It deserved more time than that. The central area of the city looked pretty happening and it had a good tram network.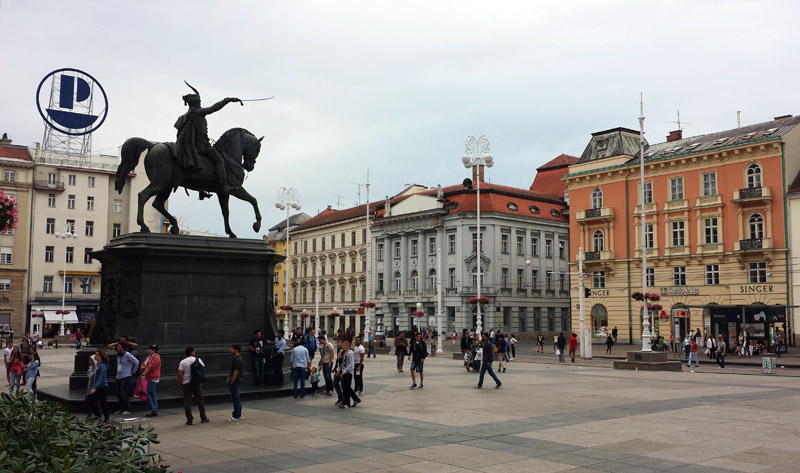 Istria (Rovinj, Vinkuran, Pula)
The northern most coastal area of Croatia is a mix of Italy and Croatia. It is a rocky, dry landscape with lots of cypress trees. It is known for seafood, olive oil, wine, and rocky shores. Slam packed with tourists from Germany and Italy as well as other nearby countries in July and August, arriving just as the peak season was ending was the way to go. We spent over two weeks in Istria. Most of that time was spent swimming, walking to and from swimming, and eating seafood.
Check out Julie's in depth post about our time in Istria.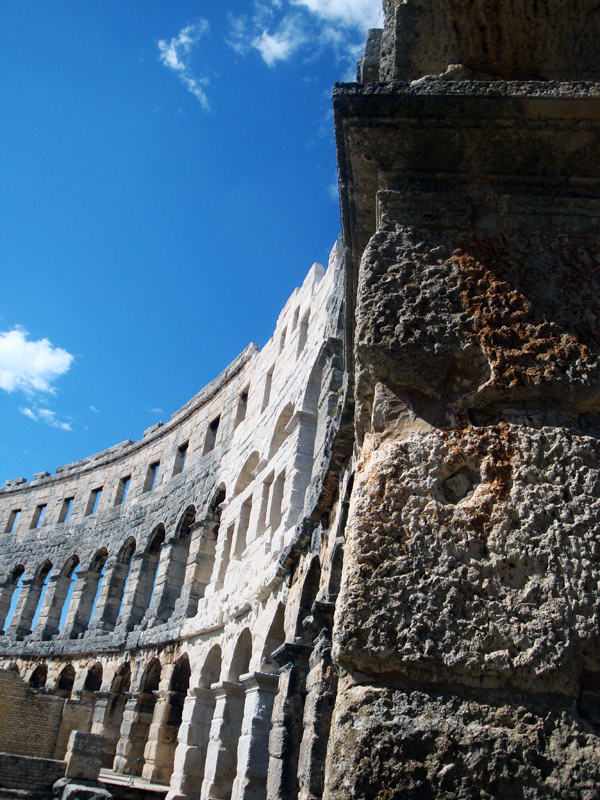 Zadar
Located almost halfway between Istria and Split, Zadar is the keystone of the Croatian coast. The old town is a walled peninsula with Roman ruins, medieval churches and plenty of Venetian architecture. Based on the restaurants and bars in the old town there is capacity for far more people than were there when we were. It is a great place to hang out with lots of outdoor bars and cafes. Going out to eat in old town can be pricey. There are plenty of places to go for a swim and it is a good place for day tripping to beaches or national parks.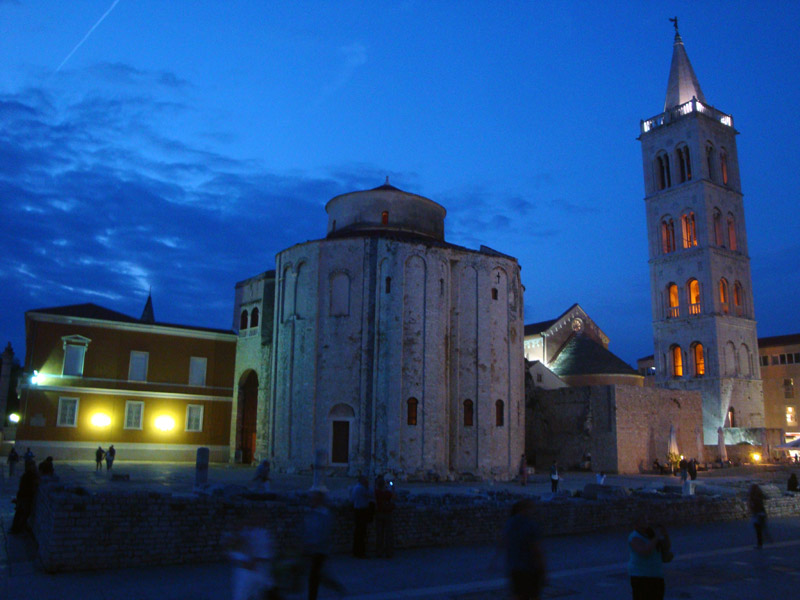 Split
Split is Croatia's second largest city behind Zagreb. It is a popular cruise ship stop not just because Split is a popular destination but also its large port is the jumping off point for many of Croatia's most popular islands. Its central areas encompasses the palace of the Roman Emperor Diocletian. There are beaches up and down the coast. The prices are a little higher because it is a bigger city.
Islands (Brač, Vis, Hvar)
The season was winding down on Brač. We were the last people to stay at our hostel for the season. Sparse crowds at the beaches and what wonderful beaches they were.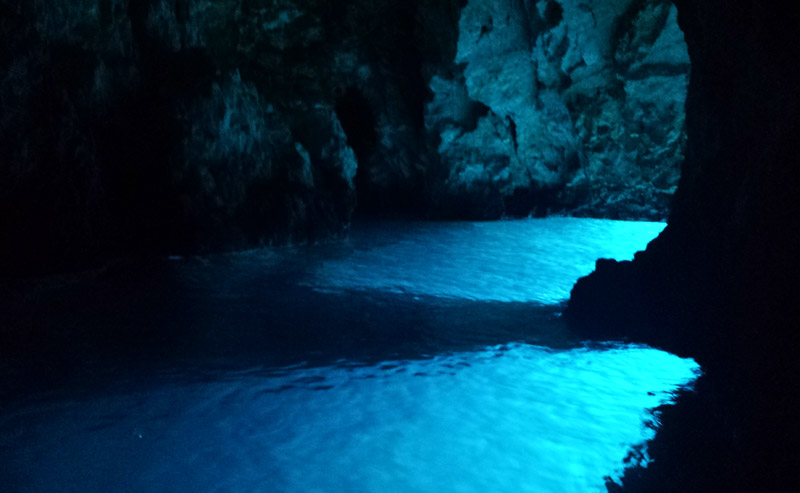 It rained most of the time we were on Vis, but we were still able to get out to the Blue Cave and catch it on a sunny enough day. Once home to a large Yugoslav military base, we did a self-guided tour through the abandoned tunnels and gun emplacements. Since it was the first week of October when we visited, there were times it felt like we were the only tourists there.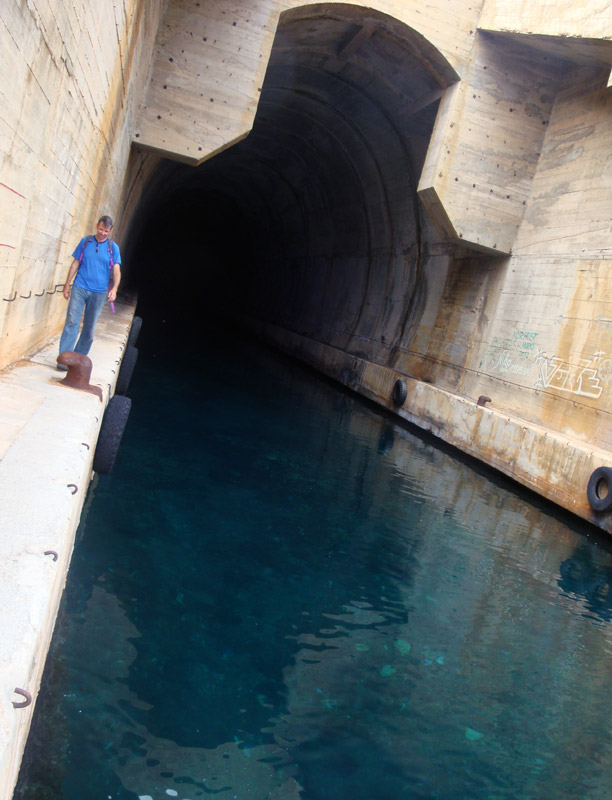 Hvar is Croatia's most visited island and a lot of those visitors have money to spend which makes it expensive. Even in October there were a fair amount of people there. I can't imagine what it is like in the summer and I'll probably never find out. We had an apartment with a large, well-equipped kitchen and a balcony with commanding views of the Adriatic. We had to climb one hell of a hill to get there which explained why it was so affordable.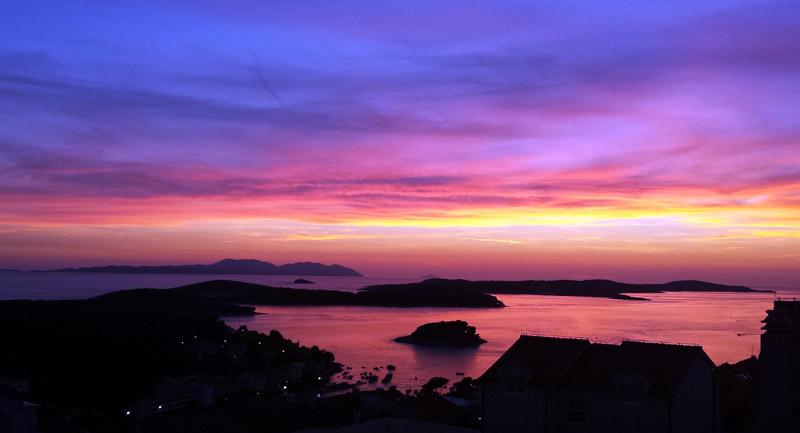 Dubrovnik
Dubrovnik is probably the most popular tourist destination in all of Croatia and a regular stop on the cruise ship circuit. The walled city is indeed impressive and worth a visit. However, it is crowded and expensive so how much of that you want to subject yourself to is up to your personal tastes. Four nights was more than enough for us. They have a nice tourist card that covers admission to the city walls and many of the museums in the city as well as a few trips on the bus system.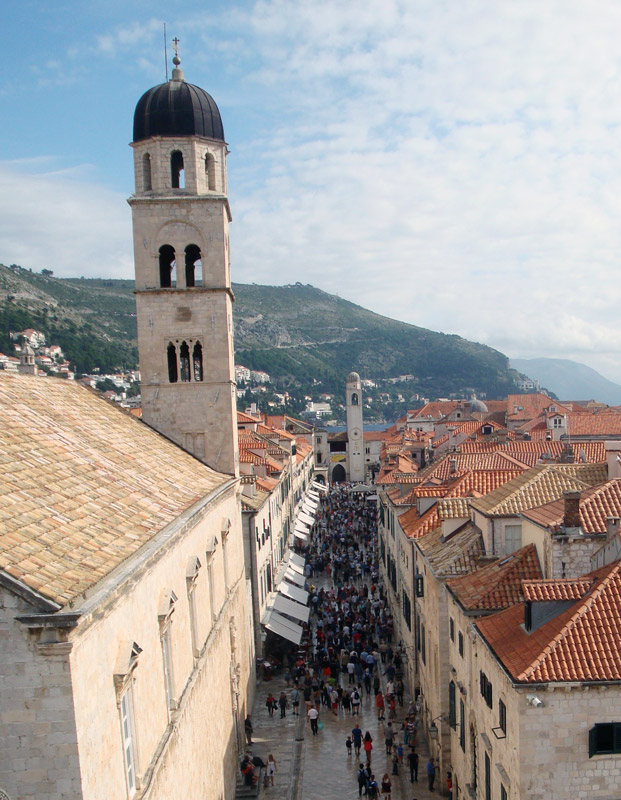 Beaches
Tired of the American obsession with body image? Wonder what it would be like to go to a beach and wear whatever you want and not feel like you're being judged? Might I suggest a beach vacation in Croatia? Many of the beaches in Croatia are clothing optional. (Not all so check first.) People of all ages and sizes are running around naked. Want to get naked? Cool. Don't want to get naked? That's cool too. And yes, we did. I look pretty sexy in nothing but a pair of water shoes.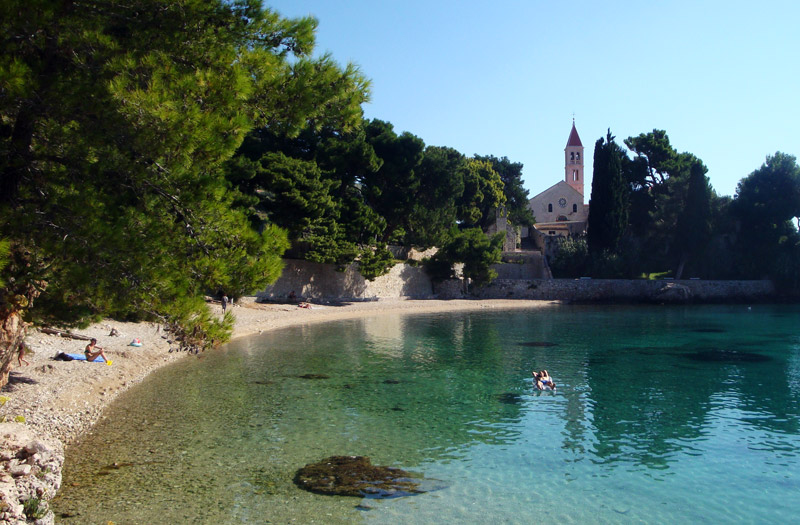 Speaking of water shoes, if you have a pair take them. If you don't, buy them. Croatia's beaches are rocky. "Beach" doesn't always mean "sand."
On the positive side, less sand means much clearer water. And the water is astonishingly clear. I've never see so many sea urchins in my life. Sea urchins don't dig on dirty water and they were all over the place. You could see through 30 feet of water like you were looking through a glass in your kitchen.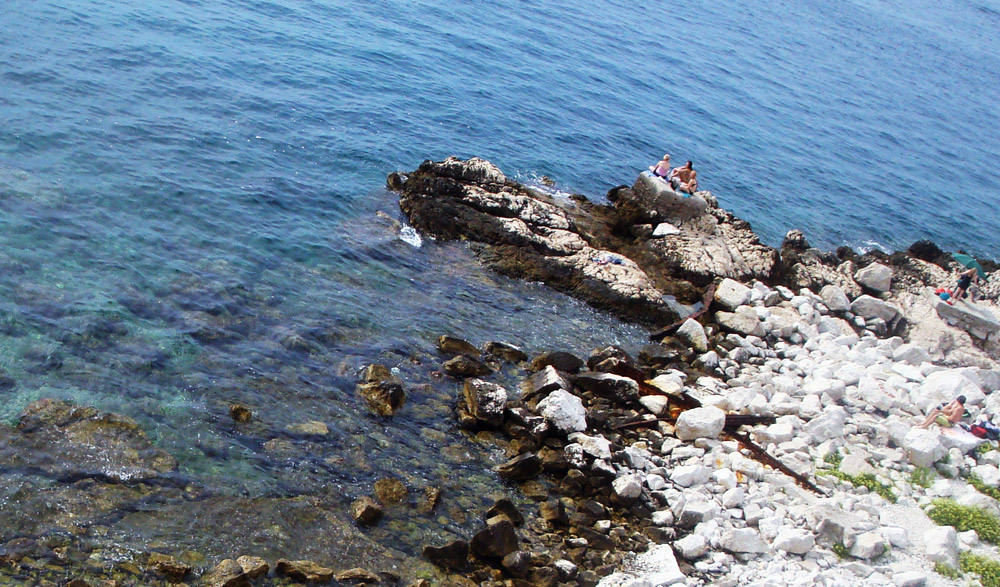 National Parks
The Adriatic isn't the only home to beautiful water in Croatia. Croatia's inland national parks have more than their share of pristine mountain streams and waterfalls. Plitvice Lakes National Park features a complex of sixteen interconnected lakes separated by cascades. It makes a great day trip and is reachable from Zagreb, Zadar and Split. Paklenica National Park offers lots of hiking and is a favorite for rock climbers. Paklenica is just outside Zadar and is a pretty easy bus trip.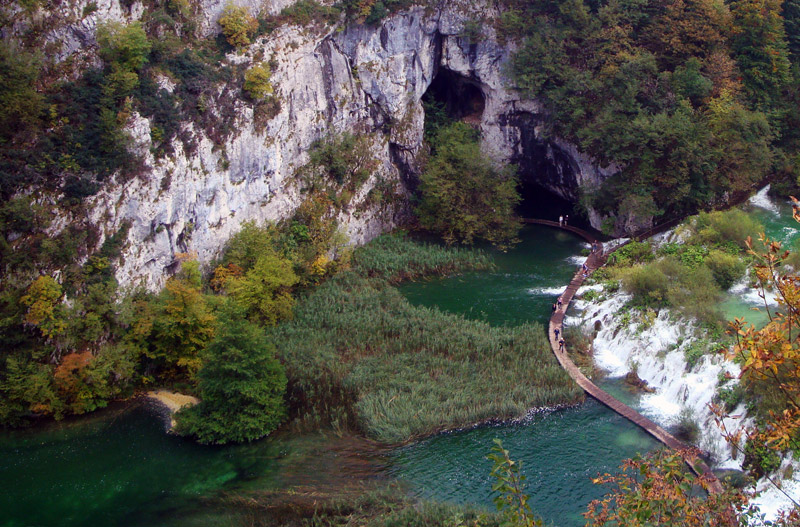 Transportation
Buses
Croatia has some rail lines but they have a limited network. Buses are the best way to get around Croatia outside of renting a car. Balkan Viator is a website that provides bus schedule information for most of the major bus companies that operate in the Balkans and it is an invaluable resource. You can't buy tickets through the site yet but you can at least check schedules and determine which bus company you'll need to contact for tickets. Some bus companies have websites that allow you to purchase and print your tickets online. Others require you to go to the bus station or a travel agent. Depending on the route and time of year you may want to book ahead as buses can fill up. We had enough time between travel days that I would just buy tickets at the bus station a couple of days in advance.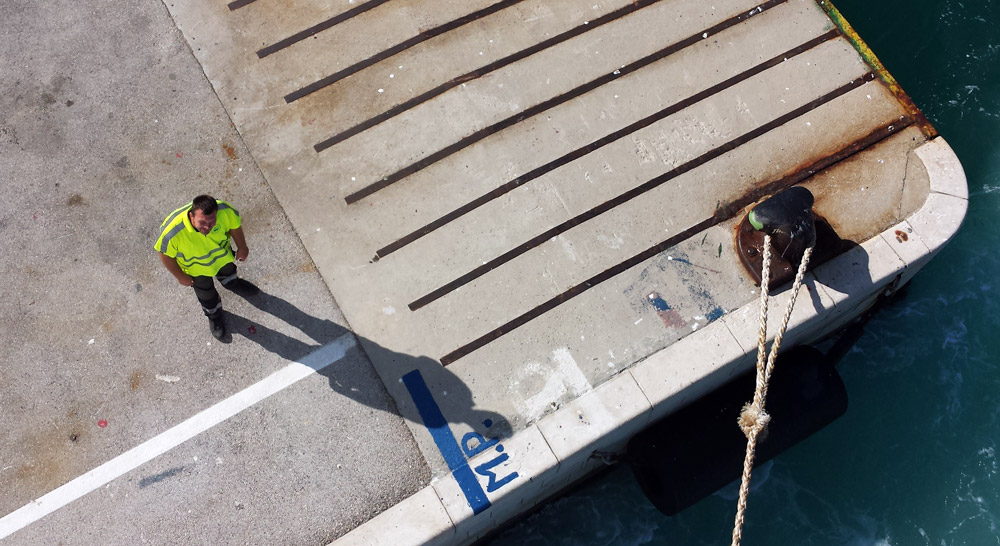 Ferries
If you want to head to the islands you will have to take a ferry. Jadrolinija is the large state run ferry service. If you are visiting the islands in July and August you'll want to book ahead. In September and October we didn't really have any problems getting tickets. Ferries can vary in size from single cabin hydrofoils to massive multi-deck ferries capable of transporting hundreds of people and dozens of large trucks. Ferry routes are cut back in the off season so if you are traveling to Croatia in the fall through spring you'll want to check schedules or else you could easily get stuck on an island for a few more days than you were expecting. There are worse things.
Accommodations
Our apartments in Croatia ranged from cozy studios to large one bedroom apartments with balconies. Prices get higher in more popular locations. Our apartments were all in the US $43-60 per night range. If you are traveling in summer book ahead. Well ahead. As high season fades into September and October, it becomes much easier to find available and affordable places to stay.
Our private hostel room with a balcony in Bol on the island of Brač was only US $33. Though we did book a smaller room, the owner upgraded us because we were the only people staying at the hostel. He is a dentist in Split and had to leave for an emergency appointment. He just gave us the keys to the hostel and told us he'd be back in a couple days.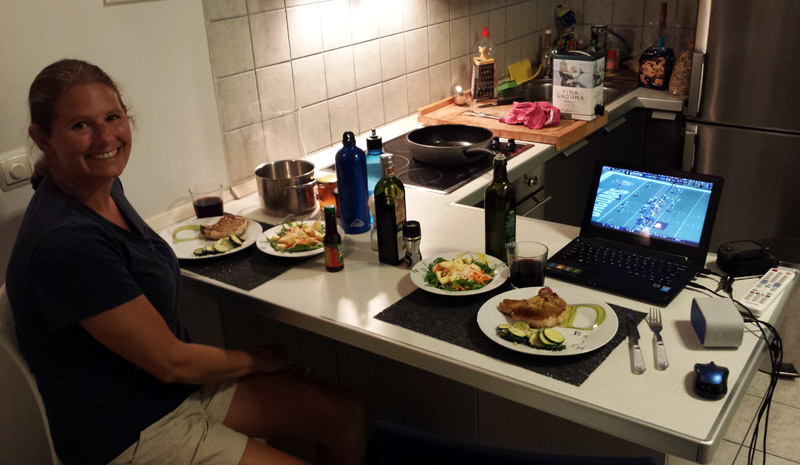 Our hosts in Croatia were on the whole the nicest group of any country we've visited. Ever. One family in Istria gave us a ride to our next stop so we didn't have to take the bus. Another gave us presents of local honey and lavender. Our hostess in Dubrovnik gave us a bottle of homemade liqueur. The gentleman mentioned above left us in charge of the hostel. Nesho and Emina, our hosts in Zadar, met us for coffee more than once. Nesho emailed me a bunch of black and white photos of Zadar from the early 1900's to use as a digital scavenger hunt around town. When we decided to stay in Zadar one more night, they didn't charge us. Their combined hospitality is one of the reasons we enjoyed Croatia as much as we did.
Food
If you like seafood, come to Croatia. If you don't like seafood, come to Croatia anyway. There's a good chance you'll change your mind.
The crystal clear waters of the Adriatic provide Croatia with a delicious variety of fresh seafood: fish, calamari, octopus, shrimp, mussels, clams, scallops and more. Cooked perfectly more often than not.
For those who prefer turf to surf, you'll find meat on skewers, schnitzel and various grilled meats. Lamb is popular which is nice.
Croatians know their way around hot oil. Consistently the best cooked french fries of our entire trip. We had fries in a bus station bar that were so good we ordered seconds. Some of the best fried calamari I've ever had and I had a lot of it.
You will get Blitva a lot as a side dish. It is cooked Swiss chard, potatoes and garlic with olive oil. Really simple. Really delicious. And since there are greens involved it counts as a vegetable.
Povitica is a nut roll pastry that you'll find in groceries and bakeries all over the country. Great for breakfast or dessert.
Herbs
Croatia is the world's largest herb garden. I've never encountered so many herbs growing in nature and public places. Sage, rosemary, thyme. I used sage from the park on Marjan Hill in Split to make sage butter pasta. We hiked along hillsides full of rosemary in Vis.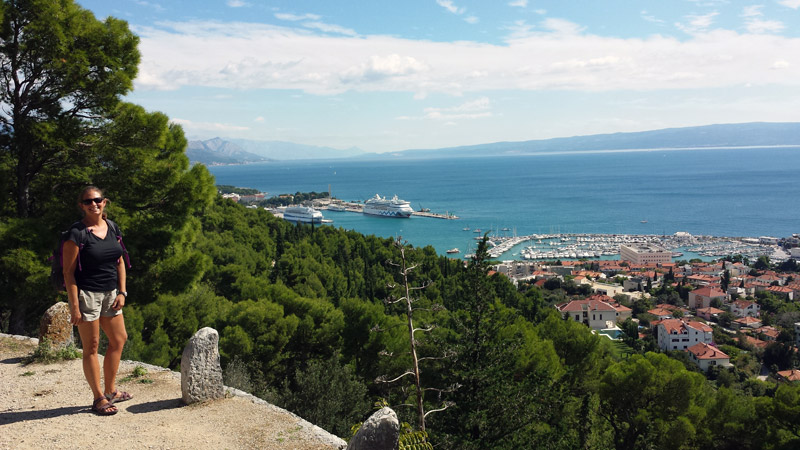 Groceries
There are several grocery store chains throughout the country. Konzum is nationwide and seemed to be in the sweet spot as far as lower price and higher quality. Not all of them are created equal but most of them were pretty fantastic. Sometimes the butcher knew English. Sometimes I resorted to pointing to the corresponding cut of meat on my body.
Favorite Meals
Our meal at Batelina in Banjole was out best meal in Croatia and possibly the best meal of the trip. Easily a top 5. Potentially a top 3. The variety, quality and preparation of everything we had there was excellent from the whole grilled fish to the dozen small appetizers made from what they caught that day. Julie covered it in detail in her Istria post.
Gostiona in Vis was another great seafood experience. Located right on the port in the center of Vis. The waiter knows his stuff and will talk you into ordering more but you won't care because it will be fantastic. Grilled fish and octopus fried with garlic and olive oil were highlights.
Emina recommended a restaurant named Bruschetta in Zadar. It was a little pricey but all of the restaurants in old town Zadar are. We cooked at home all week so we could have one night out. I'd never had John Dory before. One of the best cooked pieces of fish I've ever had.
Buffet Fife offered affordable and well cooked seafood in the heart of Split. The quality and cost make it a busy place so we were sure to go early. Not just to ensure we were able to get a table, but to make sure we had the whole menu to choose from. They only get so many fish each day.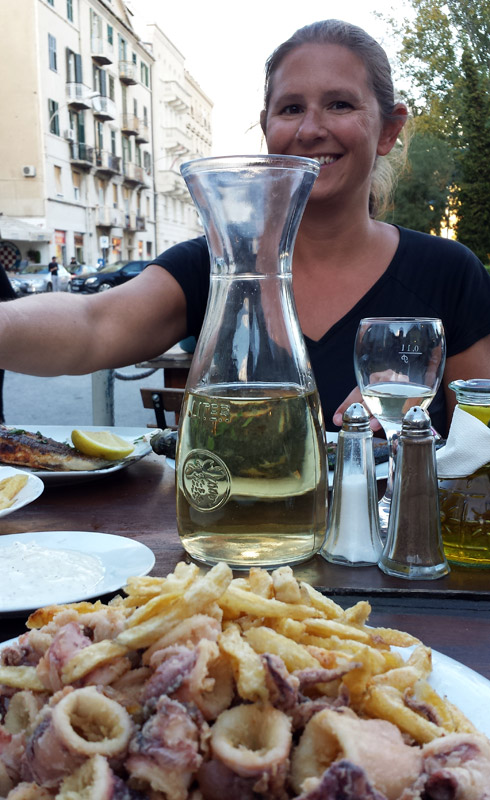 Best Pizza
There's a lot of pizza in Croatia especially in Istria where a significant percentage of the population is Italian. The best pizza we had was at Pizzeria Da Sergio in Rovinj. Surprisingly good considering it is smack in the middle of the tourist section of a popular destination.
Beverages
Beer
There are two major beer companies in Croatia: Karlovačko which is owned by Heineken and Ožujsko which is owned by Molson Coors. They are both yellow lager beers. I preferred Karlovačko for two reasons. For one I thought it tasted better. Also, it was the one I could pronounce correctly. It worked out well.
Coffee
Coffee is big in Croatia. The Republic of Venice was well established on Croatia's shores for many centuries after all. There are beautiful outdoor cafes everywhere and coffee isn't usually overpriced. Most importantly, it is cheaper to drink here than it is in Italy or Austria. I had never ordered a cappuccino before visiting Croatia. For some reason that's all I ordered there. Enjoyed the hell out of them. Haven't ordered one since we left.
Wine
Croatia's Mediterranean climate means that grapes are grown and wine is plentiful. House wines are available by the litre or half litre at restaurants and usually for a reasonable price. We would get a litre of white wine and sparkling water and make spritzers. On the home front Vina Laguna, made in Istria, was a reasonably priced box of pretty good wine that was available nationwide. We went through a few of those.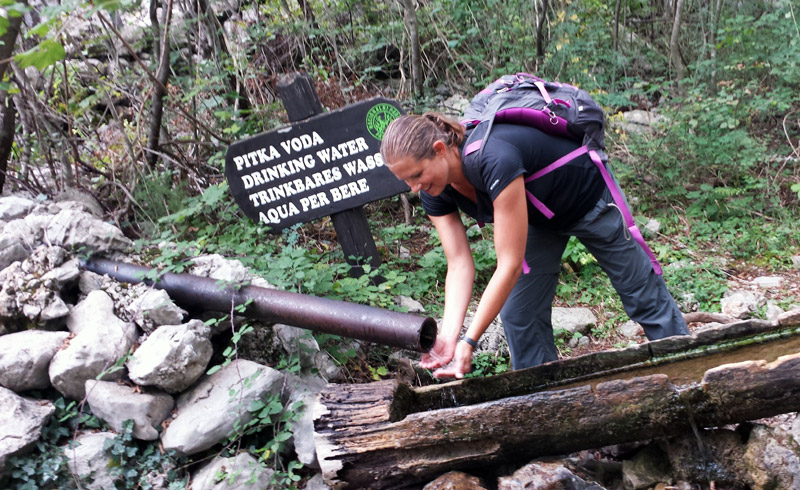 Language
Serbo-Croatian is a language just like English or Spanish is a language in the sense that there is the overarching language with multiple standardized versions of it. Croatian, Serbian, Bosnian and Montenegrin are all standardized versions of Serbo-Croatian just as American English and British English are different standardized versions of English. Americans and Brits can understand each other, more or less, regardless if it is spelled "color" or "colour".
Croatian is a South Slavic language and uses Gaj's Latin alphabet. Some of the words we learned in Czech Republic were the same or similar. Many were not. As with most of the places we visited in Eastern Europe we learned the basic pleasantries to be polite but most people we encountered spoke English. There are many who don't. In Zagreb a waiter and I used German as a common language when Julie and I went out for dinner. Knowing German or Italian can be beneficial especially in Istria.
The cashier at the Konsum grocery in Rovinj spoke Croatian, Italian, German and English. And I don't just mean she could get by, she could go from customer to customer and have complete conversations.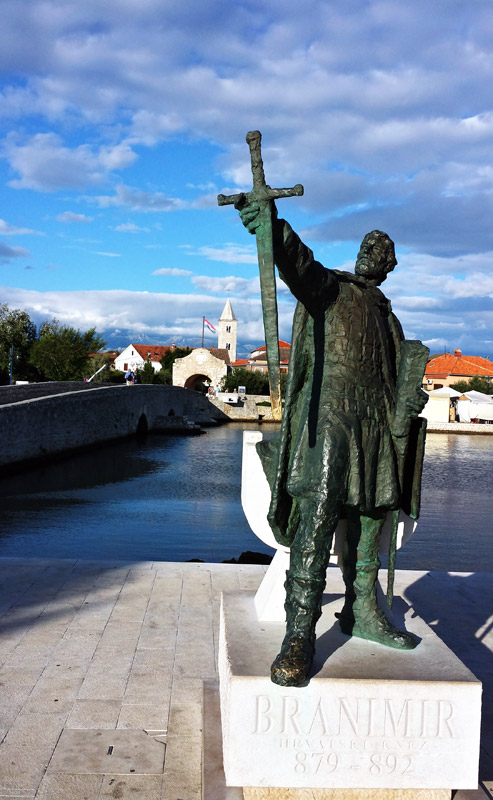 Money
Croatia is set to adopt the Euro as its official currency sometime before 2020. Aesthetically speaking that's unfortunate as Croatia's currency, the Kuna, has some good looking banknotes. Maybe I just got used to it since we were there for over a month. The bills get larger as the denomination gets larger. They each have distinct and mostly monochromatic color schemes. All of the bills feature the portrait of a historic Croat on one side and an important building or structure on the other.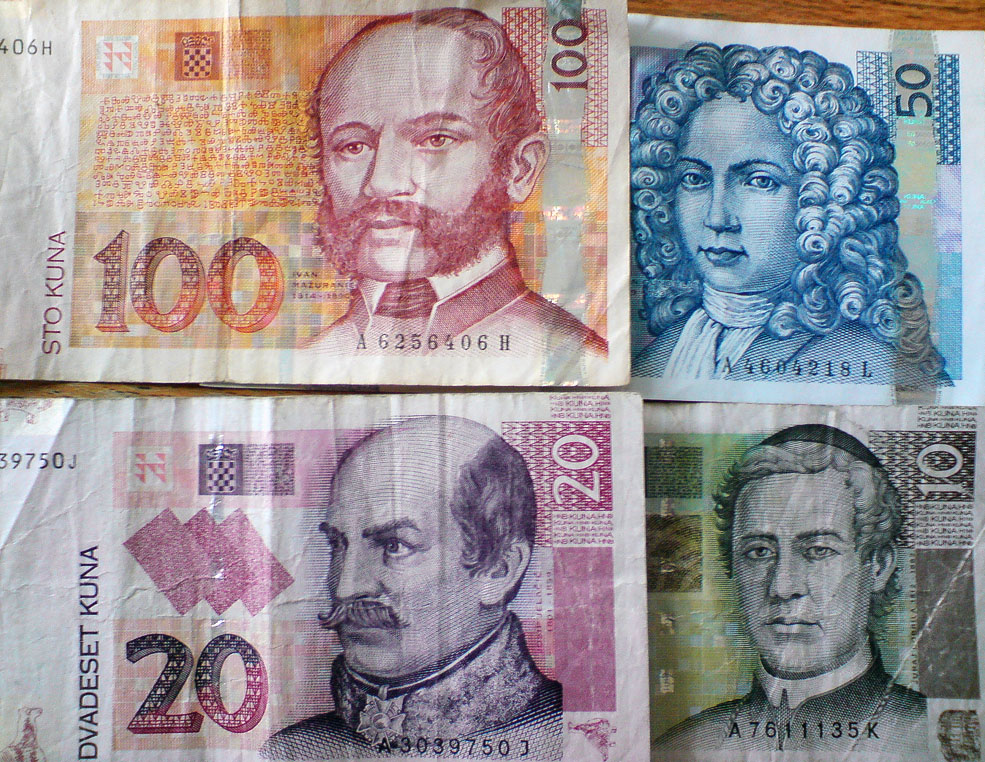 The coins were a bit annoying at first. There are 1,2 and 5 Kuna coins as well as coins for 1, 2 5, 10 20 and 50 Lipa (Cents). The value side design is similar on all of the coins and most of them are silver tinted. So at first glance when you pull a fistful of change out of your pocket to pay for your groceries, everything sort of looks the same. But after a while you start to recognize the designs on the other side and the five larger and most used coins increase in size with their value.
Since the small Lipa coins have little value, 1 Lipa is around 1/6 of a US cent, bills get rounded up and down a lot. The whole country is on the give a penny take a penny system. It's kind of nice. Usually the only time we encountered the smaller coins for exact change was at larger grocery stores where we had produce or deli items that we're priced by weight and the cashier had the coins to give.
Budget
Nothing really threw our budget off in Croatia. All of the percentages are pretty standard. If anything it was going out to eat. We had some really good seafood and many times it meant a US $50 dinner. They were all worth it. We went over the $100 a day mark but kept it well under $125 by coming in at $111.94 per day.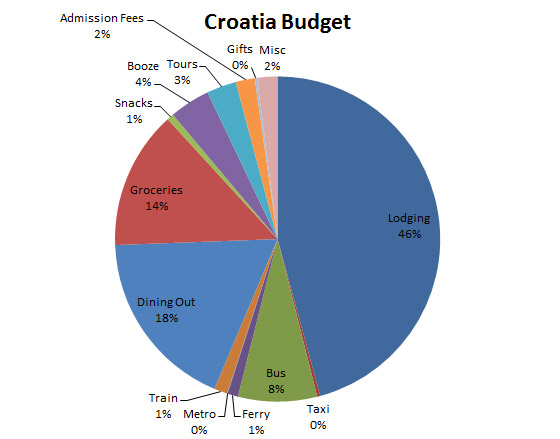 If We Went Back We Would…
This could be its own blog post.
I would like to see more of Zagreb. We would definitely return to Istria and to Zadar.
They have overnight lodge/shelters in Paklenica for hikers. They are supposed to be fun. Next time we'll spend more than a day there hiking. We didn't make it to Krka National Park
There would be a return trip to the islands of Vis and Brač, but there are many more islands to explore with Korčula being at the top of the list.
Or you know, we could just move there.
Map
photo credit: Hrvatska Kuna via photopin (license)