Our plan for Austria included some time in the Alps so we could do some alpine hiking during the quiet summer months. Time and money didn't allow this so our visit to Austria was cut down to just Vienna. We knew it wasn't going to be cheap but Vienna was between where we were and where we were going and you can't just skip over it.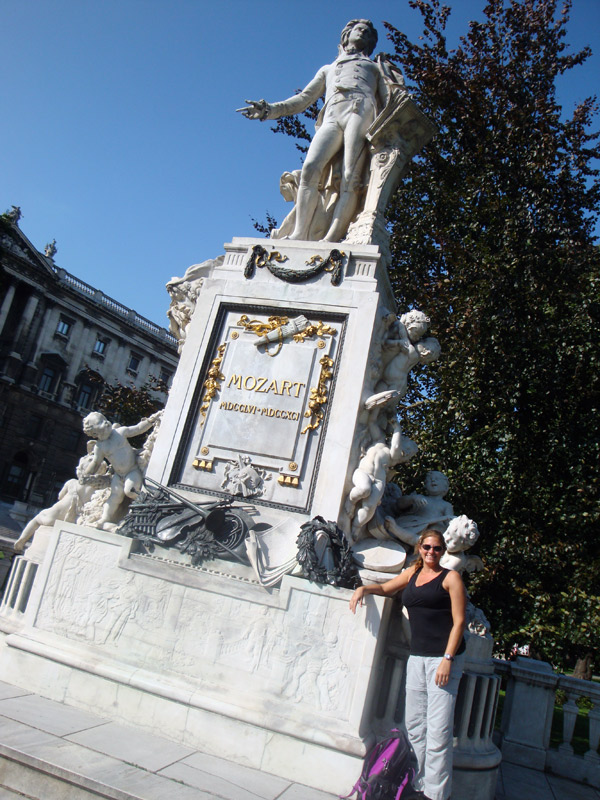 Transportation
Metro
The Vienna Metro is one of my favorite subway systems from the whole trip. It offers probably the widest variety of tickets and passes of any of the systems we have used making it easy to find something that fits your needs. While most of the stations don't have escalators, most of the stations aren't very deep either so you can usually make it from the street to the platform in just one flight of stairs. Their signage is noticeable and readable. It is very easy to determine which train is headed to where and where you need to be to catch it. They have very clear maps of the system and the areas surrounding each station. If you get lost, it isn't their fault.
Trams
The trams function under the same ticket/pass system as the metro so if you get a week long pass you can ride both. Most of the trams are very modern air-conditioned wonders, but there are some throwbacks especially on the lines that operate outside of the city center. The trams cover a lot of area and have a far greater reach than the Metro. They are also a great way to see the city. On more than one occasion we just hopped on a tram and rode it to the end of the line.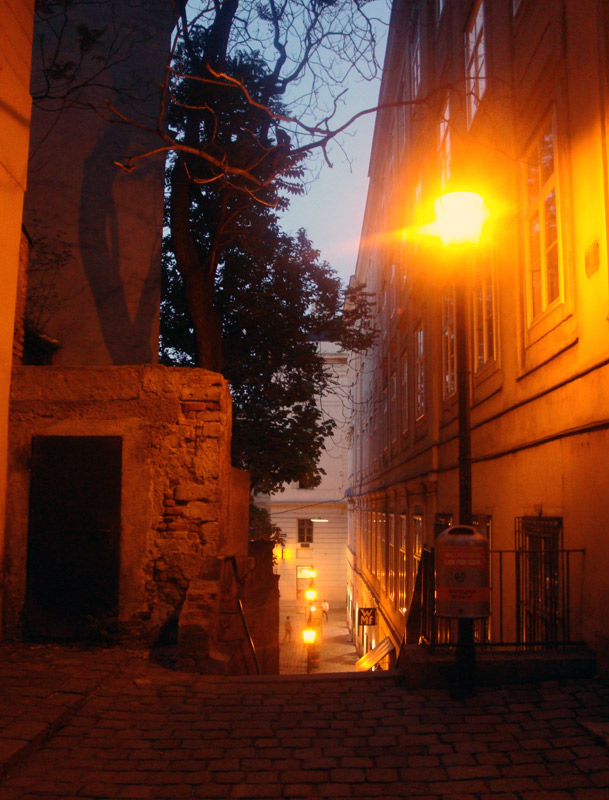 Accommodations
We were able to book a nice one bedroom apartment outside the city center and located just a block from a Metro station for less than US$70 a night which is pretty good for a city as expensive as Vienna. The apartment's primary renter was a young man from Barcelona who was an airline co-pilot. He was on his way out of town when we arrived. He showed us around the neighborhood before he left which was nice. It was right next to a small park that took up a city block and had a little kiosk that sold beer & fast food. A lot of interesting folks hung out in that park. The best scene was two older men playing chess at one of the picnic tables with a crowd of onlookers. All of them were drinking beer. There were two full cases and a massive stack of empty cans on the table. Looked like they were going to make a day of it.
Things To Do
Old buildings, parks, great architecture, museums, operas, coffee houses, restaurants, wine gardens….there's a lot to do in Vienna. Some of it is more affordable than others. I've already covered our favorite things from our time there.
Food
Cheap eats are available in Vienna. The neighborhood we stayed in had its share of affordable kebab shops. Traditional Austrian food will cost you a little bit more. Grabbing snacks at one of the Weingartens is a good way to sample a variety of traditional food in a relaxed setting with lots of wine. If you can't find what you want at the Naschmarkt you're probably out of luck.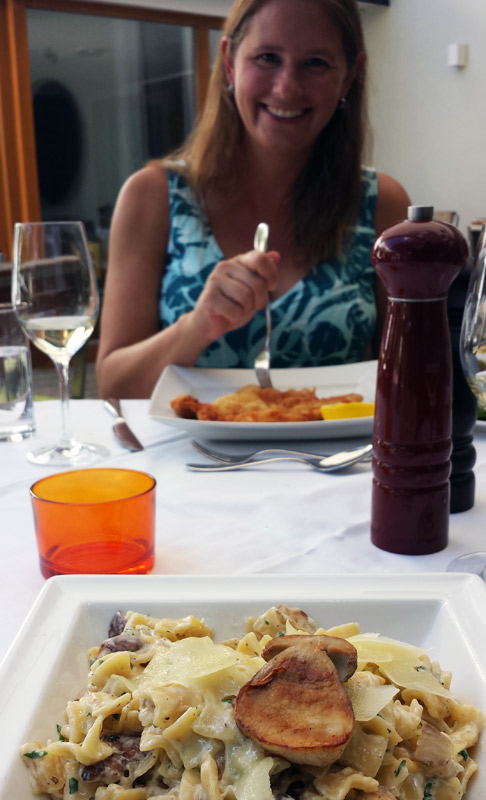 Favorite Meal
Our lunch at Weingut Hajszan Neumann was an unexpected delight. We were in the Weingarten area looking for a nice, shady Weingarten. The first two we passed were closed when we came across Hajszan Neumann. We strolled in not realizing it was bit nicer of a restaurant and out of our budget range. We decided to stay for a glass of wine. Then we looked at their menu and decided that we should just order something small since it all sounded so good. Julie figured this would be a good time to try the schnitzel. I went for a cheesy, mushroom spaetzle (pasta).
Favorite Pizza
Riva Pizza, which has a permanent location and a summertime shop along the river, is definitely worth mentioning. Naples style done very well.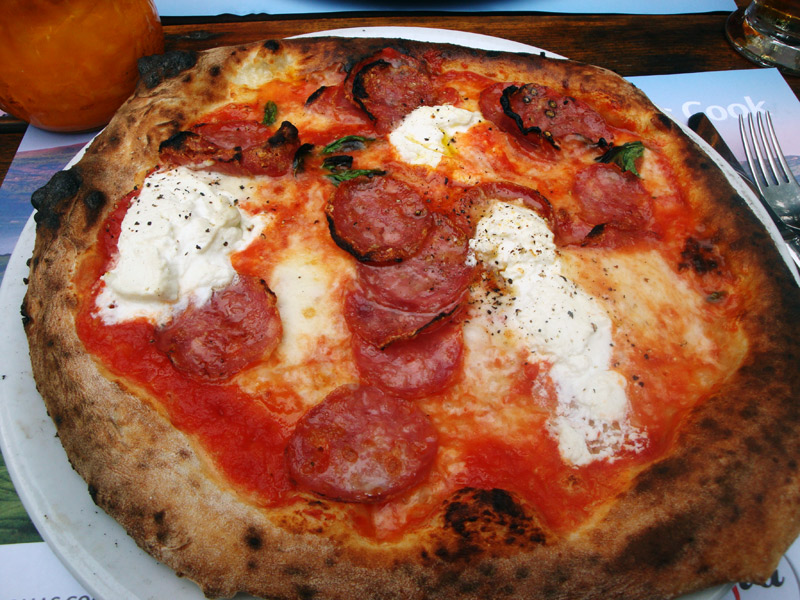 Budget
We went over budget during our week in Vienna. Going out to eat was the culprit. Multiple trips to the Weingartens didn't help either. Thankfully, it was only for a week and we were headed back into Eastern Europe next.
When planning for the trip we saved for a daily budget of $125. However, our goal is to keep it under $100 per day. In the Austria, our budget came out to $141.91 per day.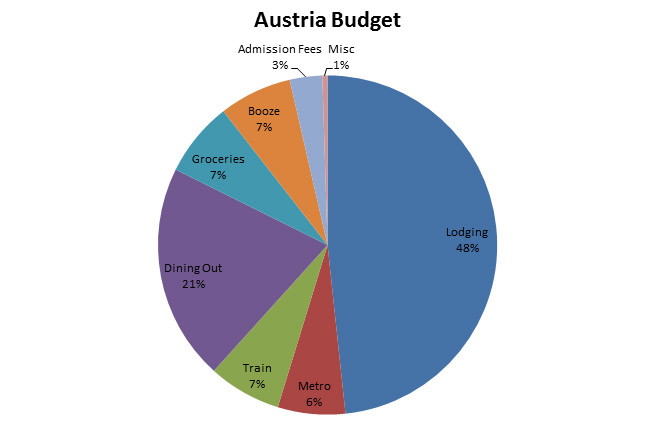 What We'd Do If We Came Back
Unless we have plenty of money, Vienna is probably out. Next time we head into the hills. The Tyrol area has been on my list for some time. I would like to take Julie to Salzburg and I've never been to Innsbruck. Whatever we choose, there will be mountains involved.