Montenegro is about the same size as the state of Connecticut but with only one-quarter of the population. More people live in Dayton, Ohio than all of Montenegro. But this tiny nation has a rich and eventful history and natural beauties that will leave you slack-jawed (in my case, even more so). We arrived the second week of October. Autumn was on its way in, and the leaves were changing color. All of the summer tourists were gone and most of the time it felt like we had the country to ourselves.
Locations
I've already covered the highlights of Montenegro in a previous post, but I'll run through our stops again.
Perast
I can imagine that this is very crowded during tourist season. The thing is it seems to be more popular as a day trip. So most people come in, get off the bus, hop on the boat and go out to the islands, come back, and leave. Perast is worth more than a day trip. When first planning the trip I looked at spending a week in Kotor, and it was only late in the process that I decided we should spend a few of those days in Perast.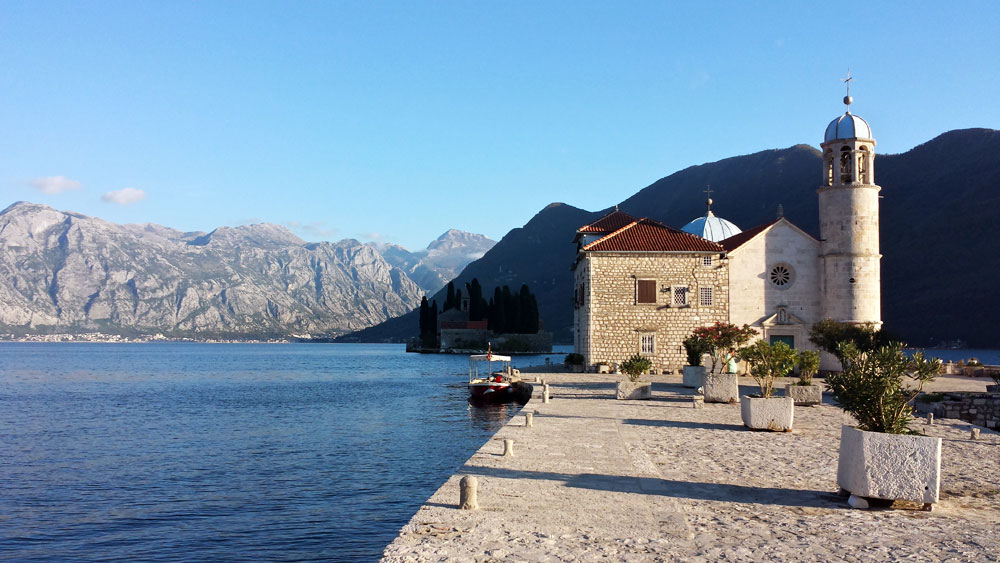 Most of the restaurants in Perast had closed for the season. I think there was one other room occupied in our little hotel/guesthouse. We went swimming in the Bay of Kotor. The water was cold, but the sun was still warm enough to make it tolerable. Waking up in the morning, looking out the window and seeing the bay and the islands out of our small hotel window was a cool feeling.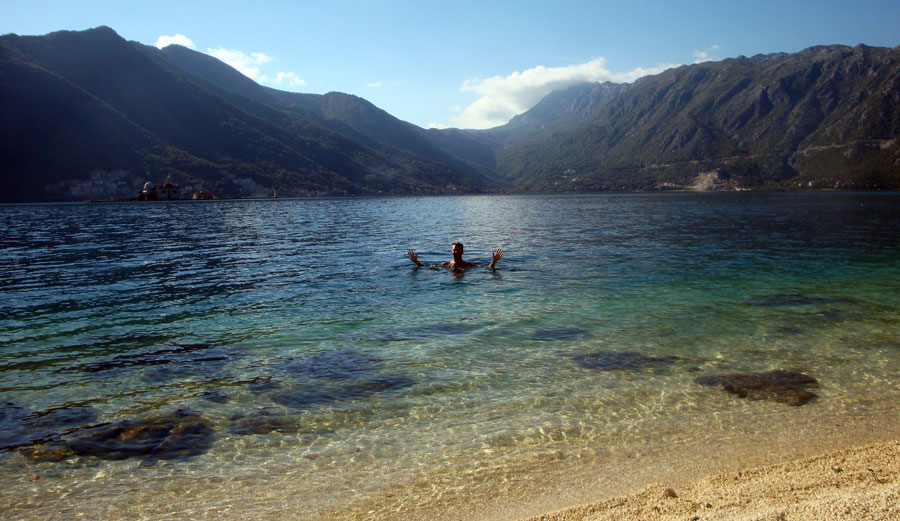 Kotor
Kotor is a historic walled city and the most visited in Montenegro with maybe the exception of the seaside resort town of Budva. Cruise ships regularly dock there, and you can tell they are used to a lot of visitors. I imagine it can get quite crowded in the summer, but in the fall even with a cruise ship docked, it wasn't bad at all.
Cetinje
Cetinje is a glimpse into the world as it was a century ago. The former imperial capital still has all of the embassies and government buildings from that period. Many are in a state of disrepair, but many are in use or have been restored. Many places are heated with wood, so the smell of wood smoke was always in the air. I don't know how it is possible to feel nostalgic for a place you've never been before, but I did in Cetinje. It reminded me of Madison, Indiana. A town built up during an economic boom and preserved in that time by the bust that followed.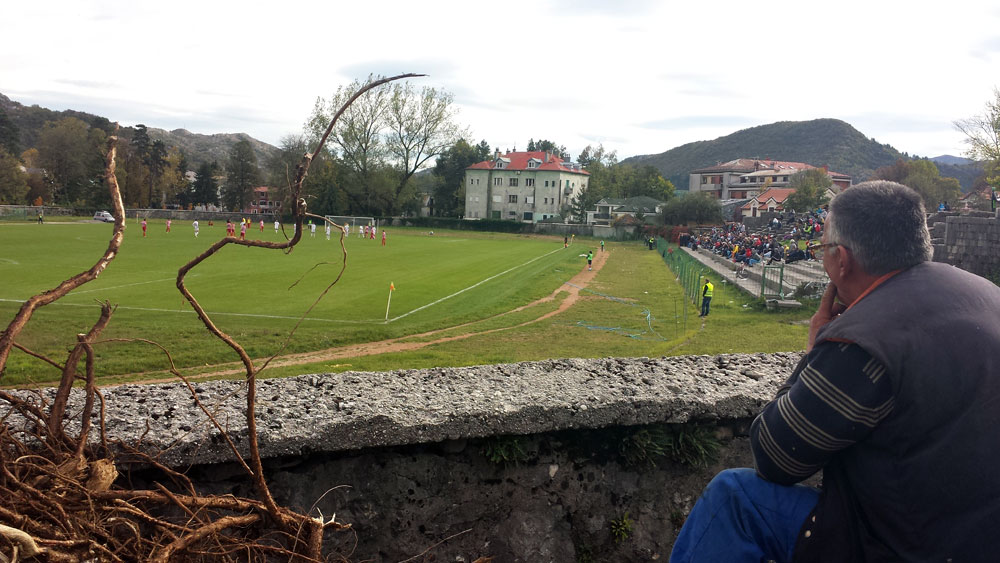 Cetinje is the closest access to Lovćen National Park. Home of Mount Lovćen and the mausoleum of Petar II Petrović-Njegoš. You can hike from Cetinje to Kotor in a day via the park.
Zabiljak
When it comes to beautiful, sprawling vistas, Montenegro packs a lot into a relatively small space. We did a lot of hiking during our stay in Zabiljak. My knee was sore and swollen from a dropping my backpack on it, but I wasn't letting that slow us down. We took several long hikes through Durmitor National Park. Many of the paths are also logging roads and one day I was recruited on the spot by a group of lumberjacks to help them move a felled tree so they could move their tractor. We took a tour one day with Žarko, our guesthouse owner, as guide. We went deeper into Durmitor, got some mountain spring water from the source, viewed some Celtic ruins, and walked over The Tara River Bridge that crossed one of the more manageable parts of the deepest canyon in Europe.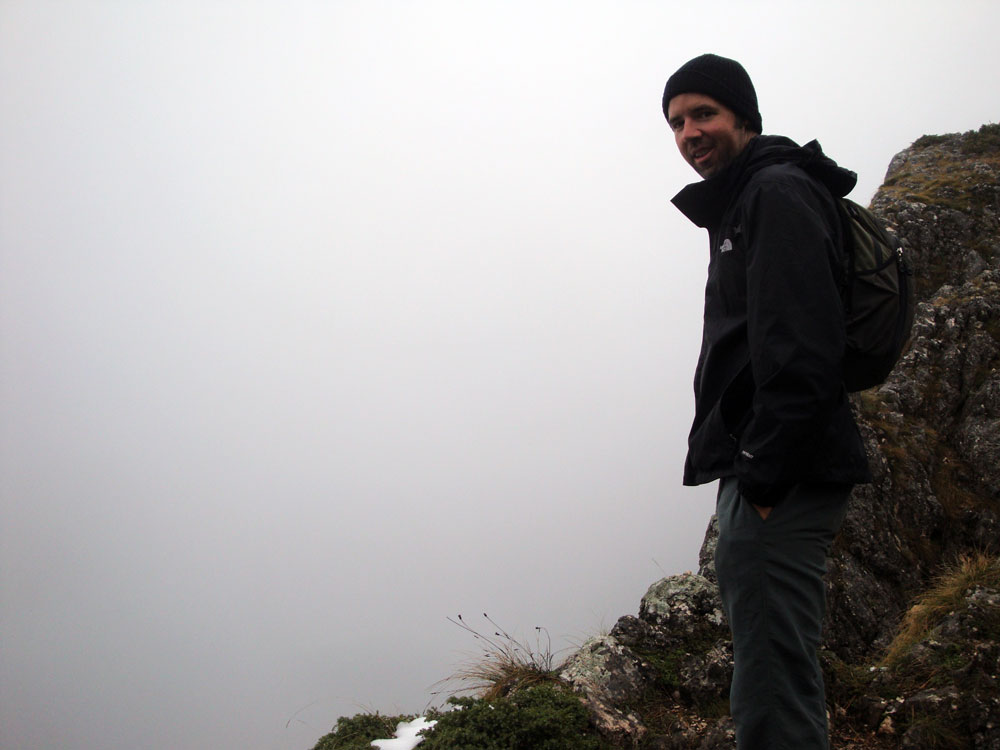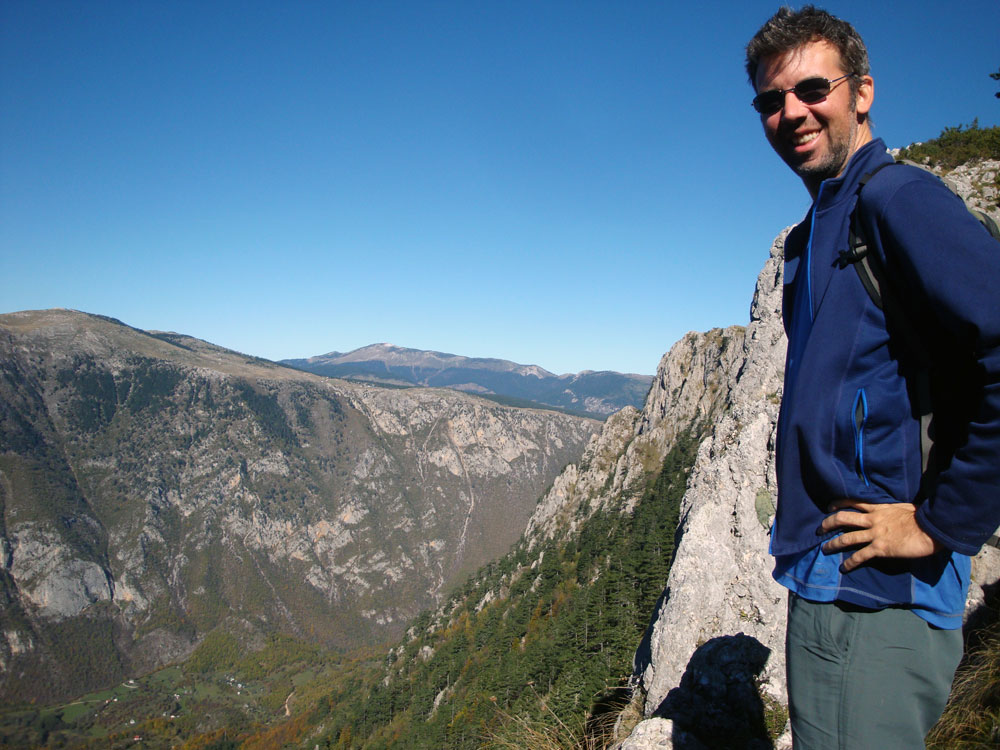 Transportation
Aside from a rental car, buses are the best way to get around Montenegro. There is a somewhat standard bus schedule, so planning trips isn't a problem. Check out Balkan Viator. It has most of the bus company schedules. Times can change sometimes, but it gives you a good idea about the availability and frequency of buses. We took multiple buses while we were there. Some buses are in better shape than others. It can be a little rough but nothing bad. For our trip from Nikšić to Zabiljak, we wedged onto an old minibus. It is a small country so getting from one side to the other isn't too much trouble and can easily be done in a day.
If you aren't on a budget, rent a car. Montenegro is a beautiful place to drive. Scenic, sometimes dangerous mountain highways and roads with very little if any traffic. The country is so small you could cover the whole thing if you wanted and parking is never a problem even in the cities.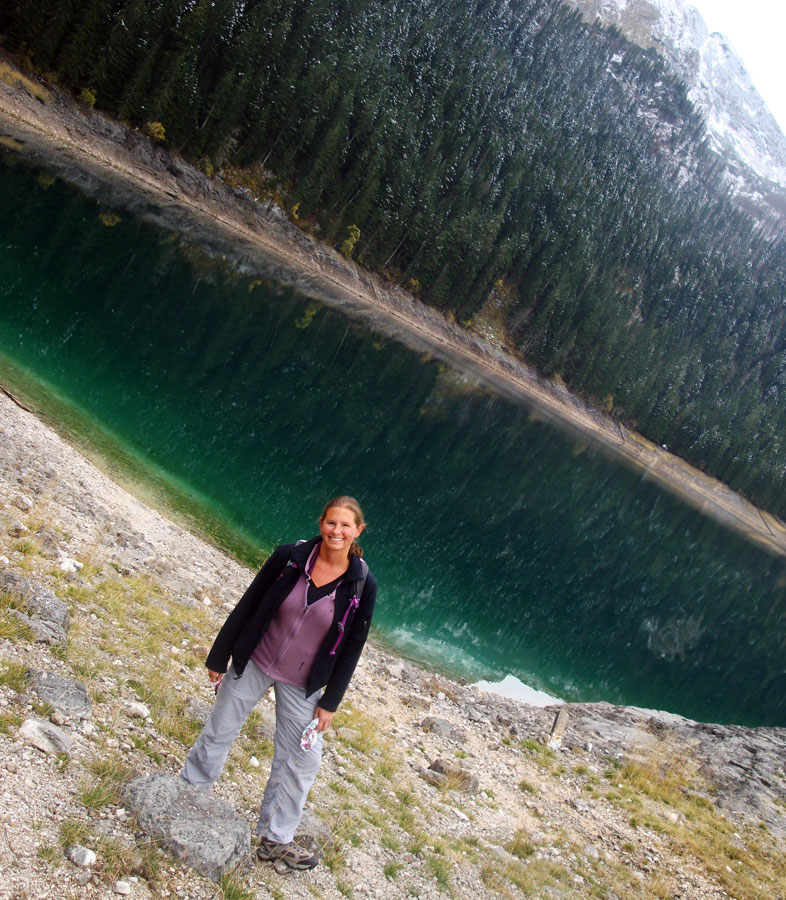 Accommodations
Except one guesthouse, every place we stayed was an apartment. A couple of those apartments might be better classified as a hotel room with a kitchenette, but whatever. Our apartments ranged in price from US $35-50 per night. They all had a kitchen of some sort, and some were better equipped than others.
The woman who managed her son's apartment in Kotor baked us a cake and gave us a bottle of wine, a bottle of olive oil, and some cooking ingredients. She had read my profile on AirBnb and saw that I liked cooking so prepared a little welcome present for us. The woman who owned the apartment we rented in Podgorica made some of the best cookies I've ever tasted. Žarko, who ran the guesthouse in Zabiljak, gave me a pack of Russian cigarettes for my birthday.
Food
Food in Montenegro seems to consist of meat. Or cheese wrapped with meat. Or meat wrapped with meat. Also potatoes and lots of fresh vegetables. Straightforward farmer meals.
Favorite Meal
Our best meal was at Tanjga Butcher Shop/Grill in Kotor. White tiled walls. Cases full of meat. All available for purchase to cook at home. But you can also eat in. They'll grill anything in the case. Their specialty is their rotisserie chicken which you can't miss because all of the rotisserie ovens are on the sidewalk outside the shop.  Side dishes? Sliced tomatoes. A mountain of vegetables, including hot peppers, grilled and slathered in olive oil, salt & pepper. Potatoes roasted in the drippings from the chicken rotisserie.  Oh, and don't forget the bread. Fresh, delicious, and perfect for soaking up all the goodies on the platter.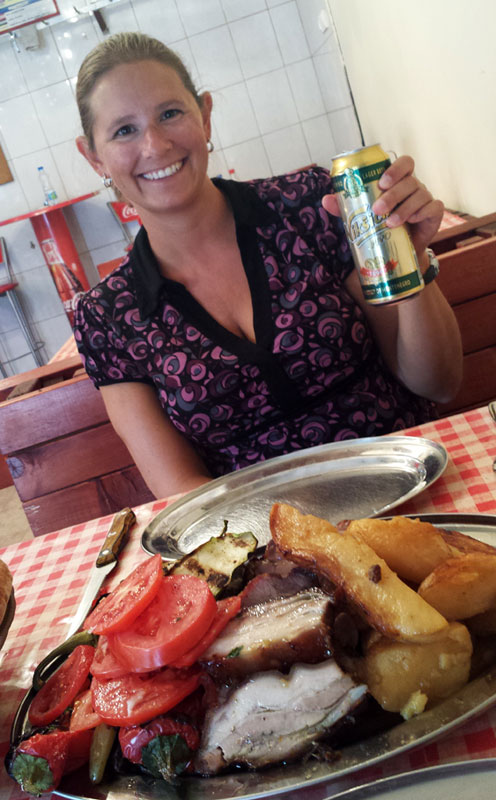 The flag of the Philippines hangs in the window at Tanjga. Kotor is a popular cruise ship stop, and a lot of cruise ship workers are Filipino. When they're in Kotor, they head to Tanjga because they know they can get the best damn grilled chicken in the state.
For my birthday, Žarko suggested a traditional meal, so we hit the grocery store for a leg of lamb and lots of vegetables. The butcher cut the leg into chunks, and we threw it in a pot with water, salt, pepper, and some herbs. Boiled until the meat was medium. We also boiled some potatoes and sliced up some raw onions, tomatoes, and hot wax peppers. We then served it all with bread, butter, and a couple of bottles of red wine. We also made a cornbread with polenta mixed with goat cheese and hot wax peppers. The next day we took all of the leftovers and made lamb soup. Also delicious.
Beverages
Beer
Nikšićko is pretty much the national beer. Their primary is a standard yellow lager that isn't bad. But the one worth getting is the Nikšićko dark. It is a smooth dark lager and can be a little hard to find because not every shop carries it. Probably one of the best "national" beers of our entire trip.
Wine
Montenegro produces their fair share of wine and is known for their Vranac variety. We had our fair share of wine while we were there, but never graduated beyond the cheapest bottles at the grocery store.
Language
Montenegrin, as an official language, has only existed for about a decade. When Montenegro asserted its independence from its union with Serbia in 2006, there was a push for a language that was independent of Serbian as well. Montenegrin is a standardized variety of Serbo-Croatian and for obvious reasons is similar to Serbian as well as Croatian. There is both a Latin and Cyrillic version of the modern alphabet, but Latin is the preferred alphabet for official use. All current road signs, menus, and formal documents seem to use the Latin version of the alphabet. However, anything made last century is in Cyrillic. It's a good place to learn Cyrillic pronunciation since many times you will see both in use next to one another.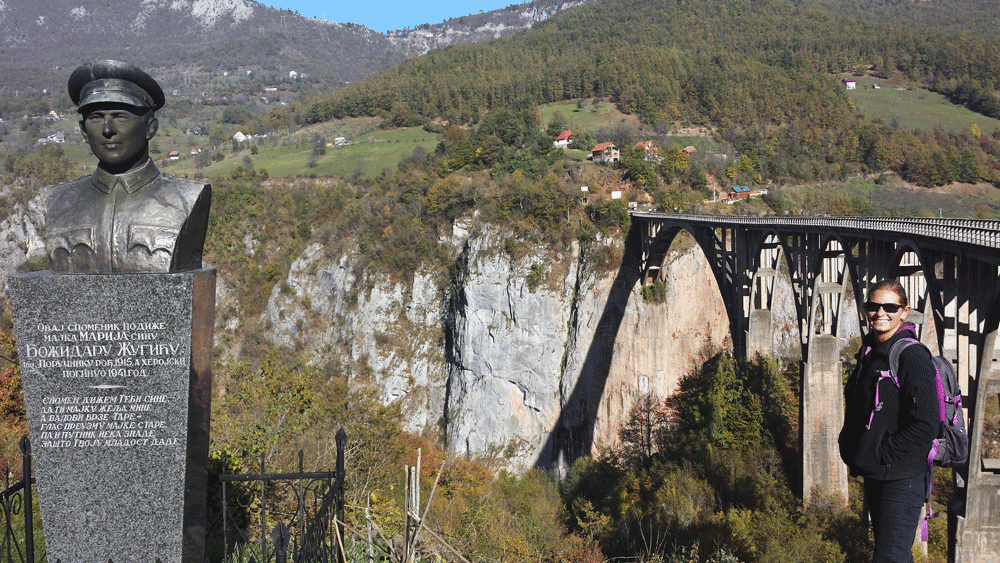 Money
Montenegro isn't part of the Euro Zone, but they use the Euro as the official currency.
Budget
Montenegro was the most affordable country we visited in Europe and one of the more affordable for the entire trip. We had some nice rooms and ate out a fair amount and still managed to only spend $83 a day.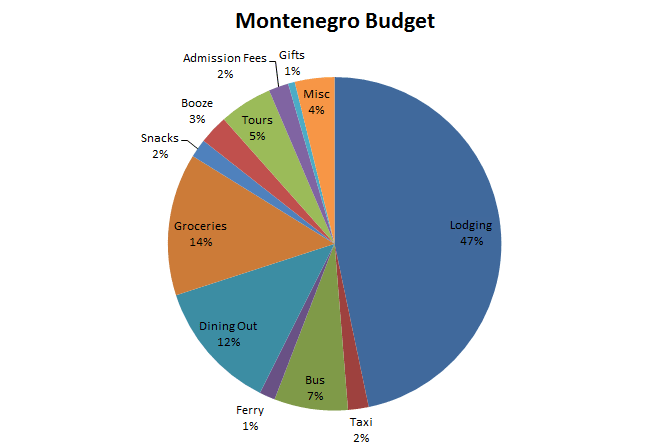 If We Went Back
I would like to return to Cetinje and explore Lovćen Park.
We would go back to Durmitor. The area was beautiful, and there was nobody there in the off-season. We would go out to eat and be the only table in the restaurant. Cool and weird at the same time.
Žarko told us that not many tourists travel to the southeastern part of the country. If Durmitor is that slow, imagine the less visited places.
I would also like to spend at least a couple days in Podgorica. My knee was in bad shape, so I spent my three days in Podgorica on the couch in our apartment with a package of frozen peas on my knee. Most guides say you can skip it, but I don't like writing cities off like that. Every city has something worthwhile. Everybody's known for something: History, an institution, a neighborhood, a type of food, a hot dog stand, something. Unfortunately, we only went grocery shopping and grabbed a pizza at the mall.
We would rent a car for sure. So little traffic and beautiful mountain roads, it would be a brilliant place to drive.
Map