We had never been to Portugal and wanted to check it out. Most every traveler we met who had been to Lisbon or anywhere in Portugal had loved it. We had a limited amount of time in Portugal, so we focused on two cities: the capital, Lisbon and the southern Algarve beach town of Lagos.
Lisbon
Transportation
Lisbon has an extensive system which includes their metro, trams and buses. You can buy a pass that lasts for 24 hours. You need separate tickets for each person. A ride on Tram 28 is the most popular because it passes most of the famous sites.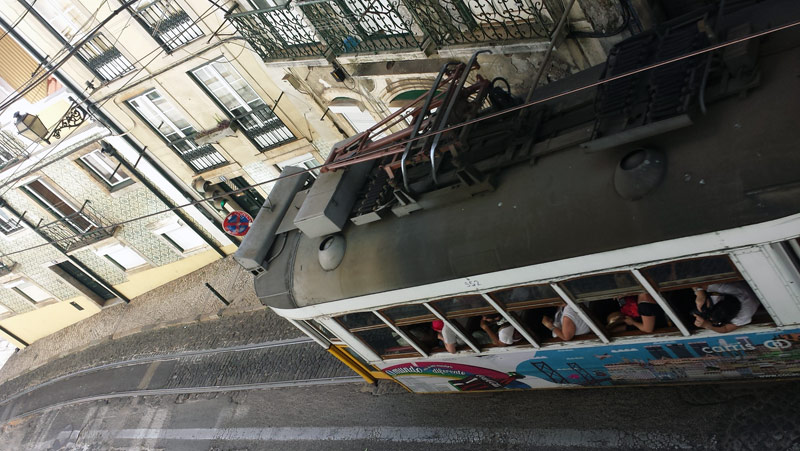 Accommodations
There are several affordable options in Lisbon. We rented an apartment in the Graça area. No matter where you stay be prepared to walk or ride a tram up and down a lot of hills.
Food
The weekend we arrived the Máscara Ibérica Festival was taking place in Rossio Square. Several vendors from Portugal and Spain were set up with food and drinks from around the Iberian Peninsula. A vendor from the Azores offered sandwiches of smoked ham and Queso de Cabra, a variety of hard goat cheese. They would put the cheese on a warmer and shave it off, so it would melt on the sandwich. This area is also known for high-end canned fish, so we purchased some fancy tuna, too.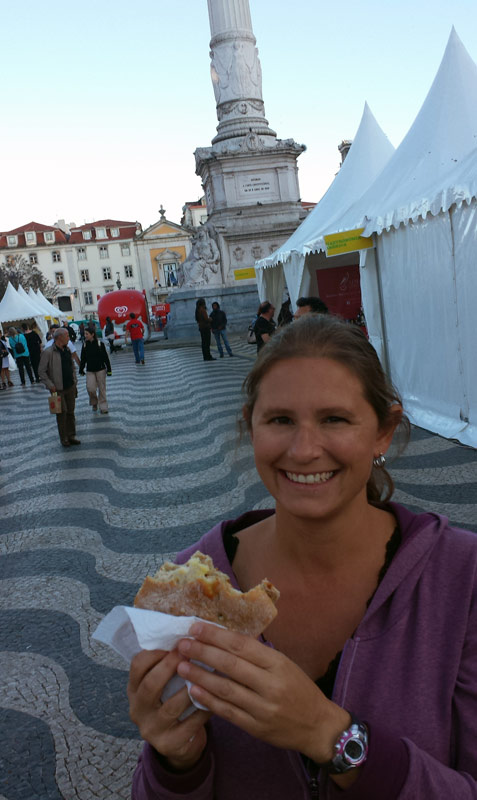 Lisbon has several large fish markets. We went to and bought a massive piece of tuna for dinner. They had all sorts of fish, shellfish, and eel. They would filet or cut it for you, too.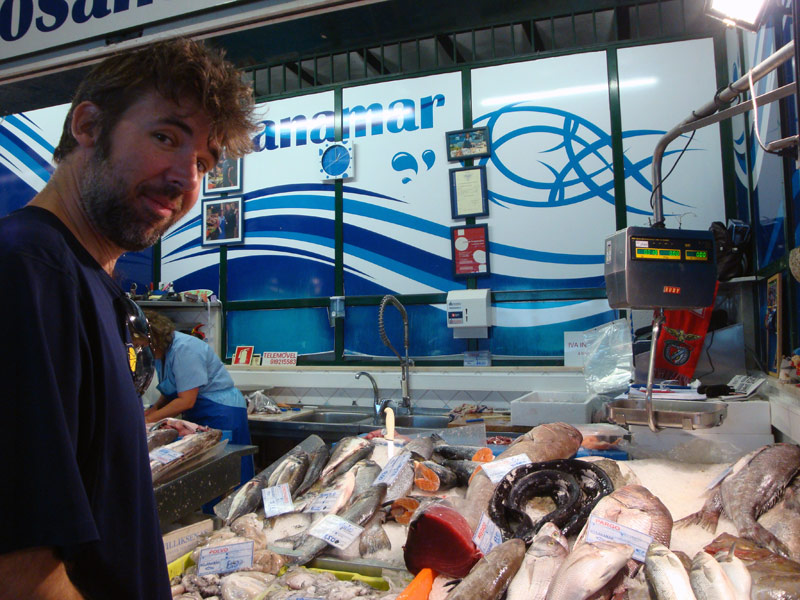 You can find a few affordable seafood restaurants in town if you venture a little past the tourist areas. Marisqueria Uma is known for its arroz con mariscos which is a pot for two containing a tomato seafood rice stew. It is piping hot and loaded with large amounts of crab, langostinos, and giant prawns. We also had a simple salad with lettuce, canned-tuna, onion and tomato which was refreshing and delicious.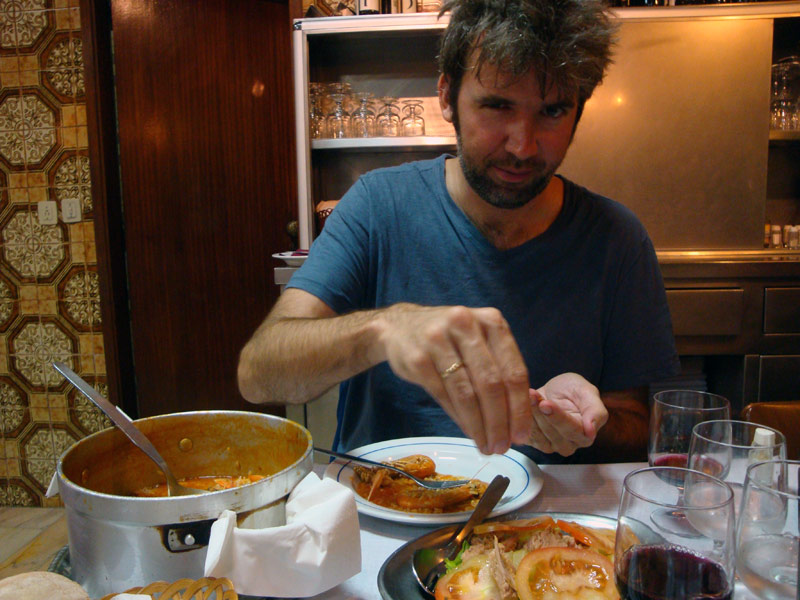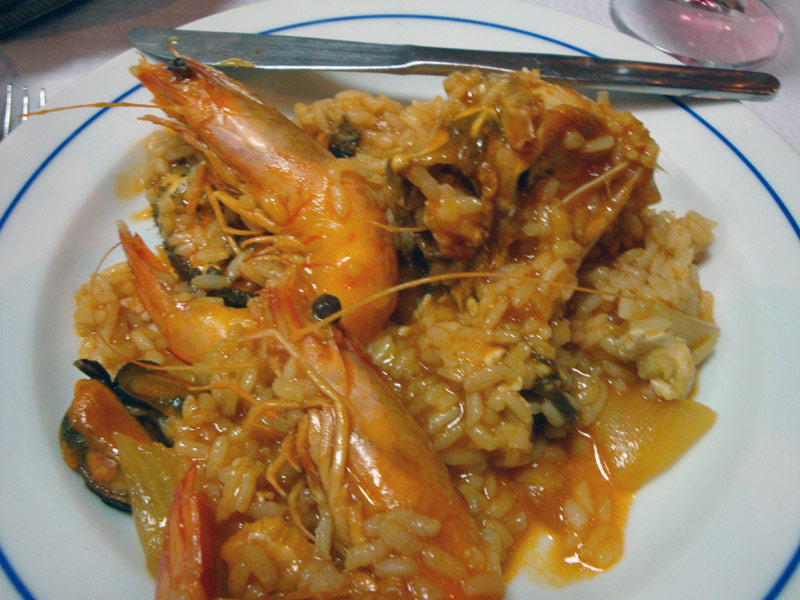 We enjoyed the tuna salad enough to try one again at Restaurant Tronco the next time we went out. I tried the salted cod which is really popular in this area. Before refrigeration, the salt was used to preserve the fish for long periods of time. It is soaked in water or milk to reconstitute it and you can buy it at the market both ways. You will find cookbooks all over town telling you 1,000 ways to cook salted cod. I had it grilled with a garlic sauce and roasted potatoes. Mark enjoyed some grilled sardines.
There are tons of pastry shops all over Portugal. Malasadas are cream filled donuts we enjoyed on several occasions. The donut itself is light weight with a sugar coating and reminds you of an elephant ear while the cream inside is similar to a vanilla custard. Our favorite ones were at a stand at the festival, but they can be found in pastry shops around town.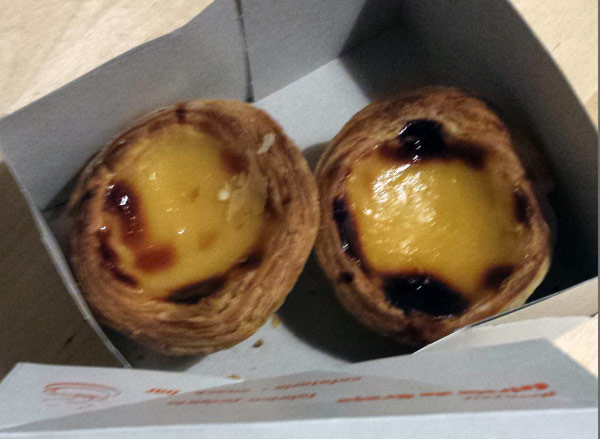 Pastel de nata is a very popular custard tart sprinkled with cinnamon and powdered sugar. Some places let you decide if you want them warm or cold. My favorites are at Pastéis de Belém, a very popular place near the Belem tower. The place is huge, so it is best to sit down and eat them there. You can also place a carry out order with your waitress. Otherwise, you usually have to wait in a long line for take-away.
Beverages
Kiosks are everywhere in Lisbon and you can always get beer, wine or sangria. Larger kiosks will have liquor or food as well. The areas around the kiosks would get really crowded at happy hour and into the evening because bands would also set up around the kiosks. This was also a great place to grab a walking beer home or to your next destination.
Lisbon is known for ports and a cherry liquor called Ginjinha which is made by infusing sour cherries in alcohol. There are Ginjinha stands set up throughout the city. We tried it once during the festival in a shot glass made of chocolate. The flavor was nice and tart. The chocolate helped balance the taste.
Worth a visit
Oceanarium: A good way to spend the day doing something different. I could watch the main tank for hours. There adorable otters and penguins. I was most fascinated by the huge sunfish in the main tank and the dragon sea horses in a side tank. They are amazing creatures.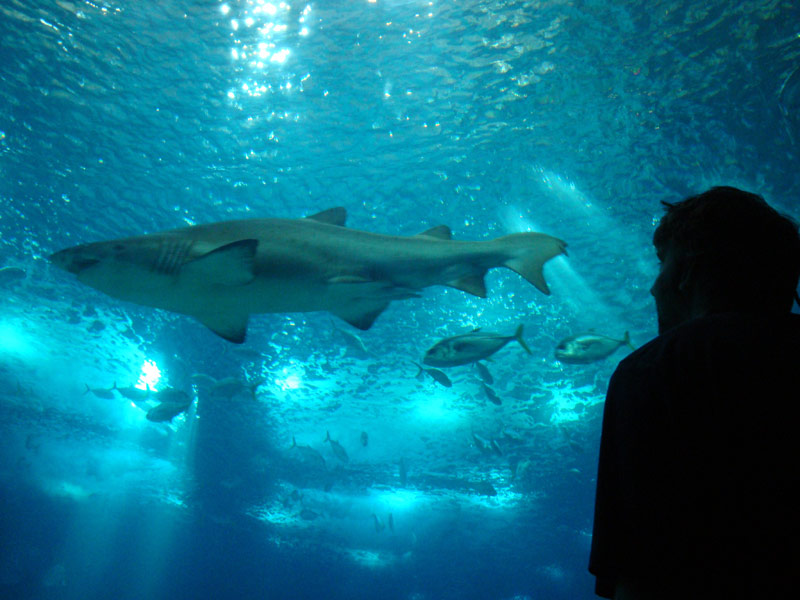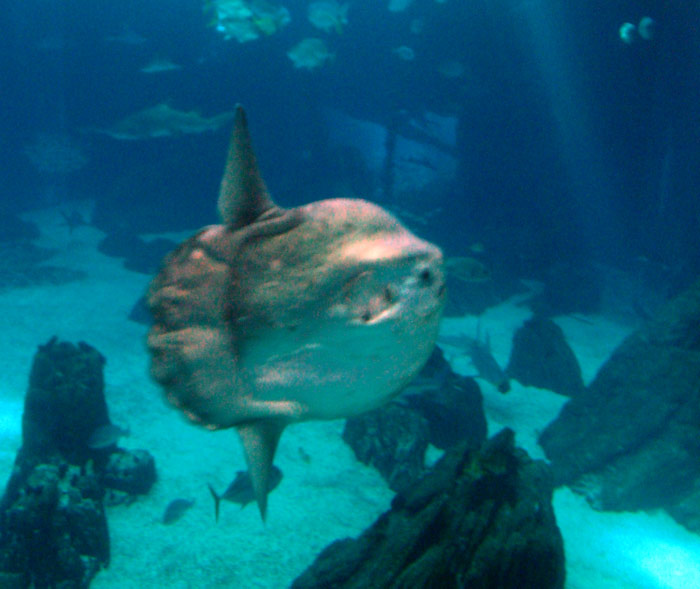 Belém Tower: The tower was built on the Tagus River in the 16th century as part of the defense system for the city of Lisbon. It is now a World Heritage site.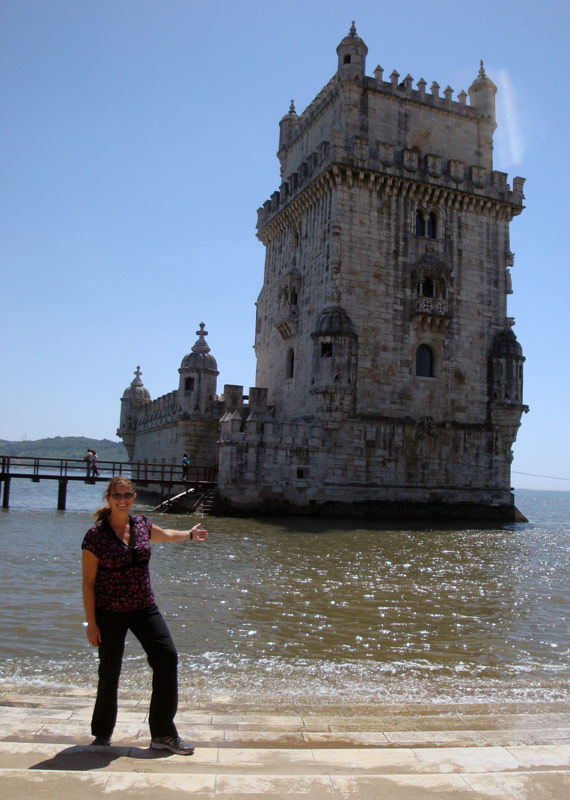 St. George's Castle: There are great views of the city from the castle. It has plenty of towers to climb and beautiful gardens to explore.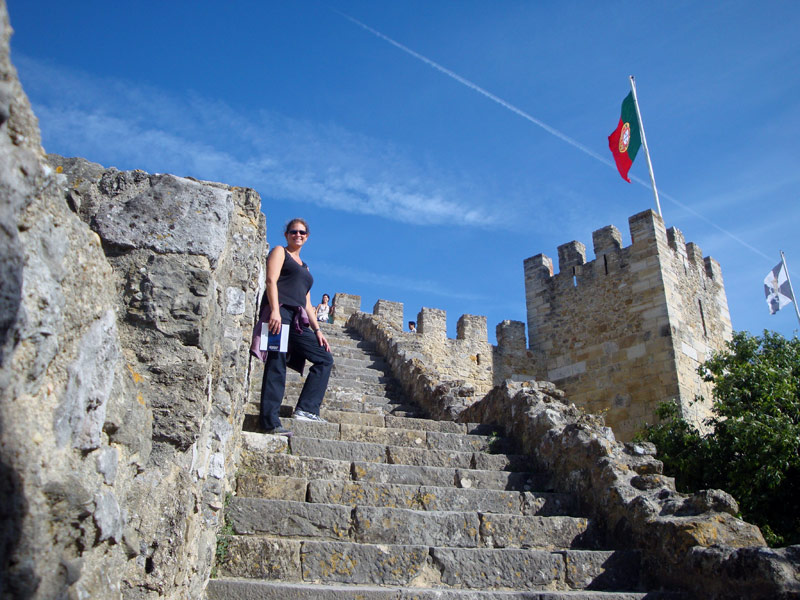 Bernardo Museum: This free museum of modern and contemporary art is near the Belém Tower. Their collection spans various artistic movements. One of the best things was a temporary exhibit of old advertisements from a top British ad agency.
Aqueducto: This used to provide water to the city. Now it is part of the water museum and a fun way to explore the city.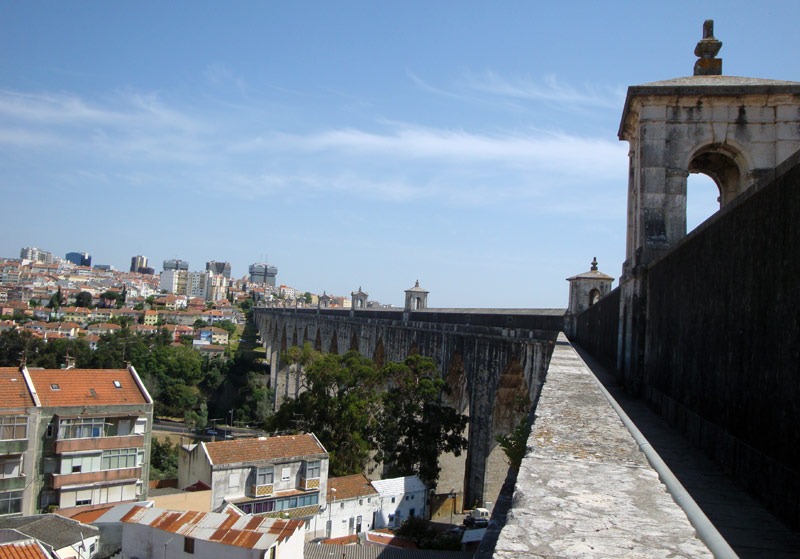 Lagos
The cheapest way to get across the country is by bus. The buses are cheaper and have more direct routes than the trains. We took a 3 hour bus ride from Lisbon to Lagos.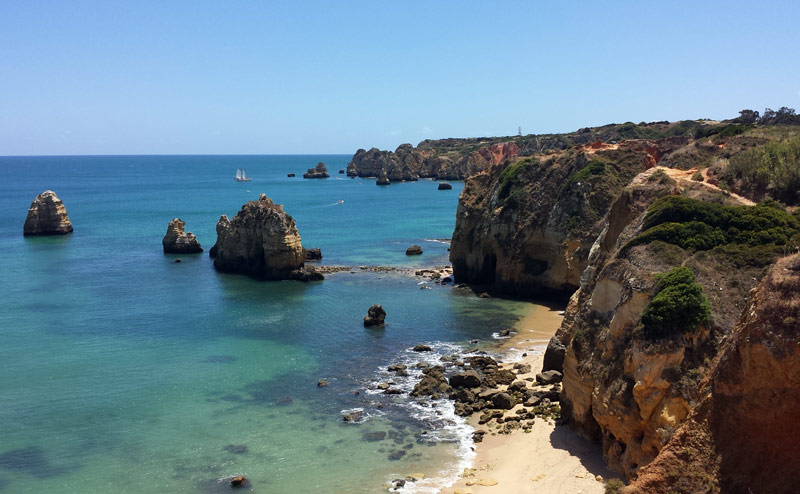 Transportation: Lagos is a very small town. We walked everywhere and it was very easy to get around. If you want to visit the other Algarve cities the bus service runs regularly. There is a small tourist trolley that will take you out to the furthest beach of Ponta da Piedade for about €2.50. Several companies offer boat trips or kayaking trips along the water to see multiple beaches and go snorkeling. There are paths along the cliffs that allow you to hike if you want to see all the beaches on your own or you can walk along the street if you want a smoother walk. We hiked out to the point and took the road back.
Accommodations
We stayed at Gold Coast Hostel in Lagos. This hostel is broken up into two buildings. The main building is all dorm rooms. The building we stayed in was around the corner. All of the rooms in it were private rooms with their own bathroom. It was nice because it was mostly couples traveling who stayed here. We were invited to the main location one evening for homemade sangria. The down side is if you wanted free breakfast you also had to go to the main building. We did meet a nice Australian couple doing something similar to us and joined them for a couple of beers out.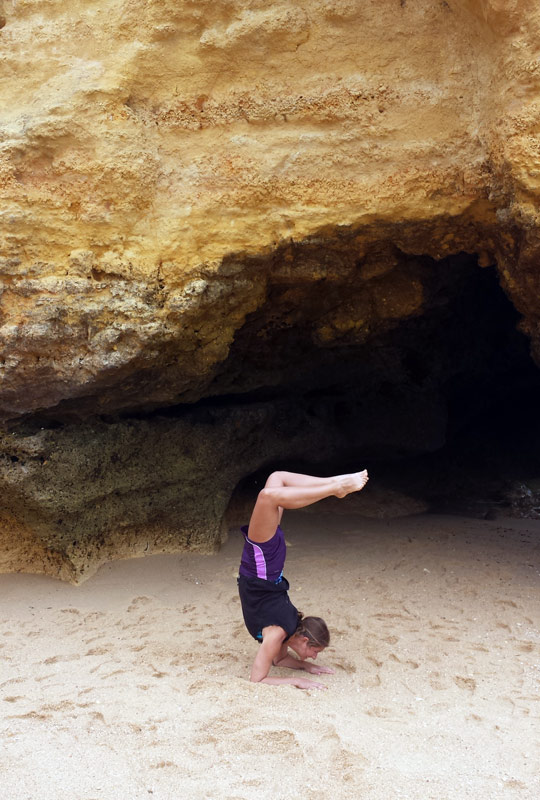 Food
Piri Piri chicken is a popular dish in Lagos. We ordered the carry-out chicken and told them we would like it spicy. It was good, but not really spicy. I did go the supermarket and bought a bottle of the piri sauce to take with me. The chicken I make with it is delicious and much spicier.
Café Odeon had great food that stuck with you all day. The €3 breakfast which consisted of 2 eggs (prepared your way, but our way was over easy) on toast with bacon and a huge pancake was a great deal. We liked it so much we ate here twice. It also reminded us a little of home.
Nah Nah Bah was voted one of the 50 best burgers joints in the world by Matador Network, so we thought we had to try it, right? It was a good burger, but not a great one. It tasted to me like someone made a hamburger out of a meatloaf and I didn't order a meatloaf sandwich. The toppings were good and the atmosphere was nice, but it was a little pricey for what seemed to not be 100% beef.
Portofinos had the best food deal on great Italian food. This was a tip from one of our bartenders and it turned out great. If you go there between 12-2pm or 5:30-6:30pm there are several pizzas and pastas you can get for half price if you order a drink. This was a great deal. The pasta and pizza were both delicious and only cost about €5 each at happy hour.
Favorite Meal: Casinha do Petisco
I ordered the house shrimp they are known for and wasn't disappointed. The dish reminded me of shrimp etouffee from New Orleans except this dish had some more exotic flavors. There was definitely curry in it along with cilantro and bay leaves. I think it might have had some turmeric as well. I wrote down notes and plan on doing my best recreation once I get home. Unfortunately, I forgot my camera that day. Mark got the lunch special that included a huge roast chicken, potatoes and salad on one massive plate.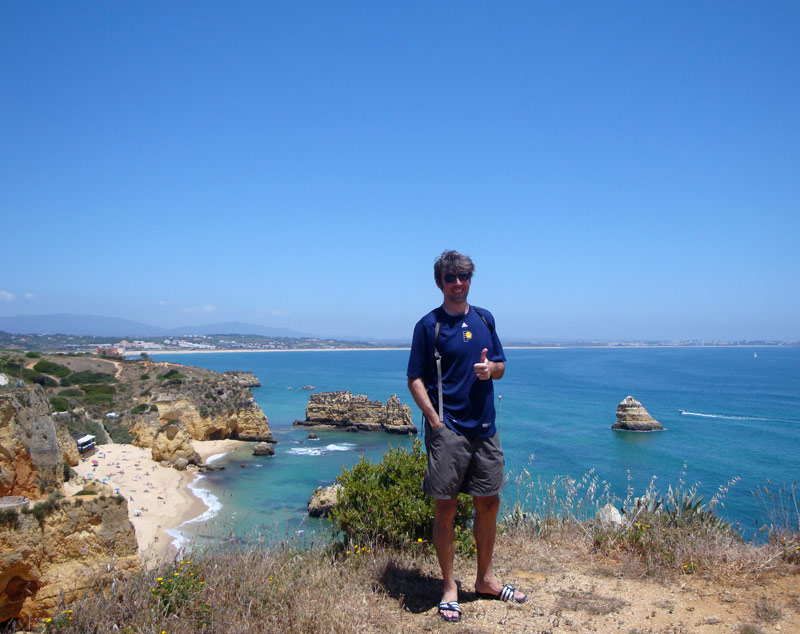 Beverages
There are bars all over Lagos ranging from a place to hang out for a pint to an all-night party. In fact our hostel made it a point to say it is not a party hostel and if you throw up you are kicked out. We visited the pubs. The best deals were happy hour and it varied from place to place, but it was usually around 8-10pm.
We spent a great Saturday night in Fools and Horses. We went in for one, but stayed for the fun. A solo guitarist was playing American music. He would start a song, but didn't know all the words. They would pass a mic around to see how long the song could continue. Imagine my surprise when Mark finished a couple verses of "Tangled Up in Blue". I wasn't surprised he knew the words. I was shocked he was actually singing. I helped him with "Cripple Creek" and that surprised the guitarist. I think most people just sing America Pie.
The Star was another great bar we frequented in Lagos. The beer prices were inexpensive and the bartender was great. She gave us plenty of great tips on where to go and where not to in the area.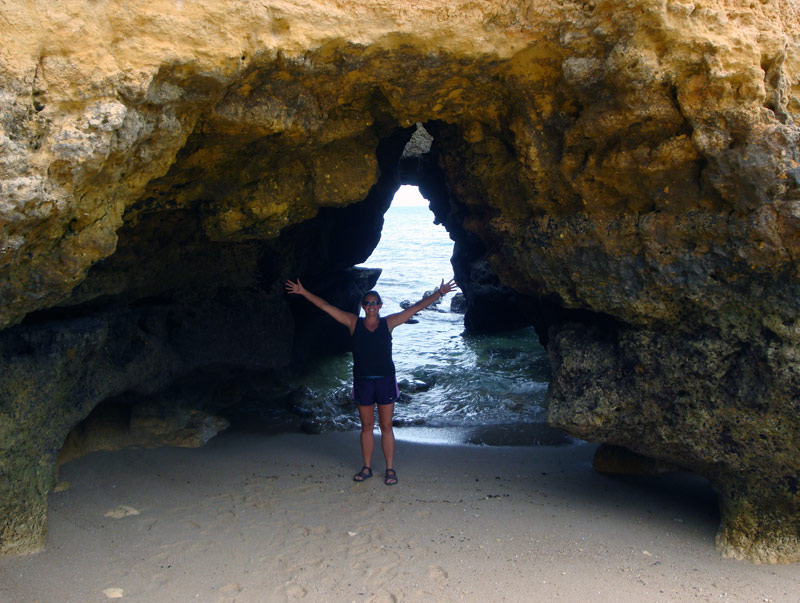 Beaches
We went to several beaches in the Lagos area and this is my personal rundown of the main ones.
Meia Praia: Main beach across from Marina. It is a big, wide beach. There are people renting chairs and watersports rental opportunities. It is mostly a calm beach without a lot of waves.
Camillo: Beautiful beach with one restaurant at the top. You have to walk down a lot of stairs to get here. Great beach for swimming because there are not a lot of rocks and it is easy to get in and out of the water. That also makes it easier for kayakers to get in and out, so this is a main stop for them. Kayakers come and go all day long at this beach.
Dona Ana: The most famous beach. It is photographed a lot. They were shooting a commercial while we were there and had blocked off sections of the beach. It is bigger than some of the beaches, but still small. It tends to get crowded. There is a restaurant at the top if you want to purchase food or drinks. They sell booze by the pitcher and you can bring them back to your towels.
Ponta da Piedade: This beach is at the far point of Lagos, so it involves a hike. There are several stairs down to the bottom to see the caves. You can get in at this point, but it can be rough depending on the tide. It is difficult to get to the actual beach. We never made it to the bottom because we kept getting on the wrong path. It was hot, so we went to a beach we knew we could find.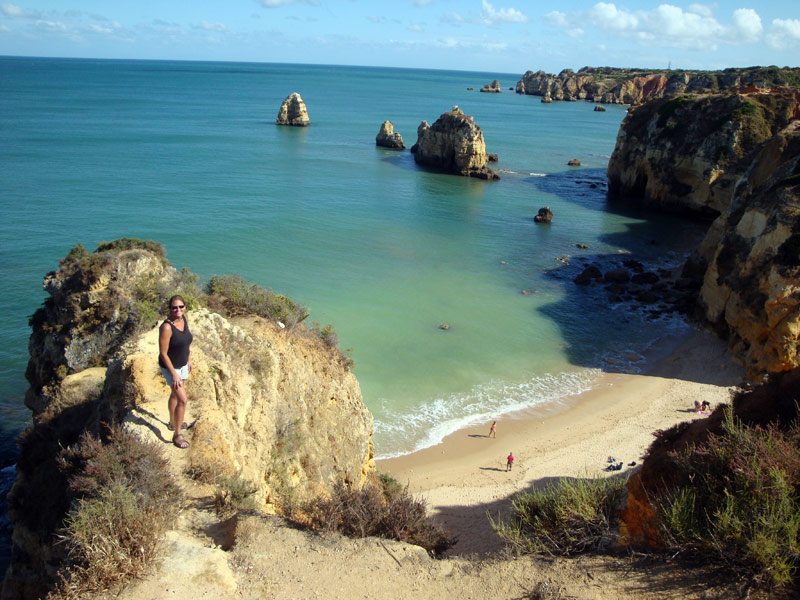 Praia de Pinhao: Our favorite beach. It was the closest one to get to for us. It was also the most secluded. You can only get to it by walking. It is small and gets sun until late in the afternoon. It is tiny, so you do have to move around as the tide comes in. It is a little rocky in spots, but you can clearly see the open areas to get in and out of the water. There are no bars or restaurants. We packed a lunch and had picnics even if it was sprinkling. There were days when we were the only ones there.
Portugal Budget
Portugal can be a budget friendly country. We averaged 121.81 per day there which is pretty good. Our accommodations were about US$ 5-10 more on average than the places we stayed in South America. Going out to eat in popular places like Lisbon and Lagos can definitely put a dent in your budget. This was also the first country where we regularly went out to drink. While cheap beer and happy hour specials can be found it can add up quickly.