Of the three countries we visited in South America, Argentina was our favorite. Peru had its moments, we had a great time in Chile, but if we had to pick one to go back to tomorrow it would be Argentina. The landscape, the food and the wine were all wonderful. Maybe we just met the right people who made it just that much more enjoyable. Regardless, we had a great time. So much so that when we encountered some frustrating moments in Europe we've looked at each other and said, "Screw this, you just want go back to Argentina?"
Transportation
Argentina is a big place and there is more than one way to get from point A to point B. Walking in Argentina was a lot more like walking in the United States. Yeah, there's a crosswalk, but that doesn't mean you really want to step out in front of a car. Like big cities in the US, you have to choose your moment.
Long Distance Buses cover most of Argentina the same way they do in Chile. There are some differences though. Overall the buses seemed a bit nice and cleaner than the ones in Chile and the food and service were a step above as well. While the bus food in Chile was a step below the food when you fly coach, the food on the Argentine buses were a step above. Plus they gave you a few glasses of wine with dinner and usually a glass of sparkling wine after diner. Of course, this service comes with a price. While the long distance buses in Chile were very affordable, the prices for buses in Argentina aren't nearly as low. Prices can be so high in fact that sometimes it makes sense to just fly because the money saved doesn't equal the time spent when a 20 hour bus ride can be skipped for a short flight and a couple hours in the airport. Check out Platforma 10 for bus times and prices.
Taxis are metered in Argentina, or at least the ones we encountered on Cordoba & Buenos Aires.
The Buenos Aires Subte is a pretty easy to use subway. The single journey tickets are cheap and you can just buy a stack of them. The system is crisscrossed by a network of commuter trains and taking the Subte isn't always the most efficient way to go. The commuter trains are also cheap so check your route before just jumping on the Subte.
Accommodations
41 Below in Bariloche is a cozy, laid back hostel. Leonardo, the dude running who was running the place, exhibited a calm almost Zen demeanor that permeated the place. It could get a little rambunctious though. It was wonderfully located on the same street as many of Bariloche's great pubs which made making plans for any particular evening quite easy. It also meant that people would return to the hostel after the pubs, and even worse after the clubs, closed. Even if you have the wherewithal to even think about being quite when you're stumbling around at 5 in the morning, it isn't happening. They had a solid breakfast with lots of local jellies and preserves and a pretty well equipped kitchen. The local grocery had good, cheap beef so the smell of steak could permeate the building around meal times.
Our "hostel" in Mendoza was called Mi Casa. I used the quotation marks because while it certainly was a hostel with rooms and beds, it was more like staying with relatives than staying at a hostel. Jorge and Lorena live there with their family and it is their house. They have a couple private rooms and a couple of shared rooms. They are friendly, helpful and hilarious. When we arrived we didn't have small enough bills to pay the taxi so Jorge paid it. One morning, Lore didn't have small bills to give her daughter lunch money for school so I gave her lunch money. They gave us a bottle of wine when we left. Aside from the hot water for the shower only lasting about 30 seconds it was an outstanding experience. We should have stayed one more day because the day we left they had friends in town for a cook out and Jorge was grilling beef. Lots and lots of beef. We were able to sample some before he left to catch our overnight bus but it would have been nice to chow down with everyone.
The Morada Hostel in Cordoba was interesting. It was in the city but was open to the outside. It had a secure entrance and a roof, but it was sort of built around a central courtyard and opened up to a rooftop bar/patio. Our room could have used a new mattress but the place had character and that counts for something.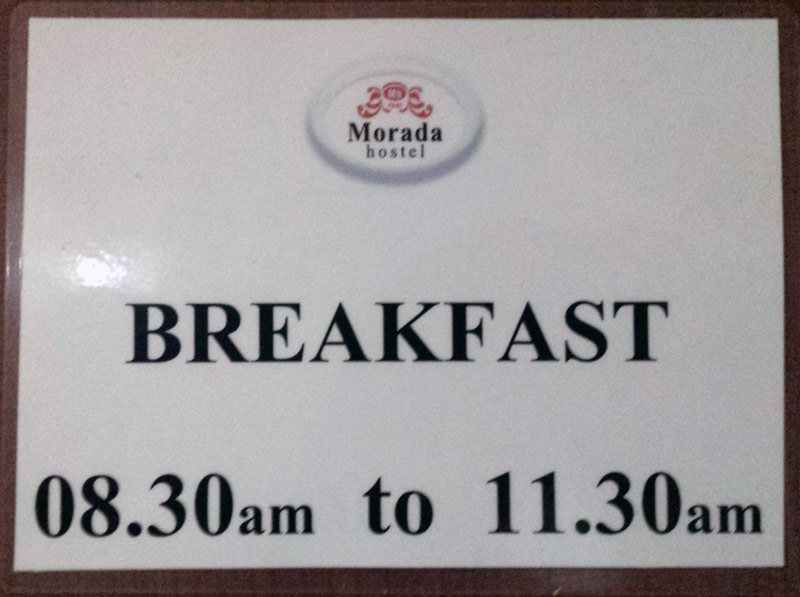 Iguazú was a blast because Hostel Bambu in Puerto Iguazú was a nice little hostel with a bar and a great bartender to boot. We met a lot of fun people and had lots of fun conversations there. Our room was nice, clean and comfortable.
We had a nice apartment in the Palermo district of Buenos Aires that was within walking distance of a lot of great restaurants, groceries, bakeries and public transport. It also had possibly the most comfortable bed we've had this entire trip. I was sick part of the week so it was a good place to be stuck in bed.
Food
Let's see…..beef, beef, beef, lamb and maybe some more beef for good measure. Argentina held the world title for most beef consumed per capita until recently when they were usurped by neighbor Uruguay. Argentina is cattle country and they don't jack around when it comes to cooking it. A couple of steaks on charcoal? No. Hardwood and only hardwood and we're grilling as much grass fed beef as we can get our hands on. Their backyard grills are poured concrete shelves that are about 2 feet deep by 4 feet long with a heavy metal grate. No lid. No vents. Hardwood coals and beef.
I had read some blog posts from travelers who were disappointed when they went to Argentina and found the steak not to their tastes. This had me worried as I can be a bit particular about my steak. While we had a couple of mediocre beef meals in Buenos Aires, on the whole the grilled beef we had there was top shelf. Any apprehension I had went out the window with my first bite of steak on our first visit to a parilla in Bariloche. I thought at some point I would get burnt out but it never happened. We would have conversations:
"What do you want for dinner?"
"Not Beef."
"Okay."
We would walk around looking for a place to eat. Then we would smell the grill from a parilla and end up getting beef anyway.
For an added treat, try a provoleta. That's a slab of provolone cheese slathered in olive oil and herbs and thrown on the grill in an earthenware crock. Once it gets melty it is served with bread on which to spread it.
Also, don't argue with the man cooking your meat. I've been trained to order lamb chops medium rare. We ordered lamb at a parilla and I didn't realize that it involved more than lamb chops. I requested "medium rare". The grill man recoiled and tried explaining to me why that was a bad idea….in Spanish. I finally told him in Spanish, "Cook it how you eat it" or something to that extent. He disappeared to the grill. It wasn't medium rare and it was perfect.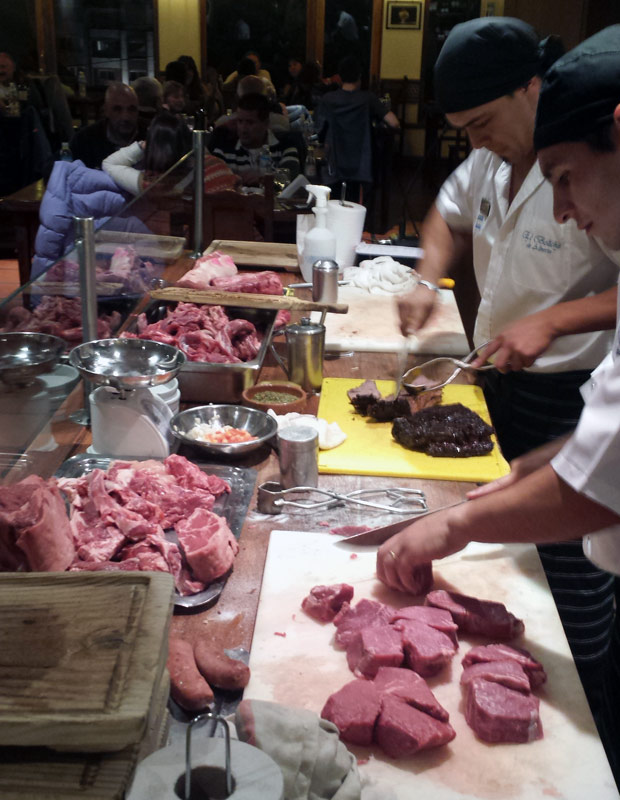 And it just isn't the beef at the restaurants that is great. One night in Buenos Aires I wanted to make chili and went to the small grocery store around the corner from our apartment. There was nothing special about this grocery store, just a small neighborhood bodega with fruits, vegetables & a meat counter. I asked for some ground beef at which point the woman behind the counter grabbed a huge slab out of the case, hacked off a piece and ground it fresh for me. Even though it was kind of a thrown together batch of chili it was one of the best I've ever made because it was some of the beefiest beef I've ever used….and that's what you can get at a glorified convenience store. And it is affordable, too. You know the price of beef is low when kids in the hostel are cooking it up on a regular basis.
When you get tired of steak you can always switch things up and have a sausage. We encountered quite a few sausage vendors on the street. It is a great way to pick up a quick, cheap meal.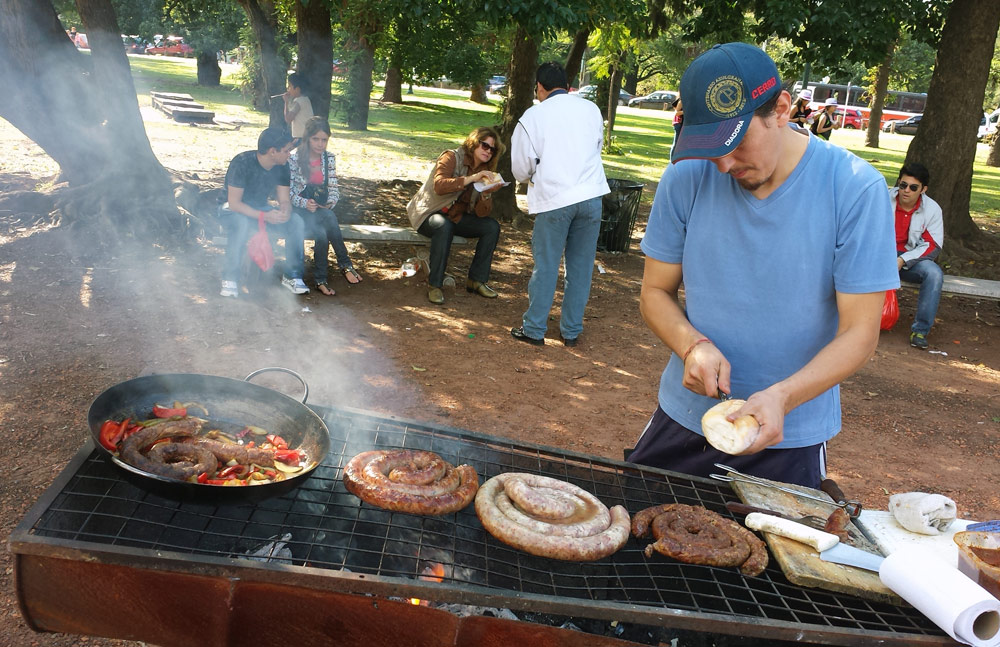 There is also the Milanesa. Think schnitzel, or if you're from Indiana, breaded pork tenderloin. They take your meat of choice, usually beef but also veal, chicken or pork, and pound it out until it resembles a Frisbee. Then it is breaded, fried and sometimes topped almost like a pizza. We had a beef Milanesa with carbonara which meant a parmesan cheese sauce and bacon.
While Chile was a cornucopia of fresh produce Argentina wasn't quite on the same level. The central market in Cordoba had some pretty fantastic stuff but overall most of the fruits and vegetables we encountered were okay. Maybe we were just spoiled by Chile but the quality and selection didn't seem to be as great or vast.
Beverages
Wine
The wine is good, plentiful and very affordable. We didn't buy a single box of wine in Argentina because the price for bottles of decent wine was so reasonable. What was even better was the fact that restaurants didn't seem to mark up prices on wine to the extent that restaurants in the US do. Getting a bottle of wine in a restaurant for US $6 or $7 was refreshing.
Beer
Argentina has a variety of easy drinking yellow beers available with Quilmes being the most popular. Craft brewing is growing in popularity in Argentina. We met a guy who was just getting into making beer at home. He had made his first batch and was excited to try out more varieties. Antares is a chain of brewpubs that we saw throughout the country. While they didn't have our favorite beer in Argentina they did offer some pretty good happy hour specials every evening.
Bariloche seems to be the center of the Argentine craft brew universe with several brewpubs existing within just a few blocks of one another. We didn't get to try all of them but our favorite by far was Manush. Their IPA is one of my favorite beers of this entire trip and that includes what I've drank in Germany and Czech Republic.
Locations
Bariloche
Bariloche is a ski resort in the winter, a lake resort in the summer and is a great place for hiking, biking and other outdoor activities the rest of the year. We were there in autumn which made for very colorful scenery and crisp weather. The town is packed with brewpubs and chocolatiers. It also is home to one of our favorite parillas of the trip. We weren't able to do as much hiking as we would have liked but we had a fantastic time.
If we went back we would: Go the exact same time of year and stay a lot longer. I would like to do a multiple night trek through the mountains staying at one of the refugios. Just have to make sure to hike enough to counter balance the caloric intake from all of the beef, beer and chocolate.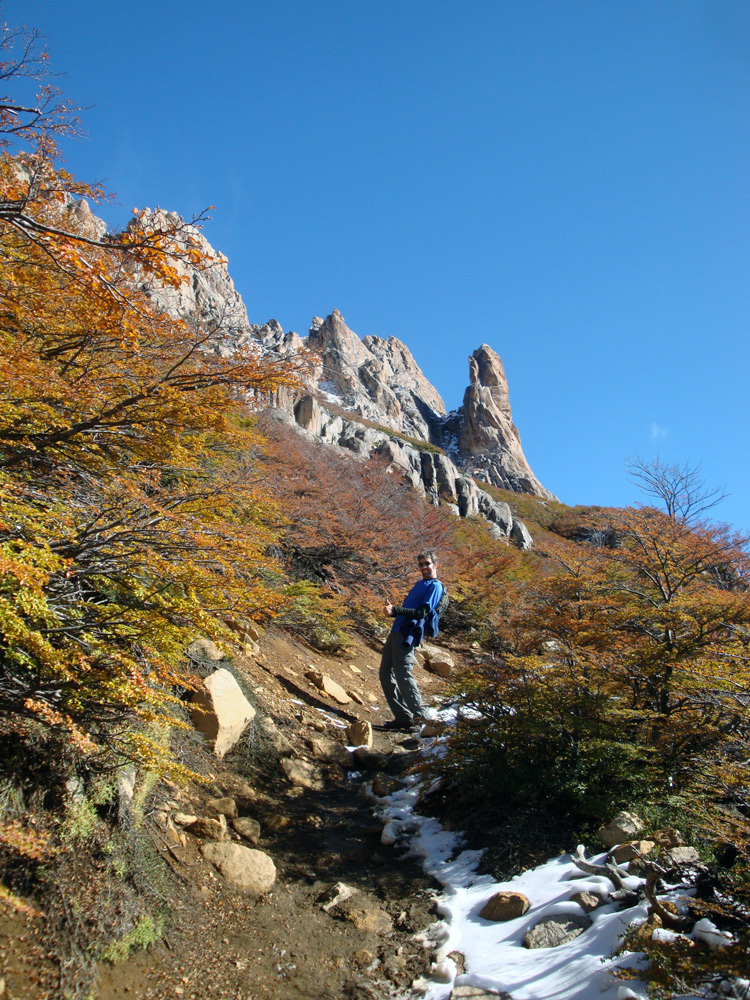 Mendoza
Mendoza is a lively town thanks to all of its universities. There are plenty of parks, plazas, restaurants, cafes and bars. It has a Mediterranean climate and the region is home to many of Argentina's vineyards and olive farms.
If we went back we would: We only made it to a couple wineries. There are more there we need to explore.
The Transandine Railway used to serve as the main artery for moving goods between Argentina and Chile. The line was abandoned in the 1980's as more and more cargo was shipped over the Andes via trucks. When the line was abandoned nothing was reclaimed. Everything was just left where it was. Since it is an arid region there isn't much vegetation to grow over the tracks and outbuildings. As a result you have a pretty well persevered right of way that weaves its way through the Andes crossing rivers and running through ghost towns where the old water & sanding towers were located. What does all of this have to do with going back to Mendoza? Next time we're packing provisions and sleeping bags, taking the bus to the highest point and hiking down. No sense walking up hill if you don't have to.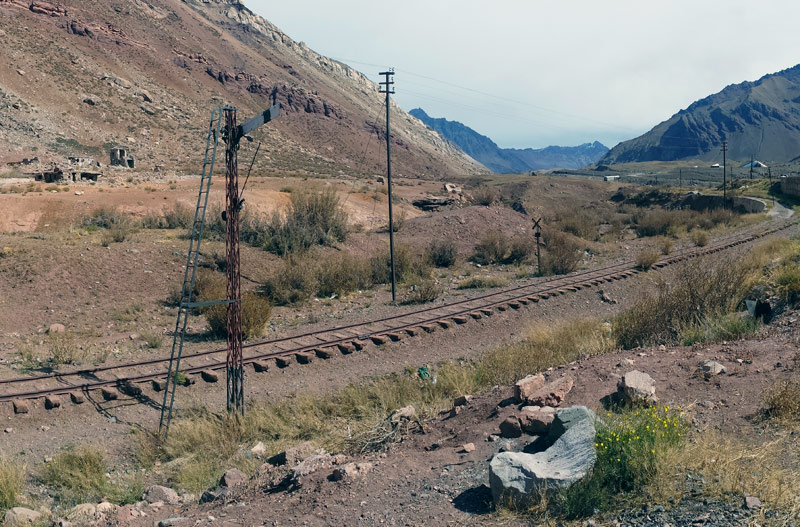 Cordoba
We don't feel we were able to give Cordoba the time it deserved. Julie was sick the days we were there so she spent a fair amount of time in bed. I used that time to work on the redesign for the website. We were able to get out in the city a little and we did go out to La Cumbre to go paragliding. The city market has a great variety of butchers, produce vendors and restaurants.
If we went back we would: There are a lot of good hiking opportunities outside Cordoba that we'd like to explore and we'd like to just have more time in the city.
Iguazú
We did two things in Iguazú. We went to the falls and we drank at the hostel bar. To be completely fair, I'm not entirely sure which one I enjoyed more.
If we went back we would: Well, we've already been to the falls so I'm not sure we would go back, but if we did there are a lot of small, affordable restaurants around the market area that we didn't really get to try.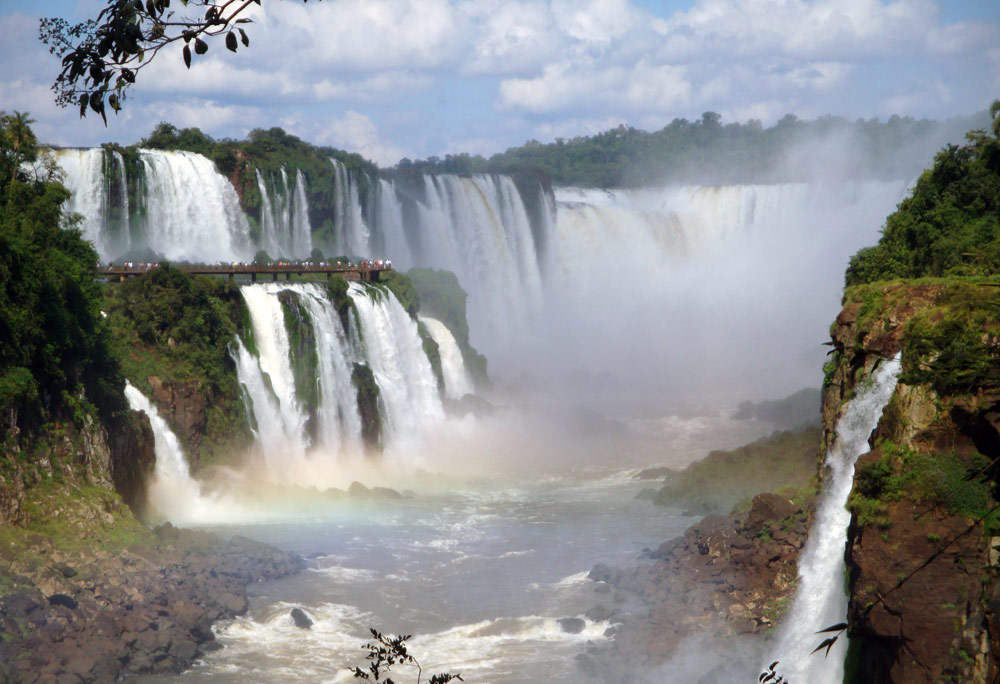 Buenos Aires
While Julie was sick in Cordoba, I was sick in Buenos Aires. We had a full week there so it didn't totally ruin our time but we weren't able to explore as much as we would have liked. We did manage to have a great time. We went to Chinatown (Barrio Chino) one day for groceries and lunch. The Bellas Artes museum was a highlight. It has a very substantia collection. I was particularly excited about their Francisco de Goya collection. It is free which is nice and also features the highest density of security guards/docents per square foot of any museum I've ever visited.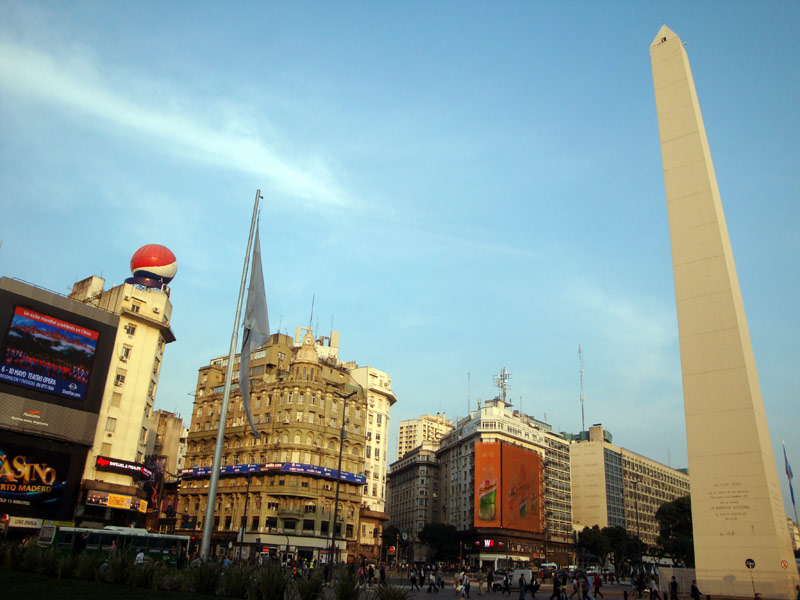 The one downside to Buenos Aires is that since it is large and the capital it is also more expensive. There are cheap eats to be found but many of the restaurants were way out of our budget range.
If we went back we would: There's too much to mention. We really didn't get to experience nearly as much as we would have liked. If possible I would like to stay for at least ten days if not two full weeks.
Favorite Meals
The first two parillas we visited were our favorites. First our two trips to El Boliche de Alberto in Bariloche. The ribeye was perfect, the lamb was perfect, the fries were perfect and the wine was cheap…which is to say, perfect. La Aldea in Mendoza was also a standout. We were put off by it at first as waiters had tried corralling us a couple of times when we walked down the sidewalk. After checking out the menu we decided to give it a try and we were not disappointed. A little more expensive that Albert's but the quality was just as good if not better. We were upset because we ate there our last night in Mendoza and didn't afford ourselves an opportunity for a return visit. La Cocina de Fazzio is a seafood restaurant located in the Mercado Norte in Cordoba. Julie had the paella and I had a fried fish platter both of which were delicious.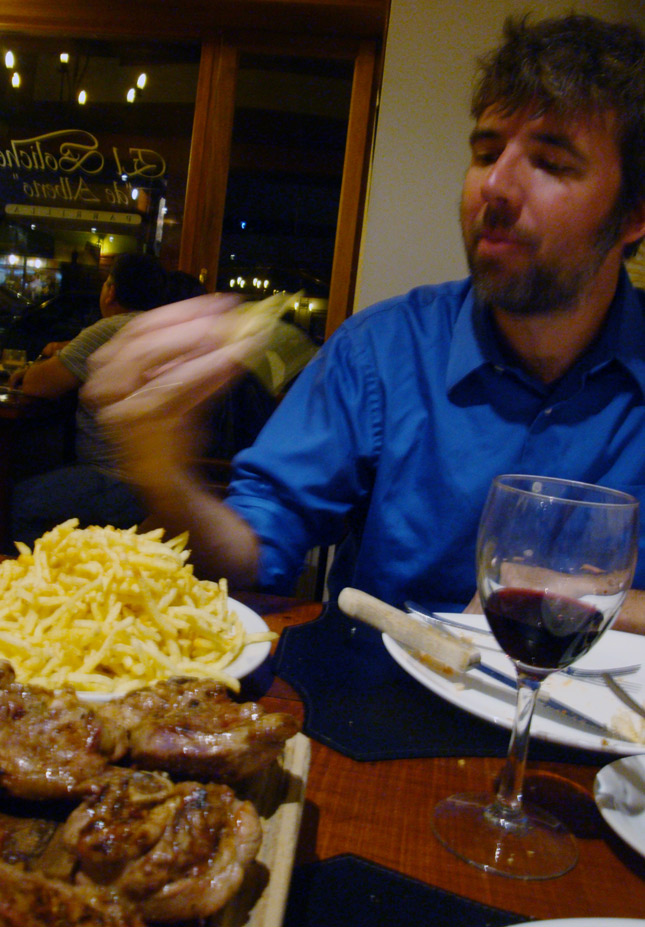 Be warned, when you get to the bigger cities like Cordoba and Buenos Aires a lot of restaurants will charge you a couple bucks per person just to sit down. This isn't a tip for the server, this is more or less a cover charge. Tipping in Argentina falls between rounding up bill and 10%.
Best Pizza
Siamo nel Forno in Buenos Aires was our favorite of Argentina, our favorite of South America and maybe the best of the trip so far. It's Naples style so they are cooked fast and hot. The crust is slightly chewy with just enough crisp and char from the oven. They use quality tomatoes, cheese and toppings and it is reflected in the overall taste of the final product. My only complaint: I don't expect to get wall to wall toppings on a Naples style pizza, but if I order a pepperoni I certainly expect more than five. Aside from that the prices were fair which was nice for it being in Buenos Aires.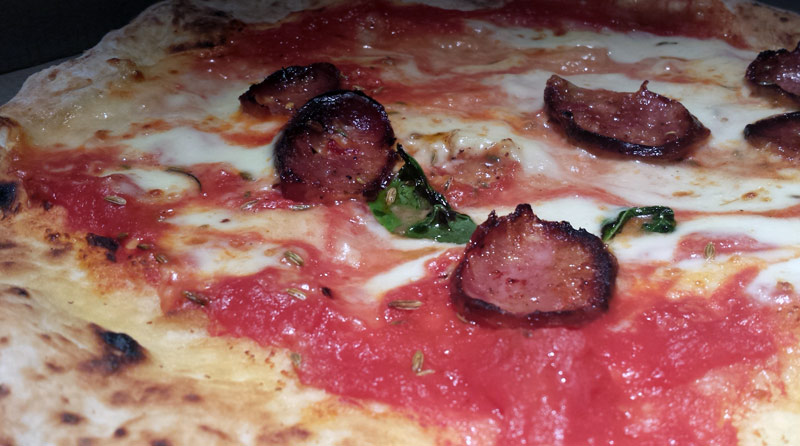 Money
I never thought I'd find a currency as monochromatic and boring as that of the United States but then we went to Argentina. All the bills are the same size, have a small number of the denomination in the corner and are all the same palette of brown. Keeping them straight requires effort and to make matters worse the smaller bills are a hot commodity.
Argentina is going through a bit of a bout with inflation which means that small bills (1, 2 and 5 pesos) are now the equivalent of pocket change. They seem to be pushing out 1 peso coins into circulation but in our first three weeks in Argentina I encountered a grand total of one of those coins. Everything else was paper money. No one has change, no one wants to give change and the smaller bills you do get are on the verge of wearing out due to the mileage from paper essentially becoming coinage.
Budget
Argentina wasn't friendly to our budget, but the problems didn't come from where you'd necessarily think. All of our accommodations were affordable and even all of those steak dinners didn't really make that much of a dent. The biggest budget buster was all of our long distance busses. If we did the same trip, to the same locations but spread it out over two months instead of one our daily average would plummet because transportation would not be as large of factor.
We also went paragliding. While it wasn't prohibitively expensive it wasn't cheap either.
Finally there is the matter of the cover charge just to get into the country. Residents of the United States, Canada and Australia all have to pay a fee to enter Argentina. It is different for each group. For Americans it is US $160 per person. On the bright side they are nice enough to stamp your hand so you can get back in for the next ten years, but it still sucks. This fee is in response to the US government charging Argentines to get visas to enter the US so I don't blame Argentina. If anything it guarantees that we'll return because if we're paying that much for access we are going to get our money's worth, dammit.
When planning for the trip we saved for a daily budget of $125. However, our goal is to keep it under $100 per day. In Argentina, our budget came out to $147.85 per day. This pretty much wiped out the cushion we had built up by being below the $125 mark in Peru and Chile.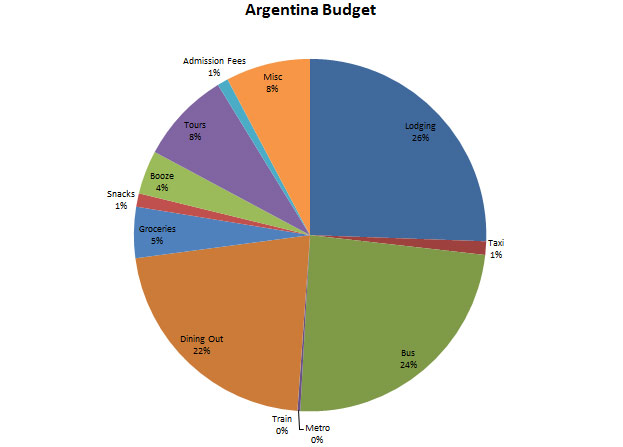 A few notes on my accounting. First, all expenses for a day are attributed to wherever we stay that night. For example, Costa Rica charged us $29US each to leave the country via the airport. However, since we spent that night in Lima, Peru that went down as a travel day expense for Peru. It isn't perfect but I'm not splitting days. Also the Booze category is for anytime we stopped for a drink and only a drink. If we had wine with dinner or bought it as part of a grocery run, I did not break it out. I am most interested in the total money spent per day and per country. The categories are just rough indicators of where our money is going to help us make adjustments where needed. International airfare is not included in the daily budget, but any flights within a country will be.
Stupid Stats
Our litre box of wine metric gets skewed with Argentina as we never bought a box of wine there. There were so many good, affordable bottles in Argentina that we never really considered buying a box. The downside is that a bottle is less wine being .75 litres instead of a full litre but we were willing to trade quantity for quality. Decent bottles could be had at the grocery in the US $4 range.
Map