We decided to skip a formal wine tour and give it a go on our own. Maipú, the center of the wine region near Mendoza, has several shops that rent bikes so you can create your own wine & bike tour. Our host Lorena explained to us that we didn't have to pay a tour company. The tourist office in Maipú will let you use a bike for free and is conveniently located at the tram stop from Mendoza.
We were easily able to get bikes. They adjusted our seats, gave us a map and sent us on our way. Riding a bike wasn't as easy as it was when I was a kid, but after a bit we had the hang of it. I even went one-handed for a bit, but the bike was too wobbly to go without using any hands. There was a bike lane on most streets, but the main streets were a little scary when a large truck would pass. Our first stop was the Santa Augusta Olive farm.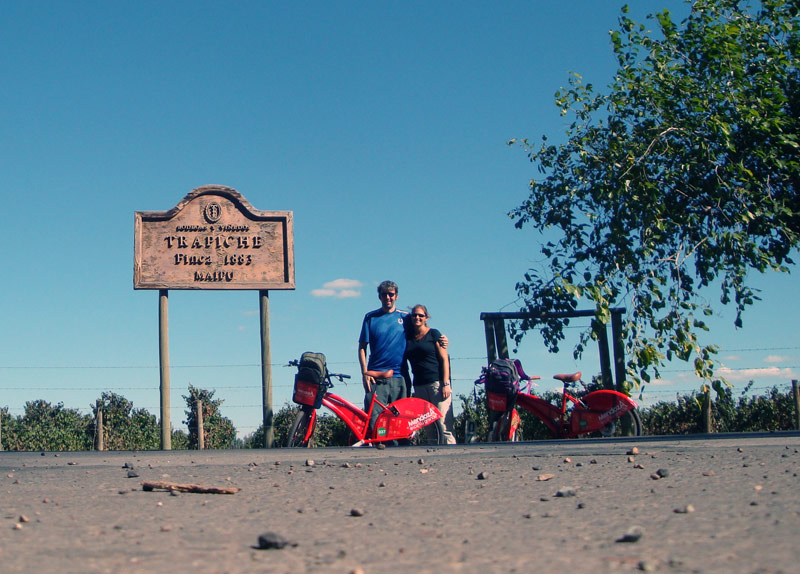 Santa Augusta Olive Farm
We were seated in a garden surrounded by green olive trees. We learned as the olives mature they turn black. The olives are harvested at various times of year depending on what they are trying to accomplish with them.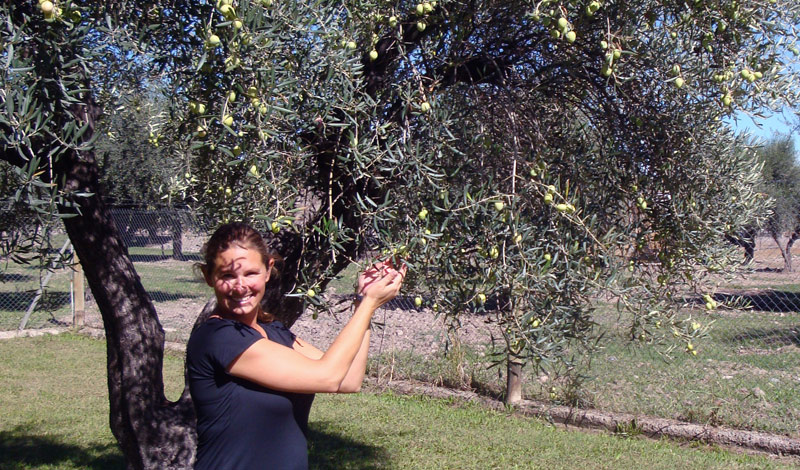 The olive oils are very pure here and you taste them a spoonful at a time. We tasted 3 different varieties and noted the color, viscosity, and taste. You could really taste the difference of which ones were spicy and aromatic vs. light and mild. We actually paid a little more for our tasting (around US $8), so we could enjoy it with a glass of wine, bread and cheesy meat empanadas. This was a great way to lay a base for our wine tastings. We purchased a spicy, strong flavored olive oil that was great for meats and pastas. We have been using it for just about everything.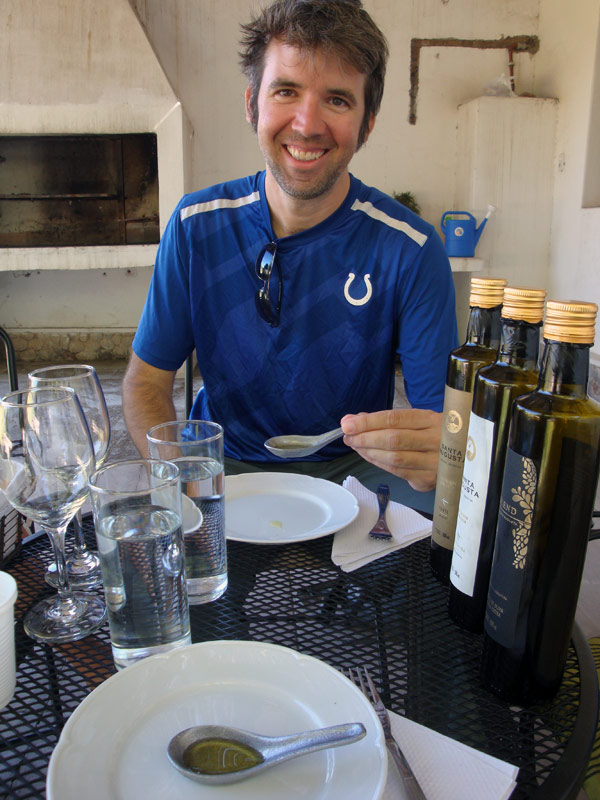 You pay a small fee around US $3-$6 to visit most of the wineries in the region. It is worth it because the samples are about a half glass and you get 3 to 4 samples. Trapiche had become our wine of choice in Argentina, so I was really excited to be here. The best part was when you bought two bottle they gave you a third for free.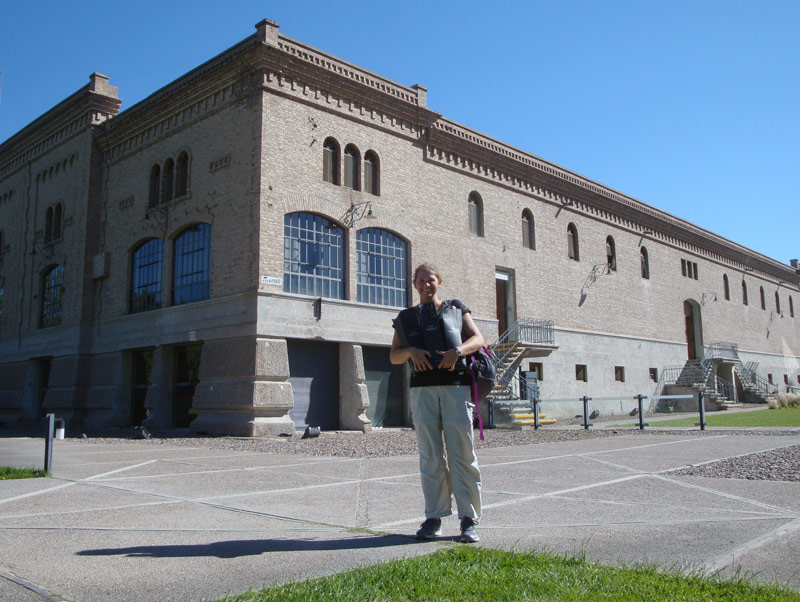 Mevi Winery
During the ride to Mevi the bolts had come loose on my bike seat. It would move every time I tried to sit on it. I had to ride with one hand adjusting my seat and the other on the handles. Next thing you know we were pulled over by a motorcycle cop for the first time. He wanted to make sure we knew where we were going and that we didn't leave our back packs in our bike baskets because it wasn't safe.
After my exhausting ride and having a cop follow us, I needed wine. Mevi was the perfect place to sit on the patio and sample wine. We enjoyed a delicious meat and cheese platter with our wines. It was here that I discovered that I really liked the Argentine white wine Torrontes.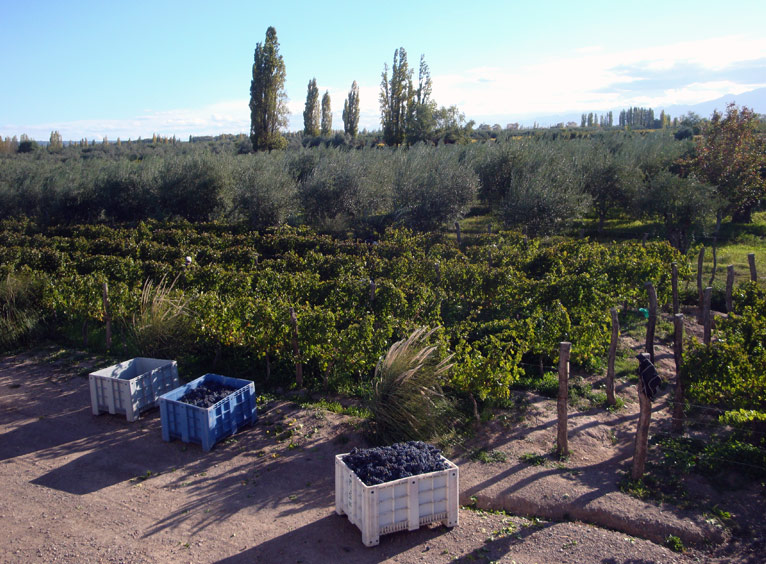 Loaded down with wine and olive oil we headed back to return our bikes by 6pm. As we left a cop on a bicycle followed us to the gas station. He asked me if I was okay as he watched me struggling with my bike. He found someone at the gas station with tools to fix the seat. We rode about half to our destination when our motorcycle friend pulled back up. I thought, "What now?" This time he wanted to give us an escort back to the tram station because it was a dangerous area. It had looked fine to us. We both peddled and wondered, "Are we supposed to pay this guy off? What is the catch?" We dropped off the bikes, the cop talked to the guys at the bike place and that was the end of it to our relief. It was weird and I was tired. We rode several miles and I couldn't even stop to take a break because I had a guy on a motorcycle following me. Luckily, my seat had at least been fixed.
High Mountain Tour
We took one formal tour in Mendoza that took us to the high Andes mountain ranges between Argentina and Chile. The goal was to see Mount Aconcagua the highest mountain in the Western and Southern Hemispheres at 22,837 ft. Unfortunately due to the clouds we couldn't see the top of it.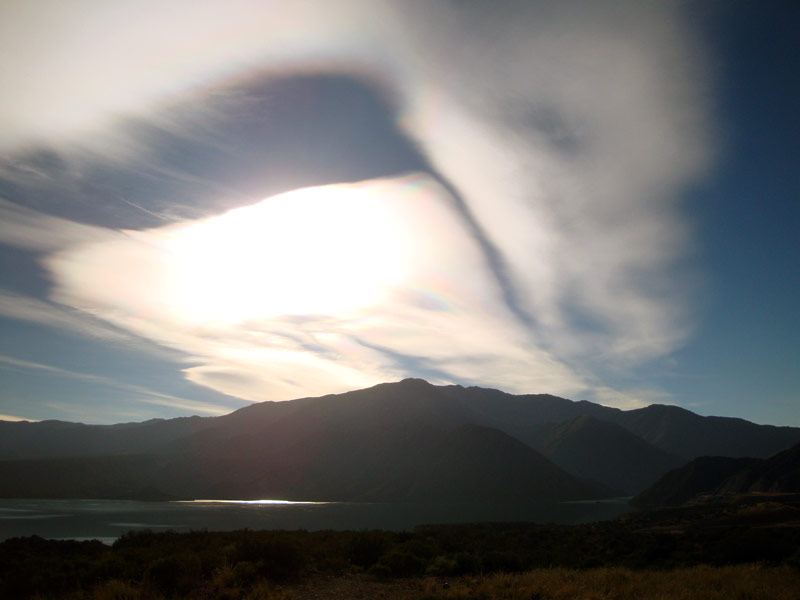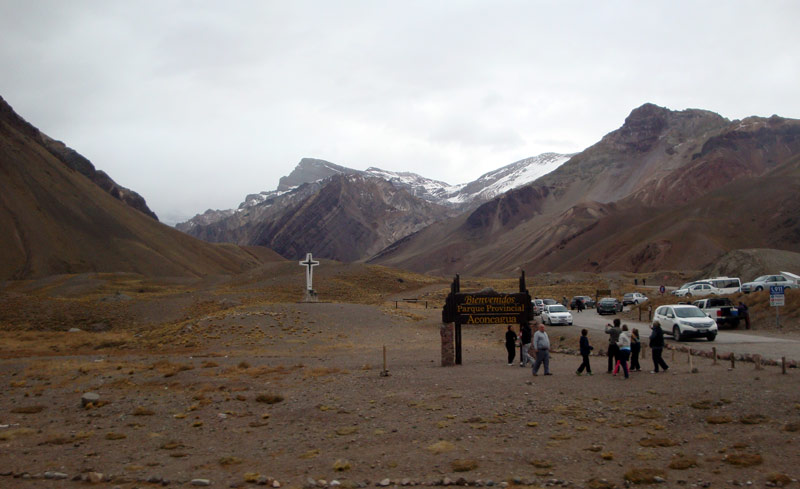 We did get to see some other amazing sites. One was the Puente del Inca or Inca Bridge. The bridge has been carved out over the years due to erosion from the natural hot springs below. The hot springs were previously open to the public, but closed in the 90's to prevent further damage to the natural structure.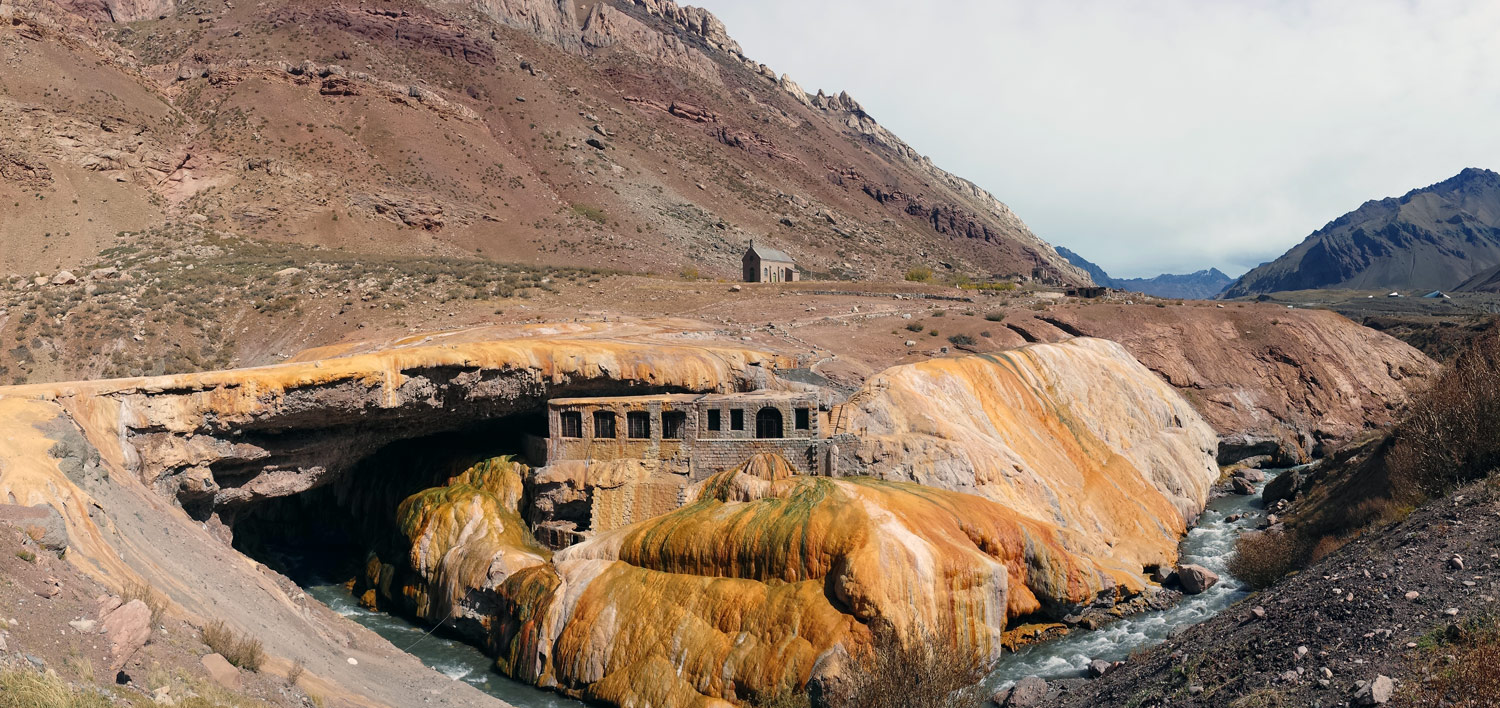 Despite not being able to see Mt. Aconcagua the dirt switch backs were clear enough for us to get to the top of the Cristo Redentor or Christ the Redeemer monument at 13,780ft. This area is between the borders of Argentina and Chile and represents their solid relationship.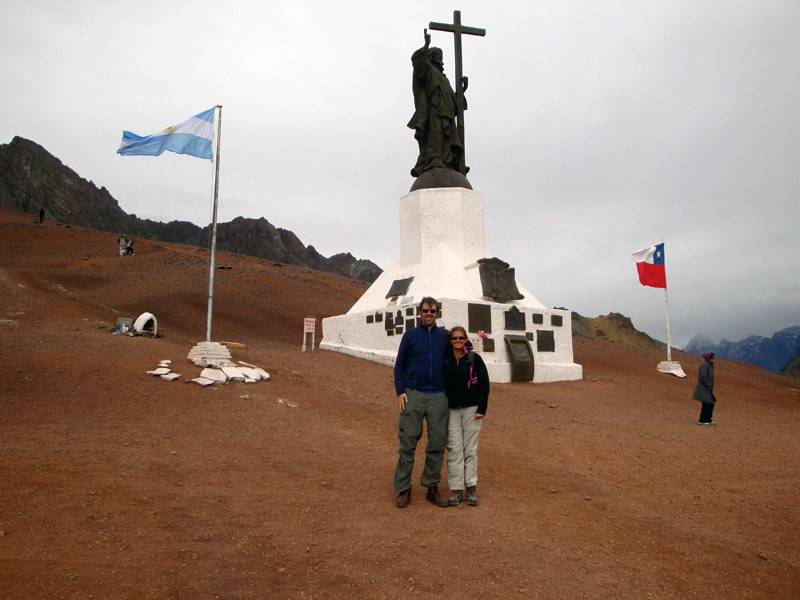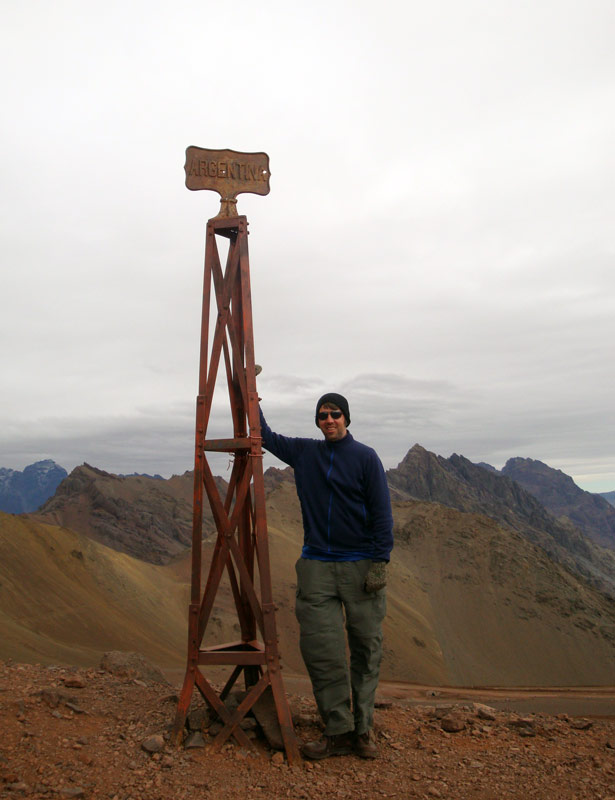 One of the best parts of the trip was the ride home. We were sitting in the back row of the bus. Around us was a college kid from China who grew up learning English but switched to Spanish and was currently studying in Buenos Aires; a guy from Brazil who spoke Spanish pretty well and English to a lesser extent; a couple from Paraná, Argentina who were pretty good with English; and then us. Our two plus hour conversation was fun, hilarious and tiring. There were constant interruptions from all sides saying, "How do you say _____ in Spanish/English?" followed by a brief discussion before hitting on the word and moving the discussion forward.