I wrote a guest post about Indianapolis for Michael & Larissa at Changes in Longitude. They have a series of articles on Free Things to Do and Interesting Things to Do in locations all over the globe. Lucky for me there aren't a lot of people writing about Indianapolis. And while it may never be an international tourist destination it does host several major sporting events every year and is one of the top convention cities in the United States so we get a lot of visitors.
In putting together the piece I realized that there are many great things I've neglected or missed altogether. I needed photos I had the rights to use so I had to go out and shoot many of the landmarks. I'm approaching 40, have lived in Indianapolis for all of my life except college and I had never been to James Whitcomb Riley's grave. I had never even set foot inside Crown Hill Cemetery. I found this amazing considering how many times I've driven by it in my lifetime and also considering the late night jackassery I often got up to in high school.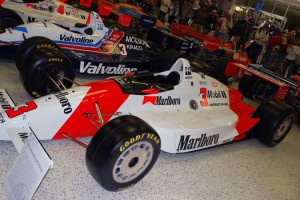 One Saturday I went downtown to get more photos.  "Piece of cake. It's Saturday morning. There's nothing going on.  Even if there is it won't start for a while and it will be easy. Park the car, jump out, get the
shot, and get on my way. How bad could it be?" I went to the head of the canal, American Legion mall, Monument Circle and Fountain Square. All had events in full swing or getting ready to start.  I was dumbfounded.
The funny thing is that as I started to write the descriptions for these places they started to sound like descriptions I had read for other cities in Lonely Planet. Sometimes you inadvertently become disconnected from a place. It's so familiar it melts into the background and you stop paying attention. It slowly dawned on me how much Indianapolis has grown in the last 30 years and how much there is to do and enjoy. I'm looking forward to approaching it with fresh eyes when I come back.
You can read the piece here: Unique Things to do in Indianapolis
I know I missed a ton of stuff, and my friends will no doubt let me know about it. Feel free to add to the list.
Because looking up the details on the cars in the photo made me pull up YouTube results:
Last seven laps of the 1992 Indianapolis 500
Producer should have been fired for missing the shot at the line.
1991 Indianapolis 500