Key-pose? No, it's pronounced K-pose. Darn it, I said it wrong again. Spanish is the language I am supposed to be good at speaking. Over the last 13 years, I spent too long traveling the Midwest and other US cities that pronounce things their own way. It looks like we could be in for a long year of mispronunciation.
We didn't originally plan to head straight to Quepos from Santa Elena. I decided it would be better to get the 5 hour bus ride out of the way. Also, it gave us the opportunity to check out the city of Quepos before heading to the beach in Manuel Antonio.
I had booked us in a B&B/Hostel called Villas Jacquelina right outside town. It was a short walk into town. The owner, Esteban, carried our bags to our room and gave us cold, delicious, fresh coconut water for our tour of the facilities. I was thrilled that I could do yoga on the roof every morning and there was a small pool for cooling off in the afternoons. We had been upgraded, so our private room now included a bathroom and they had a kitchen we could use to cook meals.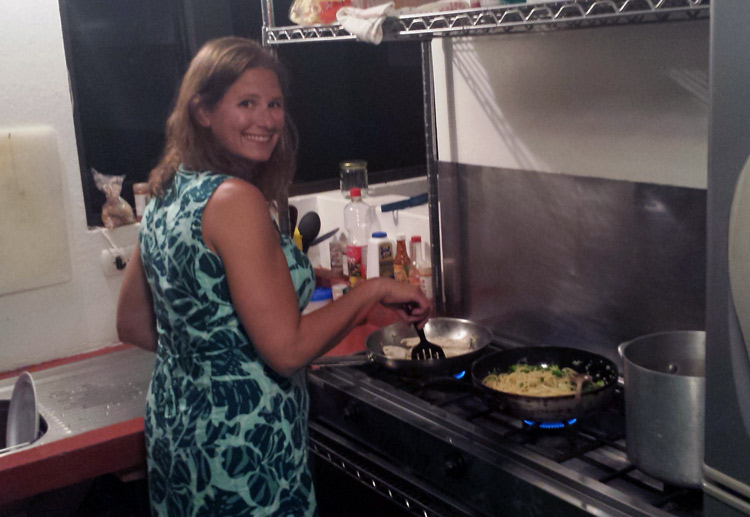 Villas Jacquelina seemed to cater to the crowd that was staying there. When it was a young crowd, we would drink and play games. One of these nights we were introduced to Costa Rica's affordable, sugarcane liquor called Cacique Guaro. Our new friends had us try it with Fresca. Once we had our place in Manuel Antonio, it became our new happy hour drink.
Quepos is a small town with some restaurants, bars, casinos, clothing shops and a city market at the bus station. One day we had lunch at one of the seafood stalls. Mark ate fish in garlic butter and I ate coconut milk seafood soup for around $12. Another stall sold fresh seafood. Mark and I went there multiple times to buy Dorado (Mahi Mahi). We bought a huge packet that we could get 3-4 meals out of for around $8. We utilized the fish in both Villas Jacquelina and our condo in Manuel Antonio. We cooked it multiple ways including fish sandwiches, rubbed with chili powder and with garlic butter sauce. We saved a ton of money and were able to eat fresh seafood on a budget.
D 'Angelo, an Italian market and sandwich shop was another great place to have lunch. It specialized in imported Italian meats and cheeses. We shared a large, savory, Italian meat sandwich with provolone. It was a little pricey because it was imported. Otherwise, we would have gone back there again.
We watched the Super bowl at the Quepos Marina on a huge 50ft+ outdoor screen. We shared a Costa Rican chili dog that reminded me a lot of the spices in Cincinnati chili.  A few beers and a terrible score later we headed out to find dinner. The 2-3 sports bars were packed, so we ended up in a pizza joint. They had a TV, but it was Election Day and the locals were much more interested in the election than the Super bowl. We didn't see the end and it didn't seem to matter. We hadn't even had the pleasure of viewing exciting commercials, unless everyone saw multiple commercials about the upcoming World Cup in Brazil.
After 4 nights in Quepos, we headed 7km south to Manuel Antonio. We decided before we left for our trip to spend a little more money to get a condo in this area.  It was an affordable studio with a few key things like high-speed internet, a kitchen, an ocean view, a hammock and it was close to the beach.  We went to the beach for a few hours every day. The bus ride was around a $1 each one way for both of us. To hills were extremely steep, so the $2 for the day was worth not walking.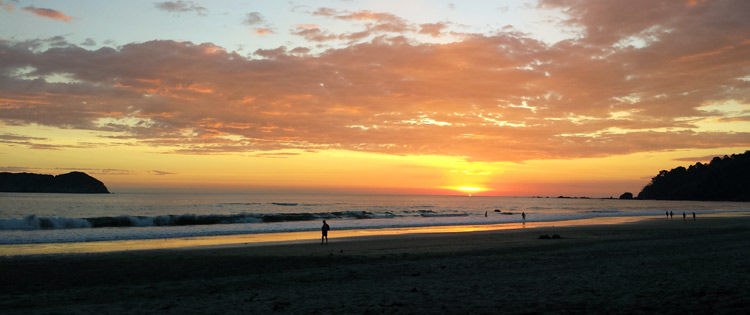 One of the nights in Quepos we took the bus out to Manuel Antonio to meet up with some friends, Justin and Jason of J2 Tanning. They were one of my customers when I worked in tanning who happened to be staying in a house on the beach near the park.  We didn't know at the time, but the bus stop for their house and the restaurant next door would become our daily beach stop. That evening we played with monkeys, swam in the ocean for the first time in Costa Rica and enjoyed one of many sunsets. They were leaving the next day. We spent our night sharing stories and finishing off the food and alcohol they couldn't take with them. We toured the house and immediately started doing math to figure out how we could rent it with friends in the future.
Kacchá is the name of the casado place next door where we ate dinner. It has good, cheap food and a public entrance to the beach. We used this bus stop for the rest of the week. There are 2-3 other bus stops after this one that will get you to the beach. If you are looking for an area without a lot of people where you can curl up under a palm tree and take a nap on your towel this is the place. You will see some locals and probably even some monkeys. You will have a few vendors, but not a ton walk by trying to sell stuff. If you want bars, restaurants, to rent beach chairs, surf boards, or go para-sailing, then stay on the bus until the last stop. For us, it worked out that we found this stop before we ever actually went to this beach. If it weren't for meeting Justin and Jason, we may never have realized it was an option.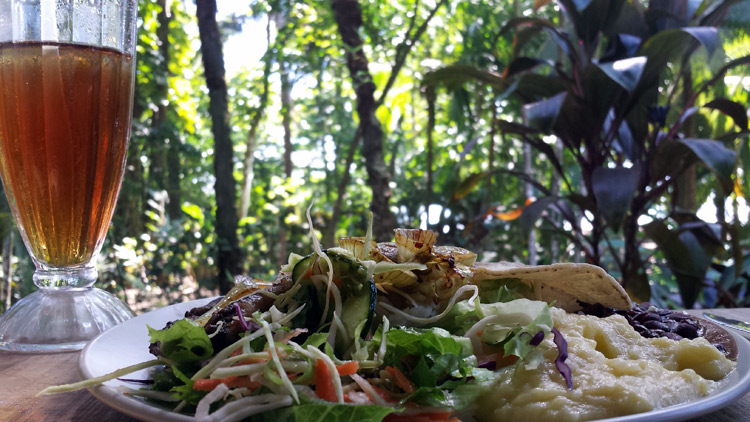 According to the history of Manuel Antonio, Ponce De Leon was the first European to explore the area in 1519. Most people know him for spending much of his life searching for the Fountain of Youth. Some say he actually found it here with the natural springs, vast ocean, and abundance of wildlife. Mark and I spent a wonderful afternoon exploring this park. You get off at the last bus stop in Manuel Antonio and hike about a half mile to the entrance. It costs $10 each to get in the park. They only take cash or visa with a photo id. We found this out the hard way. We had to go back to the bus stop and back up the hill to an ATM.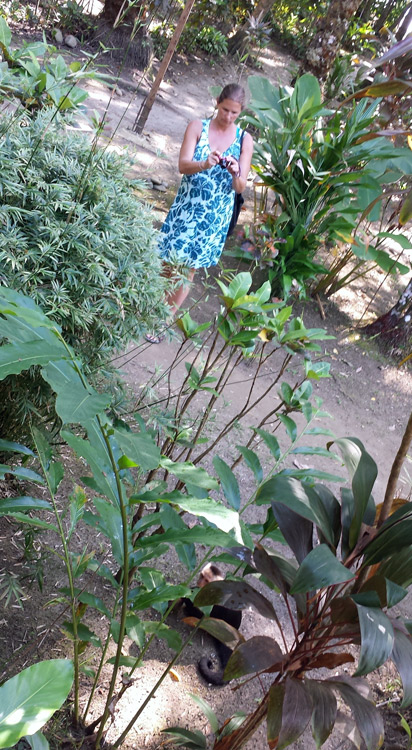 There are guides everywhere in the park. We had been successful on our own previously and decided to try it again. It was difficult to find frogs on your own. The frogs were so tiny.  I had looked in every park we went through and found nothing. Our guide in Monteverde assured me I would be able to see them in Manuel Antonio. I had seen a couple on the walls at Villas Jacquelina. Otherwise, I had no luck. We were able to find a few that day, but that was because other people had pointed them out. If you really want to find frogs, then you might want a guide.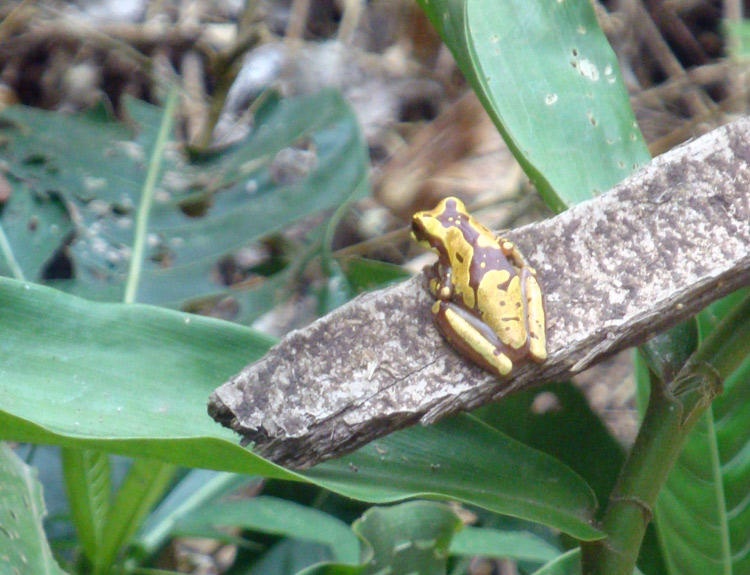 This park was much smaller than any of the parks we had visited previously. It was also much more crowded. The park had 3 beaches inside. We spent the day hiking up to a lookout, going to the beach and then repeating it until we hit each one. We stopped to have lunch on the first beach. There were two Iguana's sunning themselves, a lot of crabs scurrying around and the beach was pretty rocky. We spotted deer, raccoons, frogs, butterflies, monkeys, tapir and tons of lizards.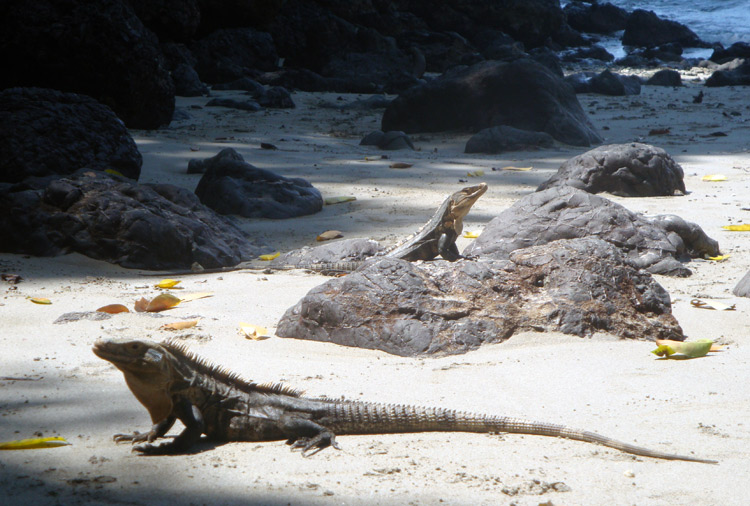 I also found another big spider. Once again, Mark walked right by it. One of the main reasons I was finding small stuff is because I was always looking for frogs. I just happened to keep finding insects and spiders instead. This spider was much skinnier than the tarantula. It also had a lot of yellow on it. It reminded me of the banana spiders that we would find in my friends outdoor shower in Charleston, South Carolina. I did manage to remain calm and even got a few close-up pictures. After a little research, I think it was actually a Golden Orb spider.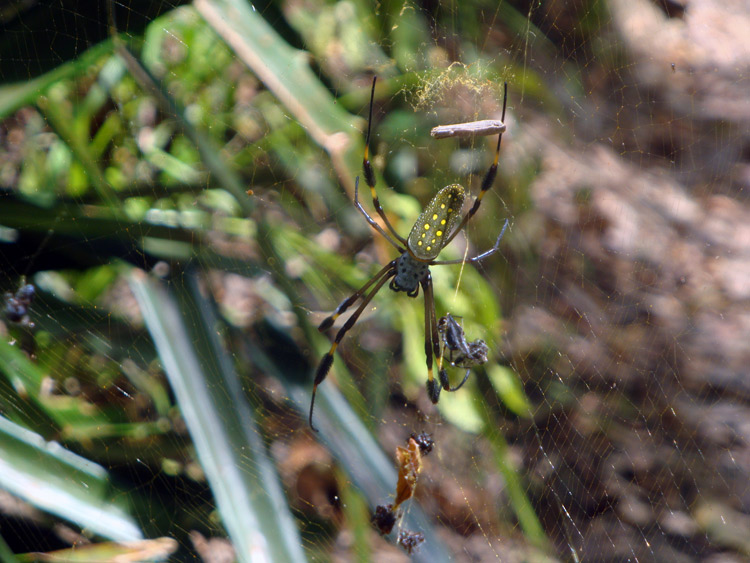 The next beach we went to Mark didn't like because there were not enough waves. The third beach was just right. It wasn't rocky and had plenty of waves. While enjoying the waves, we realized why everyone hung their bags in the trees. We were robbed by raccoons. I ran out of the water chasing raccoons down the beach. I managed to retrieve the Pringles and the honey roasted nuts. They got away with my chocolate chip cookies. So much for not feeding the animals, they just helped themselves.
Staying in Manuel Antonio can be more expensive than Quepos. It was cheaper to take the bus into town to buy fish and wine. You can go to the small local stores for a few items.  I would avoid the big markets in Manuel Antonio because most of the items are really expensive. There is a Farmer's market on Saturday and Sunday's on the waterfront in Quepos. It was great for stocking up on produce and you don't have to worry about avoiding any fruits, vegetables or leafy greens in Costa Rica.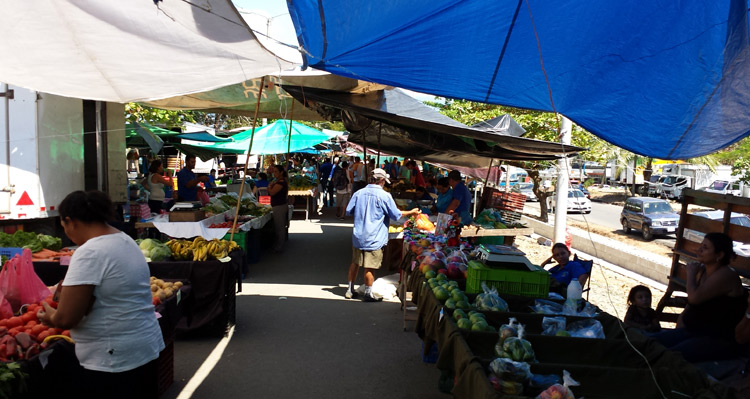 There are a few places you can go out to eat in Manuel Antonio that are relatively reasonable. We went to El Gato Pescador known for its fish and chips. The have a nice crispy fried snapper with fries and it is the same price at lunch and dinner. We actually split the large order instead of ordering individual orders. We went to Barba Roja and carried out ribs on Friday. It is their special and we split that order as well. It was 4 huge cinnamon flavored BBQ ribs with potato salad and beans. It was expensive and they still charge you the service charges for carry-out, so it was not really a deal. We ate at Dragon Fly Thai for lunch.  They do have lunch specials that are 1 entrée and 1 appetizer for around $9 each. Tell them you want the lunch special or they will just give you the regular menu which is pricey. Agua Azul was located next to our condo. If you go for lunch or before 6pm you can get a ½lb cheeseburger for $10. They have a 1lb for $12 and for a really hearty appetite they have a 2lb version.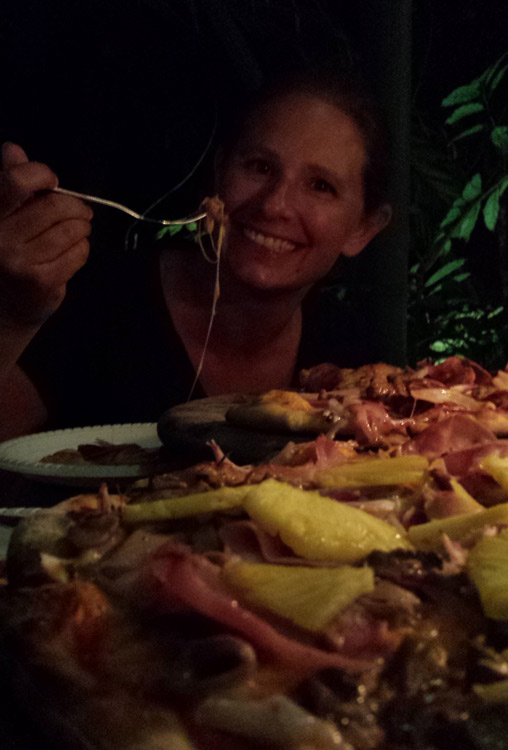 El Wagon had wood-fired pizzas. Pizza is my favorite food, so I was very excited about this one. We ordered one Diavlo pizza with Sausage, Chorizo and onions and a Hawaiian pizza that had ham, pineapple, mushrooms and onion. We watched as the guys quickly tossed our pizza in the air to form the dough and artfully placed the toppings. The oven cooked the pizza quickly and in no time we were enjoying the buttery, chewy, and only slightly charred crust. We both agreed this was the best of the 4 pizza places we ate in Costa Rica.
I must admit I was a little disappointed to leave Costa Rica. I decided I would just come back someday. It was time to move on to new adventures, new animals and new foods. I am ready for whatever South America has to offer. Okay, maybe not everything.  I am pretty sure I don't want to eat Guinea pig.