After spending too much money in Western Europe we needed to move east. The Czech Republic was part of our plan from the beginning and was the most logical destination after Germany. Julie had never been and I had only spent a couple of days in Prague 19 years prior. We wanted to get out to more rural areas but ended up spending all of our time in its two largest cities: Prague & Brno.
Destinations
Prague
I wasn't very keen on heading to Prague in the middle of summer. It is one of the top tourist destinations in Europe. It was going to be hot and crowded and I was apprehensive. But it made sense logistically as it was easily reachable from Nürnburg . It was hot, it was crowded but we had a wonderful time. Prague is affordable, it is beautiful, it has character, there is great food, there's great beer, it is easy to get around…I could go on.
We put our nine days there to good use seeing a lot of the city and eating our fair share of great food. There haven't been many places on this trip that I've felt genuinely sad when leaving, but Prague certainly was one of them. After the trip when I compile a list of the top 5 places I'd move to, Prague is guaranteed a spot on the list.
For things to do while in Prague check out Julie's post.
Brno
The weather wasn't on our side when we visited Brno. It rained quite a bit. We explored the city on foot when the opportunity presented itself but really only made one day trip outside of town. We spent a lot of time in our apartment and on our balcony. We also spent a lot of time at the Starobrno Brewery drinking beer and eating Czech food.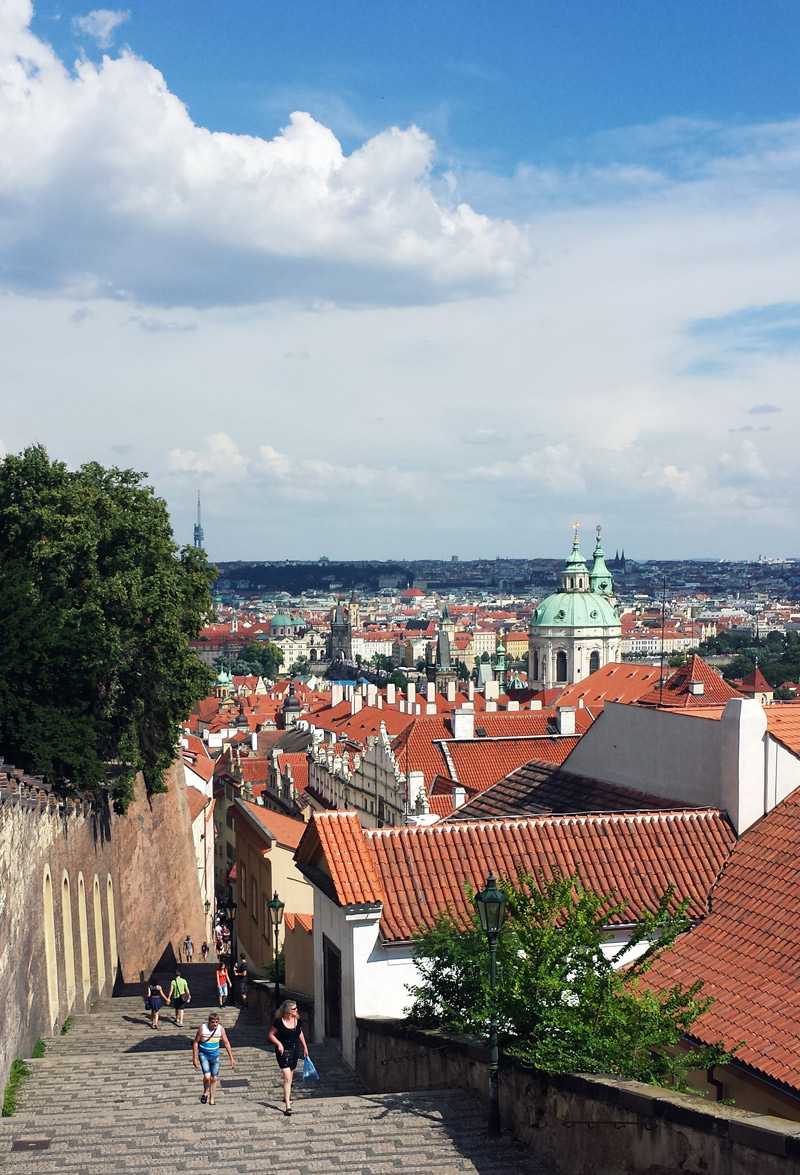 Transportation
Trains
Trains within Czech are inexpensive and are a good way to get around. If you have to cross an international border the prices can go up dramatically depending on when you buy the tickets and how nice/fast the train is. Our tickets on Czech Railways from Prague to Brno bought an hour before departure cost us US$10 each. Our tickets on a Deutsche Bahn InterCity train from Brno to Vienna bought an hour before departure and covering approximately the same distance as the Prague to Brno train cost us US$35 each.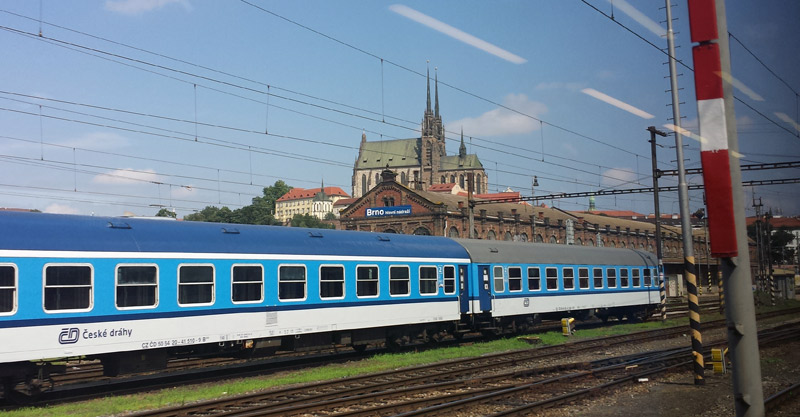 Metro
The Prague Metro consists of three lines that connect a good portion of the city. Constructed during the late 1960's and 1970's its architectural design shows its Communist era roots. Massive, squared marble columns scream "totalitarianism", but the brightly colored molded metal tiles in some of the station tunnels have distinctive looks that help make each station unique. While it shows some wear it is clean, safe and easy to use. Automatic ticket machines are everywhere but only take certain coins so if you are short on change you'll have to find a ticket booth. If you are there for any period of time it is just easier to get a multiday pass which is good for the Metro, trams and buses. There are no turnstiles or electronic scanners, you just stamp your ticket once and then keep it on you. If you feel like gambling, this system is ripe for abuse. When visiting Prague in 1995 my friend Matt and I never bought a single ticket and just rode the Metro and trams. We never encountered a ticket checker. On this trip I only saw officers checking tickets once and that was at a popular stop during a peak time. We had valid passes during our time there. The tickets aren't that expensive and it is safer to just have it.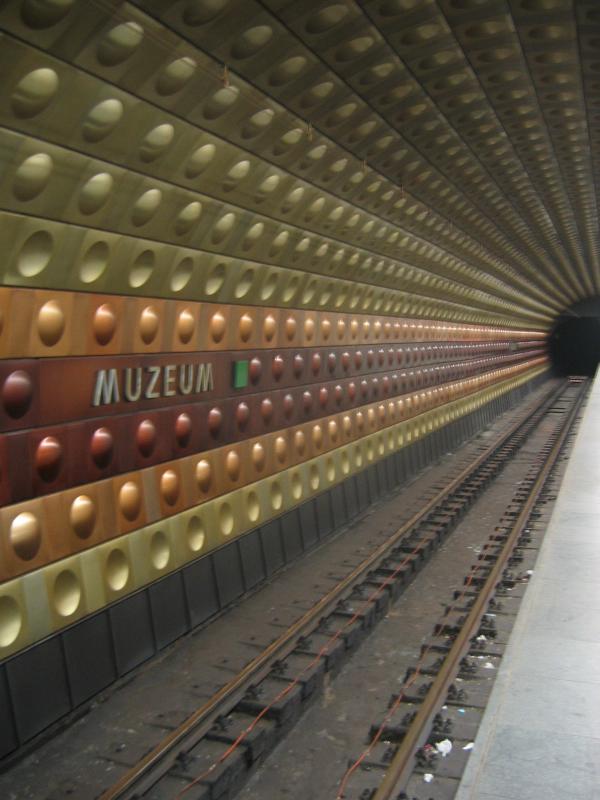 Trams
What you can't get to by Metro, you can probably get to by tram. In fact, you will probably find yourself using the trams far more frequently. They really are the soul of Prague. While there are a lot of newer, nicer trams they also have several of the older ones that feel more like street cars. They are frequent and they run 24 hours a day with special late night trams servicing certain areas of the city. You never have to worry about getting stranded away from home and having to take a taxi. Plus the late night trams are fun. You never know who is going to get on. Grab a beer and go for a ride. You already paid for the pass, might as well go site seeing.
Also, they make it almost impossible to get lost. Walk long enough in any direction and you'll encounter a tram line. Then just follow the tracks to the next station. Violà!
Brno also has a very extensive tram system. Since it is smaller than Prague we walked a lot more, but still made use of its tram & bus system.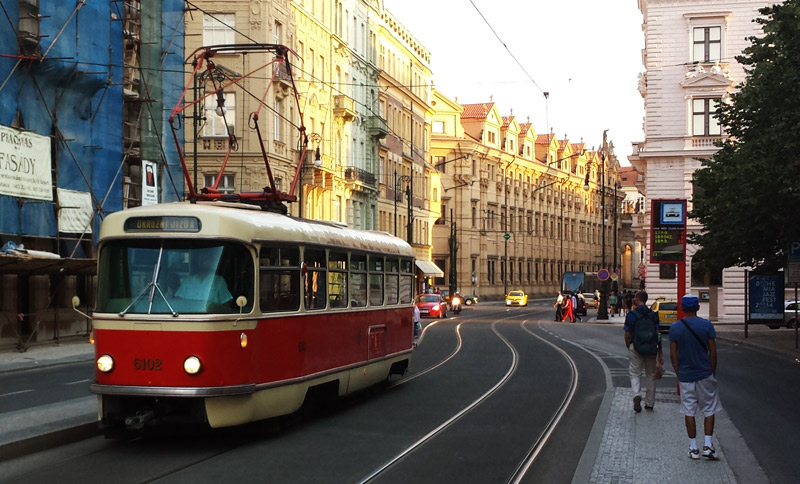 Accommodations
Even though we were there during peak tourist season and we booked somewhat last minute, we were able to get two nice apartments. In Prague I found a one bedroom apartment on the top floor of a massive apartment block in a quiet residential neighborhood in Prague 6 (Prague is broken up into numbered districts). We were a few minutes walk from the tram and Metro and had everything we needed within walking distance. A few days before leaving Germany for Prague I received a message from the owner stating that the hot water would be out for our first few days and that she would discount us if we were still interested in staying there. It was very hot in Prague so we figured, why not. We didn't want to look for another apartment and saving money was good. In the end we paid US$41 a night for the apartment. However, no matter how hot it gets an ice cold shower still doesn't feel good. Fortunately it was fixed within two or three days.
Julie booked a spacious apartment with a large balcony in Brno. It was much bigger and much more comfortable than we were expecting. That turned out to be nice since it rained a lot and we spent plenty of time there. The balcony had a pretty good view and was a great place to eat dinner in the evenings.
In both cities nice one bedroom apartments in good locations were available in the $40-$50 a night range. If you plan ahead you can find cheaper accommodations. This is especially important during peak season as the more affordable places are booked early.
Beer
The Czech Republic is one of the great beer brewing nations in the world. It isn't just popular, it permeates the culture. Everyone drinks everywhere. Seeing a young woman dressed up for the evening in her little black dress and high heeled shoes gliding down the sidewalk with a half litre can of beer grasped in her right hand. That's a Czech moment right there. Walking into a convenience store, grabbing a beer, cracking it and walking down the street in Prague is like buying a Coke or bottled water everywhere else in the world. A couple of Czech artists we met later in our travels told us that this nonchalant attitude had caused them trouble in other countries because they are so used to walking around with beer that they forget it can be unacceptable in certain places especially on public transport. "We get a lot of dirty looks, but we don't care. It's beer. Who gives a fuck?"
Julie already covered Czech beer in a previous post so check that out for the specifics.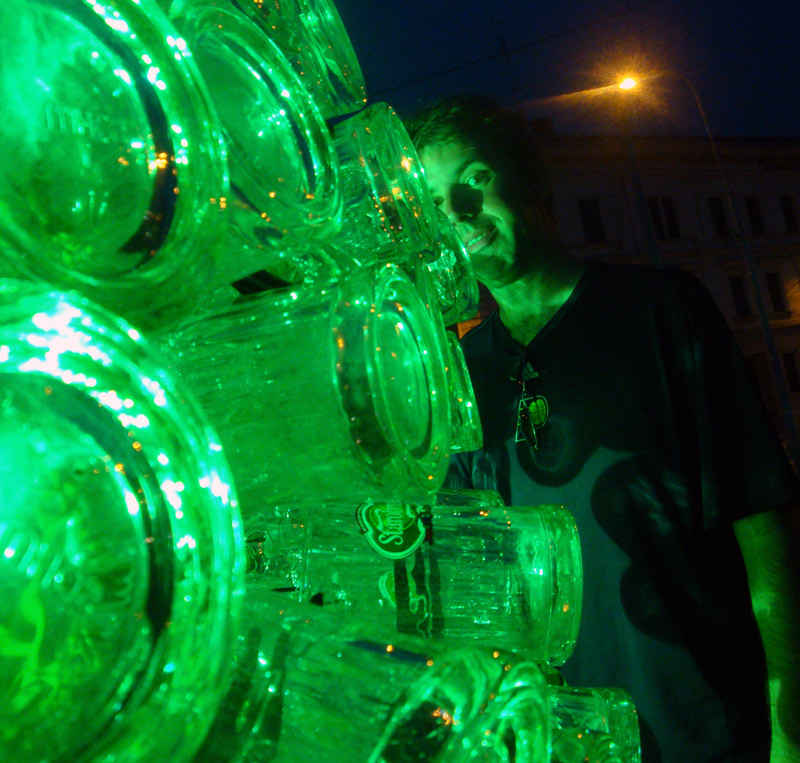 Food
Saying that a European country has good bread and good cured meats is really starting to lose its meaning. Regardless, the slew of bread, smoked meats, cured meats, cheeses, pickled hot peppers, horseradish and spicy mustards paired very well with all of the delicious beer we sampled in the Czech Republic. If you like slow cooked meats served with bread dumplings, this is your place.
The variety of international options, especially in Prague, helped to keep things fresh. Quality burgers, outstanding Vietnamese food, good enough pizza. There's even good BBQ.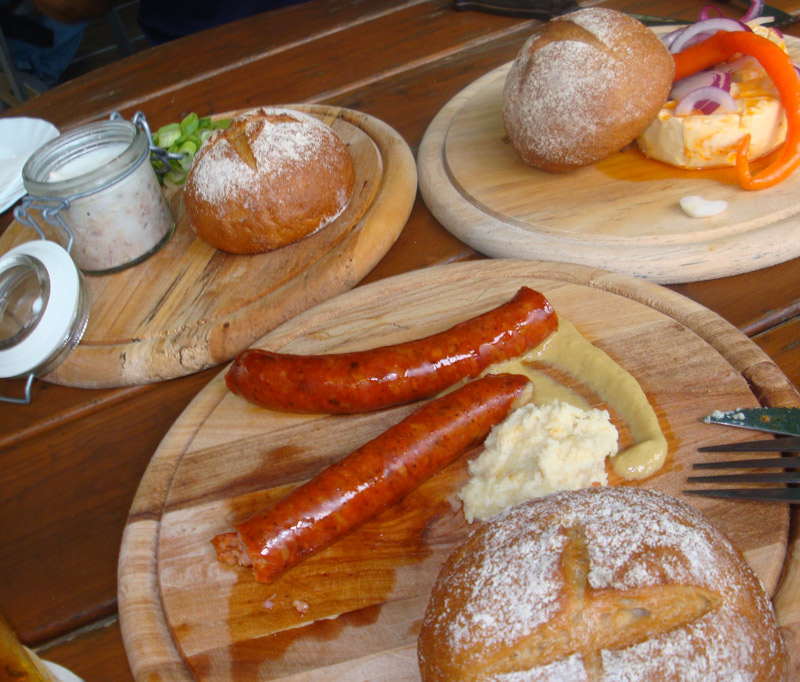 Favorite Meals
The bacon filled pork loin at U Kroka was brilliant though the name is a bit of a misnomer. All the bacon I've ever eaten had some meat on it. This was more like cured pork fat. I'm still trying to grasp the physics of it all but from the best I can figure they punched a hole lengthwise though a whole pork loin. They then took a frozen piece of "bacon" and ran it through. The whole pork loin was then smoked and sliced. The result was a wonderfully smoked pork loin with a smokey, bacony, melt in your mouth piece of fat in the middle of each slice.
The Tavern serves up damn good barbecue and more importantly…biscuits. Proper Southern biscuits. They are the only ones we've had on this trip and they were top quality. I don't know why we didn't order a half dozen to go. If we lived in Prague, U Kroka and The Tavern would be on our regular restaurant circuit.
For more of our favorite meals, check out Julie's food & beer post.
Best Pizza
Pizzeria Grosetto in Prague 6 and Leonessa Ristorante Pizzeria in Brno both turn out delicious pizzas. Leonessa has a happy hour special in the afternoons that featured buy one pizza get one free. An attractive deal for budget travelers.
Language
Czech is a Western Slavic language. We've never had any exposure to any Slavic languages so we were picking up what we could as we went along. When I visited Prague in 1995, the use of English was far from widespread. I used German as a common language on multiple occasions. A lot has changed in 20 years. Everyone under 30 speaks English and pretty much everyone in the hospitality business does. I heard a hostess at a restaurant say to a frustrated Russian couple, "I'm sorry, sir. I don't speak Russian. Do you speak English?" There are a few holdouts. Some bars & restaurants won't deal with English, which I can respect. We got so used to most everyone speaking English that we really didn't try working on our Czech.
Currency
After several months of using the bland, boring Euro it was nice to have some good looking money in my wallet. While the Czech Republic is part of the EU and the Schengen Area, they are not part of the Euro Zone and use their own currency, the Czech Koruna. The paper bills all have distinct color schemes, but what really sets them apart is the fact that the denomination value is printed in a very large, readable font on a white background. Glancing in your wallet it is very easy to pick out bills. The 50 Koruna coin is a large, beautiful two-tone coin featuring Prague Castle & the Charles Bridge that is easy to spot. I wanted to keep some, but since they were worth US$2.50 each they ended up getting spent.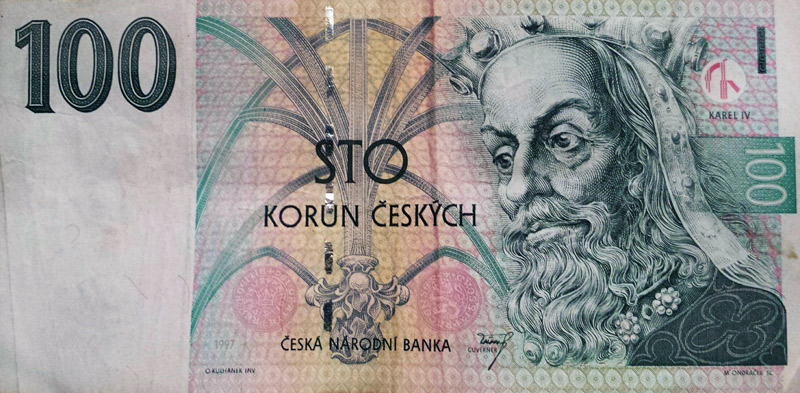 Budget
The Czech Republic was our cheapest country up to that point in the trip and was one of our least expensive European countries. Transportation and accommodations were very reasonably priced and compared to Western Europe the beer was a bargain. The biggest hit to our budget was going out to eat. The affordability made us more inclined to be a bit excessive and after cooking a lot in Germany we overdid it a bit. Also, if we had booked a bit more in advance we would have been able to secure cheaper apartments.
When planning for the trip we saved for a daily budget of $125. However, our goal is to keep it under $100 per day. In the Czech Republic, our budget came out to $103.50 per day.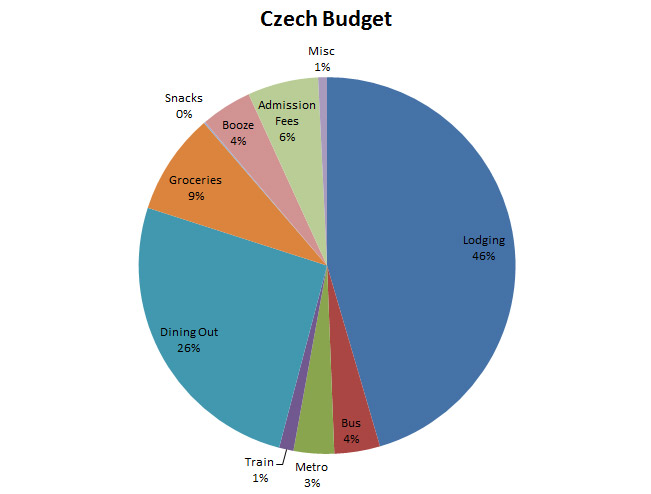 If We Went Back We Would…
Explore the countryside a lot more. The Czech Republic has a lot of great natural wonders and national parks. We would rent an apartment in Prague for an extended period of time. We would also do it in a season other than summer.
photo credit: Prague Dec 2004: Muzeum Metro Station via photopin (license)