Peru was my idea. I've wanted to travel there for some time. While I had some idea of what to expect as far as some of the Inca sites go the rest was a bit of a mystery. Overall we enjoyed our time there but there were definitely some hiccups. Anytime you visit a new place the food has the potential to disagree with you and it disagreed with me many times in Peru. Of course that doesn't make the food any less tasty, the cities any less exciting or the views in the Andes any less impressive.

Money
The unit of money in Peru is the Nuevo Sol or Sol for short. Soles plural. The approximate conversion rate is 3 Soles equals US$1. One Sol consists of 100 céntimos. They have paper bills for 10, 20, 50, 100 and 200 Soles and coins for 1, 2 and 5 Soles as well as 1, 5, 10, 20 & 50 céntimos. The bills are all the same size but are very brightly colored so keeping them straight is a snap. The use of coins for the smaller Soles amounts means you don't always have to go to your wallet to pay for stuff which is nice though your pocket can fill up with shrapnel fast.
Vendors and merchants seem to prefer to deal in change and only the small bills. Unfortunately, ATM's tend to spit out mostly 50's and 100's and on a few unfortunate occasions the rarely used 200's. Breaking these bigger bills can be a challenge and became a bit of a sport. Large grocery stores and sit down restaurants were usually the best way to go as they most often have large amounts of cash on hand.
Transportation
We took almost every possible mode of transportation available to us at some point in time in Peru. The only one we missed were the tuktuk looking moto-taxis. Perhaps next time. I thought being a pedestrian in Costa Rica was potentially hazardous, and then we went to Peru. The main intersections in the larger cities have crosswalk signals and you're safe there, but outside of those you are on your own. I tried watching the locals to see if I could find any type of pattern or group knowledge and I couldn't. Driving is a bit of a free for all with Stop signs and double yellow lines not meaning much of anything. The one bright side is that there are a lot of one-way streets so often times you only had one direction of traffic to worry about. Just choose your moment and don't dawdle. There is strength in numbers so follow the locals if a group has gathered at a particular corner.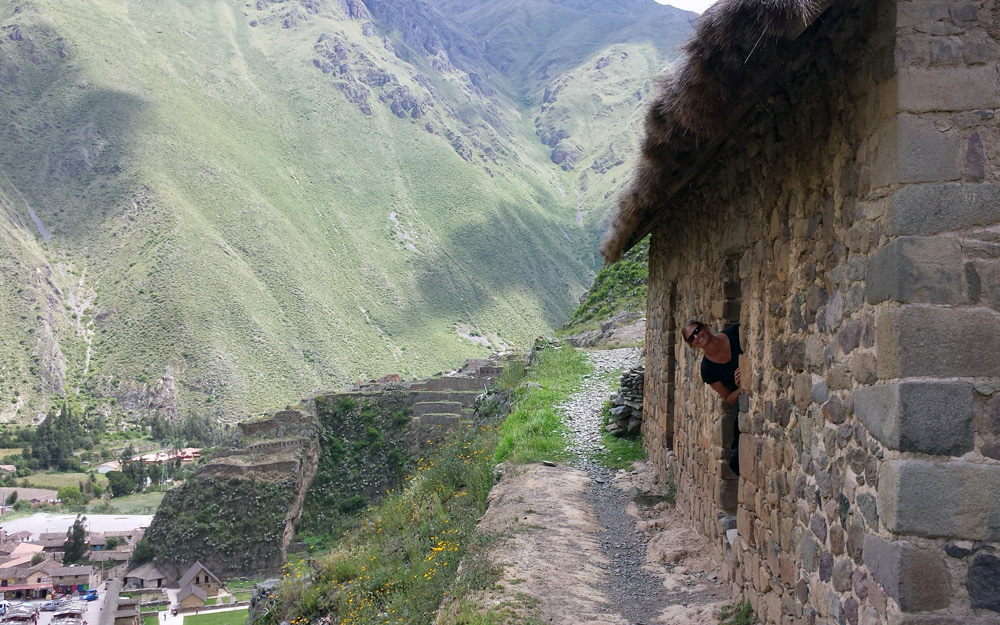 Long Distance Buses are the most used method of intercity travel in Peru. Walking into a Peruvian bus station for the first time can be a bit overwhelming. In Cusco there were easily more than 20 different companies operating buses out of their station. All offering an array of destinations and quality. We had read one too many stories about people having horrible experiences on some of the more budget bus lines and since this was our first go at it we decided to start with the industry leader: Cruz del Sur. They are more expensive than the others but they are also nicer, cleaner and safer. They are also the only one that I could find that would allow you to book online. Don't go through a tourist agency site, go directly to Cruz del Sur's site. You can pick your seats so the earlier you book the more choices you have which can be important especially if you're tall. While there is a surprisingly fair amount of room in second class we decided it was worth it to pay a bit more for first class.
We used Flores to go from Arequipa to Tacna on the day we crossed the border to Chile. While they weren't as nice as Cruz del Sur it was still a very positive experience and we would use them again.
Taxis are very cheap in Peru and the price is always open to negotiation. Always ask before you get in the cab. The only time I really haggled though was at the Lima airport. We made the mistake of exiting the airport terminal in the wrong place. After you leave customs if you make an immediate right you'll find the Green Taxi stand. Their prices are set and they are reasonable. They are also more secure. We needed to hit the bathroom and stop at an ATM so we ended up in the main arrivals pick up area. Once we stepped outside the onslaught began. The taxi vendors descended like timeshare salesmen at a Mexican resort town airport. Our thirty minute ride to Miraflores cost us S/.50 ($US18). That's the price that Green Taxi will charge you so it wasn't bad but could have been lower.
The rest of the time in Peru any time I asked a taxi how much it cost the number was always so low that I always agreed to it. We may be on a budget but I'm not going to browbeat a guy over sixty cents. The calculation I was best able to figure was that a ride would cost 1 Sol for every minute of driving time Google Maps listed when I looked up driving directions. It was uncanny. If Google Maps said it was a ten minute drive the cabbie would tell me it would be ten Soles. Seven minutes, seven soles. It was like a sixth sense. Taxi drivers aren't tipped in Peru so just worry about having correct change for your ride.
Since taxis rely on mass quantity, they are very eager to pick up fares. Empty taxis will honk at anyone they see on the street who they think is a potential fare. Based on the sheer number of taxis in Peru, this can get really old really fast. The best way around this is to use all of the one way streets to your advantage. We always tried to make sure we were walking upstream on one way streets to discourage taxis that were going the other direction. It didn't always work, but it definitely cut down on the honks directed at us.
Combis are also quite cheap. Combis are minibuses that operate in urban areas. They aren't necessarily the safest mode of transportation (Half of the traffic accidents in Lima involve combis) but the price is right. You can cover very long distances for the price of S/.1-2 per person. Don't bother with trying to figure out the routes or numbers, the main areas they visit are painted on the side of them. They all have conductors who bark out where they're headed so just yell out where you're going and he'll let you know whether to get on or not.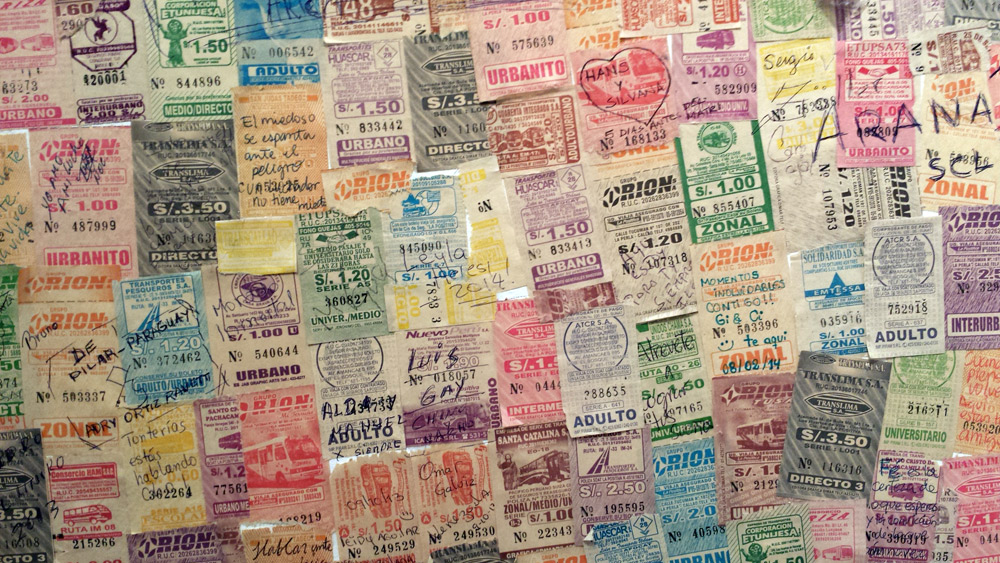 City Buses are bigger and safer than combis but they also always seemed to be completely packed. We only took one once and it was late at night in Lima after the combis had shut down for the evening. Same rules apply: Don't worry about numbers or routes as the names are painted on the side and when in doubt ask the conductor.
Planes are a good way to cover long distances in country if you aren't too keen on long distance bus travel. We flew from Lima to Cusco because before we started this adventure the idea of a 24 hour bus ride seemed utterly ridiculous. (After traveling for a month in Chile it now seems completely normal.)  Since a plane ticket wasn't that much more than the bus ticket, I opted for the one hour travel time over the 24 hour travel time. Much like the long distance buses, don't go through a travel agent site go straight to the source. I booked directly through Star Peru's website and our tickets were less than US$95 each and they even fed us….on an hour long flight.
Collectivos are kind of like shared taxis that run between towns in rural areas. When I was in high school I once fit a dozen other fellow students into my car after a basketball game (without using the trunk). Collectivos reminded me of that. Again the price is right, only a couple of Soles per person, but they cram you into the car. Our ride from Huarocondo to Izcuchaca consisted of the driver; two people in the passenger seat; me, Julie and two other folks in the second bench seat, and at least four people in the hatchback area. The collectivo "stations" aren't really labeled you just need to know where they are or ask around.
Trains run limited routes in Peru and they are very expensive so they aren't really an option if you are a budget traveler. Since you have to take one to get to Machu Picchu they are necessary, unless you feel like walking there. The prices differ based on popularity so you have some room to maneuver when scheduling your trip. The Vistadome didn't seem to be that much better than the standard train so save your money. PeruRail's ticketing system seemed to be a bit screwy at best with couples who had booked tickets together being separated on the train (We had to organize a lot of voluntary seat swapping on our return trip so everyone could sit with their travel companions) and just because you have a ticket doesn't mean your seat actually exists. We witnessed more than one passenger who had tickets for a train carriage that wasn't even attached to the train. "Carriage C? There is no carriage C!" No need to get all wound up about it. They won't leave you behind. They'll find room for you somewhere.
Accommodations
Plenty to talk about here. GringoWasi B&B in Huarocondo outside of Cusco was a great place to stay. US$34 a night got us a very spacious room with one of the most comfortable beds of our entire trip, one of the nicest bathrooms of the trip (with plenty of hot water), a nice flatscreen TV with satellite, and breakfast every morning. Lyle and Lily were great hosts and we'd recommend this place to anyone traveling in the Cusco/Sacred Valley region who is looking for an out of the way place away from all of the tourist traffic and street peddlers. Especially if you are traveling as a couple. There is no heat in the rooms currently but all of the alpaca blankets more than make up for it. One big caveat: If you are a dazzling urbanite who isn't used to a rustic setting like this you may have some problems. Huarocondo is rural. Very rural. The livestock lives in town kind of rural. The town can smell like a barn at times because much of it is a barn. Rush hour consists of livestock being driven out to the fields in the morning and back into town at night. Also, as Julie mentioned in a previous post, the top lechón roaster in Huarocondo is right next door so if the thought of hearing the silence of the piglets doesn't sit well with you, you may want to look elsewhere.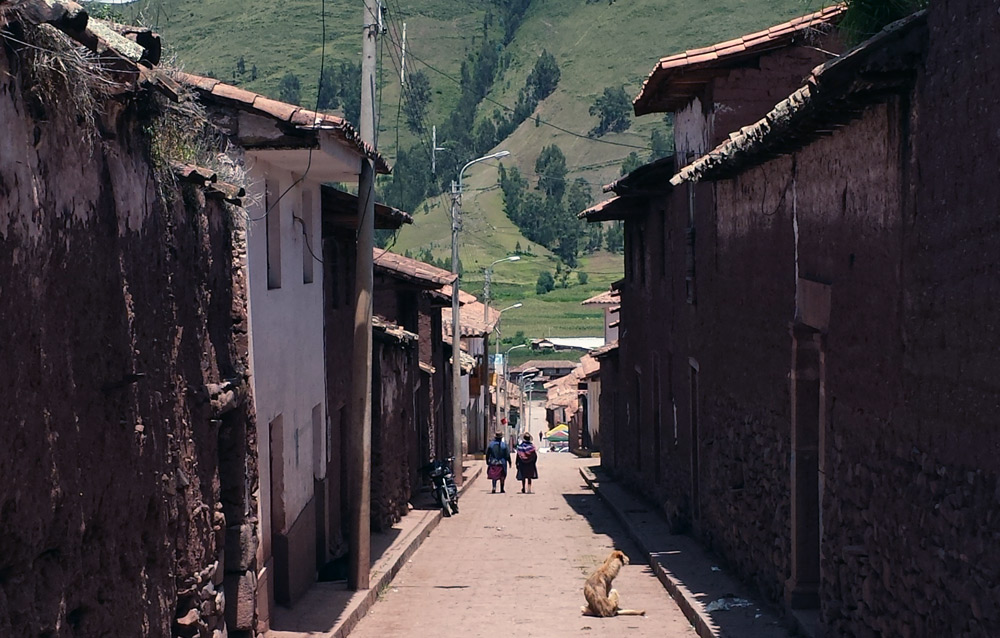 We ended up at the San Antonio Hotel in Puno by accident (our hostel was overbooked and the San Antonio took their overflow). Regardless we were very happy with it. US$27 a night got us a nice room with breakfast and their tour prices were super cheap as we found out we paid at least half as much as other people on our Lake Titicaca tour.
Finally, our apartment in Arequipa that we found on AirBNB was a great place to relax as I've already mentioned. The only downside was the beds weren't particularly comfortable. Since we had two beds in our room we actually slept separately because for some reason uncomfortable beds aren't quite as bad as long as you have room to move around in the night. I would absolutely stay there again if we return to Arequipa especially if it is still US$35 a night.
Food
Peru is a great place for food if you're traveling on a budget. Street food is plentiful, cheap and quite tasty. Just be careful, it can mess with your stomach. Use some judgment here. If a vendor doesn't have a crowd, there's probably a reason for it. City markets are a great way to go as well. Every city has one and they all have a variety of prepared food vendors.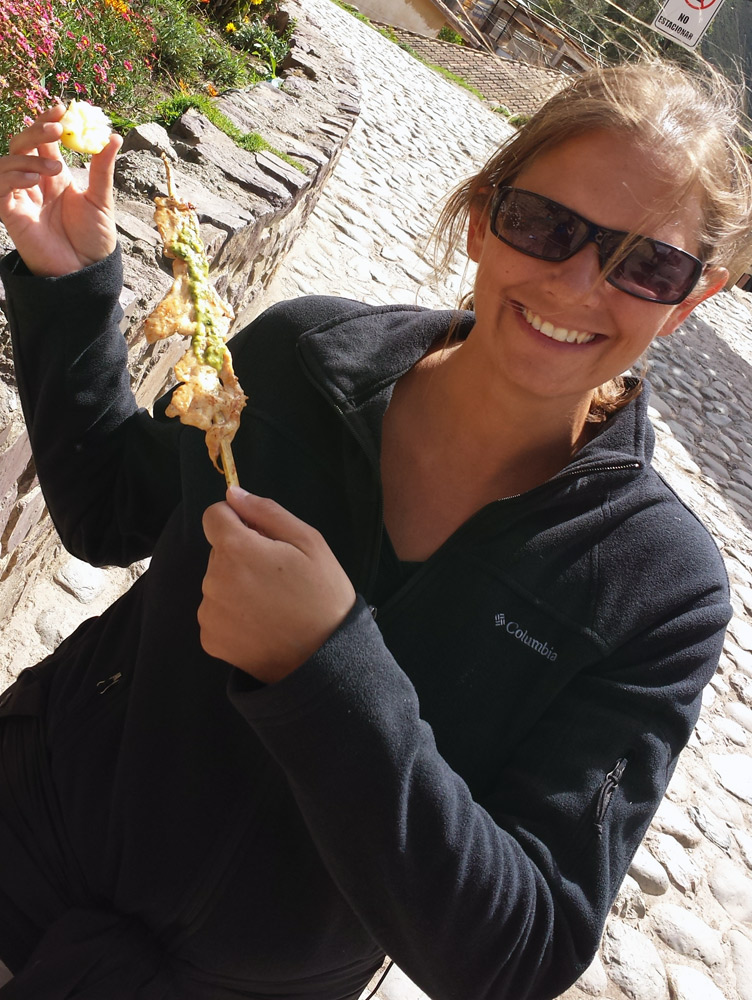 For affordable places that have tables and chairs, just walk in and grab a table. Someone will come to your table and take your order. Usually quite quick so be ready to order. Servers don't hover so if you need something or the bill raise your hand and ask.
Chifa's are everywhere and cook up Chinese food with a Peruvian twist. There are a lot of Peruvians of Chinese descent. When Chinese immigrants first came to Peru they couldn't always get their traditional ingredients so they substituted with what they had on hand. Great for an affordable meal or if you're really missing Chinese food.
Ceviche is practically a national dish in Peru. I know that the idea of fish cooked in lime juice may not appeal to some people but it is really good when it is done right and Peruvians know what they are doing. Ceviche can be found anywhere from small food carts outside of markets up to high end restaurants in Lima and everywhere in between. I wish we had eaten more while we were there.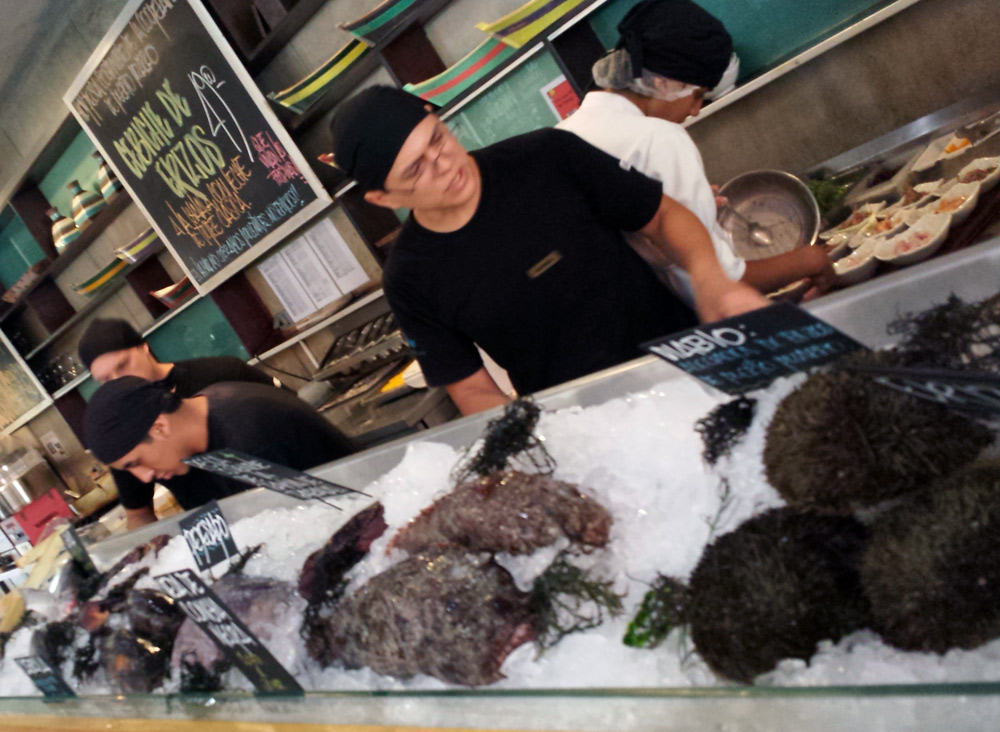 Choclo is the Hulk version of corn. The massive cobs and kernels dwarf what Americans are used to. Growing up in Indiana I have been exposed to an exceptional level of sweet corn. While I'm willing to keep an open mind there are just some biases I can't overcome. I tried choclo several times in different ways and it just didn't do anything for me. The most palatable version for me was when it had been roasted and salted.  You'll find it in soups and as a side. It also makes an appearance in several beverages.
Beverages
Inca Cola – How popular is Inca Cola in Peru? It outsells Coca-Cola. It more or less tastes like cream soda and is worth a try.
Coca Tea – Basically an infused herbal tea made by pouring hot water over leaves from the coca plant. It is also available in tea bags. It is supposed to help with altitude sickness though there is no science to back it up. We drank a lot of it in Huarocondo because we figured it couldn't hurt.
Chicha Morada – An unfermented beverage found all over Lima that is made from purple corn, pineapple and spices. It tastes a lot better than it sounds and is available from almost all of the street food vendors in Lima.
Chicha – In the Cusco region Chicha takes on a different meaning. You won't find the sweet, unfermented Chicha Morada from the coast. Instead you will find a fermented version that can best be described as a strong corn beer. It is made in batches by local vendors and is available everywhere and drank by everyone starting at a pretty young age. You can tell when the vendors are open in Huarocondo because they would have a small red flag hanging outside their shop. Unfortunately, I never had any. It wasn't that I was afraid to taste it. Trying it was no problem. The problem was the smallest possible serving was in a huge plastic cup. The kind that are usually emblazoned with college logos and are used to serve beer to undergrads in college town bars. If I'm ordering one, I'm drinking the whole thing. I just didn't have the stomach for it and I didn't want to be rude. I should have just done it but I guess it gives me something to try next time.
Pisco – Pisco is a grape brandy made in both Peru and Chile. The Pisco Sour is the national drink of Peru and can be found everywhere in a wide range of prices and qualities. While not the same if you enjoy a proper straight up lime juice margarita you'd like a pisco sour.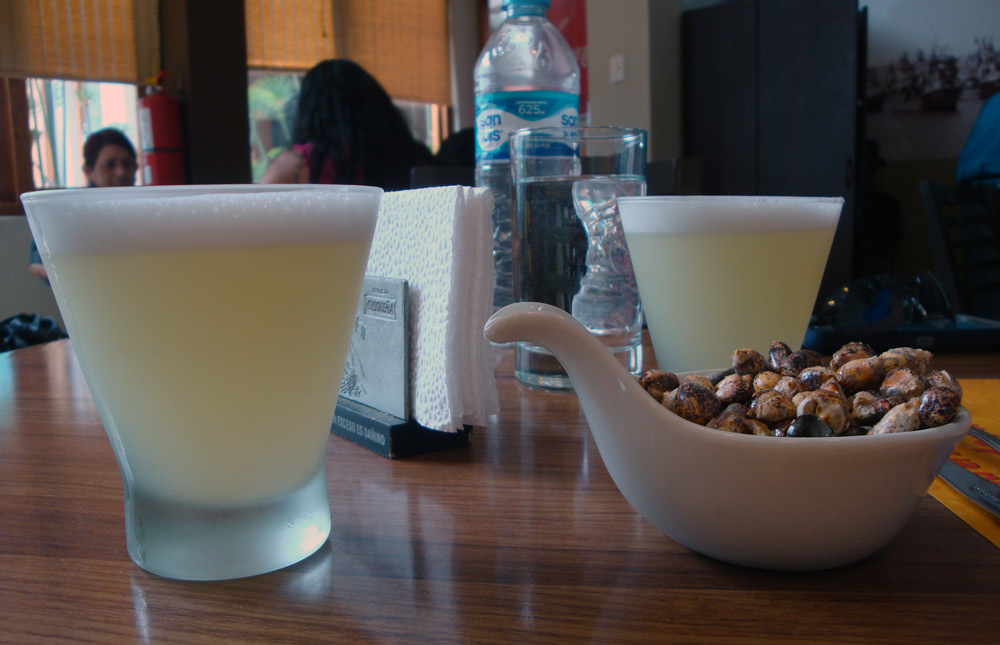 Beer – Nothing of note to report here really. Cusqueña was everywhere in Lima and Cusco. They produce a variety of beer styles. It is cheap and good for washing down a sandwich or roasted pork.
Grocery Stores & Markets
There are large grocery stores in all of the larger towns. The only chain of note is Wong's in Lima. A lot of them have full service delis offering everything from sandwiches to sushi and ceviche. Great for self-catering. There are little corner stores everywhere that sell beverages, snacks, some essentials, ice cream, etc. They are good in a pinch but limited.
For fresh fruits and vegetables, go to the markets. You'll find everything you want and some new things you didn't know existed. Lyle introduced us to a lot of new fruits our favorite of which was the Inca Berry. It's a tart gooseberry that makes great jellies or compotes and is actually pretty good raw.
There are so many vendors that you can pick and choose what you get from whom. We spent plenty of time in the Arequipa market looking for the best tomatoes and peaches. One thing I noticed is that the stall vendors tend to take care of the fruit & vegetable orders. In the US folks are used to being able to manhandle the produce. That didn't seem to be the case in Peru. You'd tell the vendor what you wanted, he or she would pick out some specimens for your approval and then would weigh them up. I'm very persnickety about my produce so this was a bit of an adjustment but we always got great stuff. Two things to consider: the person selling the produce knows their produce and it is in their best interest to give you good product if they want you to come back.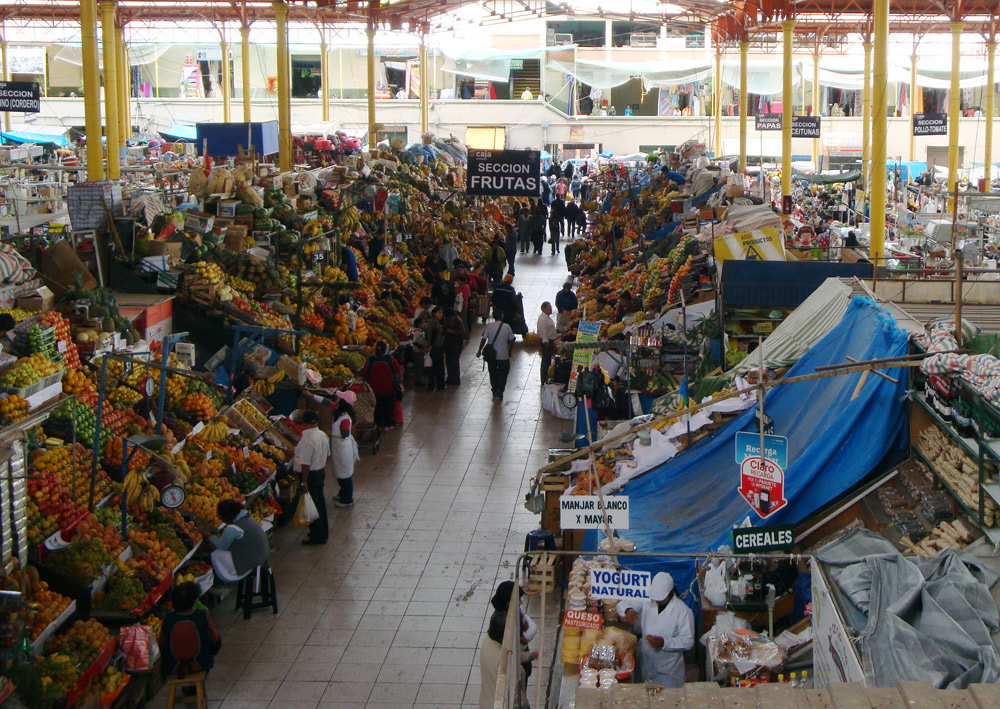 For meats it comes down to how worried you are about refrigeration. Meat is butchered and immediately sold but in a lot of places it is never refrigerated. In the Andes that isn't much of a problem as it is cool enough of a climate. Meat has a longer shelf life than most people think and as long as it is cooked long enough you'll be okay. We bought meat at markets a couple of times. Since my stomach was screwed up most of the time in Peru I can't really say if it had any effect. If you're worried, get your meat at the supermarket. Watching a woman at the city market cut your pork chops to order with a table saw is pretty cool though. Her counting back your change to you with pork bits on her fingers…not so much.
Locations
Lima can be a bit overwhelming at first. It is massive, hectic and loud. Anytime we stepped outside we would keep track of how long it was until we heard a car alarm. The average time was probably less than five minutes. That being said we really enjoyed it. The energy can be contagious and tiring at the same time. Lots of great food and lots of history.
If we went back we would: First and foremost we would get an apartment with a kitchen. We walked through the markets in central Lima and Miraflores but we couldn't buy anything because we couldn't cook it. Lima is huge. We did a pretty good job of covering it for being there a week but there is so much we didn't get to.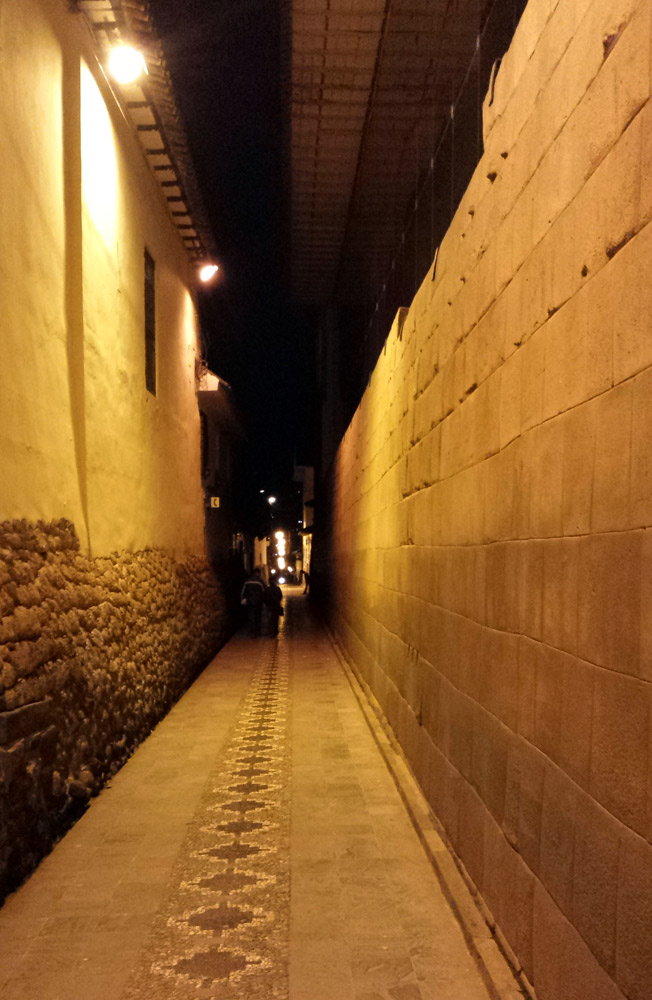 Beautiful and lots of history but all of the vendors angling for tourist dollars can be overwhelming especially in central Cusco. The scale of the landscape and the effort shown in the architecture for both Machu Picchu and the Sacred Valley sites are mindboggling. For now Huarocondo is a bit off the beaten path but they are finishing construction on a highway between Huarocondo and Ollantaytambo. Once it is completed and buses can take that route the lechón capital of Peru will become a stop. That's a statement not a judgment.
If we went back we would: We would absolutely stay with Lyle and Lily again away from the tourist center of Cusco. We would go to the Sacred Valley sites we missed and maybe revisit some of the places we liked and spend a bit more time. Oh, and if someone was willing to pay us to do it, we'd be more than happy to return to Machu Picchu on the Hiram Bingham.
This is supposed to be an Instagram embed for a video of Machu Picchu but WordPress has not been playing nice so you may just see a link:
Lake Titicaca is beautiful but since traffic on the lake is limited there is really only so much you can do there. I was expecting Puno to be nothing more than a tourist town like Aguas Calientes and wasn't particularly looking forward to it. Discovering that it is a massive market town with a lot more going on than I expected was a very pleasant surprise.
If we went back we would: We would actually like to explore the Bolivian side of the lake if we were to return. A return trip to Puno would result in sampling a lot more street food. I wasn't feeling well there so we didn't really go for it as much as we could have.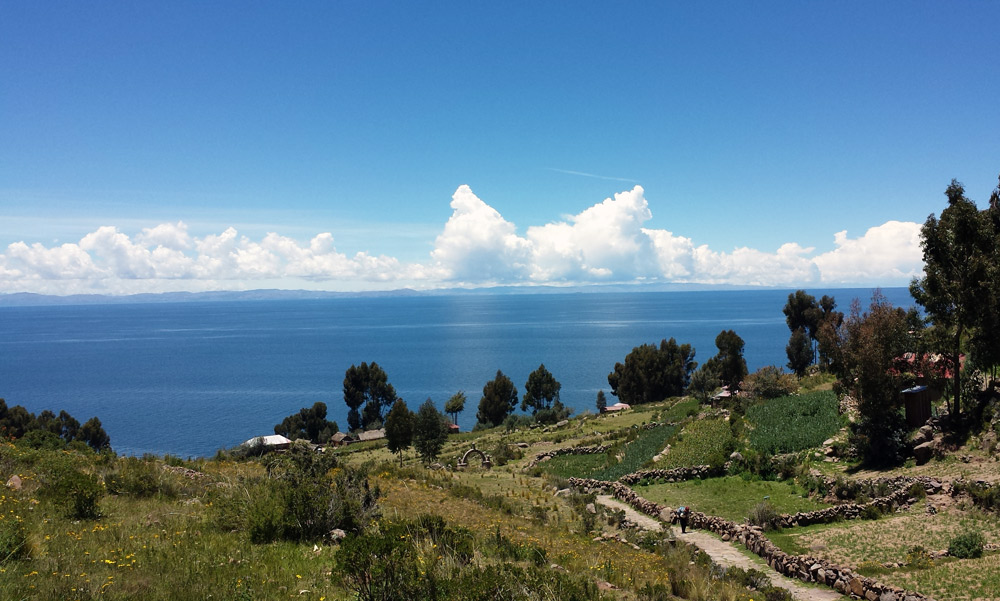 Beautiful city, great food, great market. The air quality can be a bit rough but the consistent temperature is nice. On any given day of the year you can bet that it will be in the mid 70's during the day and the high 40's at night and it probably won't rain.
If we went back we would: Stay in the same apartment and shop at the market. We would like to eat more at the food stalls in the market, explore the town's restaurants and do some trekking in the hinterlands.
Language
It became very apparent very quickly that using English wasn't going to be much of an option. If you're lucky there may be a person working at the larger staffed restaurants who speaks English. In the highly trafficked tourist areas like Cusco you can get by with it as well. However, chances are you better know some Spanish. Knowing your pleasantries, numbers, directions and food items will take care of a majority of your interactions. Peruvians use all of the "dias" greetings: "buenas dias" until noon, "buenos tardes" from noon until sunset and "buenos noches" after dark. After traveling in Peru, Chile and Argentina I can say that the Spanish spoken in Peru (specifically Lima & Arequipa) most resembles the Spanish I was taught in high school.
Dogs
Whether you love dogs or are afraid of dogs you are going to have a hard time in Peru. Dogs run loose everywhere. Lima wasn't too bad though many people tried to walk their dogs through the Miraflores parks sans leashes which led to some pretty entertaining intra-dog interactions. When you get to more rural areas it becomes a bit different. Even in Cusco most people who own dogs just let them run free. We would see dogs that were obviously better cared for running with dogs that were barely getting by on the streets. In the really rural areas dogs serve the purpose of keeping the vermin away, but it gets into some real "survival of the fittest" territory. In Huarocondo the dogs fought over the scraps from the food vendors in the square and it was obvious which ones were fighting loosing battles.
Even though the dogs can be aggressive with one another at times we never had any approach us in any other manner than looking for food.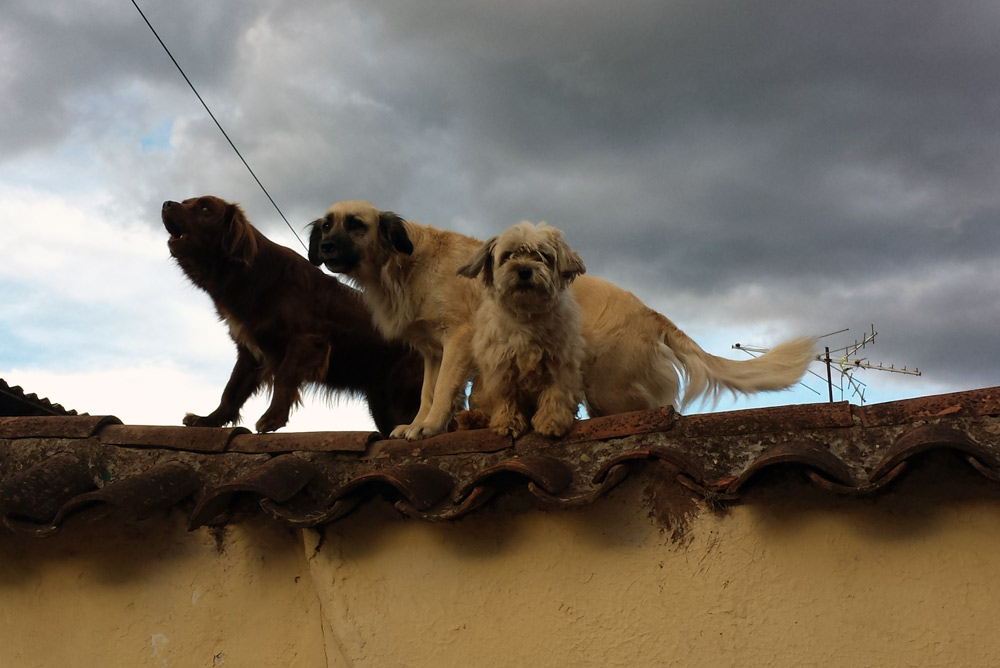 Litter
I have been to more races and sporting events than I could possibly count. I thought I knew what large amounts of litter looked like. I was apparently wrong. Maybe it was just the shock of coming from Costa Rica, one of the cleanest and greenest countries in the world. While Miraflores in Lima had nightly trash pick-up. No that wasn't a typo. Nightly. It is also one of the most well to do areas in the country. Lyle told me that he had weekly trash pick-up in Huarocondo. The problem is that much of the trash never even makes it to somewhere it can be collected. For every beautiful mountain vista there is a pile of empty soda bottles and ice cream wrappers.
Water & Sunscreen
If there are two things you should never be without while traveling in Peru it is clean water & sunscreen. A few things to consider. 1) If you are in Peru you are very close to the equator. 2) Chances are you are either in the desert, at high altitude or in the jungle. Regardless, the chances of you getting either dehydrated or sunburnt are exceedingly high. Prevention is far less painful than treatment. Bring the SPF 40.
Favorite Meals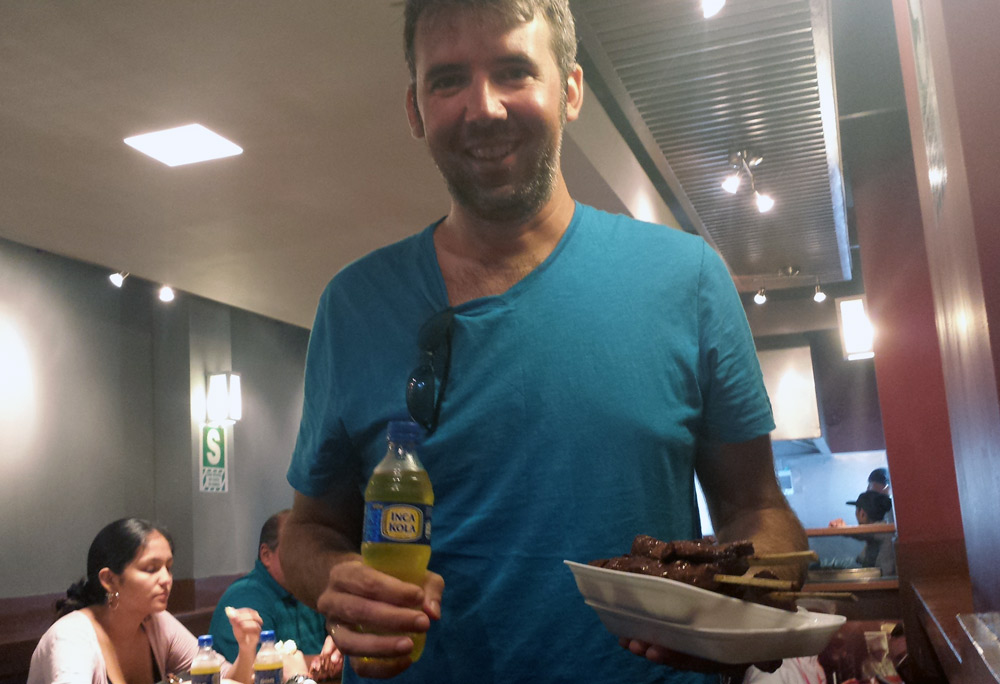 My favorite meal was the anticuchos de corazón. Specifically the ones from Grimanesa Vargas in Lima. Not only were they perfectly marinated and grilled, the ají sauces that came with them were very fresh and spicy. How much did I like them? I will be having a chat with my butcher when I return to Indianapolis about procuring some beef hearts because I'm going to start grilling my own. They will be perfect for race weekends. Julie's vote goes to the quinoa risotto she had in Puno and again in Arequipa. I agree with her choice as I was almost stabbed with a fork for trying to eat it off her plate in Arequipa. The ceviche at La Mar was some of the best we've ever had. Not really a budget restaurant but worth the trip. I really enjoyed the sandwiches from the street vendor in JFK Park in Miraflores. If you're not down for street food sandwiches you can also try another one of our favorites from Lima: La Lucha is a small three shop chain of sandwich shops. They have a wide range of sandwiches and super crispy, tasty papas fritas. As for dessert, my vote goes to picarones. Deep fried dough wins ever time. Very cheap and available on the street.
Best Pizza
If you find yourself in Cusco wondering just how good all of the tourist oriented restaurants actually are and you just want a good pizza because you've been eating god knows what for the last week look no further than Bodega 138. Lyle recommended this place to us as he had been in the Cusco region for over a year and had time to work his way through the good, bad and ugly of Cusco restaurants. Bodega 138 did not disappoint. They served tasty, well-cooked pizzas with quality ingredients at a reasonable price.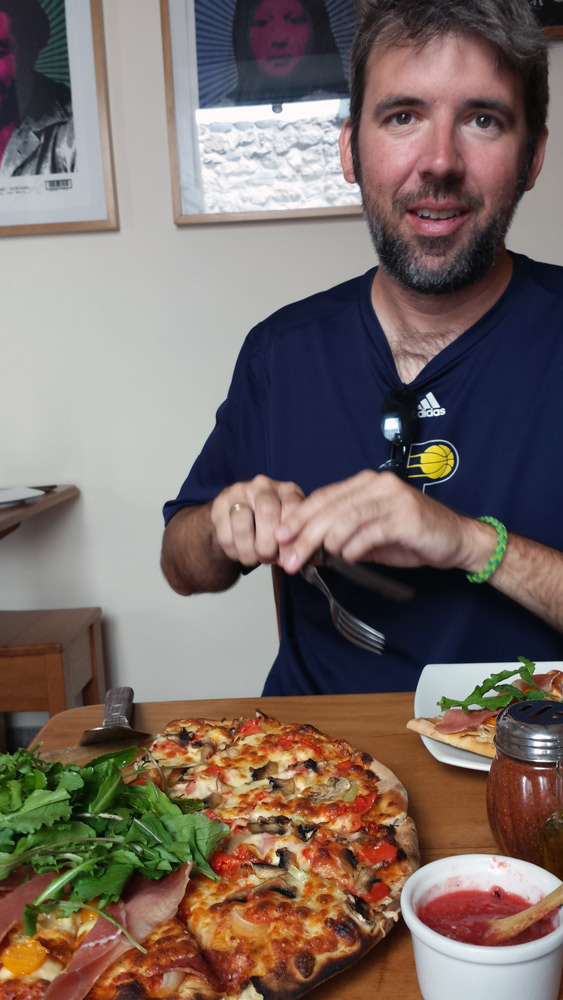 Budget
A trip to Machu Picchu can really throw a wrench in your budget if you aren't careful. It can be an expensive trip. But even with our trip to Machu Picchu and flying from Lima to Cusco we were able to land within our budget window.
When planning for the trip we saved for a daily budget of $125. However, our goal is to keep it under $100 per day. In Peru, our budget came out to $112.81 per day. All things considered we were very happy with that number.
Our money spent on lodging was down compared to what we spent in Costa Rica. Dining out accounted for almost a quarter of our spending as the only place we really had a kitchen to use was in Arequipa. Transportation also counts for almost a quarter of our budget. Tours and admission fees weigh in at 12%.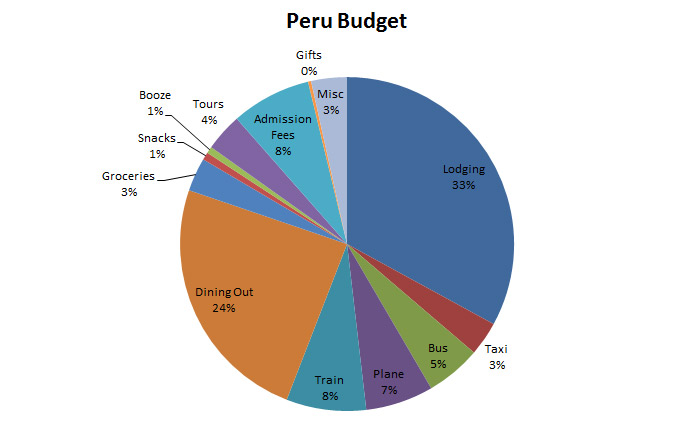 A few notes on my accounting. First, all expenses for a day are attributed to wherever we stay that night. For example, Costa Rica charged us $29US each to leave the country via the airport. However, since we spent that night in Lima, Peru that went down as a travel day expense for Peru. It isn't perfect but I'm not splitting days. Also the Booze category is for anytime we stopped for a drink and only a drink. If we had wine with dinner or bought it as part of a grocery run, I did not break it out. I am most interested in the total money spent per day and per country. The categories are just rough indicators of where our money is going to help us make adjustments where needed. International airfare is not included in the daily budget, but any flights within a country will be.
Things We Didn't Like
The liter thing really got to me. I know I'm from a country that isn't as friendly to the environment as it could be but the volume of it all could be a bit much at times. We both got tired of being honked at by taxis. We became so immune to car horns that we almost got hit a couple of times because we ignored horns that were actually intended as a warning.
Stupid Stats
Number of times I hit my head: I stopped counting after twenty. I'm not kidding. Peru is not for tall people. To say I got a lot of looks would be a gross understatement. Up in the Andes Julie was taller than most of the men. Even she hit her head going through doorways at least a half dozen times.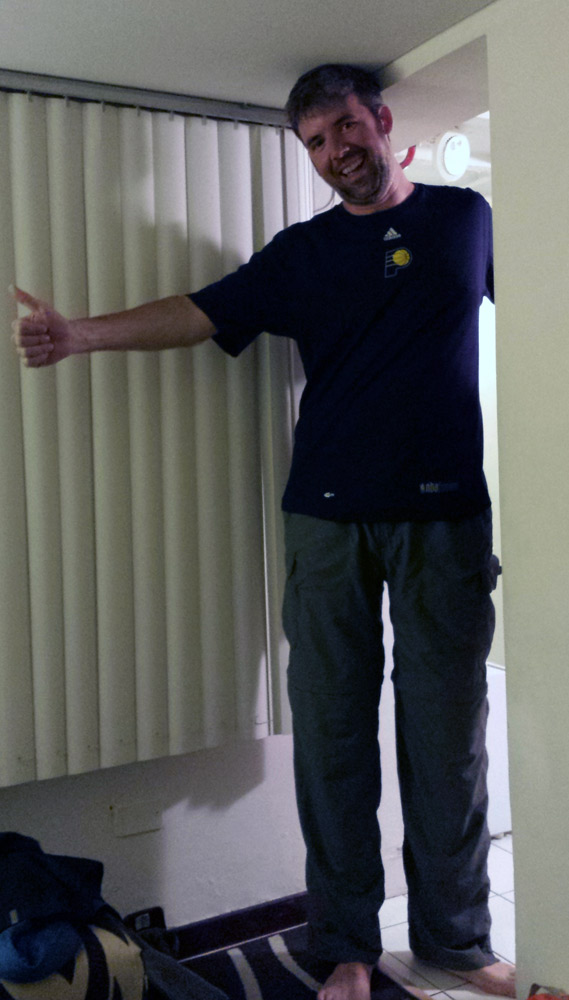 Number of Imodium I consumed: To be honest, I lost track of the count on this one, too. At least 16 over the course of three and half weeks. I did pretty good in Lima but once I got out into the sticks my stomach went south. I like to think I have a cast iron gut, but I know that is a lie.
Best average cost for a box (litre) of wine: Between 10 and 12 Soles (US$3.60 – US$4.33) for the exact same stuff we were paying US$4.93 – US$5.52 in Costa Rica.
Map
Just a quick point of reference to the various stops during our time in Peru.