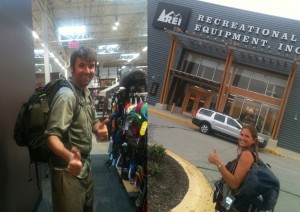 Julie and I went shopping for backpacks after work today. That was the first time I'd ever set foot in an REI…it won't be the last. I went with the REI Grand Tour 85 Litre backpack. It seems big and it is but I'll be living out of it for a year so better too much space than too little. Also, it comes with a detachable day pack and flips open like a suitcase for easier access.
Julie went with the Gregory Jade 60 Litre as it was the most comfortable and easiest on her back.  This will be interesting.  We both have back issues.  Her's are worse than mine.  I only had mine on for about 20 minutes with weight in it and my back feels fine but my shoulders are already sore.  Granted I haven't used a real backpack in over fifteen years and I haven't stayed particularly fit in the interim.  All of that Capt'n Crunch & Xbox eventually takes a toll.  I see some practice hikes in my future.  Can I wear it while I'm on the treadmill?  Our next shopping trip will be for shoes.  Can't wait.
And, yes.  I quoted a bit from an Adam Sandler comedy album for the title.  No, that won't be happening again.