The idea of getting free food every time you order a drink sounds like it could be a great way to stay on budget and it can be. It is also very easy to lose track and end up spending more than you thought or more than you wanted to spend.
For those unfamiliar, tapas are little snacks that are served with drinks at many bars in Spain. What you get for tapas and the cost associated with them varies depending on where you are. Granada is known for their free tapas. If you buy a drink, you get something to eat. It could be a small bowl of olives in oil, a toast with cheese and cured meat or a sandwich. Different places provide different food, in different sizes and in varying degrees of quality.
Granada is a great place to go on a tapas crawl and has multiple areas featuring a large number of tapas bars. Hell, they label the tapas trails on the city tourist map. All you really need to do is go to one of those areas and walk around until you see something you like.
To prevent going over budget you need to be smarter than we were. We made a handful of mistakes that ended up costing us a bit more money than we wanted to spend. Not that we didn't enjoy ourselves because we did. Granada is a great place to indulge.
Look for specials. Some places will offer extra tapas if you order a bottle of wine. Depending on who is pouring, there are six glasses of wine in a bottle. If the bartender has a tendency to over pour…well, you might just want to stick with the drink by drink method.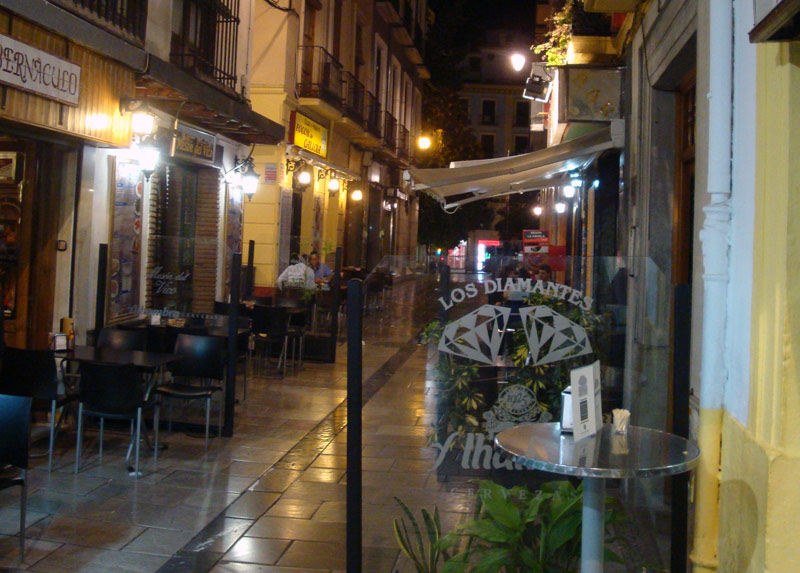 Mind the cost. A small beer or a glass of inexpensive red wine might only be €2 in many places. Then you see that for 50 cents more you can get a nicer wine, or you walk into a bit nicer place and realize that wine is €3 instead of €2. Your brain rationalizes this on an individual basis, "Oh, it's only 50 cents more, that's not that much, I'll just get it." Which is fine if you only do it a couple of times. But if there are two of you that amount just doubled, and if you end up doing it eight times in a night that 50 cent difference just cost you US$15 or potentially a lot more.
Order the small drinks if you want more food. Whether you order the small beer or the large beer you are still going to get the same size tapa. Sure, you save a little bit of money by ordering a larger beer so it really comes down to if you are more hungry or thirsty…and how often you want to have to order a fresh round.
Some other tips:
If you're traveling as a couple you'll want to order different things because you can, which is fine. But if the place is slammed, double up and get the same thing. This won't save you any money but the staff will like you more.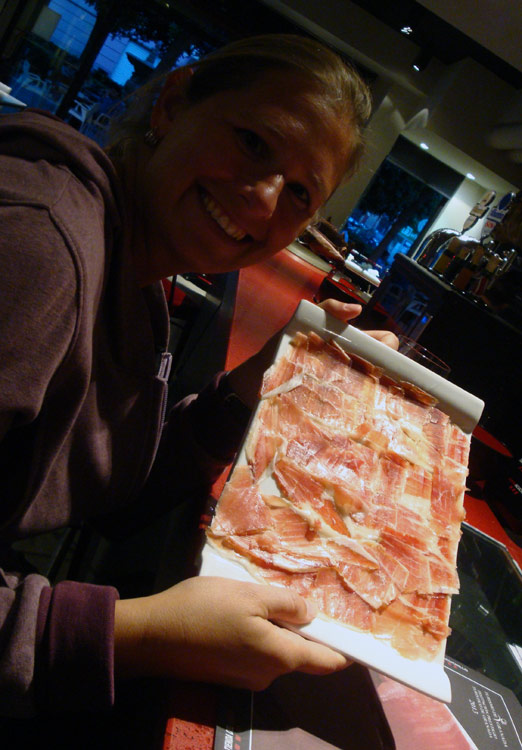 You will be tempted to order larger portions. Most if not all of the places we visited have full menus with larger portions and meals available. The free tapas are a way to introduce you to the menu and get you to buy more. While this isn't particularly budget friendly, if you find something you like you can stop playing tapas roulette for a bit. We broke down and ordered a couple of items at Los Diamentes because their fried seafood was of such a high caliber that we wanted to have a lot more of specific items. We did notice that after ordering the larger portions our tapas after that seemed to have more on the plate though that may have just been a coincidence.
Our Favorites
We went to far too many tapas bars during our four days in Granada to list them all here so here are some of our favorites:
Los Diamentes on Calle Navas: Some of the best fried seafood I've ever had, ever: Crispy, flavorful and not greasy. Phenomenal, maybe my favorite place on the list. Fried smelt, fried calamari and some unbelievable fried mushrooms. We also had grilled razor clams and shrimp. You don't get to pick your tapas here. You're eatin' what they're makin'.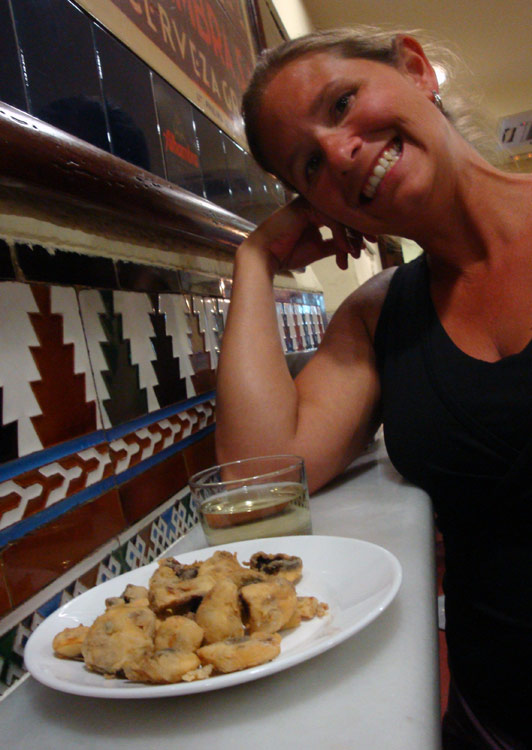 El Garnatí on Calle San Matías: They have a nice wine selection and it can be a little bit more expensive, but it is worth the visit for the canned Spanish mackerel on toast with honey and walnuts. Yeah, honey and fish didn't make sense in my head either but we will be making these at home when we get back.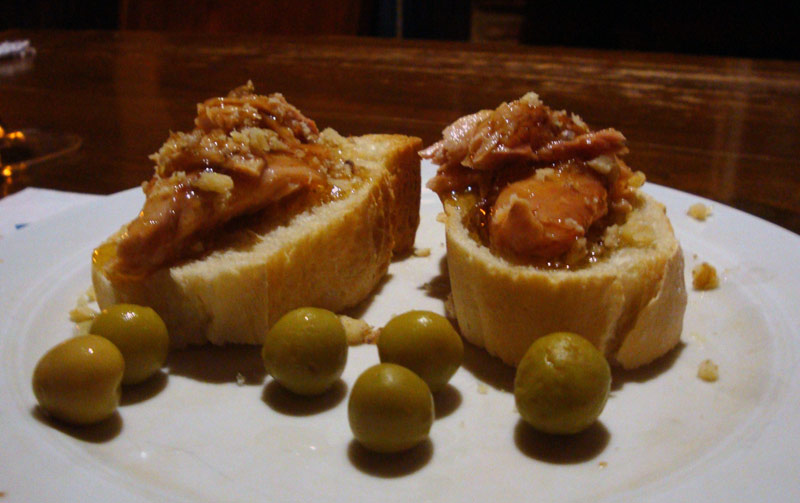 Babel on Calle Elvira: Cheap drinks, wide variety of tasty tapas with a variety of culinary influences. They have a menu on the wall listing all of their tapas for the day. When you order your drink order your tapa. If they are crowded order at the bar. We watched the Monaco Grand Prix there. Tapas bars are great places to watch sporting events.
El Balcón del Realejo on Plaza Carlos Cano: They have a nice outdoor area on a small, quiet plaza. Their tapa of fried potatoes topped with fried eggs was a surprisingly delicious treat.
Om Kalsum on Calle Jardines: A cozy little bar a bit off the beaten path with Moroccan influenced tapas. They had a wine bottle special when we ate there. I regret only going once.