Our first stop in Argentina was Bariloche, the northern tip of Patagonia. I immediately fell in love with this town. April is fall in Argentina and we enjoyed the breezy afternoons, cool evenings and colorful leaves of the town. It was the start of the off-season. There is skiing in the winter, water sports in the summer and hiking in the mountains year round. The town also has a 26km bike route called the Circutio Chico that loops the outskirts of the town. If you don't feel like biking, the same loop can be explored by bus.
We decided to stick with hiking. There are several hiking options available close to the town. Bariloche is located in the Nahuel Haupi National Park. Unfortunately, we were only able to hike one day due to time and weather restrictions.
You can spend several days hiking around Cerro Catedral mountain. One of the hikes is a stop at Refugio Frey located below the mountain's highest point. Our plan was to ride the ski lift from the nearby resort to the top, hike across a ridge to view condors and then hike down via Refugio Frey. When we got there, we found out the ski lifts don't operate on weekends during the off-season. This threw a wrench in our well thought out plan.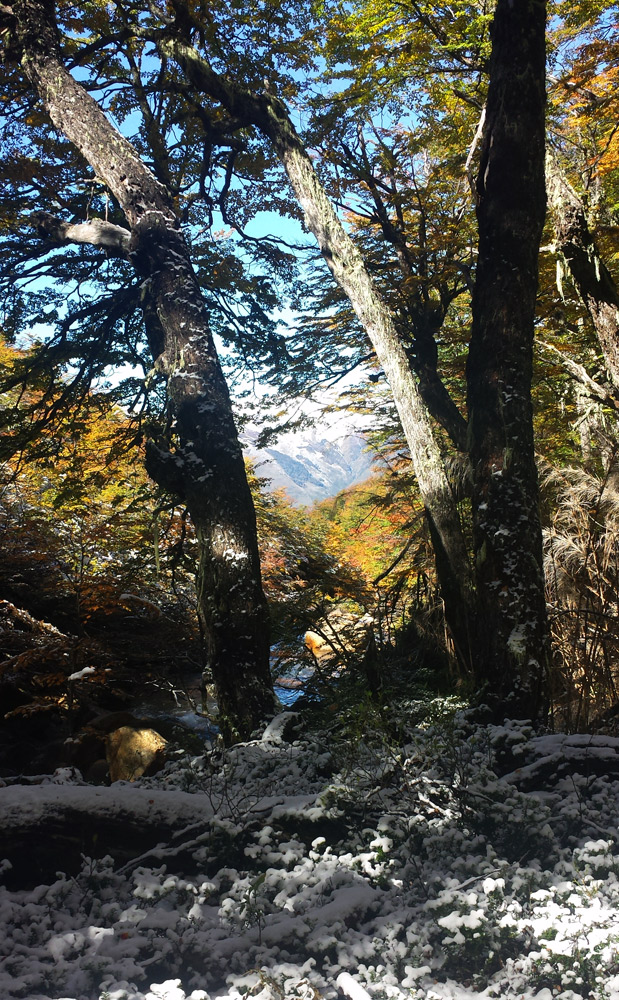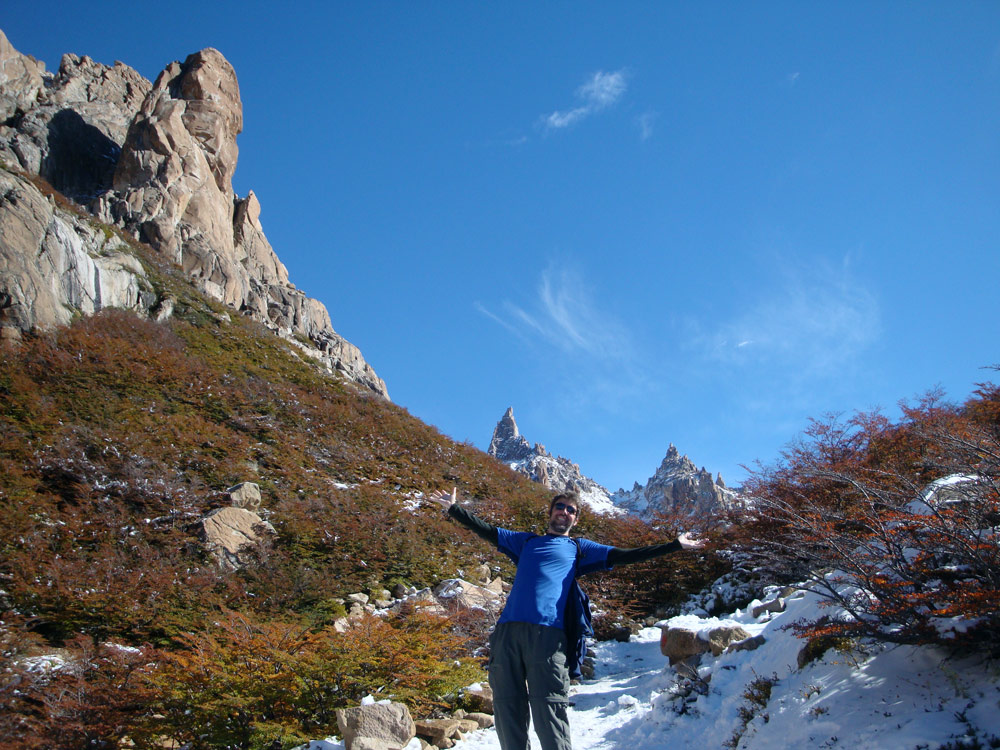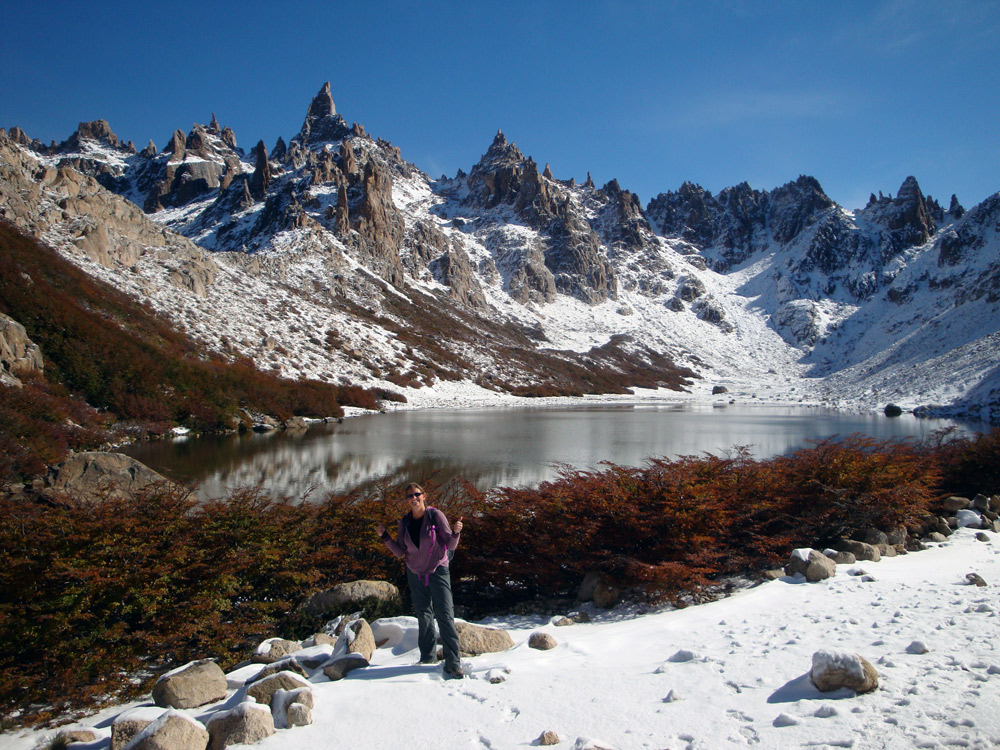 Most people going to Frey hike up there and spend the night. Some people do it as a day hike, so we decided to go for it. It is a 3 ½ -4 hour hike to get there. It took us 4 hours up (the last hour up a super steep hill) and 3 hours down. I am not going to lie; it was rough near the top. We almost turned back before we made it, but we couldn't be this close and not get there. My pedometer had us at 20.51 miles at the end of the day. This is our longest hike to date even more than Machu Picchu. I don't plan on beating this record, but you never know. The views at the top were gorgeous and made it worth it.

Steaks: Argentina's Parrillas
We deserved a great meal after the long hike and headed to El Boliche de Alberto. Parillas are Argentine steak houses found all over the country specializing in grilled meats. The prices seem expensive at first glance, but once you realize the portions are huge it isn't so bad. One of our favorite appetizers was the provoletta which is a huge slab of provolone thrown on a grill. It comes to your table warm, melty and perfect for spreading on bread. Usually at parrillas we would split an appetizer or salad, a huge steak, an enormous order of fries and a bottle of wine for around US$ 35. Albert owned several different parrillas and a pasta shop and we visited his locations multiple times. The wine in restaurants was very inexpensive. Restaurants sell it for just a little more than what you would pay at the grocery store. This was our first introduction to the Trapiche wines which became our go to brand for most of our time in Argentina.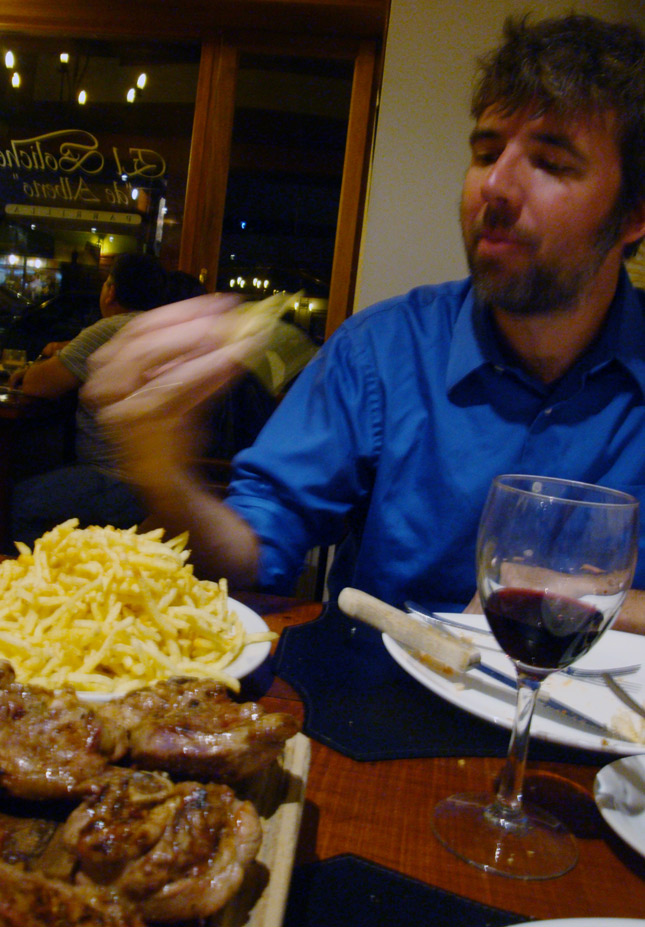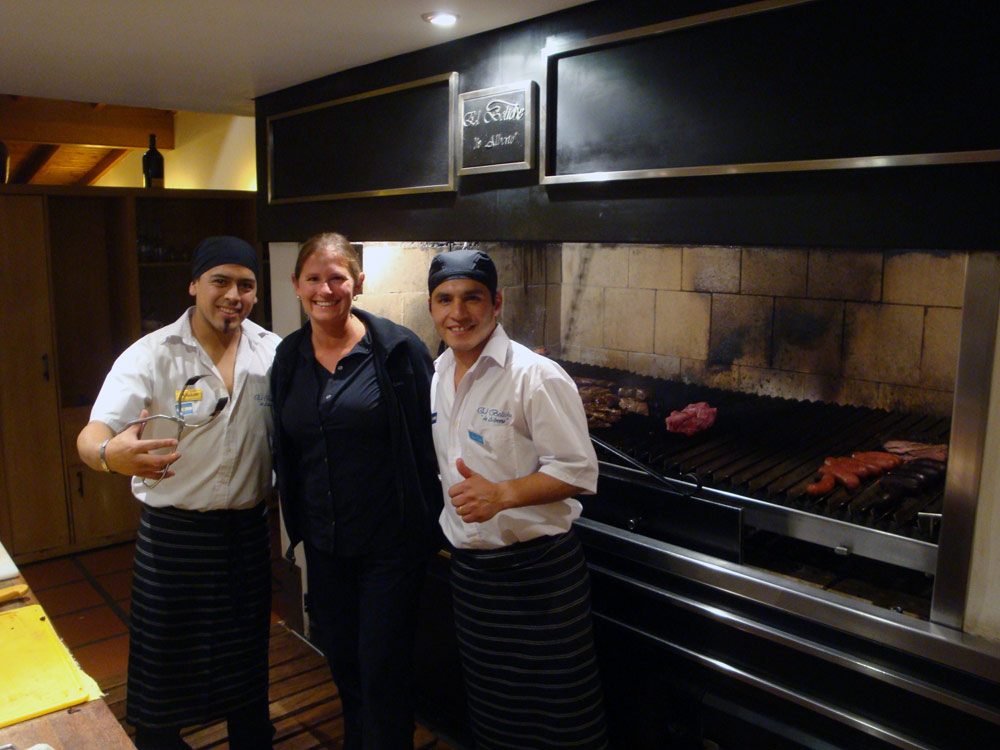 Craft Beer
We stayed at a great hostel called 41 Below. The location was one of the best parts. Bariloche has several places that brew their own beers. Our hostel was right in the middle of them making it great for late night entertainment. Our favorite was Manush. It was around US$ 4 a pint. Mark enjoyed the IPA and I was delighted with their honey beer. It was so nice to have a real beer after 3 months of mostly warm light beers. Craft beers are mostly in southern Argentina, but you can sometimes find the chain Antares in other cities in Argentina. We spent time at Antares during our stay in Mendoza. They have a great happy hour with 2 for 1 beer.
Chocolate
Chocolate shops are on every street corner in Baroliche. After reading some reviews of all the chocolate places I decided Mamuschka was the place for me. We went there once to get a small box of individual chocolates to try. We went back again to get another small box and a couple of chocolate bars to take with us traveling. I recommend you go there during the week because they are less crowded and more likely to give you samples of the chocolate while you are trying to decide. We were also there right before Easter which made it more crowded, but it was great to see the window displays made out of several different chocolate animals. The town was setting up for their Easter celebration, so we were able to see them constructing the world's largest chocolate Easter egg.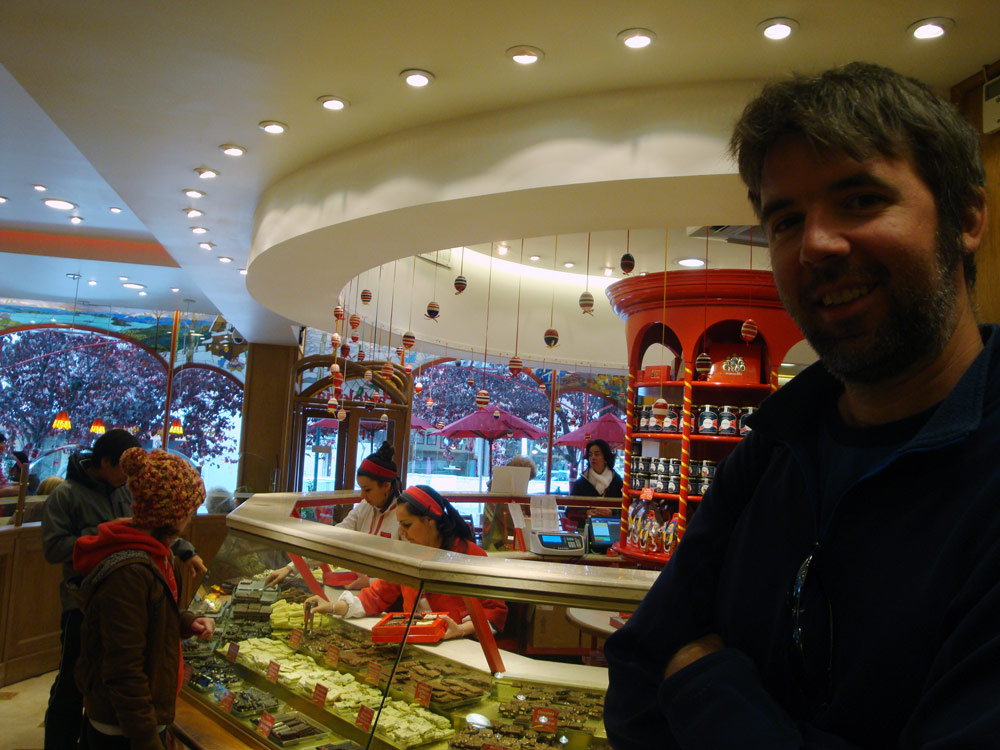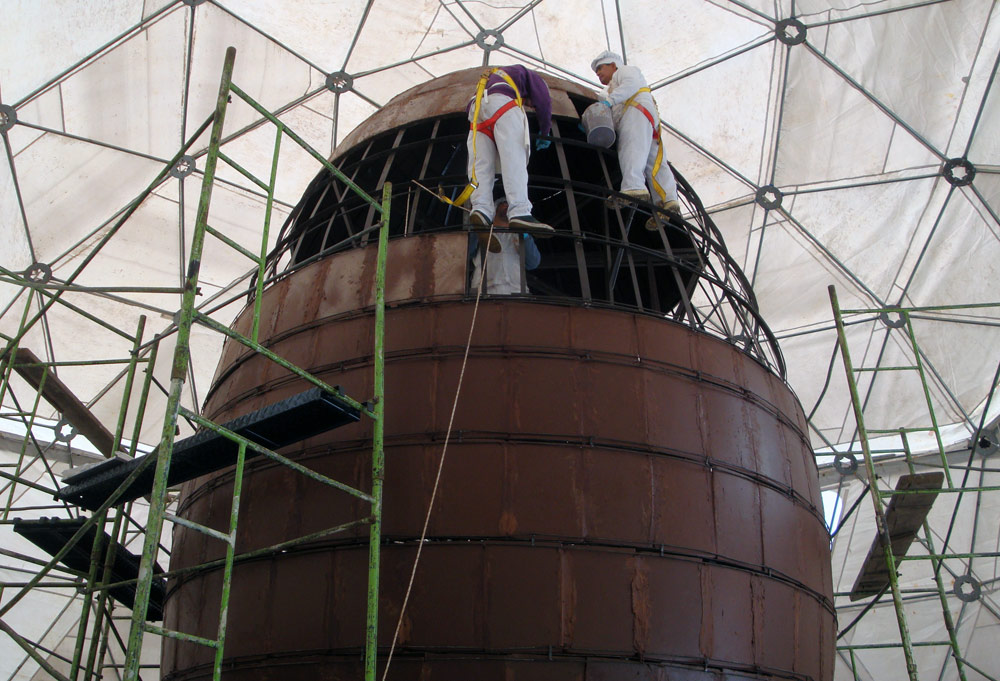 Mark and I both look forward to coming back to this town. We began talking about future trips before we even left Bariloche. From my understanding it gets really packed in the summer and during ski season, so if you are going to make a trip here the best time would be the spring or fall.