This last week has been a whirlwind of emotions for me. It starts with me giving my notice on Monday. My boss had meetings all day on Monday, so I had to wait until 4p.m. to talk to her. It was a really long day for me. I had butterflies. It is weird when you spend a lot of time preparing to leave. Then suddenly reality hits and you realize you are actually doing it.
I just blurted it out. It was like ripping off a band-aide. There was no easy way to say it, so you just go for it. I asked a few questions about some sales numbers and then said, "Also, I have some unfortunate news. I am resigning…(then paused for dramatic effect)…to travel around the world." The response was simply "I wasn't expecting that, "and "Wow, you will be missed. Then just like that things changed.
It is amazing how quickly the butterflies subsided when everything was just out in the open. We started discussing people for my replacement, the date I was leaving, how to let people know and what I was going to finish before I left. It all became surreal.
By mid-week we were telling people in the office and by the end of the week customers were slowly being told. It was all emotional and heart felt with a lot of "I am going to miss you" and constantly repeating how and why I was taking on such a big leap of faith. It makes you forget some of the reasons you are leaving in the first place and question your sanity on what you are about to embark on in the next year.
Most people are really excited for you and say how they wish they could do it, but would never be able to for one reason or another. Others will just keep telling you they don't think you will come back. Then, there are the emotional exchanges where you actually have to tell people, if they don't say it first, that you still have a few weeks left here and we are not going to start tearing up right now. Everyone takes a few deep breaths and you get passed it. Thankfully, you just survived a potential melt down.
I would like to say it will all be downhill from here, but I know that is not the case. If that was true I wouldn't be up at 4 a.m. writing a blog post. This tends to be my sleep pattern any more. I am exhausted at 11 p.m. and sleep until about 2 a.m.. When I wake up at 2 a.m., I start thinking of everything that needs to be done and at that point there is no hope for sleep. I am up for a few hours until I can sleep again. This has been going on for a while now and it is getting exhausting. The upside is I am not as hard on myself when I come home from work and don't want to do anything because I know I can get stuff done in the middle of the night.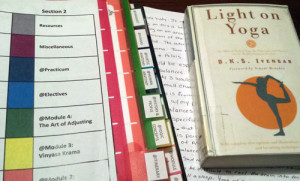 What's next for me? I am doing a teacher training to become a yoga instructor. This has been going on since the previous August. It has taken me some time because I traveled a lot for work. I now see the light at the end of the tunnel and will have my certification before I leave. This involves hours every night with Sanskrit flashcards, yoga history books and figuring out pros and cons to various poses. It is a lot of work and I plan to somehow incorporate it into our trip.
The plan is to take classes along the way and to continue to develop my own private practice. The joke is to teach yoga in hostels for tips, so Mark and I can actually go out to dinner every once in a while. All kidding aside when I started this yoga adventure we both agreed it would be good to have as a backup skill for whatever happens in our future. I look forward to sharing my completion with you.  Namaste.