We met up with our friends James & Shelley for a few days in New Orleans after Thanksgiving. This is not our comprehensive guide to New Orleans, this is just what we did on this recent trip.
We try to make it to at least one or two new places each visit and we have a running rotation of places we like to go. We can never fit them all into a trip which is fine because if we did we would end up sick and broke.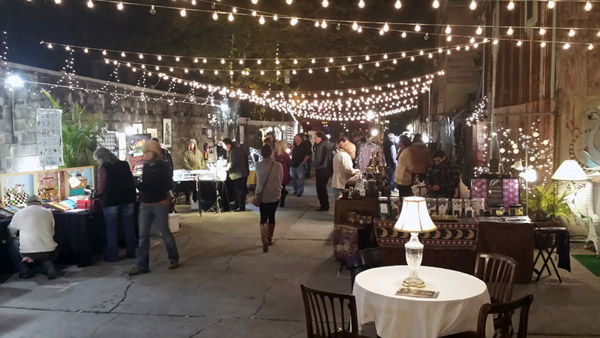 Restaurants
This has been on our to-visit list forever and is a favorite of a friend of ours from New Orleans. The tiled walls make you think you walked into an old butcher shop at first and help give the place its character. You will probably have to wait but it is one of the best restaurant waits because you queue up along the oyster shucking area. The gentlemen doing the shucking are cool and friendly and you can put down some raw oysters with a cold beer while you stand in line. If you like fried, this is you place. The fry on the shrimp & oysters is so light that it doesn't take away from the freshness of the seafood. Best fried oysters I've ever had (not like that is a long list but it counts for something, right?) The oyster stew is a thin but flavorful mixture of broth and milk (I thought it was cream but another friend who loves the place informed me that it was milk) with big pieces of oyster in it. And the chargrilled oysters….forget about it. Even people who don't like oysters would like them. Butter, garlic, Parmesan and charcoal smoke.
Would I go back? Yes. May not make it on the next trip but it has been added to the rotation.
We went to Cochon on our last trip to New Orleans and really enjoyed it so we wanted to go back. We thought they didn't take reservations but in fact they did which was problematic since it was a Friday evening. Fortunately, the hosting staff worked us in and got us seats at the kitchen bar which was great because we were able to see a lot of the dishes being made and were able to chit chat a bit with the guys in the kitchen. Everything I had was great. Braised pork cheeks, grapefruit salad with crispy pigs ear, house made pork rinds/chicharones, and roasted pork with purple sweet potato puree. What do purple sweet potatoes taste like? Vanilla.
Would I go back? You saw that picture of the pork leg, right? That's a yes.
After a couple hours at the City Park we decided to stay on the lake side of things and head up to Deanie's just a couple of blocks from Lake Pontchartrain. If you like platters filled with massive piles of fried seafood you'll like Deanie's. I didn't like their fried seafood as much as Casamento's but it was still good. The shrimp & catfish were my favorites. Julie enjoyed her etouffee.
Would you go again? Probably. Enjoyed it and I didn't get a chance to try the deserts.
I've wanted to hit this place for a while and finally got around to it on this trip. I love fried chicken but I would not consider myself a connoisseur by any stretch. I do know what I like though and this hit every button. Super juicy chicken, hot sauce under the batter and the batter…this is going to sound bad but stick with me…have you ever been to Long John Silvers? You know how all of their fried food comes with all of those fried little crispies from the extra batter that made it into the fryer? Imagine that in its ultimate, greatest possible form. I inhaled everything but the bones & gristle. Julie thought it was a little salty but she's more salt averse than I am. The sides were plentiful and good but not great. I had green beans and Julie had the mac & cheese. Corn muffins were good. The sweet tea was fantastic. If I had to bet I'd say it was at least partially sweetened with honey which naturally went well with the chicken.
Would I go back? Absolutely and next time I'll get some carry out chicken for later.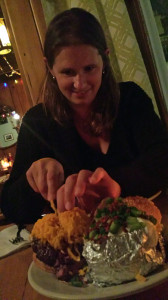 We first went to Port of Call in 2004 but we haven't been there recently because every time we wander by there is a crowd of people waiting on the sidewalk outside. This time we stopped by on a Monday night. A Monday night when the Saints were out of town and on Monday Night Football. Not only was there no line, aside from the folks at the bar there were only a couple of tables with patrons. Port of Call opened in 1963 and I don't think its nautical theme has been redecorated since. The menu essentially consists of three things: red meat, potatoes and boat drinks. No frills. No fancy ingredients. A half-pound burger cooked medium rare topped with what looks like another half-pound of shredded cheddar cheese; a baked potato topped with even more shredded cheddar, butter, sour cream, bacon & green onions; and wash it all down with a 32 ounce rum punch.
Would I go back? Yes. A good break from the normal New Orleans gorging.
Crabby Jack's has become our traditional last day meal on the way to the airport. The place can fill up quickly at lunch time. Lucky for us we had an early flight so we were there when they opened at 10:30 a.m.  The po-boys are enormous and they don't skimp on the seafood. I was hungover and not in the mood for seafood which was unfortunate since their calamari po-boy is my personal favorite. Instead I went with the roast beef which was a tasty, gravy filled mess. Julie went with the shrimp. They offer traditional side dishes but I've never seen a need to order any since the sandwiches are so big. They also have fried chicken but it is cooked to order so be prepared to wait.
Would you go again? Of course.
Things To Do
I first went to this museum in 2004 when it was still the D-Day Museum.
Why is the D-Day Museum in New Orleans?
Because the landing crafts used for the amphibious assault were designed and produced by Higgins Industries based in New Orleans.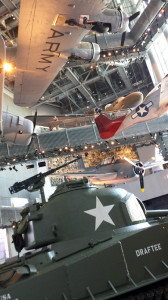 They have expanded a lot in the last decade to include more than D-Day. There is a section on the American island hopping campaign through the Pacific. They have built additional buildings, some of which still have their exhibitions under construction. One of the buildings that has been completed is the Boeing building which houses a half dozen or so aircraft as well as some land based vehicles such as a Sherman Tank & a Half Track. The highlight of the building is the catwalks that go in between the suspended aircraft up to four stories off the ground. If you have a fear of heights…well, there are signs warning you. I like to think that I'm not afraid of heights but the sweat on my palms told me otherwise. The interactive exhibits are some of the best I've seen. You can look around the interior of each of the different planes. They also have what equates to an encyclopedia of WWII. I don't know how much money Boeing gave them for that building, but they put it to very good use.
The main path through the museum that focuses on D-Day itself is nothing short of comprehensive: maps, movies, uniforms, weapons, stats, graphs, propaganda posters, photographs, historic objects, etc.
I would recommend you bring a couple Kleenexes with you because only the toughest sumbitch could make it through this place without getting choked up at some point. So unless you want to wipe the snot off your nose with your hand plan ahead.
You can walk to the museum from the Quarter depending on what your definition of "too far to walk" is. Otherwise, take the St. Charles streetcar.
At some point you need to get out of the Quarter and explore the rest of the city. You'll probably also need to walk off everything you've consumed and this is a great place to do it. Plenty of open space it is also home to the New Orleans Museum of Art. The sculpture garden is a must. Parts of it look like something out of video game. I kept wondering if there was some kind of puzzle I was supposed to be solving.

Hop on a streetcar and head out St. Charles to Tulane University. Across the street from the university is Audubon Park which has a 1.7 mile walking & biking trail that circles the park. It is home to the Audubon Zoo as well as Bird Island which houses a rookery (had to look that one up) that is home to many species of wading birds.
Bars
Once you wander out of the main party zone on Bourbon Street there are plenty of bars to suit all kinds of tastes. You know what you like, so find one that looks or sounds appealing and wander on in. If you don't like it, they have to-go cups. Take your drink with you and move on to the next one.  Most places feature a nice mix of longtime residents, recent residents, off shift hospitality industry folks and tourists. It ensures that twenty-four hours a day there are some people somewhere who are willing to drink with you and shoot the shit. Personally, I prefer the cozy/divey type of bars preferably with a good jukebox. That doesn't matter much since most bars have gone to TouchTunes (which is both a blessing and a curse) but we don't need to get into that. There are plenty of places downriver on Decatur and across Esplanade on Frenchman Street that fit that bill.
We seem to always end up at Déjà Vu on Dauphine. It can have a fun mix of people. Usually pretty laid back but since it is only a half block away from Bourbon there is always the chance of the unexpected. Joe the bartender is a New York native who mixes a great drink. He's gruff when he needs to be and he'll bust your balls but it is all in good fun unless you are making a public spectacle of yourself. They're open 24 hours and they serve food 24 hours. It is a great place to get started or wind down.
Late Night Eats
It's late. You've been drinking for many hours. You need a snack. You are in no shape to go into a proper restaurant. You are drunk enough that the pizza by the slice served at every daiquiri stand in the Quarter is starting to look like a fast, affordable option. Resist this urge. Instead head to Vieux Carre Pizza on St. Louis Street towards the river from Bourbon. Hand tossed pizza by the slice. Crust isn't super thin NYC style but actually has some heft and chew. They're open until 3am or later so it makes a great late night option. Recommendation came from Joe the bartender at Déjà vu.
Would I go back? Only if I'm drunk in the French Quarter, so, yes. To be fair, I'd eat there sober.
New Orleans on a Budget.
Between the Quarter, the parks, the shops on Magazine and the houses on St. Charles there are plenty of things to see that don't require spending money. People watching in the Quarter is some of the best in the world. Most of the cozy/divey bars off of Bourbon have PBR and High Life for $2 a bottle and you can get a Special for $5 (That's a bottle of High Life and a shot of Jameson in most places we visited.) Food is the tricky part. There is so much good food that you really don't want to stay on a budget. But if you are looking for bang for the buck po-boys are usually the way to go. Prices can get up there depending on what you get on it and what is in season but you never have to worry about being hungry later.